Why Ronda Rousey Will Lose Her Belt to Cat Zingano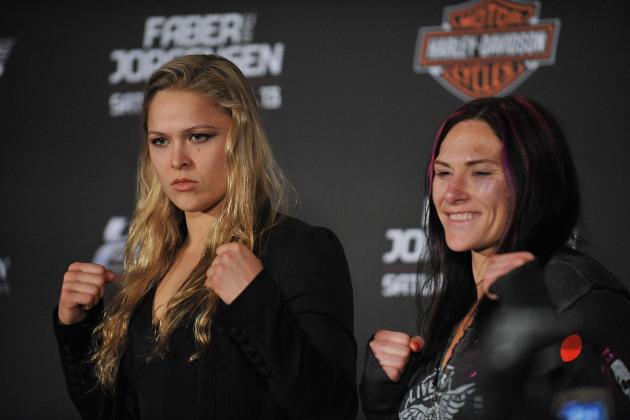 Gary A. Vasquez-USA TODAY Sports

Since nearly breaking Miesha Tate's arm to capture the Strikeforce women's bantamweight strap back in 2012, Ronda Rousey has been on a meteoric rise to superstardom.
After Strikeforce folded earlier this year, Rousey was named the UFC's first women's bantamweight champ.
Rousey successfully defended her belt in the organization's inaugural women's bout at UFC 157. She finished challenger Liz Carmouche, as most predicted, via first-round armbar.
At The Ultimate Fighter 17 finale, Cat Zingano took on Tate for not only the No. 1 contendrship, but also the opportunity to coach opposite Rousey on the upcoming 18th season of TUF.
Tate looked strong early, but Zingano weathered the storm.
"Cupcake" faded in the third round, and Zingano unleashed a barrage of vicious knees that put an end to her night. The victory put "Alpha's" record at a perfect 8-0.
Many MMA fans feel that the female fighter with the best chance of defeating Rousey is fellow Olympian Sara McMann.
However, Zingano showed in her scrap with Tate that she has all of the intangibles to unseat Rousey and become the undisputed queen of the women's bantamweight division.
Begin Slideshow

»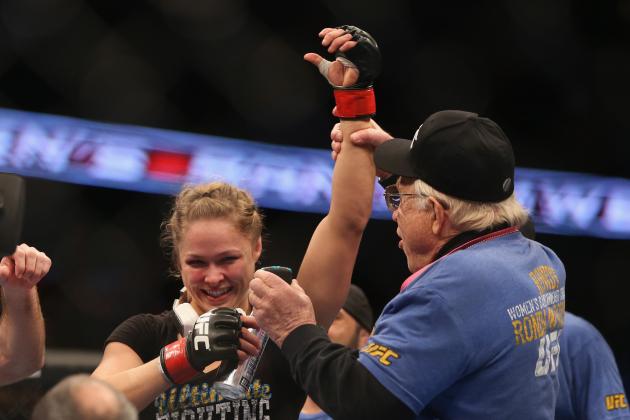 Jeff Gross/Getty Images

For the casual fan, Ronda Rousey is the biggest name in MMA today, even outshining Jon Jones, Anderson Silva and Georges St-Pierre.
"Rowdy" is the face of WMMA, and according to Dana White, the sole reason women are currently competing inside the Octagon. For a long time, White dismissed the very idea of women in the UFC, but Rousey quickly changed his tune.
In an interview with Ariel Helwani of MMAFighting.com prior to Rousey's Octagon debut, White stated flatly her importance to WMMA's success in the UFC:
You're absolutely right. I'm not trying to shy away from that and say, 'Oh no, we're getting into women's MMA.' This is the Ronda Rousey Show.
There are a number of other good female mixed martial artists, but Rousey was chosen to be the one to carry the proverbial cross. It is her "show" and will ultimately live or die based on her performance.
Right now, WMMA in the UFC is in a tenuous position, and it remains to be seen if it will be a flash in the pan or a long-term fixture of the organization.
This fact cannot be taken lightly. Rousey needs to win so the division can continue to grow.
If Rousey is defeated or proven to be anything other than "the best female fighter in MMA," then it could be irrevocably damaging to WMMA's popularity.
This may not be the most important issue on Rousey's mind going into the cage, but to say that this pressure does not weigh on her is disingenuous. All it takes is one misstep and the UFC's WMMA experiment could go up in smoke.
As the old saying goes "heavy is the head that wears the crown."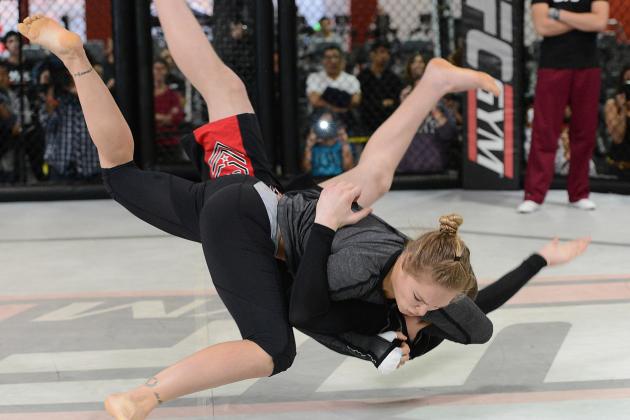 Jayne Kamin-Oncea-USA TODAY Sports

The public appearances and blinding lights of scrutiny are a big part of Rousey's obligations as the face of WMMA.
Rousey is more than just a fighter; she is a bona fide star. In little more than a year, Rousey went from relative unknown to the hottest thing in mixed martial arts.
She is everywhere. Her level of media saturation is downright mind-boggling. It is almost impossible to go places without being inundated by images of her smiling face.
Rousey has been all over television and in the pages of magazines. There is even already talks of a potential future on the silver screen.
All of these things are positive for Rousey personally, but they are also distractions that can be detrimental to her fight career.
Being pulled in a million different directions will divide Rousey's attention and not allow her to completely focus on training.
Rousey has proved herself a dedicated fighter, but it is impossible to do everything, and sooner or later something will have to give.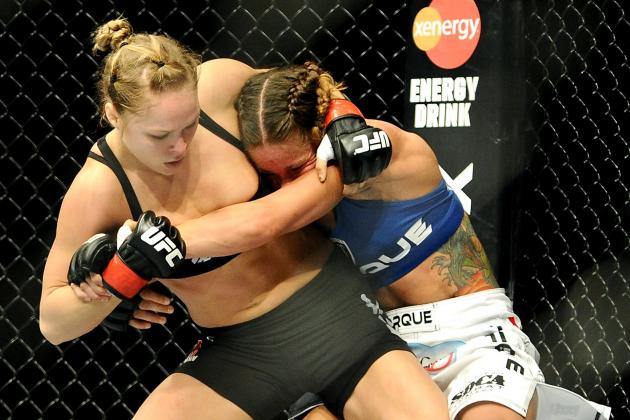 Jayne Kamin-Oncea-USA TODAY Sports

Rousey has always been the bigger, stronger combatant. Even when competing at featherweight, she was able to run through fighters with relative ease.
"Rowdy" utilizes her size to muscle opponents against the cage. Once in the clinch, she employs her Olympic-level judo to drag them to the ground and into her comfort zone.
At that point, it is only a matter of time before Rousey snags an arm and makes her opponent tap or face the consequences.
However, this confluence of events is predicated on the notion that Rousey will be able to get her opponent to the canvas.
Tate and Carmouche looked a full weight class smaller when they stepped into the cage against Rousey on fight night.
The same cannot be said for Zingano. For the first time in Rousey's career, she will be fighting a woman who is her true physical equal.
Zingano is an imposing fighter who is the same height and weight but actually possesses a not-so-insignificant four-inch reach advantage.
"Alpha's" size will make it difficult for Rousey to overpower her. If she cannot secure the takedown, it will force this "one-trick pony" to rely on her underused stand-up game to earn the victory.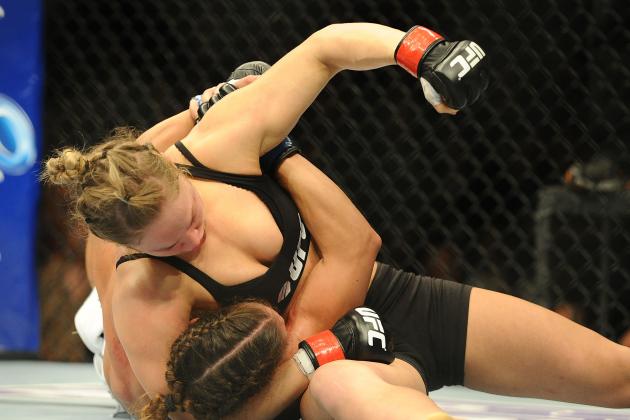 Jayne Kamin-Oncea-USA TODAY Sports

In all seven of her professional bouts, Rousey has been able to finish her opponents in the first round via her patented armbar.
While that is an astounding statistic, it is unfeasible to believe that Rousey will be able to end every one of her fights in this manner.
Zingano displayed an ability to persevere in her bout with Tate, even fending off an early armbar attempt. If she can successfully escape the first round, it will be a big step in testing the champ's cardio.
No one has seen Rousey fight longer than 4:49. "Rowdy" appears to have a high level of conditioning, but it is impossible to know exactly how she will perform in the later rounds.
This will be a sink-or-swim situation.
One thing is for certain—as the fight progresses, it will become more difficult for Rousey to lock in a submission. If she can't fall back on her tried-and-true move, it will force her to utilize skills that she normally never has to rely upon.
And keeping the fight out of Rousey's wheelhouse will give Zingano the opportunity to score points with her superior striking.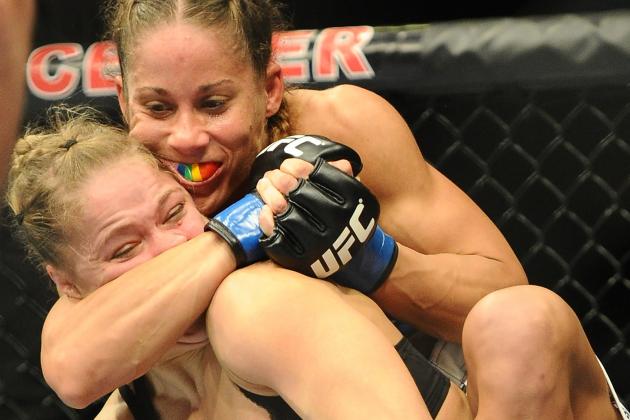 Jayne Kamin-Oncea-USA TODAY Sports

Early in the first round of their fight at UFC 157, Carmouche was able to get Rousey's back, put in the hooks and lock up a pretty tight choke.
Carmouche twisted with all her strength. It looked as if she might wrench Rousey's head right off her neck, but the champ was able keep her cool and survive the submission attempt en route to another victory.
This showed Rousey's ability to overcome adversity, but that was in the first round when she was still fresh.
That is totally different than digging deep late in the fight and doing what is necessary to pull out a win a la Anderson Silva against Chael Sonnen at UFC 117.
Up until now, everything has come fairly easy for Rousey. She has been able to armbar her opponents seemingly at will.
"Rowdy" has never been tested, let alone been pushed to the brink. One has to wonder, if her back was really against the wall, would she battle or break?
Rousey may very well find herself in this situation against Zingano. "Alpha" is a top-notch Brazilian jiu-jitsu practitioner with devastating knees in the clinch. She has finished all of her fights by either knockout or submission.
For these reasons, this fight is destined to be the toughest of Rousey's young career.