NBA's Western Conference Champ Will Be Western Conference's Luckiest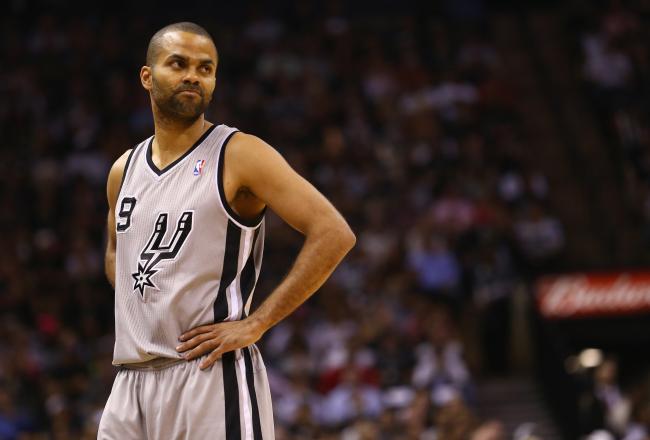 Tony Parker and the San Antonio Spurs might make it to the Western Conference Finals based on health alone.
Ronald Martinez/Getty Images
When it comes to the NBA playoffs, there's no denying that the second round has been entertaining. Games have gone down to the wire, series have gone back and forth and a number of stars have shined along the way.
The problem with 2013 is that despite the high level of excitement, fans could've had the opportunity to see it on a much grander scale.
Organizations have been ravaged with injuries. Few teams, if any, have been exempt, and while the Eastern Conference has missed stars such as Derrick Rose, Rajon Rondo and Danny Granger, it's the teams out west that are scrambling for supremacy.
Unlike the East, the Western Conference has no clear-cut team to beat. Western teams are battling in Royal Rumble fashion, and it just might play out that the healthiest team ends up being the last one standing.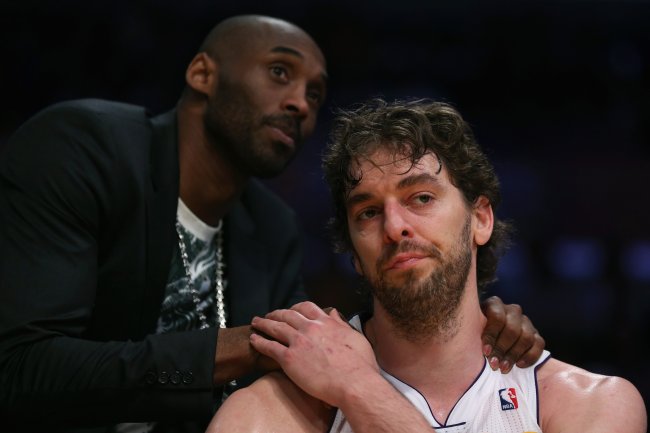 Jeff Gross/Getty Images
In Round 1, we saw the Los Angeles Lakers enter the playoffs as arguably the most short-handed team in the league. They were without Kobe Bryant for the year, Metta World Peace and Steve Nash were returning from injuries and Dwight Howard was likely less than 100 percent, as he had been all year.
The Los Angeles Clippers also fell in the first round, as Blake Griffin was held to just 13 points, eight rebounds and 34 minutes in Games 5 and 6 combined.
Westbrook/KOBE/Blake Griffin. Injury and prevention are the KEY to winning a championship!!

— Dr. Robert Klapper (@DrRobertKlapper) May 14, 2013
The other two teams to fall in their opening matchups, the Houston Rockets and Denver Nuggets, were hit hard from the start. Jeremy Lin was a virtual non-factor because of a chest injury, while Danilo Gallinari missed the entire series with a torn ACL.
Injuries doomed those four squads, leaving four more to fight for an NBA championship.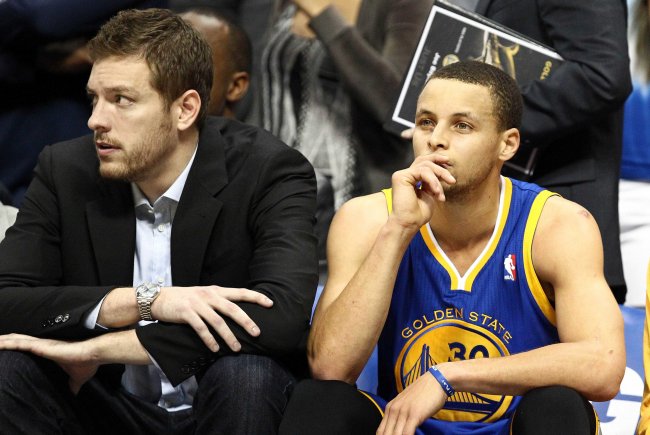 Isaiah J. Downing-USA TODAY Spor
Not all those who made it to the second round, however, made it without first feeling the bite of the malevolent injury bug. The Golden State Warriors lost David Lee in Game 1 against the Nuggets—his first career playoff game—and he has yet to have an impact in the three contests he's seen minutes in since.
Stephen Curry has also been a question mark, as his consistently worrisome ankle has come into play in the second round.
Then, of course, there's Russell Westbrook. The Oklahoma City Thunder have been hurting without their lightning quick, freakishly athletic superstar point guard running the offense, and they now find themselves climbing uphill against a very good Memphis Grizzlies team.
Speaking of the Grizzlies, they are one of the few lucky ones more than halfway through the second round. Their physical defense has stymied the offensive attacks of the Clippers and the Thunder, and their ability to stay healthy has landed them a comfortable lead against the conference's No. 1 challenge.
Ironically enough, the San Antonio Spurs, with the oldest core group in Round 2, have gotten through the postseason relatively unscathed. The ankle injury to Tiago Splitter is certainly noteworthy, as the big man recorded a PER of 18.72 during the regular season, but his absence didn't stop the team from sweeping the hobbled Lakers.
Manu Ginobili and Tony Parker entered the postseason as X-Factors because of their own injuries, but they've proven to be reliable, which in a twist of fate has made them arguably the healthiest team out West.
Tony Parker did some pre-game stretches for his left calf. Had a look of discomfort on his face. Let's see how freely he can play

— J.A. Adande (@jadande) May 15, 2013
Tony Parker seems rejuvenated orchestrating the @spurs 74-65 lead late in the 3rd. TP has 18 points and 9 dimes. Barnes has 19.

— NBA (@NBA) May 15, 2013
None of this is to guarantee that the Spurs and Grizzlies meet in the Conference Finals, but it is to say that the Thunder and Warriors are going to need a bit of luck on their sides, as Memphis and San Antonio have emerged as the healthy favorites to advance.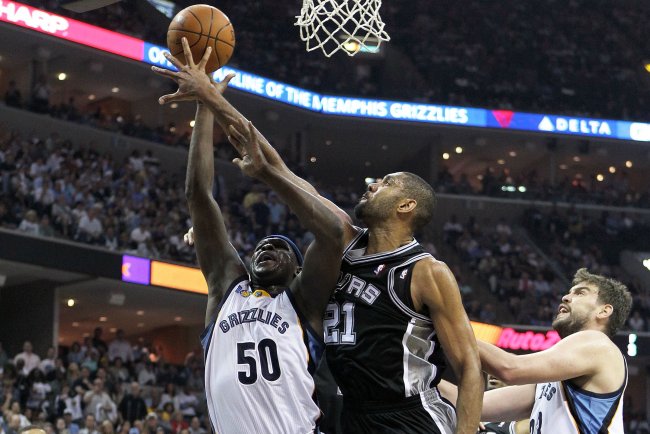 Andy Lyons/Getty Images
In times like these, we can ask ourselves: Is there such thing as a lucky NBA team? In most playoff scenarios, the answer is no. A seven-game series is designed to weed out subpar competition, and the best team usually prevails—whether it be on talent, coaching or the sheer advantage of playing at home.
This year, however, is different, as the team that prevails from the Western Conference will be the one to escape a decimated pool of competition.
Don't discredit any win at this point. These are talented teams, and there's a reason we're still talking about them at this juncture. That being said, understand that this is a bizarre year for the NBA and its fans, and things might have looked vastly different if we had been fortunate enough to see healthy units do battle out West.
This article is
What is the duplicate article?
Why is this article offensive?
Where is this article plagiarized from?
Why is this article poorly edited?