Detroit Lions: 5 Players Poised for a Breakout Campaign in 2013
Leon Halip/Getty Images

The Detroit Lions' roster was given a makeover this offseason. Old familiar faces are gone—thanks to free agency—and in their place are young shiny faces waiting to make a name for themselves in the NFL.
In other words, the Lions are loaded with potential breakout stars.
In 2010, the Lions drafted Ndamukong Suh second overall, and expectations were high. Yet he exceeded all of them on his way to the Pro Bowl and the Rookie of the Year award. Breakout!
In 2012, Joique Bell came out of nowhere to rack up big yardage for the Lions. The Wayne State alum went undrafted in 2010 but outperformed Mikel Leshoure, the Lions' second-round pick in 2011, on a regular basis. Breakout!
Which player will pleasantly surprise everyone and have a big impact on the Lions this year?
Here are five players to watch for.
Begin Slideshow

»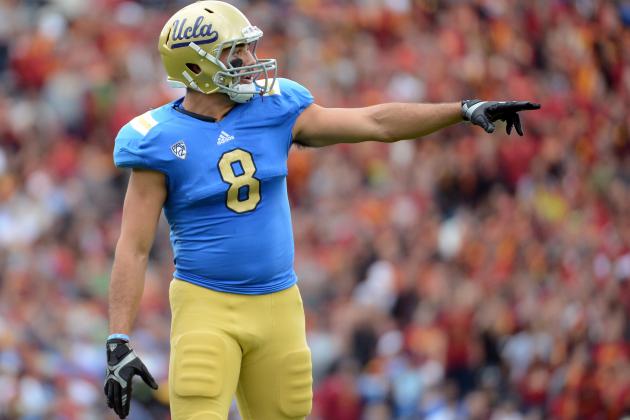 Harry How/Getty Images

Joseph Fauria is currently getting more hype in Detroit than any undrafted free agent deserves.
While it's true he has first- or second-round talent, he fell in the draft for a reason. So everyone needs to temper expectations.
He might not even make the roster.
With that said, he is an offensive weapon who possesses the same athleticism and field-stretching ability as Brandon Pettigrew, and he's got a huge chip on his shoulder from not being drafted.
If he can channel that energy into developing his blocking skills, he could really make an impact on the Lions.
Detroit let Will Heller walk and Tony Scheffler is in the final year of his contract. The Lions drafted Michael Williams to replace Heller, and Fauria could replace Scheffler, or even Pettigrew if he continues to decline.
Fauria has the offensive skills to be highly successful in the Lions offense. The 6'7" tight end has a giant wingspan and seems destined to become Matthew Stafford's favorite red-zone target.
The work he puts into training camp will determine whether he gets that chance.
According to The Detroit News, he's already made a favorable impression.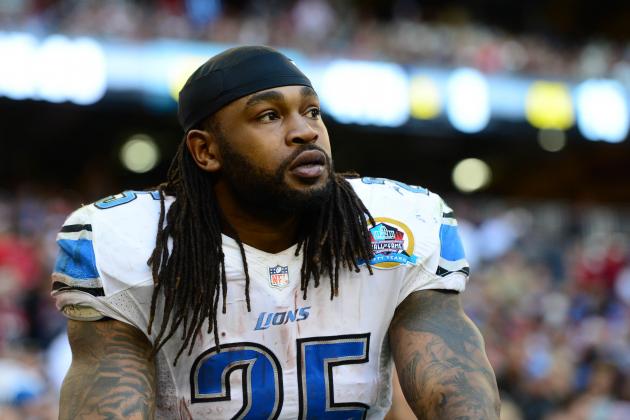 Mark J. Rebilas-USA TODAY Sports

No one was shy to label Mikel Leshoure's rookie year a disappointment. Even though he totaled nine touchdowns, his 798 yards on 3.7 yards per carry were pedestrian at best.
Especially for a second-round pick.
Most disappointing was Leshoure's failure to generate any big plays. His longest rush was only 16 yards despite the fact that he faced eight men in the box less often than any other running back in the NFL, according to Pro Football Focus.
He occasionally ran over people and picked up the tough yardage, but the Lions needed more from him.
Reggie Bush was brought in to bring explosiveness to the running game, and Leshoure's playing time will suffer. He'll be relegated to short-yardage situations.
Leshoure wouldn't agree, but the addition of Bush might actually help him in the long run.
At this point, short yardage is right in his wheelhouse. The Achilles injury he suffered in 2011 robbed him of his speed/quickness, but he still is a very hard runner.
He could significantly improve upon his touchdown total from last season if he's used exclusively in these situations.
Plus, it's year two post-injury, and he could get some of his explosiveness back.
If that happens and he racks up double-digit touchdowns, he could have a huge impact on the Lions' success and be a breakout star.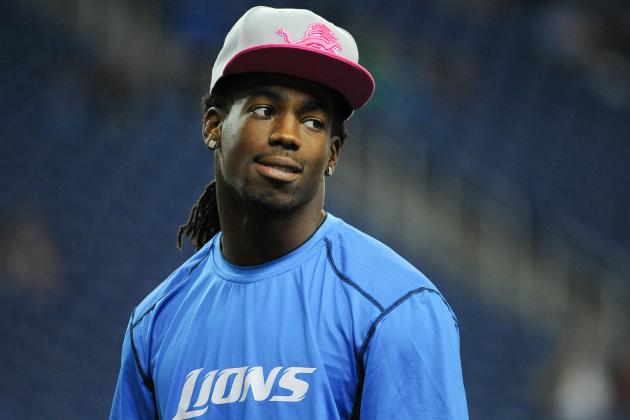 Tim Fuller-USA TODAY Sports

Darius Slay is currently considered the savior of the Lions secondary, but it wasn't that long ago that Bill Bentley was viewed in the same light.
Bentley was drafted one year earlier and one round later than Slay, but he came into training camp and impressed everyone last year, ultimately winning the starting job opposite Chris Houston.
Unfortunately, he only appeared in two games before a shoulder injury ended his season.
It seems like fans have forgotten about Bentley.
Not so fast! He is fully recovered and hasn't lost a step. If anything, he'll be better than he was last season.
Bentley may have missed the majority of his rookie year, but this will be his second training camp with Detroit. When Week 1 comes around, Bentley will be better than he was at the same time last year and won't have a problem locking down a starting gig.
Look for him to be a playmaker and game-changer as he tries to make up for lost time.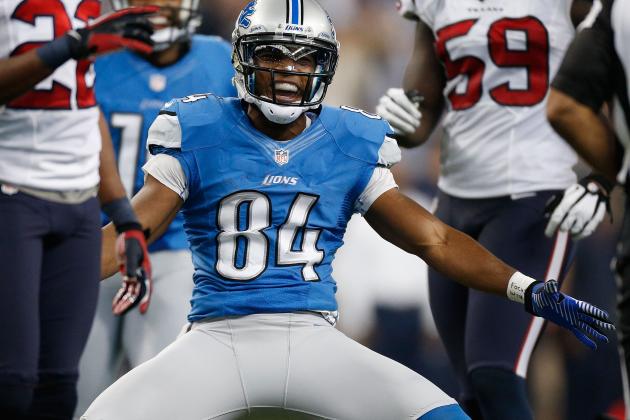 Gregory Shamus/Getty Images

Lions fans got a brief glimpse of Ryan Broyles' ability last year. He was on the verge of stardom, then it was cruelly yanked out from under him.
He suffered his second serious knee injury in as many years and was lost for the season the week after posting 126 yards receiving against the Houston Texans on Thanksgiving.
According to DetroitLions.com, Broyles' rehab is coming along and he's right where he should be. That bodes well for him to be ready at or near Week 1 of the NFL regular season.
If there are no setbacks, expect Broyles to pick up right where he left off, shredding opposing defenses and turning short catches into big gains. He'll improve upon his yardage and touchdown totals from his rookie year and, if he can stay healthy, is a great breakout candidate.
Plus, he's the anti-Titus Young. The Lions really need this second-rounder to pan out.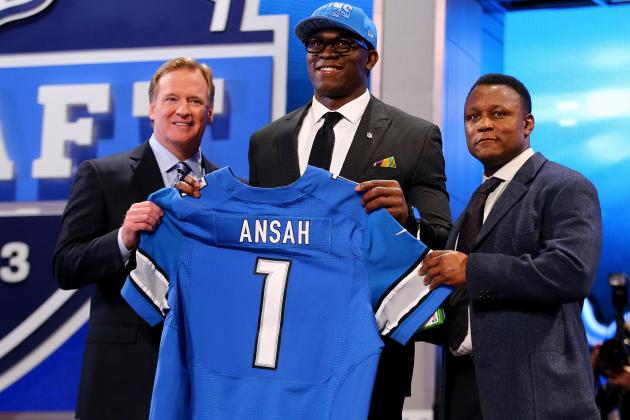 Al Bello/Getty Images

Fans can debate Ezekiel Ansah's talent and potential for greatness all season, and they probably will.
On talent alone, there's no reason he can't have a dominant year. Most first-round picks carry that expectation, but Ansah is different.
There are obvious questions related to his technique and football acumen.
Realistically, it could take him a couple years to really break out.
However, there is no question that he's entering the perfect situation. His main competition for a starting job is Willie Young, a former seventh-round pick who did nothing last season despite being given every opportunity.
Ansah shouldn't have a problem securing the starting job and getting plenty of chances to put his size, speed and length to good use bringing down opposing quarterbacks.
He'll also have the opportunity to work with two of the best defensive coaches in the business. Gunther Cunningham and Jim Washburn. They will school Ansah in the ways of the pass rush, and if anyone can accelerate his development, it's them.
He also has the benefit of playing next to Ndamukong Suh and Nick Fairley, two defensive lineman who will demand double-teams and leave him with plenty of one-on-one matchups.
The Lions need Ansah to play at a high level, and the situation is right for him to do so. That's why he's their No. 1 breakout candidate.