16 Shows We Want to See on the SEC Network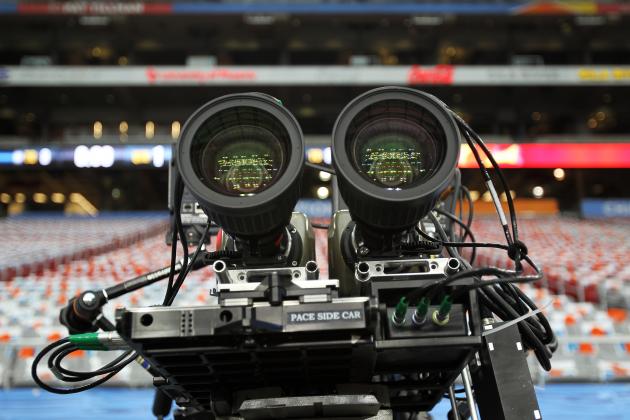 Ronald Martinez/Getty Images

With the SEC and ESPN announcing a 20-year partnership earlier this month sealing the deal on the new SEC Network, it's time to start thinking about ideas for programming.
While you have to figure the SEC Network will be oozing with live coverage of its 14 major sports, beyond that with 24 hours of air time in a day and seven days in a week the planning department will have to get creative especially during the summertime.
Taking this approach we've boldly come up with a list of 16 shows we want to see on the SEC Network when it takes flight in the very near future.
These are the programs that will complement Texas A&M squaring off with Alabama in women's soccer and will flatter a lineup which will already include the SEC Track and Field Championships.
Begin Slideshow

»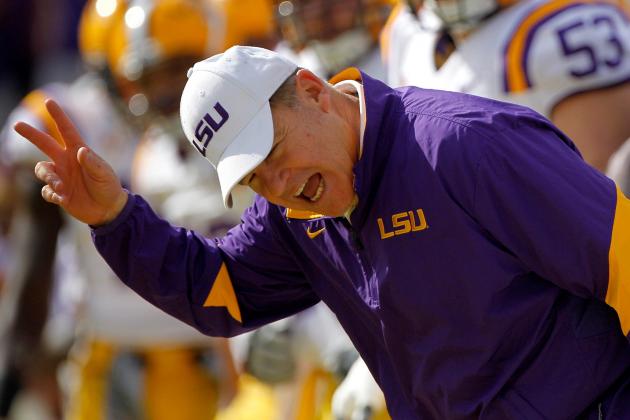 Chris Graythen/Getty Images

This cutting-edge program hits the road on a weekly basis and features LSU's Les Miles traveling the nation in search of the perfect blade of grass.
Not only does Miles show up, uninvited, in people's personal lawns for a quick taste, but he also schedules visits to some of the most famous landscape sites from across the country.
Everything from Augusta National, to the front lawn of the White House to the playing surface of the Rose Bowl is fair ground for Miles who never leaves a sampling of turf untasted, as he reviews each morsel along the way for eager his viewership.
Each and every program ends with Miles being challenged by some bizarre grass-based challenge including such highlights as munching on a platter of turf tacos, knocking back some Bermuda-flavored margaritas and then enjoying some Bent grass-encrusted trout.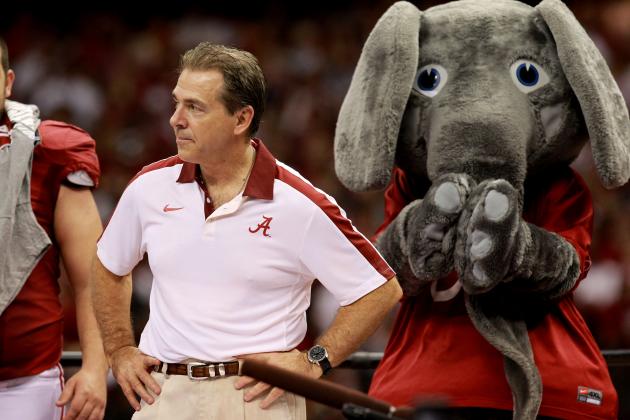 Ronald Martinez/Getty Images

Featuring far less facial hair than super hit Duck Dynasty, Nick Saban's Tusk Dynasty has less to do with duck calls and more to do with recruiting hauls.
Yes, where the duck people compete to see who can eat the most donuts, Saban's dynasty is more about how many crystal footballs can we shove in "that there trophy case."
Really, the two shows are about as different as can be, right down to the condition of the offices themselves (it's difficult to think of Saban putting up with cheap wood paneling), but they both offer a level of watchability that's frankly difficult to deny.
From a grooming standpoint, it's puffy, coiffed hair vs. huge-ass beards…take your pick.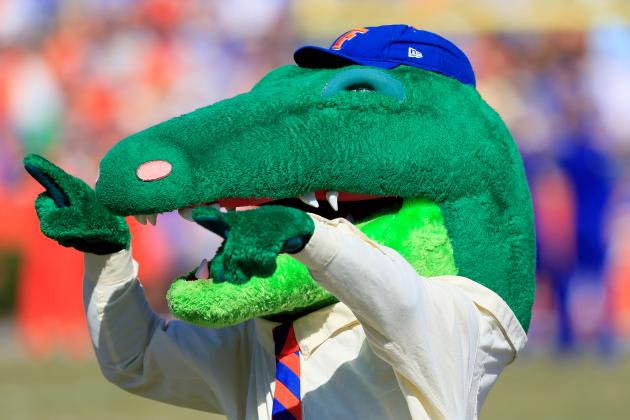 Sam Greenwood/Getty Images

Rather than Cajuns in air boats stalking the swamps during gator hunting season, SEC People will be about the entire rest of the league hunting down THE Gators all season long.
Yes, where Swamp People limits itself to LSU fans hunting all sizes and shapes of alligators, SEC People will widen the search to the entire league (or at least those conference squads with the Gators on their schedule) pursuing Florida.
SEC People will run 10 weeks and include the festivities leading up to each of the Gators eight SEC contests and then their season-finale clash with Florida State.
As is the case in Swamp People the program will feature the Gator hunters (e.g. the Gamecocks, the Bulldogs, the Volunteers, etc.), preparing their tracking equipment (e.g. chicken wing fryers, keg taps, etc.), setting their baits, traps (e.g. game plans, loading coolers, road trips) and then actually going into action (game day).
As for the actual kill, or miss, that will obviously be featured on the highlight reels on Sunday morning.
And if you thought those crazy Cajuns from south Louisiana were crazy screaming "Shoot 'em, Liz," wait till you see a bunch of jacked up, redneck college football fans hungry for a win over the Florida Gators…
I'm not going to lie to you, that's 1,000 times better, on the SEC network.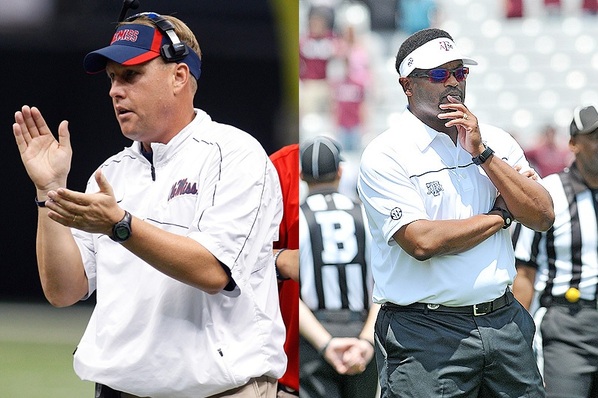 A delightful tale of two college ball coaches trying to make it work on limited funds, this show focuses in on Texas A&M's Kevin Sumlin and Ole Miss' Hugh Freeze who are two of the lowest paid guys in the SEC.
Indeed, according to the USAToday.com college football coach's salaries database released this past November, Freeze's total income of $1.5 million and Sumlin's $2.4 million in total pay are the lowest among the guys who are still in the SEC in 2013.
Just how paltry are the sums?
Well, according to the same database, Alabama's Nick Saban hauled in close to 5.5 million clams and LSU's Les Miles earned a cool $3.8 million while South Carolina's Steve Spurrier and Mark Richt both made over $3.5 million.
So, picture if you will, Sumlin and Freeze teaming up to try and start up a side business that generates some extra cash that allows them to keep up with the Jones or, in this case, the Sabans and the Miles.
I'm picturing that rather than a cupcake business, 2 Broke Coaches is all about peddling custom-fit visors.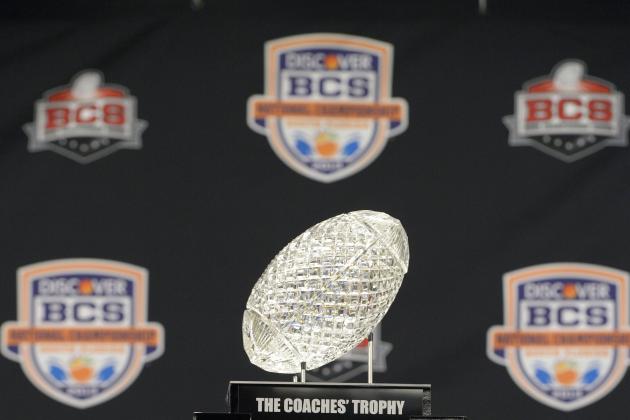 USA TODAY Sports

A secondary channel available to subscribers to the SEC Network on Dish, cable, etc. the SEC-BCS-T is a feed that basically does nothing but show continuous footage of the SEC's nine BCS trophies.
Specifically highlighted at noxious intervals are the super-conferences' seven-consecutive BCS crystal footballs won from Florida's triumph over Ohio State in 2007 until Alabama's drumming of Notre Dame this past January.
This channel could be used for recruiting purposes, as a backdrop for dinner parties or as a suitable jab when having Big 12, Big Ten, Pac-12 or ACC pals over for a couple of beers.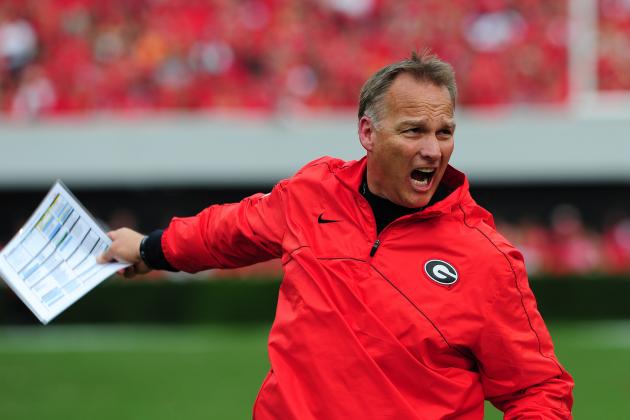 Scott Cunningham/Getty Images

This is a cartoon version of the Georgia football program where head coach Mark Richt takes on the form of one of the legendary hedges from Sanford Stadium.
Though the show sounded mildly entertaining to a bunch of desperate SEC network planners late one evening during an all-nighter at the Stuckey's on I-20 in Livingston, Ala., the program gets yanked after only three episodes air.
Viewers call it disturbing and troubling while the folks at Nickelodeon threaten to sue until it comes out that one of the big wigs at Nick is a Tennessee fan who thinks Richt as a green bush is pretty darn humorous.
The show goes on to earn almost cult status and the "lost episodes" are sold to a private collector who features them in Athens, Ga., every fall at a well-attended film festival.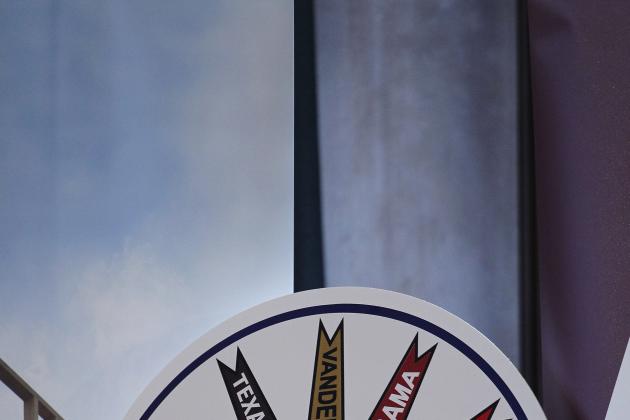 Aaron M. Sprecher/Getty Images

A program that airs weekly rather than every evening, the Wheel of Realignment would spin wildly each Wednesday night during the offseason months putting a non-SEC team in peril of changing leagues.
Though the said conference shift would be advertised as a move controlled by a committee of representatives of each of the FBS conferences, its game-show like airing on the SEC Network would make the source of its true control dubious at best.
The show's format would consist of three competing program's ADs answering questions regarding money, influential ties and TV contracts in order to buy letters to solve a word puzzle.
The AD winning the word puzzle level of the game would move on to the final phase where the "Wheel of Realignment" would be spun, just once, allowing the AD to move his/her program to an alternate conference.
The only kicker would the "bankrupt" strip on the wheel which would send the representative program to the Sun Belt conference for one season.
On the season finale, in August, a "tournament of champions" edition of the program would be aired pitting the top three ADs from the season against one another with the winner getting a chance to move up to the, well, the SEC.
The host of the program would be ex-NFL coach Jerry Glanville and the letter turner would alternate between NY Giants OC Kevin Gilbride and ex-NFL coach Buddy Ryan (with the two arm-wrestling each week, on-air, for the honors).
Rick Dole/Getty Images

Moving the reality show franchise to yet another desolate location, Starkville, Miss., hosts the SEC Network's first edition of Survivor.
In this provocative program, contestants from Louisiana, Texas, Alabama, Arkansas, Georgia, Missouri, Tennessee, Florida, South Carolina and Kentucky are dropped off just inside the Starkville city limits to compete in challenges set to thrill the entire nation.
Not only must the competitors form alliances, earn rewards and meet their own basic needs without monetary means; but in an SEC-centric twist, they must find a way to help Mississippi State win the SEC West.
Yes, friends, the hidden-key to winning Survivor: Starkville is getting the Bulldogs to Atlanta for the SEC title game.
Yikes!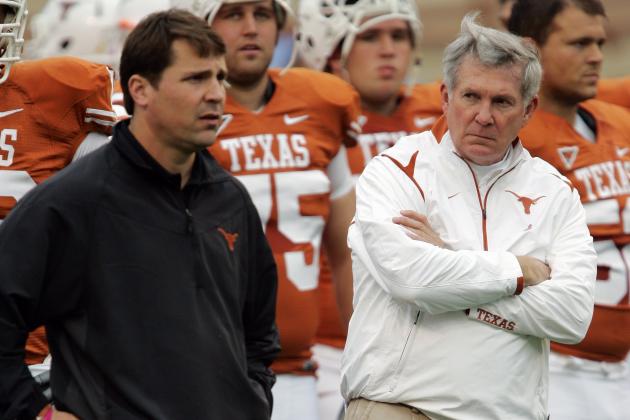 Brian Bahr/Getty Images
"I can't wait to get you into the ring Muschamp..."
Scheduled to air on Friday evenings during the offseason, WWE/SEC Smack Down on the SEC Network will feature a wide swath of college football personalities getting after it in the wrestling ring.
Think face paint, alarmingly tight fitting singlets, masks, jewelry, tats and matchups that will make you tune in even if you won't admit it outside of your own basement.
And just because it's the SEC Network, don't think that college football friends from across the nation won't join in for a bit of merriment, retribution and brand enhancement.
As a teaser, the opening season lineup includes matchups such as Dan Mullen vs. Bret Bielema, Donna Shalala vs. Mark Emmert, Mark Richt vs. Steve Spurrier, Bob Stoops vs. Nick Saban and, yes, Will Muschamp vs. Mack Brown in the well-received "Battle of the Coaches in Waiting" edition.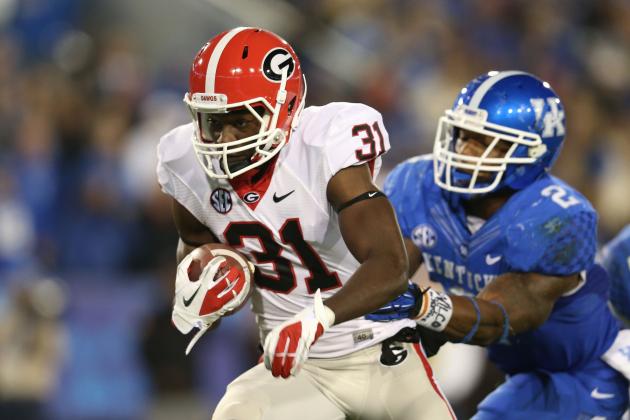 Andy Lyons/Getty Images

To add to the CSI shows featured in locales such as Las Vegas, New York and Miami, the SEC Network will run Crime Scene Investigation: Lexington which will have a decidedly football twist.
Yes, in the SEC's version of CSI, the team of forensic investigators will move in after every Kentucky football game and try to determine what happened to the Wildcats on the gridiron.
No expense will be spared from a scientific standpoint as cutting edge forensic laboratory equipment is utilized to uncover the science of the Stoops era of Kentucky football.
Win or lose, and whether the perpetrator is the offense/defense or special teams, count on dramatic music, sexy characters clad in expensive clothing and a shocking conclusion in Lexington each and every week.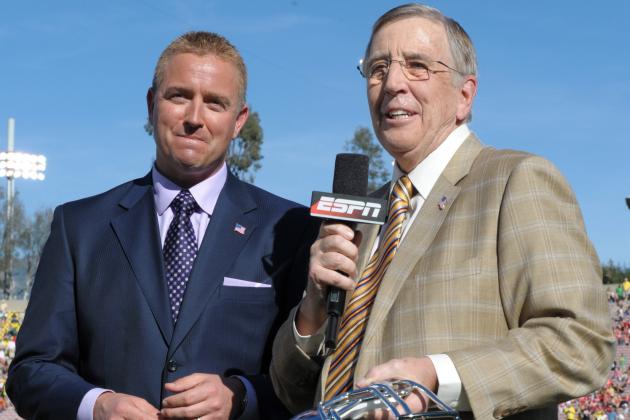 Kirby Lee-USA TODAY Sports

Since ESPN is the SEC Network's partner, parent company ABC's Brent Musburger will come across to host the SEC's version of the Dating Game with predictable results.
Yes, Musburger—along with his trusty sidekick Herbie—will match up college football's most eligible bachelors with a wide array of college co-eds screened by a committee of one (I think we all know who will be on the selection panel, and it's safe to say that it will be a lot simpler than the BCS playoff committee).
Think Katherine Webb selecting between A.J. McCarron, Zach Mettenberger and Aaron Murray, or on the flip slide, think of Jadeveon Clowney selecting a first date candidate between a trio of attractive co-eds hailing from three SEC schools.
Either way, we'll all be waiting to see if Musburger can keep things even quasi-appropriate and we'll be tuning in to see if Herbstreit can keep from turning red.
Things will get even more interesting in late November when the SEC Network airs its annual "The Dating Game with Brent Musburger: Heisman Edition."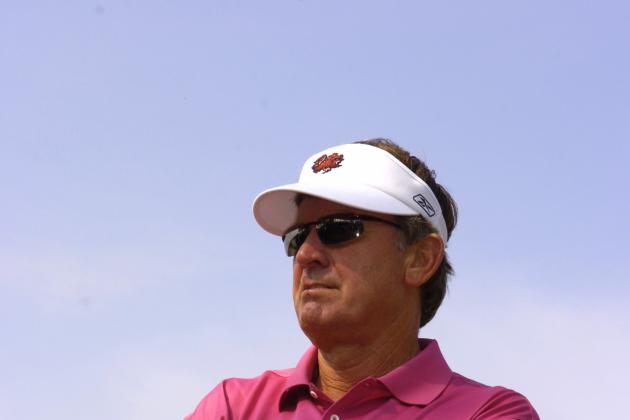 A. Messerschmidt/Getty Images

Delicately weaving college football with golf, the Big Break takes an offseason jaunt to SEC country in South Carolina to host some of the league's biggest personalities.
The premise here is just like the Big Break on the Golf Channel, only the contestants in Hilton Head are limited to the top golfers among the players and coaches currently participating in the SEC in football.
To sweeten the pot, other SEC major non-golf sports could be added as well.
In all seriousness, this is likely a program that folks across the country would actually watch, especially if you conducted a similar competition for each major conference and then had a Big Break—BCS Championship featuring the winners of each the conference editions.
Randy Sartin-USA TODAY Sports

Using an oh too familiar narrative approach that looks at life in the past tense, How I Met Your Linebacker is set in the year 2035 when Tennessee head coach Butch Jones recounts his career with the Volunteers.
From recruiting all the way through the triumphant rise to three BCS national titles in his 15 seasons at Tennessee, Jones, who is 67 years old in the future and played by Al Pacino, describes how he and the Vols shocked the world in this multi-part miniseries.
Though it is tagged as "Sci Fi" material when it hits the airwaves in 2013, wouldn't it be something if by 2035 it is the stuff they're looking for over on the History Channel or ESPN Classic?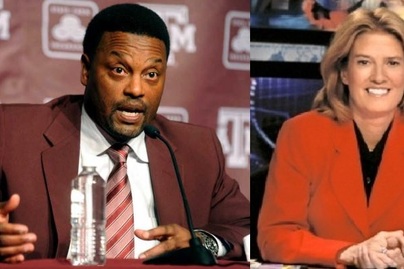 Serving as the SEC Network's current affairs' flagship, On the Record with Greta Van Sumlin would feature Texas A&M's head coach Kevin Sumlin.
When available, Sumlin would anchor the program, and rather than be an actual investigative reporter, he would be the guy who hands off the ball to a wide array of field correspondents who would comb the SEC for broader issues than just the news of the day.
As a definite plus, and as a cost savings to the fledgling SEC Network in partnership with FOX (which already generously shared the name of the program with the conference), Sumlin will share Greta Van Susteren's actual wardrobe on air.
Al Messerschmidt/Getty Images

Based loosely on the MTV program Punk'd and its predecessor Candid Camera, SEC'd is hidden-camera show where college football personalities get pranked via elaborate set-ups cooked up by fellow college football celebs.
Think LSU's Les Miles having Missouri's Gary Pinkel's practice field Porta-Potty trucked to the University of Kansas while he's doing some off-field business or an ACC officiating crew convincing Vanderbilt's James Franklin that he's lost a game to Auburn via a miscalculated fifth-down play…
It's outrageous shenanigans caught on tape for your viewing pleasure, and it's all about that moment when your favorite college football star suddenly realizes that he's been "SEC'd."
The SEC Network has apparently reached out to ex-NFL coaches Wayne Fontes and Rich Kotite to co-host the show.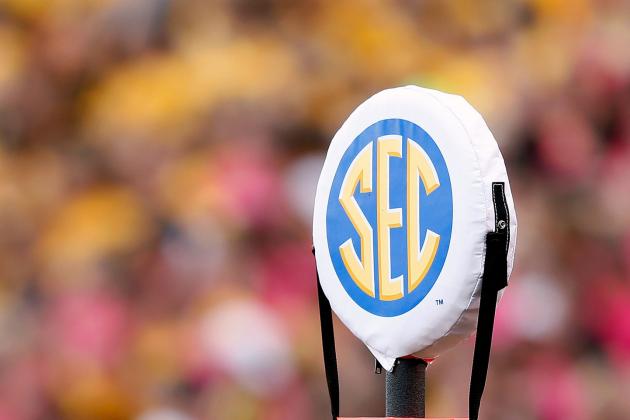 Jamie Squire/Getty Images

A brief daily program lauding the achievements of the SEC and attempting to win over its haters, the SEC Show is part documentary, part propaganda vehicle and part pyramid scheme sales pitch.
Running under the tag line "don't hate, congratulate," the SEC Show encourages the league's faithful to be informed and loving in its boastfulness while inspiring the conference's many loathers to reconsider their animosity.
Basically a brainwashing session with musical guests, the SEC Show will either make you ill or convert you to a full-blown Mike Slive disciple.