Things couldn't have gone worse for Antonio "Bigfoot" Silva the first time he faced Cain Velasquez. Over the course of that three and a half minute bout, Silva's offense amounted to three strikes landed, while his defense was to leak blood all over the canvas and his opponent after Velasquez opened him up with an elbow. On May 25, Silva will get the chance to make amends for that first fight when he faces Velasquez in the main event of UFC 160.
Due to how the first meeting between the two went, many feel that Velasquez will take the win with ease—a fact that does not bother Silva in the least: "I like when people underestimate me, it's nice," Silva said, "I get to go out there and prove them wrong. There are no superheroes in this sport, nobody's invincible and I've been putting in a lot of hard work over the last nine weeks. I've been preparing myself and I'm very confident that I am going to have my hand raised on May 25."
Silva's first fight against Velasquez was his UFC debut, which may account for the fact that Silva didn't feel himself: "In our first fight I was nervous and anxious. I've replaced those emotions. Now I'm calm and I'm driven. I really want this."
While Silva may be calm and driven heading into UFC 160, he'll also be at a disadvantage as far as speed is concerned. Velasquez is one of the quickest fighters in the heavyweight division, a fact that is not lost on Silva, but also one he is not all that concerned with: "I've got thirty pounds on him, he's going to be faster than me. I need to work with what I have and what I have is very, very heavy hands. I'm sure that the first punch that I land, he's going to go down. I have a lot of respect for Cain Velasquez, I think he's an incredible fighter and I respect him as a person, but I'm very confident in myself and I feel very good going into this fight."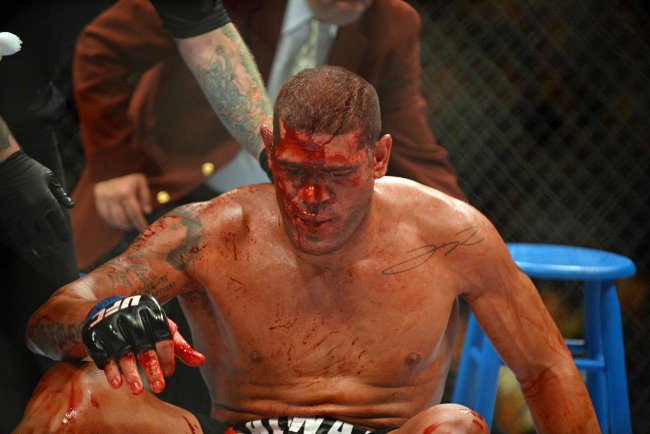 Ron Chenoy-USA TODAY Sports
As far as what Silva is going to do differently to prepare for his second go round with Velasquez, the answer is not much: "A lot of my preparation has been the same as from the first fight. Obviously in the first fight I made a big mistake, but there were a lot of things that I did right going into that fight, that unfortunately you guys didn't get to see. Much of that has been maintained. Overall, my strategy is not to let his elbows get near my forehead, that would be a change."
Sounds like a solid start, but will it be enough to earn the victory and UFC heavyweight title for Silva? We'll find out on May 25 from the MGM Grand in Las Vegas, NV.
**All quotes obtained first hand during UFC 160 media call