Montreal Canadiens' Top 5 Offseason Priorities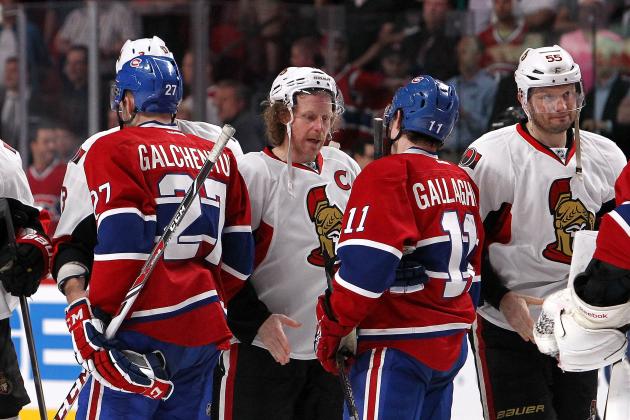 Francois Laplante/FreestylePhoto/Getty Images
Montreal Canadiens Alex Galchenyuk (left) and Brendan Gallagher shake hands with the Ottawa Senators.
Now that the Montreal Canadiens' 2013 offseason is here, Habs fans can get started on their usual offseason traditions, most notably sulking at the team's early playoff exit before the healing process begins.
Oddly enough, it's much the same for the team itself, at least at this juncture, with many of its top players having sustained injuries over the last few weeks. Of course, to a certain degree, that goes without saying, as it's true of most every team following the playoffs.
That being said, with the draft and free agency coming up, the team has a whole host of other things to do, most of which vary quite greatly from priorities from around this time last year, when the Habs finished last in the Eastern Conference.
Having exceeded expectations this year, the team is in an unusual state of limbo (without the music, dancing or fun, unfortunately after being upset in the first round), with the following top five offseason priorities to address:
Begin Slideshow

»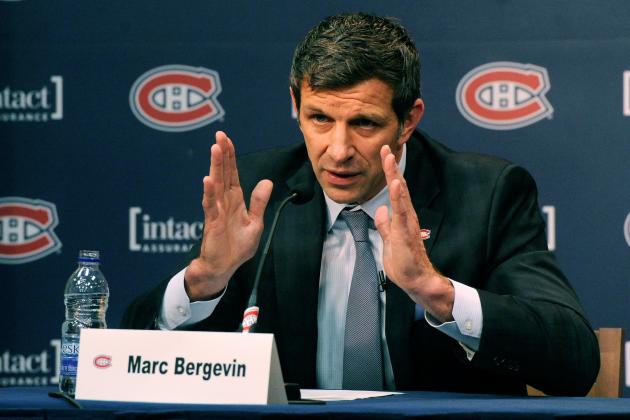 Richard Wolowicz/Getty Images
Marc Bergevin.
When Marc Bergevin was hired just over one year ago as Montreal's general manager, he took over a team that had just suffered through a horrible season.
The team finished last in the Eastern Conference and third to last in the entire league. Additionally, injuries plagued the team from the get-go, so much so that their best line comprised of—unofficially anyway—not three, but just two-and-a-half men.
So, at this time last year, saying the team's goal is to make the playoffs was plenty all right, if not slightly far-fetched. It was a lofty goal at the very least and no general manager in his right mind would ever say his team's goal is to miss them altogether.
That being said, reiterating the same goal when your team has over-performed the entire season just following the trade deadline doesn't make all that much sense, especially not when it is literally days away from officially clinching a berth.
I've heard of being superstitious in hockey, but that's ridiculous. That's like saying your goal is to eat dinner at that new hard-to-get-into five-star restaurant as you're sitting at the table with a chunk of tender sirloin already cut and on its way to your mouth.
In other words, time to reevaluate your end game accordingly: for example, dining and dashing without getting caught.
So, with the Habs eventually winning the Northeast Division this year, Marc Bergevin and company must now reassess the team's progress relative to last year and determine just what the goal is for next season.
Considering the poor performance in the playoffs, a Stanley Cup may not be all that realistic, but publicly stating it's anything less than repeating as division champs would be a mistake, whether or not such an achievement gets realized.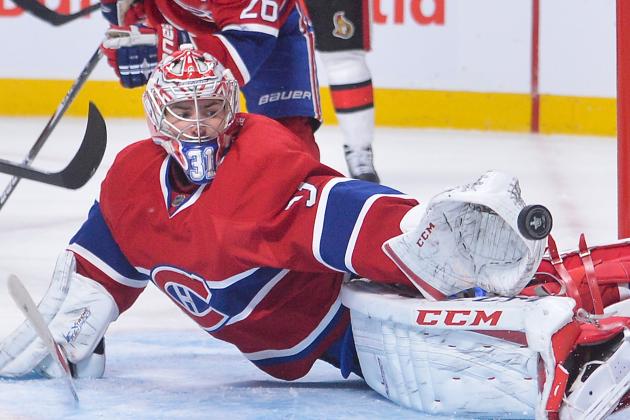 Francois Laplante/FreestylePhoto/Getty Images
Montreal Canadien Carey Price tries to make a save.
Carey Price is just one season into a new six-year, $6.5 million deal that pays him as though he's the third-best goalie in the league (behind Nashville Predator Pekka Rinne and New York Ranger Henrik Lundqvist in terms of cap hit). Unfortunately, he just isn't.
Now, it is of course open to debate as to whether or not Rinne and Lundqvist are the top two and in that order, but the fact is Price struggled mightily for the second straight season. In six full seasons of work, he has had just one really good year (2007-08) and one superstar-esque year (2010-11).
The latter season proves he is capable of being an elite goalie, and, yet, this specific season, when the team in front of him seldom required him to be awesome, he posted the 51st-best save percentage (.905) in the league (a league of approximately 30 starting goalies).
Adding into the equation the fact that he has just one playoff series victory to his name (2007-08 against the Bruins) despite the team appearing in a total of eight since his rookie season, the Habs better start planning for life after "Jesus Price."
He may have suffered a sprained MCL in Game 4, but prior to that he was far from the savior the team thought he was. How can anyone realistically expect him to walk on water when he can't be relied upon consistently to make a save on the ice when a critical game is on the line?
To clarify, Price is undeniably an elite talent, but for whatever reason he just can't put it together when it really matters, and it's about time the Habs add to their organizational depth at the goaltending position anyway.
Dustin Tokarski projects as a capable backup goalie, but the Habs have no potential starting goalies in their prospect pool. As a result, the team should finally take the plunge and draft a goalie for the first time since 2009.
Of course, using up a first-round pick on a goalie is generally risky. Goalies tend to take more time to develop than forwards, and those selected in later rounds have just as good of a chance at becoming game-breaking talents themselves (Lundqvist was selected 205th overall in 2000, Rinne 258th overall in 2004).
Additionally, doing just that might needlessly toy with Price's psyche (if his stats amazingly weren't enough to send the message that he needs to get better). And the Habs, admittedly, need him for now.
As such, the Habs should do their due diligence and determine a potential mid-round goalie worth picking up, to at least get the wheels rolling on a contingency plan for when Price goes completely off the tracks. It's going to happen sooner or later, if it hasn't already.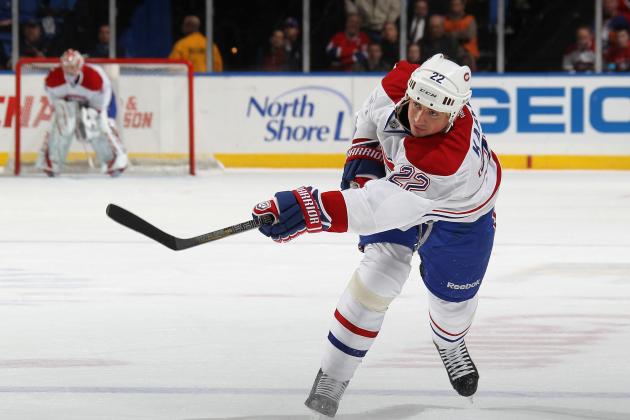 Bruce Bennett/Getty Images
Tomas Kaberle of the Montreal Canadiens.
Getting bought out is generally considered a slight to your abilities as a competent hockey player.
However, since Scott Gomez got a pro-rated $5.5 million this year to essentially get paid another $700,000 by the San Jose Sharks (on top of $4.5 million for next year via CBC.ca), whomever the Habs use as their second compliance buy-out likely won't exactly be crying all the way to the bank.
The smart money, however ironic that expression is in this context, is on Tomas Kaberle because of his salary cap hit of $4.25 million and the fact that the Habs clearly just don't want him.
While he led the Habs with 102 career playoff games, head coach Michel Therrien, desperate for size with the injury to Alexei Emelin, opted not to dress him and his experience against the Ottawa Senators in the first round in favor of Jarred Tinordi (who had none).
Tinordi's 6'6", 215-pound frame might have something to do with that, but chances are also good that Kaberle spit in Therrien's coffee or something.
It must have been diluted somehow, anyway, with Therrien being downright calm for a nice change of pace immediately following the injury to Lars Eller (calm for him, anyway).
Looking at capgeek.com, other candidates would theoretically be captain Brian Gionta ($5 million cap hit), Rene Bourque ($3.33 million) and Travis Moen ($1.85 million).
However, Gionta is injured, meaning he's not eligible; Bourque actually played relatively decently when he was healthy this season, and Moen's contract is cheap enough to bury in the minors, especially when other, more-expensive contracts like Kaberle's are out there.
So, Kaberle it probably is, that lucky dog.
Salary cap hits from capgeek.com.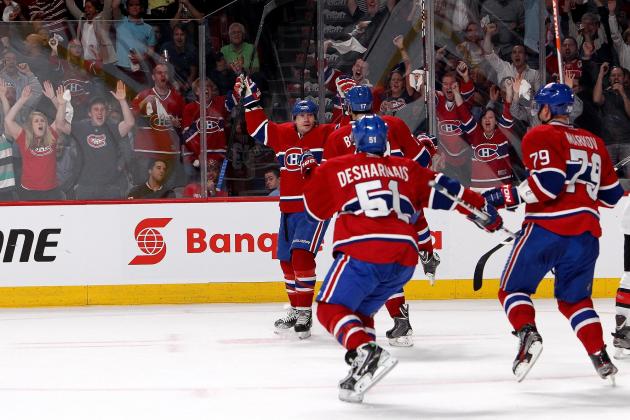 Francois Laplante/FreestylePhoto/Getty Images
Montreal Canadien Michael Ryder celebrates a goal against the Ottawa Senators.
Montreal currently has five players set to become unrestricted free agents: Michael Ryder, Colby Armstrong, Jeff Halpern, Petteri Nokelainen and Davis Drewiske.
Of those, Nokelainen is probably gone for sure, seeing as he only got called up as a reinforcement in case of injury once the Hamilton Bulldogs' season ended. While useful in the faceoff circle, Halpern is 37 and may very well retire, meaning he's probably gone as well.
Based on his play, Armstrong shouldn't be back, but he may very well be due to low expectations as a fourth-liner and his presumably close relationship with Therrien.
Similarly, the 6'2", 220-pound Drewiske didn't do enough in his nine regular-season games with the Habs to so much as draw into the lineup during the playoffs, making him just as useless in Montreal's eyes as Kaberle, but six years younger and in his prime, which has got to sting.
I honestly don't know what hurts more: him not getting into the Stanley Cup-winning Los Angeles Kings' lineup last year, or him not getting into the lineup for the second straight postseason with the Habs, who were actually quite desperate for size.
In any case, it's clear that the Habs' biggest free agency-related priority is dealing with Ryder. Ryder had an undeniable good season, but his trademark inconsistency reared its ugly head yet again late this year.
He had 21 points (10 goals) in 27 games with Montreal but had just three points (zero goals) in his final nine of the regular season.
Ryder could very well be seeking a long-term deal, and, if so, the Habs should balk at the chance to sign him instead of risking getting stuck with the very same player who had just 31 points in his last season with Montreal back in 2007-08. Fool me once, shame on me.
Ryder is entering his mid-30s right now. The last time I checked, the Habs were already looking to get rid of Kaberle, who was Ryder's age when he signed his last deal, before his play started to disintegrate. Ryder already has a head start in that regard.
Needless to say, there are clearly better uses for Bergevin's money, like helping out that prospective Nigerian business partner who somehow got hold of his email address.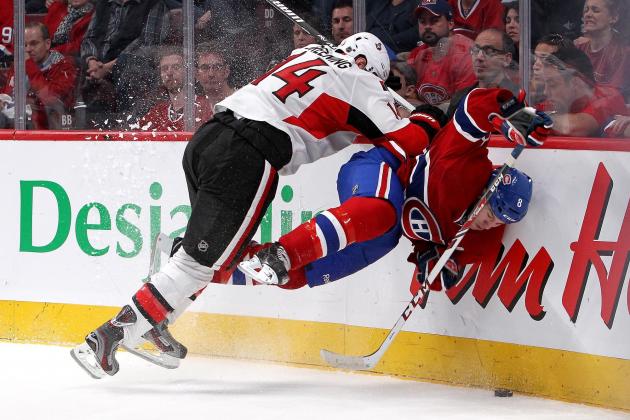 Francois Laplante/FreestylePhoto/Getty Images
Montreal Canadien Brandon Prust gets taken hard into the boards by Ottawa Senator Colin Greening.
It was the same old story for the Montreal Canadiens, losing to a bigger opponent in the playoffs despite being rife with skill and potential.
While the Habs acquired Brandon Prust, Colby Armstrong and Francis Bouillon last summer, grit does not necessarily equal size and none of the three weigh even 200 pounds. They might not be soft, but where was that toughness in the 4-1 series loss to Ottawa?
Prust, the toughest of the bunch, at least for the decisive Game 5 loss, was on the shelf.
He might have won the Jacques Beauchamp-Molson Trophy this year as the team's top unsung hero, but it doesn't take away from the fact that his 6'2", 195-pound frame did little good and only got injured going up against a defense comprising four players above 220 pounds and five above 6'3".
That's not even including Norris Trophy-winning defenseman Erik Karlsson, against whom the Habs were able to do very little despite him being just 175 pounds.
Right now Montreal's top center, David Desharnais, who still isn't an actual No. 1 center, is just 5'7" and 177 pounds and had just one assist in the five games against Ottawa.
Captain Brian Gionta, who's supposed to lead by example, admittedly epitomizes the team perfectly, mostly because he ended his second straight season on the shelf with a biceps injury. Big heart, complemented by an ironic lack of muscle.
Of course, with players like Tinordi, Beaulieu, Galchenyuk and Eller all poised to fill out some and hopefully complement Alexei Emelin's physicality, this need will be addressed from within, but that will take time.
In order to successfully bridge the gap until then and appease those fans who consider this season a lost one, in which the team missed out on a high draft pick by playing well for most of the year only to fizzle out down the stretch, the Habs, as previously argued, need to at the very least compete for the division next year.
The only way to do that is upgrade the team through trades or free agency. Whether that means reaching out to a 6'3", 240-pound Jaromir Jagr, going after a 6'3", 234-pound Mark Fistric or even reacquiring a 6'5", 234-pound Ryan O'Byrne, is up to Bergevin. But he needs to get it done. History has repeated itself too often over the last two decades.