New Jersey Devils Prospects Most Likely to Be Rookie Standouts
Bruce Bennett/Getty Images
Eric Gelinas got in his first NHL game April 25.
The New Jersey Devils could use a shot of youthful enthusiasm. They are an aging team that has missed the playoffs twice in the past three seasons. This kind of shortcoming has not occurred since a three-year stretch from 1987-1989.
So it seems like a good time to infuse a new core and get contributions from young, homegrown faces. Martin Brodeur and Patrik Elias are the only remaining Devils bearing a connection to the championship teams of some 10 years ago. It is uncertain whether Elias will even return, as he is a free agent.
There are some decent prospects who are capable of making an impact at the NHL level. The Devils' biggest weakness is up front, in all levels of the organization. However, there are some big names and big bodies that man the blue line in Albany and elsewhere who could make the jump next season.
Here is a group of four names to get familiar with.
(Prospect stats acquired from Hockey Database)
Begin Slideshow

»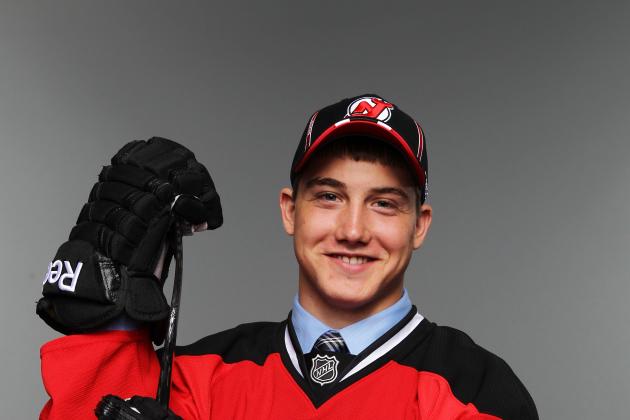 Nick Laham/Getty Images
His hands are there, but will the youngster be able to find space?
Reid Boucher is a trending topic of conversation in the underworld of Devils fans.
His numbers this season in the OHL are impossible to ignore. He scored 62 goals for the Sarnia Sting, breaking Steven Stamkos' team record. His shooting release is instantaneous and his accuracy is laser-like. The question is whether the youngster has the ability to get himself into open space. His size does not stand out, and a jump from the OHL to the NHL is enormous. Just ask Stefan Matteau.
Encouraging though are Boucher's three goals in 11 games during a short stint in Albany in 2013. A dedicated rookie camp and summer of hard work could leave the Michigan native in a position to make the NHL club next fall. A spot on the fourth line seems in reach.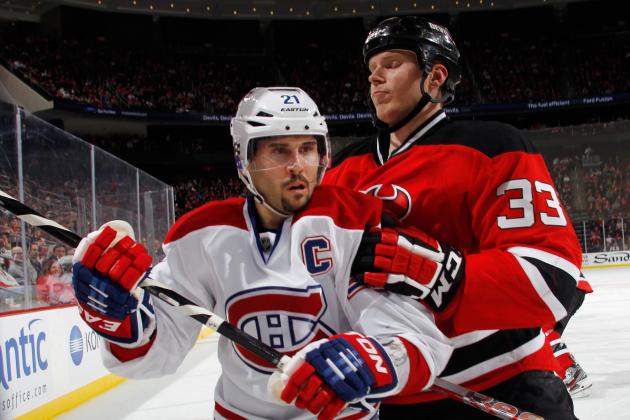 Bruce Bennett/Getty Images
Urbom has size at 6'5" and 215 pounds.
The big Swedish defenseman may be recognizable to some by now. Before surfacing for just a single contest in 2013, Urbom appeared in eight games for New Jersey in 2010-2011 and five games a season ago.
He has been on the cusp for a little while now, and despite a quiet season in Albany offensively, his size and physical play in the the defensive zone are coveted attributes. Now 22 years old, the former third-round pick may be poised to finally make a longstanding impact.
He will not score a lot of goals from the point. He is not an outstanding puck mover, either. But Urbom is a big guy who will battle guys in the crease. There will always be a need for a defenseman like that.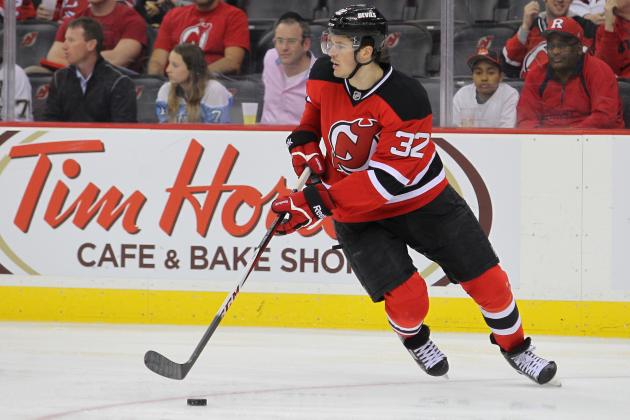 Ed Mulholland-USA TODAY Sports

Gelinas, on the other hand, has not been so quiet in Albany.
He had 22 points in the AHL this season. In 2011-2012, he recorded 16 goals and 21 assists in 75 games for the River Rats (the Devils and the River Rats, interesting mascots in this organization, huh?). An impressive campaign.
Gelinas appeared in an April 25 game against the Penguins, receiving limited ice time. But you could tell what the organization was thinking. Give this guy just a little taste of the bright lights. Let him hear the crowd noise, dress with the All-Stars. He has the skill, he just needs the experience and maturity.
Like I said, the defensive corps at the NHL level is not necessarily a weakness for the Devils. In fact, Pete DeBoer had an overabundance of NHL-caliber defenseman at his disposal this season. Henrik Tallinder and Mark Fayne, guys with experience, were sometimes healthy scratches.
So for there to be enough room for guys like Gelinas to make a significant impact, some shifting has to be done. Volchenkov is an obvious candidate for amnesty. Past that, maybe they can flip some of these defenseman for offensive talent. We all know the Devils need more in that department.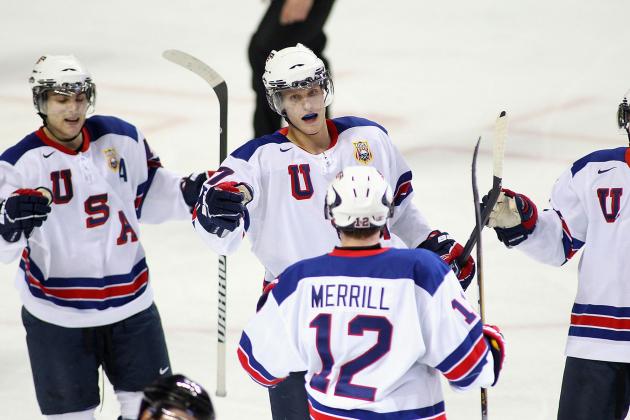 Rick Stewart/Getty Images
Merrill has as much upside as any prospect in the organization.
Like Reid Boucher, Merrill is a point of interest for Devils fans and the entire hockey community. Unfortunately, not all of the talk is about his talent.
That much is obvious. The kid registered 25 points his freshman season at Michigan. His production in the season that followed dropped noticeably, and his most recent season as a junior was a tumultuous one. He began the year with a 12-game suspension for violating unspecified team rules. Eventually, the 21-year-old left the university and signed his entry-level deal with New Jersey, which kicks in next season.
I'm not sure what he did, but 12 games is a lot of hockey to miss in a college season. Since we are talking about one of the most talented players on the team, we can assume Merrill erred conspicuously.
He had one goal and seven assists in the 12 games he played with Albany at the end of this season. Again, the potential has never been in question. Merrill can be an impact defenseman at both ends of the ice.
If it is a behavioral issue, Lou Lamoriello is a the right kind of influence to play for.