As of this moment, UFC 160's co-main event between former UFC heavyweight champion Junior dos Santos (15-2) and Mark Hunt (9-7) is still a go, despite the fact that Hunt has been having difficulty getting to Las Vegas due to visa issues. The fact that he still has a fight makes Dos Santos a very happy man.
"When I first heard the news (about Hunt's visa problems) I was worried," Dos Santos said. "I was scared that I wouldn't have a fight. I invested a lot into this training camp, I am very prepared and I'm sure Mark is in the same boat. Neither one of us wants to be without a fight next week."
The thing is, this is not just any fight for Dos Santos, it's a possible ticket toward redemption. If Dos Santos defeats Hunt, he'll most likely be next in line to fight the winner of UFC 160's main event, Cain Velasquez versus Antonio Silva.
That thought, while nice, isn't what's on Dos Santos' mind ahead of his May 25 meeting with Hunt:
"It's a motivation, but right now my focus is on my fight against Mark Hunt. Mark Hunt's my next opponent; Mark Hunt's the guy I need to be focused on. It'll be great (to earn a title shot) but it's not what I'm thinking about now."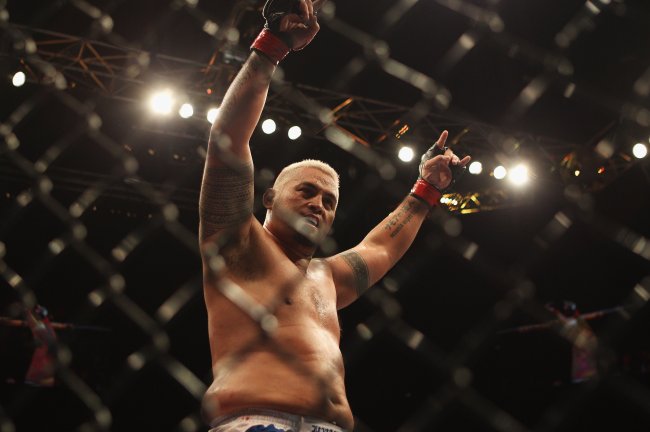 Mark Kolbe/Getty Images
Knowing that a possible shot at the title is on the line, you would think that Dos Santos would be rooting for Cain Velasquez to retain his title at UFC 160. After all, it was Velasquez who put a five-round beating on Dos Santos and took the heavyweight crown at UFC 155.
Not so, according to Dos Santos: "I would love to have a rematch against Cain, but in this fight I'm going to be rooting for my friend Bigfoot. I think he's capable of winning and I'm going to be cheering for him."
Who wins and how at UFC 160?
Why shouldn't Dos Santos cheer for his friend? In his mind, there will be plenty of opportunities to avenge his first UFC loss.
"I'm sure that I can beat Cain Velasquez. I'm one of the people that's capable of doing that and I'm sure Cain and I are going to fight one another many times throughout our careers. There's still going to be a lot of Velasquez versus Dos Santos and Dos Santos versus Velasquez fights throughout our careers because we are, both of us, at another level."
As far as what level he is on right now, Dos Santos is feeling prepared to face Hunt, "I'm good. I'm fine. Everything is good. We learn a lot from our mistakes, especially our professional mistakes and for sure I learned a lot from my last fight. This is a whole other ball game, I'm prepared and I'm ready to go."
UFC 160 will take place on May 25 from the MGM Grand Garden Arena in Las Vegas NV.
**All quotes obtained first hand during UFC 160 media call