Ottawa Senators vs Pittsburgh Penguins Game 1: Live Score, Updates, Analysis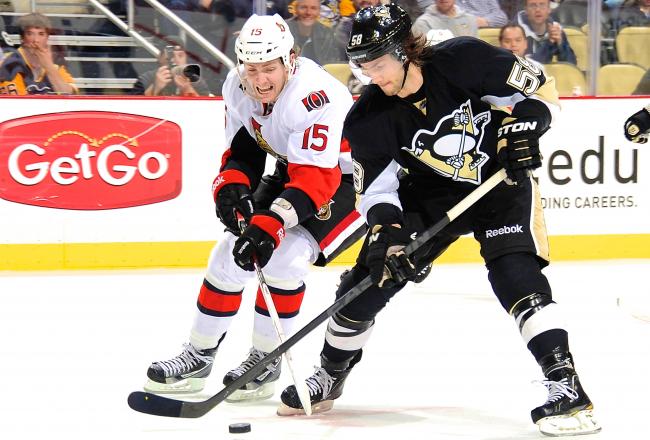 Top-seeded Pittsburgh protected home ice in Game 1 of an Eastern Conference semifinal showdown against Ottawa. The Penguins picked up the game's final three goals to pull away, while Tomas Vokoun shined again in net.
Vokoun made 35 saves in his third postseason start and remains unbeaten since replacing Marc-Andre Fleury as Pittsburgh's starting goalie. The Penguins provided plenty of offensive support, including three special teams scores.
Pascal Dupuis punctuated the onslaught with a shorthanded goal in the third period. Evgeni Malkin added a goal and an assist for Pittsburgh, which also picked up a pair of power-play scores.
The teams take a two-day reprieve before resuming series action Friday night in Pittsburgh.
Final: Pittsburgh 4, Ottawa 1
Pittsburgh wins Game 1 of Eastern Conference semifinal 4-1!
Ottawa knotted the matchup at 1-1 early in the first period but couldn't contain a focused Pittsburgh attack in the series opener. The Penguins tallied three unanswered goals to claim a 4-1 win.
Pittsburgh star Evgeni Malkin has a goal and an assist to lead the way, while his team scored three special teams goals. Goalie Tomas Vokoun stopped 35 shots to improve to 3-0 in the postseason.
Pittsburgh 4, Ottawa 1 (2:45 3rd Period)
I'm scared to say this after what we witnessed in Boston last night, but Pittsburgh has just about wrapped up Game 1 on home ice. The Penguins continue to control possession during the late stages of this game in support of goalie Tomas Vokoun.
The Senators have managed just eight shots in the final fram and Vokoun has turned them all away.
Ottawa Sun sportswriter Don Brennan speaks the truth...
Special Teams have been EVERYTHING in Game 1. Shocking. #nhl #sens #pens

— Don Brennan (@SunDoniB) May 15, 2013
Penguins score shorthanded goal to surge ahead 4-1 with 8:36 remaining in regulation!
A phenomenal night for Pittsburgh's special teams continues as Pascal Dupuis connects for a shorthanded goal. His sixth score of the postseason capped off a 2-on-1 breakaway.
Dupuis, an impending free agent, continues to be a prime time performer in the playoffs. The Penguins have scored on 5-on-5, 5-on-4 and 5-on-5 tonight.
Pittsburgh 3, Ottawa 1 (9:51 3rd Period)
Ottawa embarks on a pivotal fourth power play, still trailing by a pair of goals. The Senators have struggled immensely on the man advantage against Pittsburgh this season, accumulating a combined 1-for-15 mark versus the Penguins (0-for-3 tonight).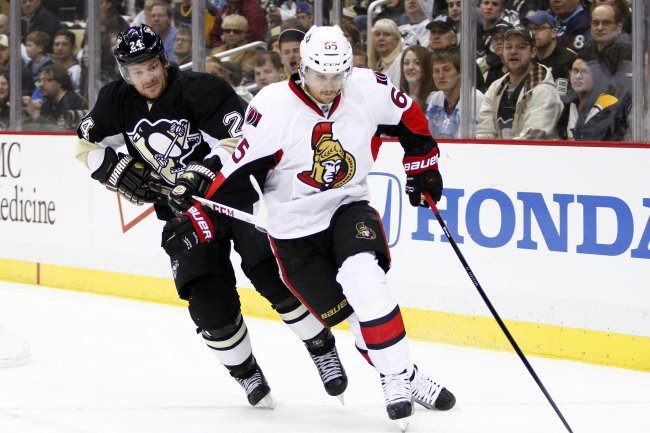 Justin K. Aller/Getty Images
Pittsburgh 3, Ottawa 1 (12:38 3rd Period)
The Penguins currently sit ahead on the scoreboard by two goals but this game has been extremely even in terms of scoring chances. Top-seeded Pittsburgh appears to have its hands full in this second-round matchup as the Senators haven't backed down during an adverse road matchup.
Ottawa outshout the Penguins 14-12 in the first period, matched Pittsburgh with 12 second-period shots and are up 4-2 in shots here in the third period. It's much different than the Penguins' playoff opener; a 5-0 dismantling of New York.
Pittsburgh 3, Ottawa 1 (17:24 3rd Period)
Penguins goalie Marc-Andre Fleury is a Stanley Cup champion and franchise stalwart. But based on the way Tomas Vokoun has performed in the past week, it's safe to say Fleury is no longer a starter.
Pittsburgh's transition to Vokoun transformed the first-round series versus New York, as the 36-year-old surrendered just three goals on 69 shot attempts to win Games 5 and 6. Tonight, he has 28 saves.
Ottawa has come up empty on its last 26 shots on goal. Vokoun has clearly won over the Pittsburgh crowd and is well on his way to gaining all the trust he needs from Penguins coach Dan Bylsma.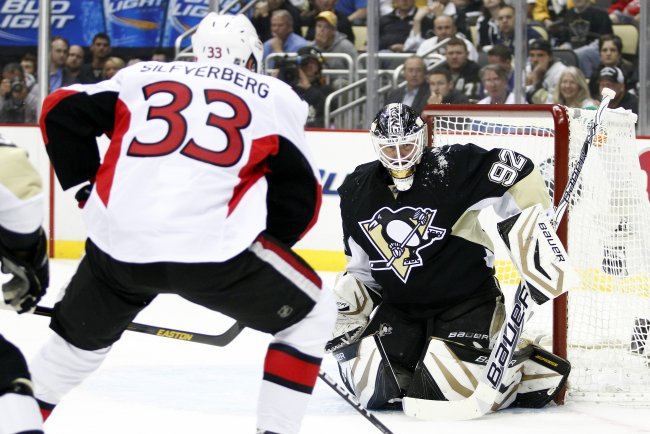 Justin K. Aller/Getty Images
Second period ends with Penguins in front 3-1!
A tightly contested second period ended with Pittsburgh's Chris Kunitz capitalizing on a late Ottawa penalty. His goal gives the Penguins a two-goal cushion with 20 minutes remaining in regulation.
Pittsburgh trounced New York 5-0 in the first-round opener but has dealt with a tougher test against an upstart seventh-seeded Senators squad that conquered Montreal in five games. Goalie Tomas Vokoun has 25 saves in his firs career start beyond conference quarterfinal action.
Penguins score second power play goal, take 3-1 lead with 1:27 left in second period!
Pittsburgh cashes in yet again with a man advantage. Chris Kunitz, who drew the penalty, notched his third postseason goal.
He was assisted by Jarome Iginla and Kris Letang.
Pittsburgh 2, Ottawa 1 (2:03 2nd Period)
The Penguins pick up another power play opportunity to close out the second period. Pittsburgh scored its first goal of the game on a man advantage.
Ottawa rookie Cory Conacher was whistled for Holding Chris Kunitz.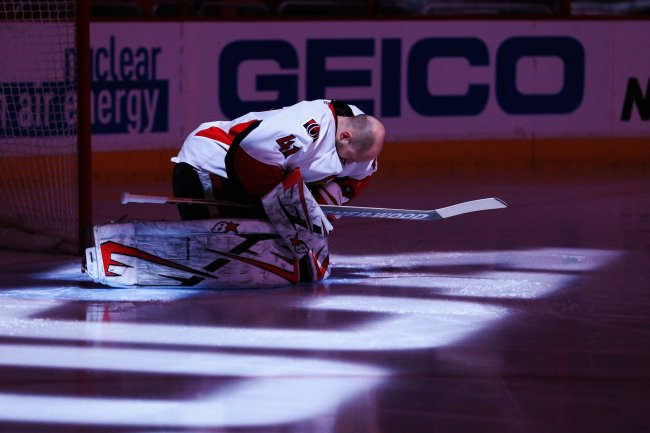 Rob Carr/Getty Images
Pittsburgh 2, Ottawa 1 (7:30 1st Period)
The Penguins and Senators combined for three goals in the first 12:15 of the game, immediately placing both goaltenders on the hot seat. Tomas Vokoun and Craig Anderson have responded admirably, each settling in and shutting down the opposition.
Vokoun, who allowed an Ottawa goal on the second shot he faced, has 23 saves. Anderson, who was blitzed early, has faced just six shots in the second period and has 16 total saves.
Game 1 began looking like it had the makings of a barnburner but now it's as tight as can be with goals at a premium.
Pittsburgh 2, Ottawa 1 (11:24 1st Period)
James Neil heads to the penalty box after being whistled for roughing. It's Ottawa's third man advantage of the game.
Pittsburgh has been an excellent penalty-killing team throughout the season.
Think you're a hardcore hockey fan? No matter which NHL team you support, it may be advisable to keep your fervor a notch below the level this man displays his loyalty.
A Pittsburgh fan showed up to tonight's game with a message of "inspiration" created out of his own body hair. Yep... HIS. OWN. BODY. HAIR.
This Penguins fan showed his support by wearing a sign made from his own body hair. It's beautiful. deadsp.in/p9LeNSv

— Deadspin (@Deadspin) May 15, 2013
Pittsburgh 2, Ottawa 1 (18:10 2nd Period)
Evgeni Malkin is on fire. The Penguins superstar has registered a point in all seven Pittsburgh playoff games, including a goal and assist in the first period tonight.
He's no stranger to playoff success. Malkin was named the Conn Smythe Trophy winner when Pittsburgh claimed the 2009 Stanley Cup.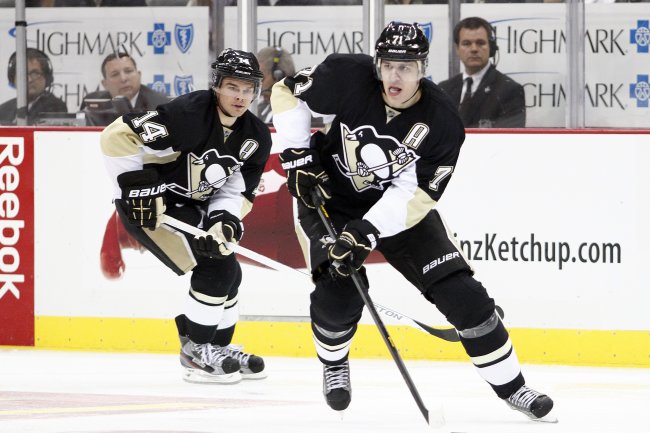 Justin K. Aller/Getty Images
First period ends with Pittsburgh leading Ottawa 2-1!
The Penguins picked up a power play less than two minutes into the contest and Evgeni Malkin tacked on a second goal to give the home squad a 2-1 lead through one period of series action. Tomas Vokoun, making his third start of the playoffs, stopped 13 of 14 shots sent his way.
Colin Greening scored the Senators' lone goal of the period.
Stay tuned for second-period coverage from Pittsburgh...
Pittsburgh 2, Ottawa 1 (3:35 1st Period)
The Penguins managed to kill Ottawa's first power play opportunity of the series after Tyler Kennedy picked up a penalty for holding. Tomas Vokoun has responded well after surrendering a Senators goal on the first shot he faced.
He now has eight saves in the contest.
Malkin puts Pittsburgh ahead 2-1 with 7:45 remaining in first period!
An excellent inside feed helped the Penguins light up the lamp yet again in the opening period. Pittsburgh used quick puck movement to work its way up the ice, setting up a centering give to Evgeni Malkin, who completed the impressive play with a score in traffic.
Chris Kunitz provided a highlight-reel pass inside. James Neal also picked up an assist. This is Malkin's third goal of the playoffs.
Pittsburgh 1, Ottawa 1 (9:10 1st Period)
The Penguins own a significant edge in shots on goal early tonight. Pittsburgh has outshot the Senators 10-6, including several razor-thin misses on scoring chances.
Sidney Crosby, still playing with extra protective head gear while recovering from a broken jaw, has been extremely active. He put two shots on net in the opening minutes.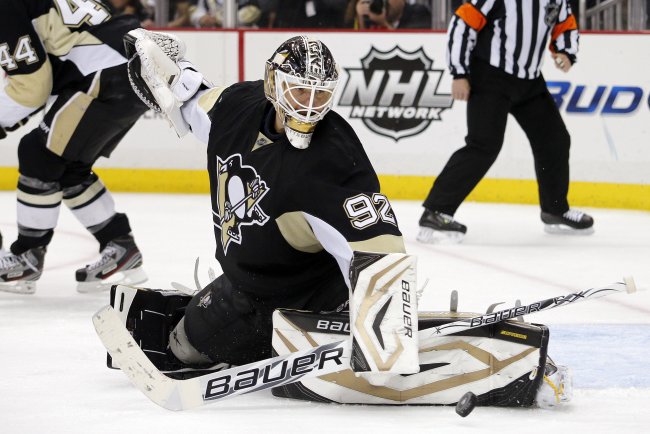 Justin K. Aller/Getty Images
Ottawa answers right back, scores on second shot of game to tie Penguins 1-1 with 15:09 left in first period!
The Senators quickly responded to Pittsburgh's series-opening goal. Ottawa slipped the puck past Penguins goalie Tomas Vokoun on its second shot attempt of the evening.
Colin Greening notched his first goal of the playoffs, assisted by Erik Condra and Jared Cowen. Vokoun, who is 2-0 in the postseason since replacing longtime Pittsburgh starter Marc-Andre Fleury joins Anderson in experiencing immediate adversity.
Penguins pick up first goal of the series, earn 1-0 advantage with 17:19 left in first period!
Top-seeded Pittsburgh capitalized on its initial power play of the Eastern Conference semifinals. Paul Martin scored his second goal of the postseason during a man advantage that occurred due to a high-sticking penalty on Ottawa's Kyle Turris.
The Penguins continue to dominate on the power play and quickly place pressure on Anderson, who was superb in net throughout the Senator's five-game series win over Montreal.
Pittsburgh 0, Ottawa 0 (18:48 1st Period)
Sidney Crosby already threatened to score on his first shot of the series, deflecting the puck on net while surging toward Senators goalie Craig Anderson. Pittsburgh gains the first man advantage of the game a little more than a minute into the game.
The Penguins ranked first in power play conversion during the playoffs' opening round.
The first round of 2013 Stanley Cup playoff action produced 17 overtime games. Fortunately, a 48-game regular-season should have everyone feeling fresh despite an arduous opening round.
Pittsburgh prevailed in overtime to finish of the Islanders in Game 6 on Saturday. Ottawa overcame Montreal in overtime of Game 4 of its first-round matchup.
This article is
What is the duplicate article?
Why is this article offensive?
Where is this article plagiarized from?
Why is this article poorly edited?