5 Implications of Dwyane Wade's Knee Issues for Miami Heat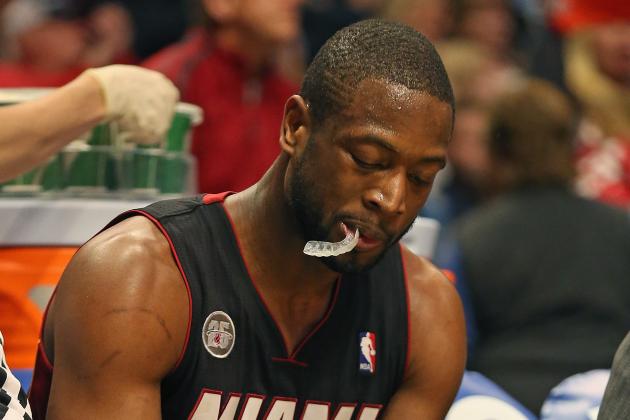 Jonathan Daniel/Getty Images

Dwyane Wade is no longer in control.
Throughout the Miami Heat guard's brilliant career, he's been able to dictate to offenses and defenses to get where he wants, when he wants.
Now, though, he is at the mercy of his bruised right knee. It decides what he can do, when he can do it and how much it will hurt.
That much has been evident during the Heat's past six playoff games—he played in five of them—in which he has scored a total of 49 points.
That's 9.8 per game. There was a time when he could regularly score 9.8 per quarter.
In Game 4 against the Chicago Bulls, he winced and recoiled after knocking into Jimmy Butler's right knee. And while he returned, played decent defense and even had a dunk, he didn't consistently demonstrate the explosiveness for which he's become known.
"Sometimes it feels good, sometimes it doesn't," said Wade, who spends every off day getting hours of treatment. "Just try to go out there and continue to do what I can."
That's all he can do for the foreseeable future, since healing is unlikely until the offseason.
So, what does this latest ailment do to the Heat, both in the short- and long-term?
Note: All quotes for this piece were collected through the course of the author's coverage of the Miami Heat for the Palm Beach Post.
Begin Slideshow

»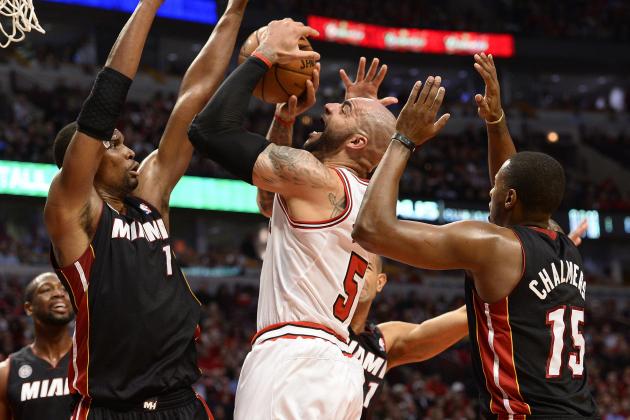 Mike DiNovo-USA TODAY Sports
Miami's defense is leaving the Bulls with little room, or hope.
NBA players tend to prefer the regular-season schedule. They get in a rhythm, knowing they will play every other day or every third day with the occasional back-to-back.
The postseason slate, however, is at the whim of the television networks. That can lead to long waits.
The Miami Heat had one between their first-round sweep of the Milwaukee Bucks and the start of their semifinals series against the Chicago Bulls, going seven days without a game.
And while they looked more rusty than rested for that Game 1 against Chicago, losing their first game of the playoffs, they should actually welcome the opportunity for another lengthy break due to Wade's ongoing injury issues.
All they need to do is beat the battered Bulls at home in Game 5. If they do, and even if the Indiana Pacers finish the New York Knicks in five games, they will have four days off before opening the Eastern Conference finals in Miami. If the Knicks can push their series with the Pacers to six or seven games, the Heat will get six full days free prior to the next round.
Wade has said that a day off here or there doesn't really help that much now. Still, it's one more day that he's less likely to bump his bruise and suffer a setback.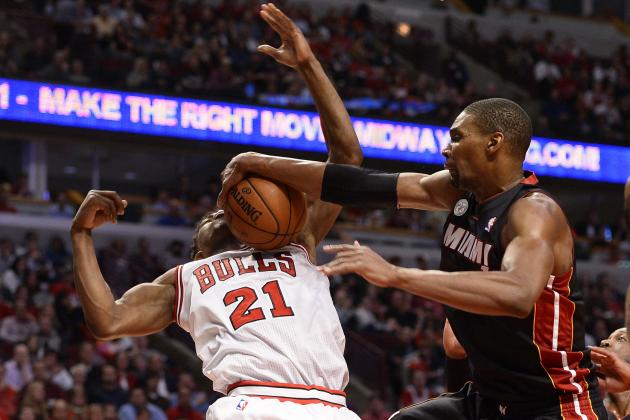 Mike DiNovo-USA TODAY Sports
Chris Bosh certainly isn't messing around lately.
Chris Bosh has done stuff like this before. He's even done it against the Bulls in the playoffs.
Remember 2011? The Eastern Conference finals? Dwyane Wade was relatively healthy, yet uncharacteristically erratic. Bosh stepped up to average 23.2 points on 60 percent shooting.
Wait, you don't remember?
Just listen to Bosh:
"People forget everything I do. You know what, man, I don't pay much attention to all that stuff. I know most of the time people pay attention to demonstrative people that clap and celebrate every time they hit a bucket. I'm not that kind of guy. I just do my job, do what I'm supposed to do. If it's playing defense, I'm going to play defense. If it's scoring, I'm gonna score. But I can't help what people remember."
Bosh has had some especially forgettable rebounding efforts this season, but he gave Miami what it needed on the glass in Game 3 with 19 boards—his highest total ever in a Heat uniform.
Defensively, he has been active of late, blocking four shots in Game 4 and affecting several others. Offensively, he carried the Heat in much of the second half of Game 3 and got them going with 10 early points in Game 4.
Simply put, he's been the Heat's second-best player in the series against Chicago. And if Wade continues to be a shell of himself, he'll need to be nothing less.
Jonathan Daniel/Getty Images
Norris Cole has had plenty of fun in the playoffs.
Norris Cole wore a suit to the United Center for Game 4.
"I always come prepared," Cole said.
Well, that wasn't necessarily the case for Game 3, when the second-year point guard arrived in more casual clothing including a pair of trendy, ripped-up jeans.
Regardless, who expected him, of all the members of the star-studded Miami Heat, to be a difference-maker? It wasn't even all that clear earlier this season that he would get a playoff rotation spot.
Last postseason, he was in and—mostly—out. Now, though, Cole is absolutely entrenched.
Through the Heat's first eight postseason games, he averaged 9.3 points in 22.3 minutes. He did that while shooting an unbelievable 73.3 percent from behind the three-point line and without any of the youthful errors that marred his first two seasons in the NBA.
No one on the Heat studies or works harder, and it appears to be paying off.
"With experience comes comfort," Cole said. "I'm seeing situations that I saw last playoffs, that I saw early this season."
The Heat are seeing such growth from him that it's reasonable to wonder if he can offer even more. With Dwyane Wade hobbled, he may need to.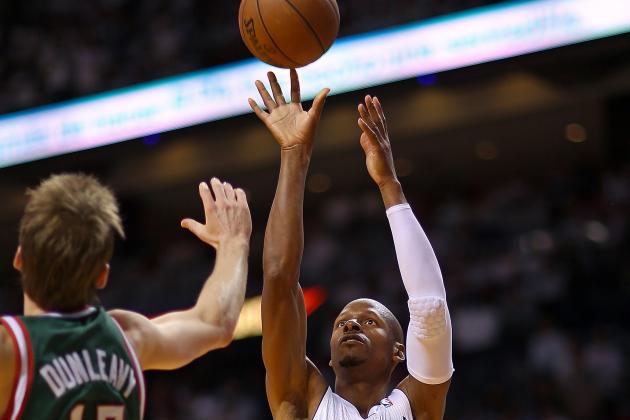 Mike Ehrmann/Getty Images
Ray Allen plays into the Heat's pace and space style.
In the old days, the Miami Heat played poorly without Dwyane Wade, or with Wade at anything less than his best.
That was their reality for years—during the 2005 Eastern Conference finals, when his ribcage strain led to a squandered series against Detroit, and again in the seasons that followed, when they would free-fall in the standings any time he was sidelined.
Without question, they are still far better when he plays. That's evidenced by the advanced statistics, specifically the Heat's offensive and defensive ratings, which were far better this season when he played.
Miami was plus-12.8 per 100 possessions when he was on the floor this season, and just plus-3.4 when he wasn't.
But, as was the case last season, they won with regularity even in his absence. They were 11-2 in the regular season and are 1-0 in the postseason. Without Wade, they simply have to play a different brand of basketball.
"We take a few more threes," Chris Bosh said.
LeBron James handles the ball even more, fully entrusted with directing traffic as he once did for the Cleveland Cavaliers. Ray Allen gets more minutes, spacing the floor along with Bosh, Shane Battier, Mario Chalmers and even Mike Miller.
Without Wade, the Heat's shot at success is more dependent on the ability of their outside shooters.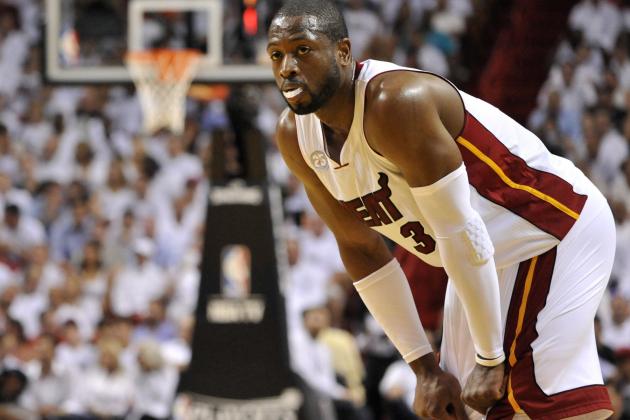 Steve Mitchell-USA TODAY Sports
How long will Wade be able to act as a worthy sidekick?
LeBron James and Dwayne Wade have been linked together since the summer of 2010. Lately, though, their fortunes have split.
James continues to avoid significant injuries, and his game remains on the ascent. Wade, meanwhile, keeps breaking down. The right knee bruise is just the most recent setback after a left knee injury limited him last postseason.
"We know D-Wade is battling," James said. "He's injured right now. He's nowhere near 100 percent."
The question, of course, is how close Wade can ever get to being "100 percent"—not just this season, but in the years to follow.
Considering that James came to Miami in part to play with someone close to his equal, that question raises an even more uncomfortable one: As close as they are, could James be tempted to leave Miami in the summer of 2014 in search of a younger, healthier sidekick somewhere else?
James, Wade and Chris Bosh can all opt out of their contracts at that time, though Wade would seem increasingly unlikely to do so seeing as he is due $41.5 million in the two seasons after 2014. At age 32, with his injury history, he probably won't command that much in a new deal.
With Wade taking up such a large salary cap and luxury tax slice, Miami—whether run by Pat Riley or someone else—won't have much maneuverability to reshape the team around James.
LeBron will be sure to take notice, meaning the Heat's best hope is that Wade somehow gets—and stays—healthy.