First-Quarter Grades for the Oakland Athletics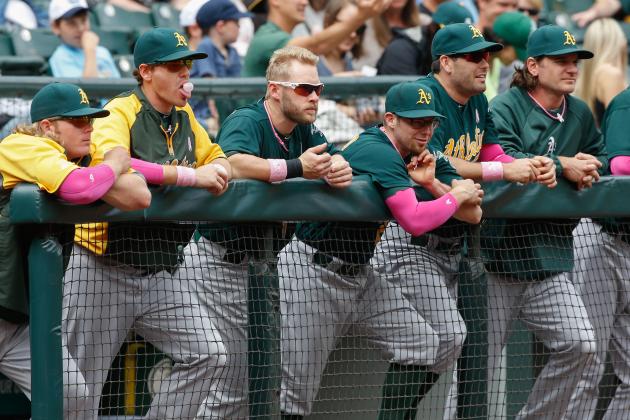 Otto Greule Jr/Getty Images
Even they're waiting to see their grades.
After 41 games, the Oakland Athletics are succeeding in three areas of the game, but they're also in danger of failing in three other facets.
Above-average hitting and below-average pitching meet in the middle, and you know what they produce? A 20-21 record. That's exactly what the A's have one-quarter of the way through the 2013 season.
Perfection is difficult, so no one is expecting all A's (no pun intended) for the coaching staff, bench, defense, bullpen, rotation and offense. Still, if Oakland hopes to finish at the top of the AL West class, it'll need to hit it hard and pick up some of its grades.
So far, two units are acing it. Another is doing well enough, but things could be better. And the final three, well, they might need to lose their video game time until they can raise their grade.
See which Oakland A's unit scores high, low and in the middle.
Statistics courtesy of Baseball-reference.com and MLB.com.
Begin Slideshow

»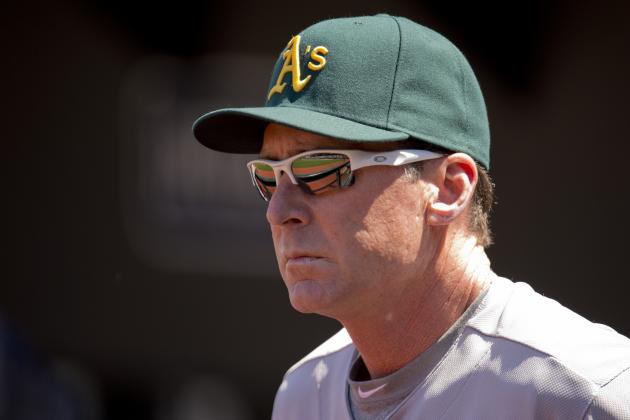 Jason Miller/Getty Images
Bob Melvin has done a good job with what he has.
Coming off his AL Manager of the Year season a year ago, the expectations for Bob Melvin likely increased. Not many knew what to expect from the squad in 2012, but Melvin helped lead the way to 94 wins and the AL West title.
Hypothetically, the A's should have continued to get better, so Melvin should be able to get more production out of them.
Entering 2013, his biggest task looked to be finding time for Yoenis Cespedes, Coco Crisp, Seth Smith, Josh Reddick and Chris Young in a crowded outfield—all while keeping each man happy. Unfortunately, injuries have provided an outfield assist. Crisp, Young and Reddick are currently on the disabled list, and Cespedes spent 15 days on the DL in April.
Melvin also had to choose one second baseman from five or six candidates.
He chose Eric Sogard, who began the season with strong defense and decent enough hitting. Since then, he's sprinkled in Adam Rosales as well.
Melvin played his options effectively in the start. He's also done his best in the wake of several injuries to marquee injuries. Furthermore, he's faced a few rough umpiring crews and has shown how willing he is to support his guys (read: ejections). Best of all, he hasn't pulled any head-scratching moves that have sent fans into an angry, confused frenzy.
Add in the hiring of hitting coach Chili Davis, who many—including ESPN's Buster Olney (subscription only)—believe is responsible for the surge in offense, and the coaching staff has done an outstanding job.
By no means are they perfect.
The staff is filled with men who know the game well and are considered "player's coaches." Still, they need to find a way to get more out of their studs, keep their guys healthy and help those who are struggling to rebound.
Grade: B+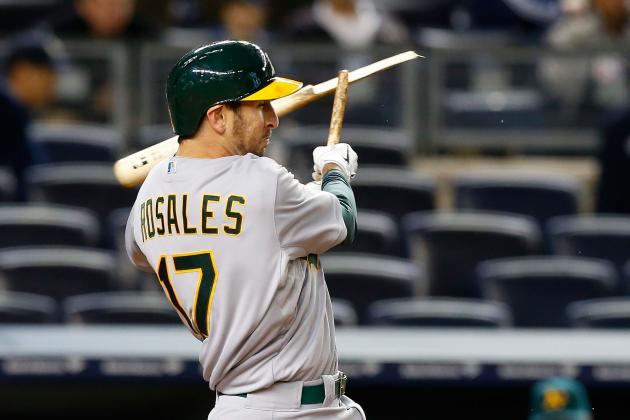 Jim McIsaac/Getty Images
Rosales is hitting .313. Maybe it's time to make him an everyday starter.
I'm going to somewhat include Derek Norris, Chris Young and Jed Lowrie as "bench" players.
Norris platoons with John Jaso at catcher, but he has caught six less games. Young has appeared in the least games of those considered "regular" outfield options. Lowrie is included because he joined the team as an all-around infield backup and only originally took the starting shortstop role because Hiroyuki Nakajima started the season injured.
Guys like Nate Freiman, Adam Rosales, Andy Parrino, Michael Taylor, Luke Montz and Daric Barton will fill out the rest of this section.
Look at Jaso and Norris side by side and it's fairly comparable. In less at-bats, Norris has struck out more than Jaso, but he's also walked, doubled and stolen bases more often. He also has as many home runs and a higher on-base percentage, OPS and slugging percentage.
When Norris fills in, there's not as many hits or RBI, but he's still getting on base with walks or extra-base hits.
Young must frustrate fans. His .172 batting average stands out, but his 15 RBI are sixth most on the team and four home runs puts him in the top five on the team. He doesn't hit often, but when he does, it's effective.
Analysis on Lowrie can be summed up in one word: awesome.
He led the team in hits until May 14, holds a .298 average and even maintained a six-game hit streak starting in the second game of the season.
As for the rest of the role players, there's some good, bad and very ugly.
Rosales is hitting an effective .302. He's filled in for second and short. Freiman's .239 average is somewhat typical for a guy who rarely plays. Montz, Taylor and Parrino have played sparingly, but their sub-.200 averages may indicate why.
But it gets uglier.
Of 15 men who have come off the bench as a pinch hitter, 13 of them are hitless. So while they're somewhat effective as spot-starters, pinch hitters are not getting the job done.
Grade: C-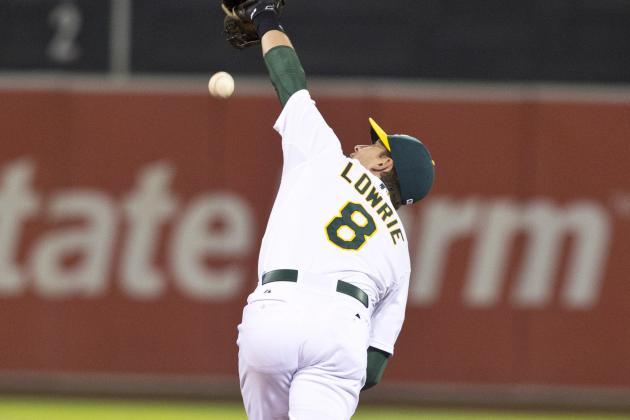 Jason O. Watson/Getty Images
Lowrie let a popup pop right out of his glove.
If you've watched A's games this season, nothing stands out as terrible when it comes to defense, except perhaps the May 14 game. Looking at the stats, though, highlights a terrible finding.
The team is second in putouts. That's the good news. Unfortunately, that's about the only good news.
They're also tied for last in double plays turned and 26th in the league in assists. That means Oakland is making outs one at a time. Though, that could just be the way the ball falls. If there's not many runners in position to turn a double play, or no one running on the outfield arms, the opportunity isn't there.
The A's are seventh in stolen bases allowed and fifth in stolen base percentage. So not only are the pitchers struggling, not many runners are being caught to help.
Two of the most indicators of fielding are errors made and fielding percentage.
Unfortunately, Oakland has committed the fifth most (tie) errors among major league teams. Based on the errors made in conjunction with the total chances, the Athletics are 22nd in fielding percentage.
Grade: D-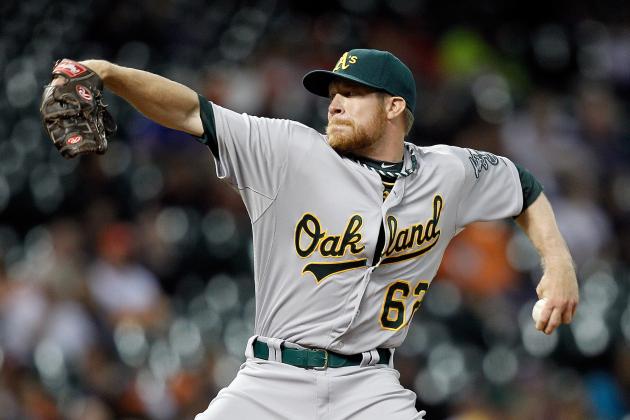 Bob Levey/Getty Images
Fans are confident Sean Doolittle can DO what it takes to lock it down.
Until May 14, the Oakland Athletics bullpen owned a sub-3.00 ERA, the seventh best in the majors. Even more impressively, the bullpen held a 6-0 record. Only one other bullpen in the entire league had avoided suffering the loss.
After the second game against the Texas Rangers, the bullpen suffered its first loss, raising the ERA to 3.09
Not impressed?
What if I told you the A's bullpen has logged the fifth most innings? So the relievers are working often and mostly effectively.
The beautiful thing about the Athletics bullpen is the notion that, outside of Oakland, it's not likely many baseball fans even know who half these guys are. Yet together, Grant Balfour, Ryan Cook, Sean Doolittle, Jerry Blevins, Chris Resop and others have struck out 122 batters to 45 walks.
Against these guys, hitters own a .227 average.
There is one minor knock, though. The unit has allowed a league-most 17 stolen bases.
Grade: A-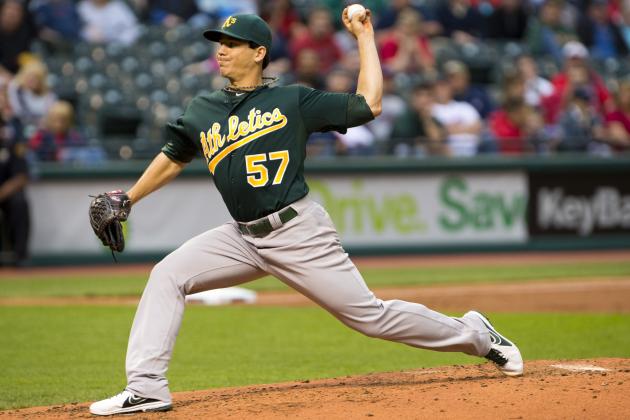 Jason Miller/Getty Images
Milone is a bright spot, but his record doesn't match.
Perhaps the bullpen pitchers and rotation guys can switch?
So far, it hasn't been pretty for A's starters. The 14 wins they've collectively earned puts them in the middle of the pack, but the 20 losses they've suffered is the second most. As a group, the rotation's ERA lies at 5.03.
The only teams that give up more earned runs? The Houston Astros and Miami Marlins with 21 each.
The Minnesota Twins and the Los Angeles Angels are the only two squads that have allowed more hits than the A's as well. And only one team—the Tampa Bay Rays—have given up more home runs.
Individually, the stats are deceptive.
Tommy Milone, for example, has been outstanding, walking nine and striking out 45. It's a lack of run support that led to his 3-5 record. Bartolo Colon (2 BB, 27 K) and A.J. Griffin are also pitching very well and each own a WHIP below 1.20.
Grade: C-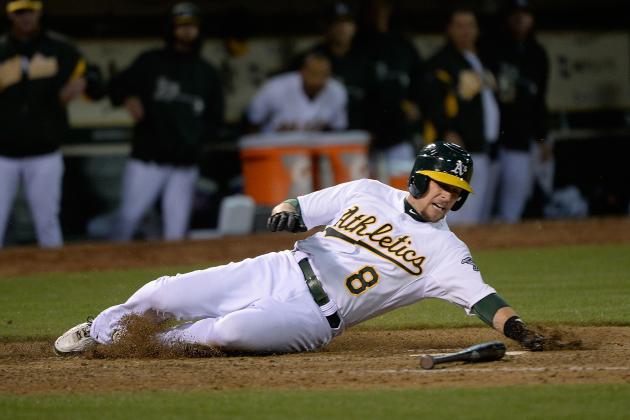 Thearon W. Henderson/Getty Images
Jed Lowrie slides home.
Though plenty of teams have more hits and a better team average than the A's, only one team has scored more runs. And at the end of the day, the most runs win a ballgame, not the most hits.
So how are the scoring those runs exactly?
Well, first, the A's lead the league in walks. They're also in the top 10 in stolen bases. And that's with Chris Young, Josh Reddick and Coco Crisp on the DL currently. Oakland is No. 2 for most doubles.
So it goes like this: they walk, then steal a bag. The next guy smacks a double, and in one hit, they've scored a run. At least, that's what it seems like.
For every guy who isn't meeting expectations, such as Yoenis Cespedes and his .202 average, there's a guy like Jed Lowrie who picks him up by hitting .298.
Grade: B