NBA Playoffs 2013: Ranking Each Surviving Team's Closer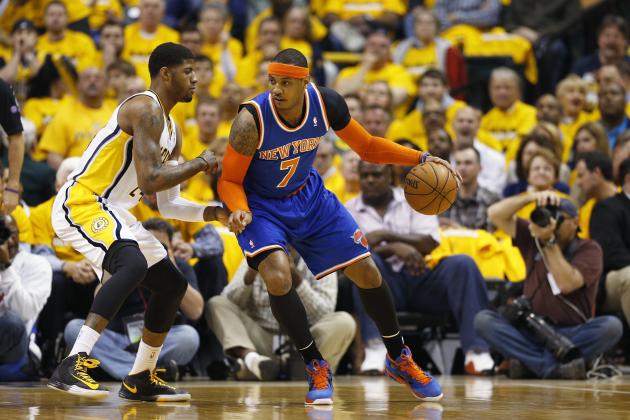 Joe Robbins/Getty Images
Carmelo Anthony is dangerous late in games, but is he the best closer remaining in the NBA playoffs?
A closer in the NBA playoffs can be defined as a player that each team relies on to score the ball and carry them down the stretch in tight games.
Closer, in this case, doesn't necessarily require buzzer-beating shots, although in some cases it may. And, in fact, these players won't all be guards, either.
Some teams have a clearly defined closer while others play the hot hand.
Whatever the case, the following players are ranked in the order of who I would want to have the ball down the stretch the most in a tight playoff game.
The list is based on past experience and the current 2013 playoffs.
Clutch time, which will be referred to quite a bit in this piece, is the time during any playoff game this postseason in which a player's team is ahead or behind by five points in the last five minutes of regulation or at any point in overtime.
*All stats are from NBA.com, specifically this table, unless otherwise noted.
Begin Slideshow

»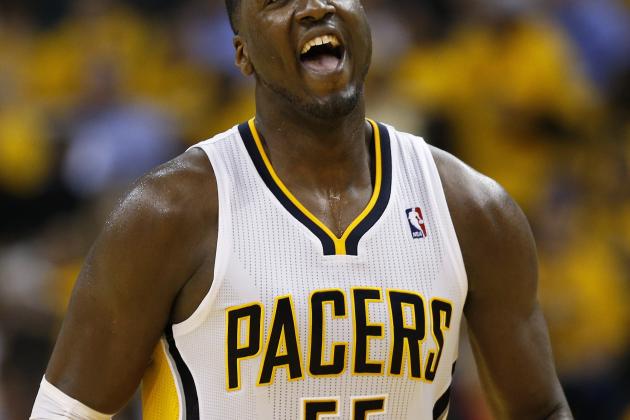 Joe Robbins/Getty Images

This one was probably the toughest to pick because the Pacers have been dangerous as a unit, not only late, but throughout the games.
With that being said, Roy Hibbert has been the best player for the Pacers in their series with the New York Knicks.
Late in close games, the Pacers should look to feed the rock to Hibbert and let him go to work. After all, he is getting the better of Tyson Chandler thus far.
Hibbert's offensive rebounding adds another element to his closer-esque résumé in that he provides extra possessions for his team.
Extra possessions equal more touches for the Pacers big man.
While the Pacers roster doesn't consist of a player which will make the defense overly anxious late in games, Roy Hibbert provides a dynamic skill set under the basket capable of producing points if used correctly.
While Stephen Curry and Klay Thompson have been shouldering the bulk of the scoring load for the Golden State Warriors, Jarrett Jack has been the unsung hero guiding this team to victory.
The Warriors have played in seven games this postseason which involved clutch time, as referenced in the first slide.
In those seven games, Jack has scored 18 points in clutch time, good for third in the NBA.
Pretty impressive stuff for a player that isn't even the first or second option.
The Warriors played the hot hand and gave Jack a chance to beat the San Antonio Spurs on a buzzer-beater in Game 4, but Jack came up short in a game the Warriors would eventually win in overtime.
Jack has been very efficient in clutch time during the playoffs, shooting 6-of-9 from the field and 6-of-8 from the free-throw line.
The Dubs have used Jack as resourcefully as they possibly could have so far late in playoff games, a big reason the series is tied at two.
Nate Robinson may have the biggest heart of anyone in the NBA.
This heart reveals itself late in games, but it isn't the only thing surging from Robinson.
That would be Robinson's clutch time numbers, which are staggeringly high for a player who came off the bench for most of the season.
In 26 minutes of eight clutch time games, Robinson has scored 22 points on 8-of-17 shooting. Couple that with the fact that there are really no other viable options for the Bulls and it makes it even more impressive.
While plus-minus stats may be misleading, the fact that Robinson is plus-20 in clutch time this postseason can't be overlooked.
His drive and determination late in games coupled with his creativity has taken the Bulls thus far, but it probably won't be enough to propel them over the Miami Heat.
Perhaps the only big man left standing that teams would trust to continually give the ball to late either on the block or at the elbow is Marc Gasol.
The man has been an absolute beast for the Grizzlies the entire postseason.
Gasol, in 28 minutes of clutch time over the course of six playoff games, has scored a team-high 17 points. He's connected on 5-of-10 shooting from the field over that time.
Even more impressive for the big man in clutch time is his ability to knock down free throws.
Gasol is 7-of-9 from the charity stripe in that important and pressure-inducing time-span.
Rarely do you see an offense constantly have a member of the frontcourt touch the ball late in games as much as Gasol does.
His ability to receive a pass at the elbow with his back to the basket, turn around and knock down a seemingly effortless jumper has been a nightmare for defenses and should continue to be.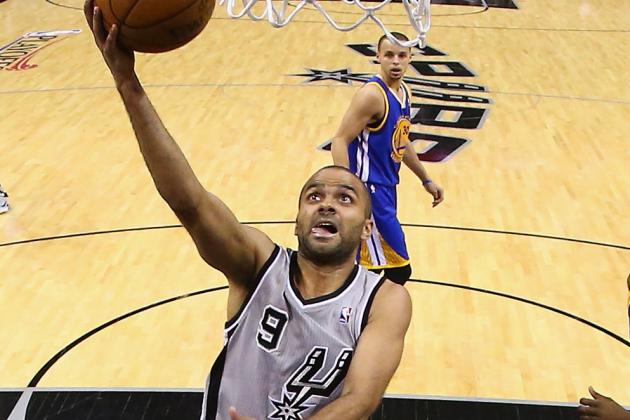 Ronald Martinez/Getty Images

The wise and ever-so-talented veteran Tony Parker has the intangibles of understanding and awareness which make him so dangerous.
Couple the intangibles with his talent, and that's a perfect recipe for late-game success.
Parker has been the go-to guy for the Spurs' backcourt for years now and that isn't changing any time this year.
Parker has scored 12 points in clutch time, which for the Spurs point guard, has only consisted of 18 minutes in three playoff games. The 12 points puts him tied for 12th in the NBA this postseason.
The Frenchman's ability to read a situation is extremely invaluable.
He understands, as he did in Game 1 against the Warriors, there is no need to launch three-point attempts aimlessly in order to come back.
Rather, meticulous layups did the trick for the Spurs. And then Parker exploded in the clutch time that was the second overtime.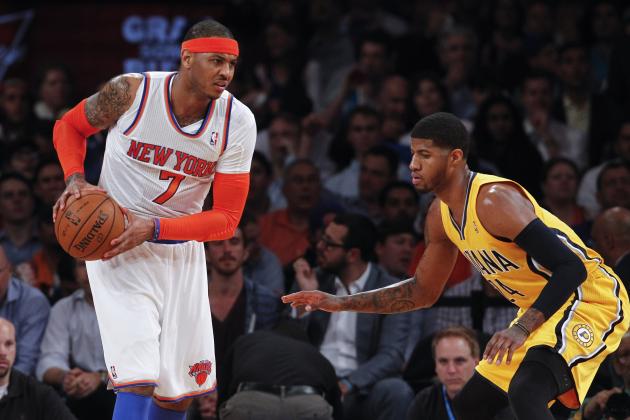 Jeff Zelevansky/Getty Images

Now we are on to the big boys. It should come as no surprise who the next two on the list are, but the order is certainly debatable.
No peeking!
As for Anthony, it is tough to look elsewhere on the Knicks roster for a closer because Anthony takes so many shots it is inevitable that some have to go in.
Anthony's clutch time numbers are rather diluted because of his minimal games played which fulfill the clutch time requirements.
With that being said, Anthony has played in 15 minutes over four games in the clutch time period. In those 15 minutes, the Knicks' All-Star small forward has put in 15 points on 5-of-13 shooting.
That amount of points is more than some guys who have doubled Anthony's clutch playing time this postseason.
Just like some "love to hear themselves talk," Carmelo loves to see himself shoot.
You can't blame him, really.
Late in close games, everyone in the building knows Anthony is getting the ball. Now if he would start scoring more efficiently by driving the ball instead of settling for jumpers, he could see himself move up on this list in the near future.
Don't hold your breath.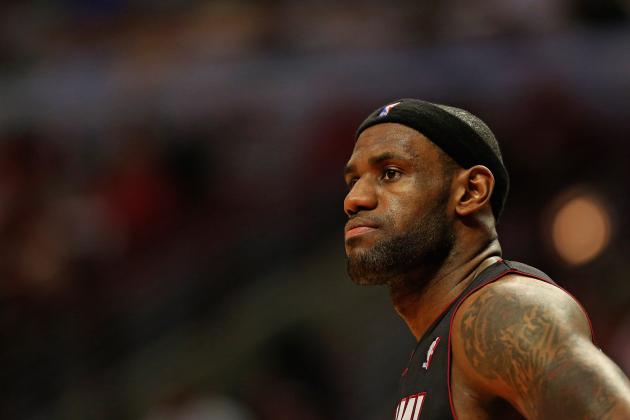 Jonathan Daniel/Getty Images

LeBron James is the best NBA player in today's game and you will be hard-pressed to find anyone dispute that other than maybe some Oklahoma City fans.
However, he is not the best clutch-time player.
Sure, LeBron has made some buzzer-beaters over the span of his career. There is no denying it. That is a fact.
But it is what LeBron does physically basketball-wise late in games that lands him at No. 2.
Too many times James decides to pull up for jump shots either outside or right inside of the three-point line instead of driving the basketball to the rim. He doesn't make that jumper consistently enough.
The man is a physical specimen who will almost always receive a foul called against him when he enters the paint.
Due to the Miami Heat not playing many close games this postseason, LeBron's clutch time numbers are tough to read into. Or maybe they are, depending on your perspective.
In eight minutes over the span of two games in clutch time, James is just 1-of-3 from the field and 3-of-4 from the free-throw line, all while carrying a plus-minus of minus-1.
The league's current best closer is Kevin Durant.
But what separates Durant from LeBron?
It has to be Durant's ability to knock down pull-up jumpers when everybody in the building, including his on-ball defender, believes he will attempt to drive.
KD knocks down those shots time and time again late in games.
And just when the defender picks up on it, Durant is already past him dunking the basketball.
Due to the Thunder's amount of close games, Durant's clutch time minutes are high and, of course, so is his production.
He leads the NBA with 25 clutch-time points this postseason, not to mention the nine rebounds, five assists, two steals and two blocks in that span. He has compiled those numbers over 38 minutes in seven games.
Kevin Durant should be the most feared player in the NBA with the game within five points and under five minutes.
And when that clock is trickling down to zero in a tie game, might as well call it a night if the ball is in KD's hands.