Andrew Wiggins has the college basketball world abuzz with his decision as to where he'll be playing next year, which is likely to made at 12:15 p.m. on Tuesday, according to Huntington Prep coach Rob Fulford.
Andrew Wiggins will sign Tuesday at around 12:15. He will not hold a press conference type ceremony. Just classmates, family and friends

— Rob Fulford (@rfulford) May 13, 2013
Wiggins—widely considered the best high school player since this guy called LeBron James—has a mountain of hype surrounding him—making the decision as to where he's playing basketball next year a big one. It's the type of decision that could completely change the college basketball landscape, with the team that lands his services potentially becoming title favorites in 2013.
That might seem like an overreaction, but it's not. The kid is that good.
So where's Wiggins going to be playing next year?
Well, for that, you'll have to tune in to his announcement around lunch time on Tuesday, but there's four key programs thought to be in the mix for the star
Read on to see who they are, and how Wiggins' arrival could impact them in 2013.
Florida State University Seminoles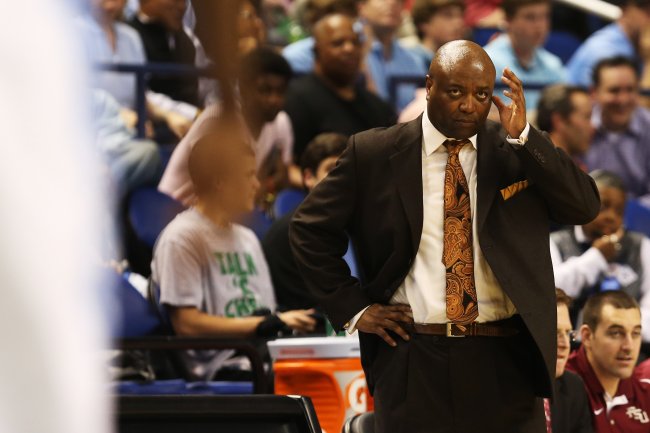 Streeter Lecka/Getty Images
Wiggins is going to be a star wherever he ends up next season, but at Florida State, he would be the undisputed go-to option from the opening tip.
FSU has the allure of having good friends in the program, and for the Seminoles, it would be the biggest commit in a long time. After all, they are the only program out of the four mentioned that haven't won a National Championship, and it would definitely get them back in the media spotlight.
Statistically, Florida State ranked outside the top 100 in terms of offensively efficiency in 2012—something that having Wiggins would definitely change.
Be that in terms of scoring or in terms of rebounding, Wiggins would be able to transform the Seminoles from being another middle-of-the-road team in 2012 to a team with some serious underdog status. What's more, they would be more than capable knocking off the top programs around the country with his arrival, and could well make a surprise run once they get going later in the year.
Kansas Jayhawks
Tom Pennington/Getty Images
Having lost star Ben McLemore to the NBA draft this year, signing Wiggins would be a huge recruit for Kansas, and one that could allow them to continue to compete at the highest level in 2013.
Allen Fieldhouse would be buzzing again, for the Jayhawks would be national title contenders again—despite losing several of their starters. And with their sound defense and good recruiting so far, Wiggins' offensive skills would definitely be welcomed.
Eric Bossi of Rivals.com writes (via USA Today):
Kansas, maybe even more than Florida State, is a place he could make an immediate impact. They don't really have that true high flyer. He could also, theoretically, play power forward for them because he's so quick and athletic.
Kansas would again be competitive for a Big 12 title and, depending on the cohesion it develops early on, could well enter March Madness as a No. 1 seed.
Andrew Wiggins will make Kansas a Top 5-7 team if he opts for the Jayhawks. Tharpe/Frankamp, Selden, Wiggins, Ellis, Embiid. TALENTED.

— Jon Rothstein (@JonRothstein) May 13, 2013
The presence of Wiggins would rejuvenate this young team into an explosive offense powerhouse that is more than capable of getting the job done.
North Carolina Tar Heels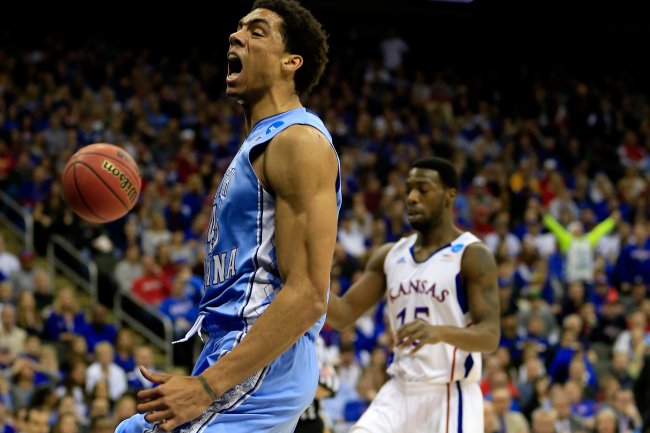 Jamie Squire/Getty Images
With James Michael McAdoo opting to stay on for another year, North Carolina finds itself in a particularly strong position if they can secure Wiggins.
Not only would have they have an explosive frontcourt in Roy Williams' push-the-pace offense, they'd have arguably the most explosive offensive player in the league—capable of dominating inside and in transition, as well as racking up plenty of boards at either end of the court.
"Of all four teams, UNC would see the most meaningful spike in its potential ceiling with Wiggins" m.espn.go.com/ncb/story?stor…

— Will Brinson (@WillBrinson) May 8, 2013
Marcus Paige is a pass-first guy in the backcourt who could establish a great connection with Wiggins—turning the Tar Heels into the team to beat next season. Moreover, it would give UNC a huge advantage over their rivals Duke, who have picked up top prospect Jabari Parker for the year ahead, and could establish a thrilling rivalry between Wiggins and Parker at an individual level also.
It's perhaps a stretch to say that they're title contenders, but they're definitely capable of making a strong run in the NCAA Tournament, given the experience that many of their players will have and the fact they've got a guy like Wiggins on their roster.
Kentucky Wildcats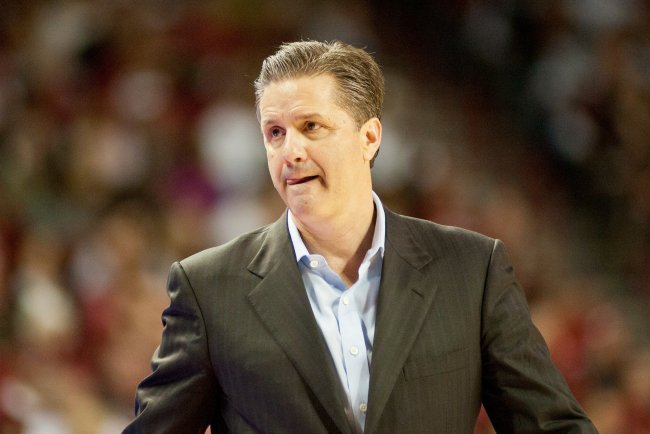 USA TODAY Sports
However, the strongest impact that Wiggins could have next year would be at Kentucky—and it's not even close. In the eyes of many, the Wildcats are already the team to beat for the National Championship thanks to their strong recruiting class. Adding in Wiggins would simply confirm that fact even more, and create one of the most most star-studded lineups seen since the Fab Five.
Yes, the Wildcats would be that good next season.
Not the first time I've seen Andrew Wiggins, but damn, if he goes to Kentucky, fire up the "Undefeated?" talk. That team will be ridic

— Jason McIntyre (@TheBigLead) April 4, 2013
John Calipari's team would have at least six first-round draft prospects on hand, and that could only mean big things for the Huntington Prep star.
For at Kentucky, opposing teams can't afford to double-team him every time he gets the ball in good positions—like they could do if he was at FSU, for example.
Wiggins would thrive in a dribble-drive offense like Kentucky's, and most likely playing at small-forward, could have an impact both as a scorer and a creator.
He's unlikely to do that anywhere else, for they would likely need his scoring skills more than anything; yet at Kentucky, they've already got plenty of go-to options.
If he wants to win a title, Kentucky is the place to go, for with Wiggins in their roster, the Wildcats would be tremendously difficult to shut down in 2013.
Hit me up on Twitter for more sports goodness: