How NHL Lottery Teams Can Make the 2014 Stanley Cup Playoffs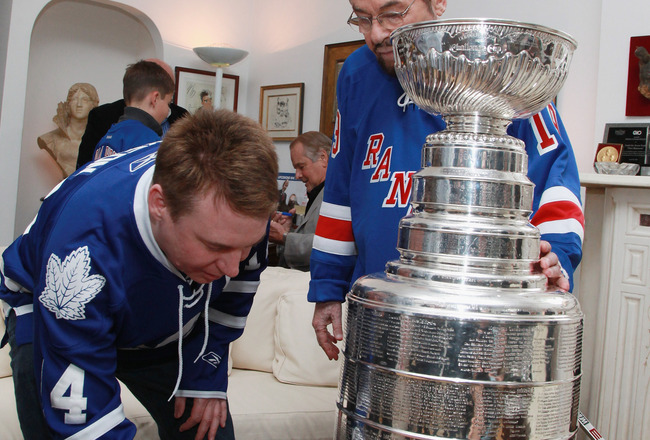 Taylor Hill/Getty Images
While the Stanley Cup playoffs are in full swing, there are 14 NHL teams who failed to reach the playoffs this season.
But all hope is not lost. This year, five teams qualified for the playoffs that did not reach the postseason in 2012.
Here is an early offseason look at what the 14 non-playoff teams have to do reach the postseason in 2013-14. The teams are presented in reverse order of their standings from this season, from 30th to 16th.
Not all of them will succeed, of course, and all teams face the obstacle of a shrinking salary cap, but these are the needs that non-playoff teams have to fill to avoid being in next year's draft lottery.
Feel free to comment on what you feel any of these teams needs to improve.
Florida Panthers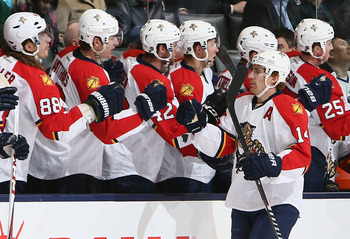 Abelimages/Getty Images
The Florida Panthers have a bad cap situation, so most of their improvement is going to come from within.
The biggest key may be avoiding injuries which decimated the Panthers this past season and left them 29th in the league in goal scoring.
It is likely Jacob Markstrom will take over as Florida's starting goaltender. It's time for this highly rated prospect to step up and live up to his potential.
Other prospects that may see NHL action next year include Nick Bjugstad and the player the Panthers select with the second overall pick in the this year's draft.
Improvement from youngsters like Dmitry Kulikov and Jonathan Huberdeau will also help add to the Panthers offense and help them return to the playoffs next season.
Because of their cap situation, patience will likely be a key ingredient to the Panthers' return to the playoffs.
Colorado Avalanche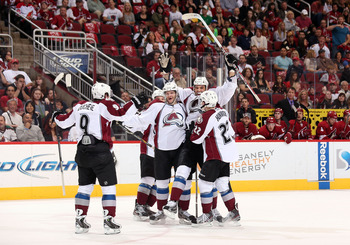 Christian Petersen/Getty Images
The Colorado Avalanche have the first pick in this year's NHL draft and are expected to take defenseman Seth Jones. He would be a solid addition to a crop of young defensemen who are coming through the Avs' system like Stefan Elliott and Tyson Barrie.
The Avs have a dearth of veteran leadership on a team full of young and talented forwards, especially if Milan Hejduk decides to retire. They need to get more effort out of their roster from top to bottom. Acquiring a lower-priced veteran who can show the youngsters the way would make sense.
Is Semyon Varlamov the answer in goal? He still hasn't been consistent enough to make most experts sure of his status as a top-flight starting goalie.
The Avs have some cap room for this season but will need to re-sign some of their younger forwards in 2014 like Ryan O'Reilly, Matt Duchene, Paul Stastny and Gabriel Landeskog, so they can't go overboard in using up all of their cap space.
Tampa Bay Lightning
Greg Fiume/Getty Images
Despite their attempts to improve defensively, the Tampa Bay Lightning still ranked just 26th in the league in goals against—a number that has to improve.
They hope that the acquisition of Ben Bishop from Ottawa at the trade deadline will improve their goaltending, although it's not clear just yet if Bishop is the long-term answer. Don't be shocked if general manager Steve Yzerman brings in another goalie to compete with Bishop or at least back him up.
Tampa Bay needs to add size and toughness on the blue line, and it needs to replace the scoring punch it lost when it dealt Cory Conacher in the Bishop deal.
Prospects like Brett Connolly and Mark Barberio will probably get a shot at cracking the roster next season.
Nashville Predators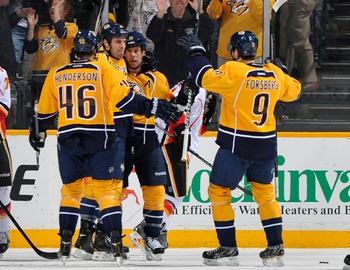 Frederick Breedon/Getty Images
No team scored fewer goals than the Nashville Predators did last season, and addressing their lack of scoring is the biggest need for the Preds to fill this summer.
Adding a bona fide sniper or scoring threat would go a long way toward improving the team.
In the system, they now have Filip Forsberg who is highly regarded and should add some offense and a big center in Austin Watson. Defenseman Mattias Ekholm is adjusting to life in North America after thriving in Sweden and may be ready to play a bigger role in 2013-14.
Look for GM David Poile to look to add some scoring punch. Nashville does have some cap room, although it is not known as a high-spending team. Expect the Predators to sign a second-tier free agent. Poile could also make a trade to get some moderately priced offensive help to go along with the drafting of another talented young forward.
Calgary Flames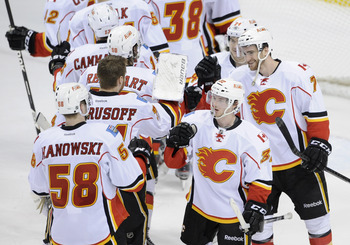 Hannah Foslien/Getty Images
The Calgary Flames have started their overdue rebuilding program, but things may get worse in the short term before they get better for this club.
The key to their short-term success may be goalie Miikka Kiprusoff. "Kipper" has hinted that he may retire before next season, and if he does, the Flames need to add a starting goalie to replace him. It's not clear if Karri Ramo is the answer.
Calgary also needs to add size on defense. It has a good group of mobile defensemen, but there are few players on the roster who can move opposing players away from the crease and munch major minutes while dishing out punishment.
More size up front would help as well.
Sven Baertschi should improve in his second season in the NHL, but The Hockey News did not rank the Flames' prospects highly in their annual "Future Watch" issue.
The Flames have some cap room after their trade deadline deals, so GM Jay Feaster can add some talent. The question is what direction he will go in and what identity he wants this team to assume.
Carolina Hurricanes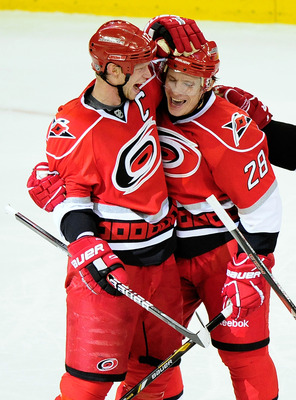 Grant Halverson/Getty Images
The Carolina Hurricanes were hurt by injuries this past season, especially the one that caused goalie Cam Ward to miss a large portion of the schedule. Getting Ward back and healthy will help, although Carolina's starting goalie is injury prone and his eventual replacement should be groomed soon.
Defense remains the biggest problem facing the 'Canes. They finished 29th in the league in goals allowed and it's mostly due to a lack of defensive depth and lack of size and physical play on the blue line.
The Hurricanes have solid top-six scoring now that they have signed Alexander Semin to a long-term deal, but some secondary scoring would be helpful.
GM Jim Rutherford has signed most of his key players to long-term deals and now needs to revamp his defense. He should have the cap room to do it, although it's not clear if he'll have the go-ahead to spend to the cap this summer.
Edmonton Oilers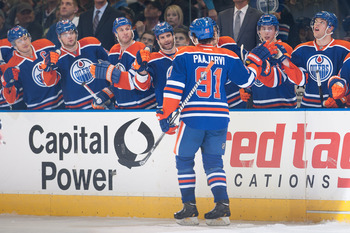 Derek Leung/Getty Images
The Edmonton Oilers have a lot of young, offensive talent. With all of that young talent, they still haven't made the playoffs since 2006.
Defense is the top priority for Edmonton. Colten Teubert is in the system and is supposed to be a big, physical, stay-at-home defender, but he has yet to crack the NHL lineup and needs to come through next season. Oscar Klefbom, another potential defenseman, is still in Sweden, and the Oilers could use him next year if he's willing to come to North America.
The Oilers need to add a little more grit to their bottom-six forwards, and a few players who have been on perennial winners would help inject a change of attitude into the lineup.
Goaltending depth is also a concern. Some are not quite sold on Devan Dubnyk as a starter, but even if he is going to start for the foreseeable future, a new backup to replace Nikolai Khabibulin is needed.
The Oilers have a huge cap problem looming in their near future. All of those former top draft choices will come off of their entry-level deals and will be entitled to big raises. Perhaps Edmonton can fill some of its other needs by trading one or two of these young forwards, but that is the challenge facing new GM Craig MacTavish over the next two years.
Buffalo Sabres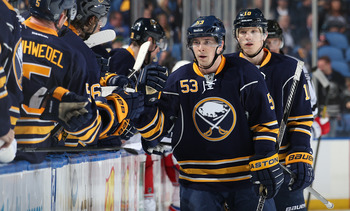 Jen Fuller/Getty Images
The Buffalo Sabres are another team in full rebuilding mode. The good news is, the team has a stable of young prospects that are highly regarded by many scouts. In fact, the Sabres had four of the top 50 prospects rated in The Hockey News annual "Future Watch" issue.
Goal scoring is Buffalo's biggest need right now. The Sabres need scoring from all of their lines if they hope to be competitive.
In addition, the defense is contributing next to nothing offensively and is struggling defensively as well. A general upgrade of the defense corps is needed.
The Sabres have some cap room and an owner willing to spend money, so look for some offseason moves to be made this summer.
If the top prospects live up to expectations, the future could be bright in Buffalo. Regardless, some other additions need to be made to round out the Sabres' roster. Expect GM Darcy Regier to be busy this summer.
Dallas Stars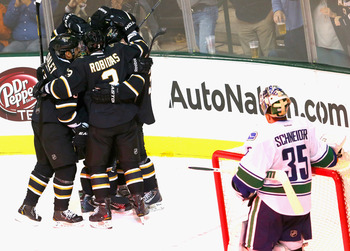 Ronald Martinez/Getty Images
There's a new era in Dallas. Both GM Joe Nieuwendyk and coach Glen Gulutzan have been let go. Jim Nill is the new GM, while Gulutzan's replacement has yet to be hired. We can expect that the new regime will take the team in a new direction.
The Stars have plenty of cap room to work with, but they also have a lot of needs.
After trading away Jaromir Jagr, Brenden Morrow and Derek Roy late in the season, some more offensive punch is needed. Potential power forward Brett Ritchie could help if he's ready to play in the NHL this year.
The Stars could also use some more defensemen who can make a contribution to the team's attack.
Some more size on the blue line to complement Jamie Oleksiak would also be a welcomed addition.
Expect the Stars to make significant changes this year and probably next as Nill molds the team in his own image.
New Jersey Devils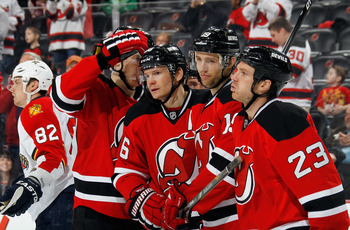 Bruce Bennett/Getty Images
The New Jersey Devils have many needs to fill right now, but never count them out as long as Lou Lamoriello is their GM.
Let's start with goaltending. Martin Brodeur and Johan Hedberg are both near the ends of their careers, and while they may both be back next season, replacements need to be found.
The Devils need to find more offense from their defensemen. They have some potential prospects in the system, particularly Jon Merrill, although he is still playing college hockey and is probably at least a year away. Other blue-line prospects who may make the team next season include Alexander Urbom and Eric Gelinas.
New Jersey can also use some scoring depth to replace Patrik Elias who led the Devils in scoring at the age of 37.
The Devils do not have any prospects among the top 50 listed in this year's "Future Watch" issue of The Hockey News.
Philadelphia Flyers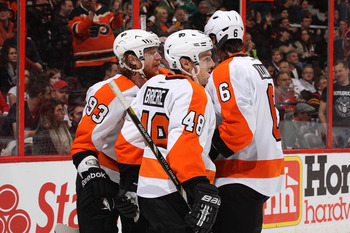 Jana Chytilova/Freestyle Photo/Getty Images
When most educated hockey fans think of the Philadelphia Flyers, they think of a talented offensive team with questionable goaltending.
Ilya Bryzgalov was signed to a $51 million contract two summers ago to solve this problem, but he has been far from consistent. The Flyers may buy out his contract this summer to get his deal off their books.
The Flyers then traded for Steve Mason from, but is he the answer or yet another very average goalie trying to solve the Flyers' most persistent problem? Anthony Stolarz was drafted last year, but he's only 19 and not close to being NHL-ready.
Defense is another big short-term question mark for the Flyers. Chris Pronger is unlikely to play again, and Kimmo Timonen is getting older. The remaining defensemen are not near the top of the league in quality, and GM Paul Holmgren tried to add new pieces to the puzzle last year but was unsuccessful.
Overall, the problems in net and on "D" left Philadelphia tied for 22nd in the league in goals against and out of the playoffs.
The Flyers don't have a lot of cap space, but that will change if Pronger retires and/or Bryzgalov is bought out. Holmgren is usually a very active GM, so don't be surprised if trades are made and/or free agents are signed to solve some of these issues.
Phoenix Coyotes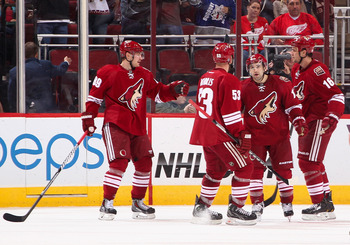 Christian Petersen/Getty Images
The Phoenix Coyotes' future in the desert remains up in the air, but on the ice, there are still areas that need to be improved. Phoenix went from Pacific Division champs in 2012 to out of the playoffs in 2013, so there are several areas GM Don Maloney needs to address.
The biggest is the lack of a sniper. The Coyotes were 21st in the league in goals scored this past season, which is remarkable considering nobody on the roster scored more than 13 goals this season and nobody totaled more than 30 points in 48 games.
A big, physical defenseman or two would also help the Coyotes become a tougher team to play against in the future and should be on Maloney's radar.
Unfortunately, the Coyotes aren't likely to spend much money as long as they are owned by the league, and we don't know how much longer that is going to continue.
Winnipeg Jets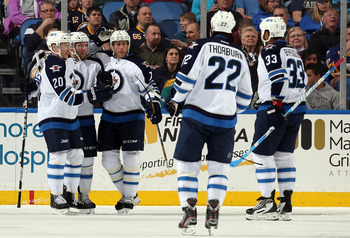 Sean Rudyk/Getty Images
The Winnipeg Jets came very close to making the playoffs, but a late-season slump coupled with the Capitals' strong finish ended them just short of the postseason.
Winnipeg has been essentially building through the draft, and just the maturation of some of its young talent may be enough to help the team qualify for the playoffs next year.
The Jets do need a center, however. Olli Jokinen was a short-term answer at best. Nik Antropov won't be back, so there will be a little more cap room to supplement this position, although the Jets have a number of restricted free agents to re-sign like Blake Wheeler.
Some depth at defense would also be a welcomed addition, as would a backup goalie if Al Montoya is not re-signed. On the blue line, Jacob Trouba may be available next year after finishing his college career.
The Jets probably won't have a lot of cap room after the re-up with their own potential free agents, but adding a piece or two as a second-tier free agent is always possible.
Columbus Blue Jackets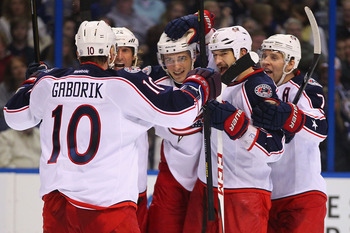 Dilip Vishwanat/Getty Images
The Columbus Blue Jackets missed out on the playoffs on a tiebreaker this season, and they feel they have enough pieces in place to continue improving if their young players continue to develop.
The team is building around goalie Sergei Bobrovsky, who is an unrestricted free agent. They also have a solid goaltending prospect in Oscar Dansk.
The defense is strong and fairly deep, and Ryan Murray should be added to the roster next season to make it even deeper.
The Blue Jackets do need to upgrade their scoring prowess after finishing 25th in the league in goals scored. Marian Gaborik, acquired in a late-season trade with the Rangers, will certainly help, but more goal scorers should be on the Jackets' list of desired additions.
Because they need to sign a number of their own restricted free agents like Bobrovsky, Artem Anisimov and Cam Atkinson, they probably won't have a lot of money to spend this summer. They will have some cap space to work with, but they don't expect to spend close to the ceiling.
Patience and a strong draft is likely to be the recipe in Columbus, but if GM Jarmo Kekalainen can find a way to add some scoring punch and keep Bobrovsky happy, the Jackets should be in the postseason next year.
Keep Reading