Vitor Belfort vs Luke Rockhold: Odds and Predictions for UFC on FX 8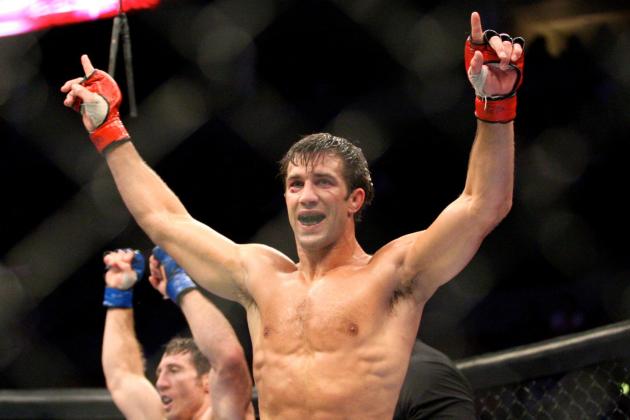 Scott Olmos-USA TODAY Sports

Luke Rockhold went undefeated under the Strikeforce banner and now has his eyes set on UFC gold.
At UFC on FX 8, Rockhold will step into the Octagon for the first time for a bout with former UFC champion Vitor Belfort, who is also on a mission to earn a title shot in the 185-pound division. Though he's lost to middleweight titleholder Anderson Silva already, Belfort is coming off of an impressive knockout win over Michael Bisping, who would have been named top contender with a win in that matchup.
Ronaldo Souza, Rockhold's predecessor as Strikeforce middleweight champion, will also make his UFC debut on Saturday. Originally scheduled to meet a top-10 opponent in Costa Philippou, Souza is now expected to fight up-and-comer Chris Camozzi.
Ahead of this pivotal event for the 185-pound class, these are the current betting odds via 5Dimes.eu for each of the main card bouts.
Begin Slideshow

»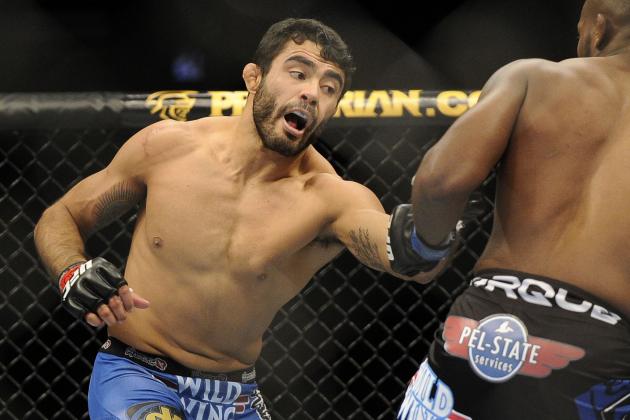 David Banks-USA TODAY Sports

Rafael Natal was the original UFC on FX 8 opponent for Chris Camozzi, who will now compete against Ronaldo Souza in the co-main event. When Camozzi accepted the fight with Souza, Natal was quickly aligned with UFC newcomer Joao Zeferino.
The 27-year-old Zeferino caught the eye of the UFC brass by winning his past seven fights. It also didn't hurt his cause that Saturday's event will be held in Zeferino's home country of Brazil.
While Zeferino has been on quite a run, he hasn't beaten many notable opponents. The only UFC veteran he holds a win over is Sean Salmon, who never won inside the Octagon and is currently on a 10-fight losing skid.
Betting on Zeferino in this matchup would be the equivalent to a blind raise in a poker hand.
Natal has won three of his past four fights, proving himself against UFC-level competition. While he's the safe pick to win in this matchup based on experience, Natal isn't going to provide the greatest return on investment as a heavy favorite against a relatively unknown adversary.
Unless planning on using Natal in a parlay, this matchup would probably be best avoided from a gambling perspective.
Betting Odds
Rafael Natal -350
Joao Zeferino +250
Prediction
Natal defeats Zeferino by decision.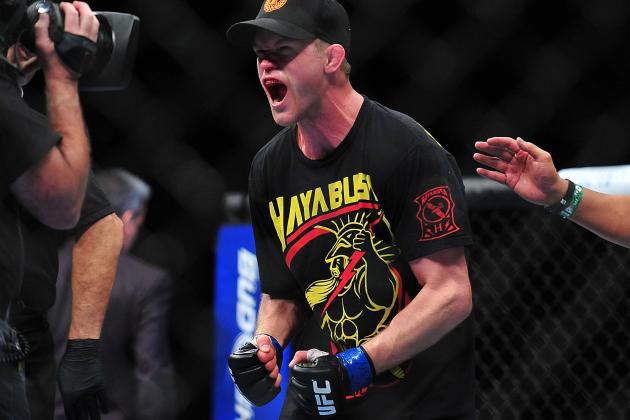 Gary A. Vasquez-USA TODAY Sports

Coming off important wins, long-term UFC lightweights Rafael dos Anjos and Evan Dunham will look to take one step closer toward title contention at UFC on FX 8.
Since losing to Gleison Tibau in November 2011, Dos Anjos has won three straight fights, most recently dominating Mark Bocek on the ground. Dunham, meanwhile, recently bounced back from a loss to top-10 lightweight T.J. Grant with a decision victory over Tibau.
Though there are no glaring advantages for either fighter in this matchup, and despite the fact that it was Dunham who had more success against a common opponent in Tibau, Dos Anjos has been pegged as a significant favorite by oddsmakers.
Dos Anjos may be the better grappler, but Dunham has never been submitted and is good enough on the ground to make his opponent have to work for every takedown. If he can wear Dos Anjos down in the early rounds, the scrappy Dunham should be able to pull away in the second half of the fight.
This should be a closely contested bout, but with the odds where they currently stand, it might be worth throwing some money down on Dunham.
Betting Odds
Rafael dos Anjos -190
Evan Dunham +165
Prediction
Dunham defeats Dos Anjos by decision.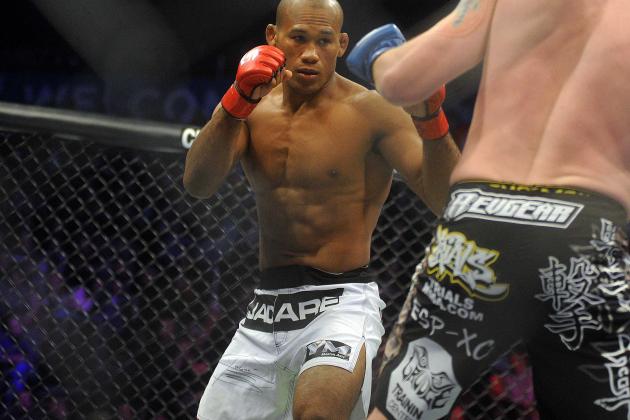 USA TODAY Sports

Ronaldo Souza has won three straight fights since controversially losing the Strikeforce middleweight belt to Luke Rockhold. Had the judges sided with Souza in that competitive bout, the Brazilian might have been the one competing in Saturday's main event with a title shot potentially on the line.
Though he was originally slated to open the main card with Rafael Natal, Chris Camozzi has taken advantage of a Costa Philippou injury and now finds himself in the biggest fight of his UFC career.
This is an opportunity Camozzi couldn't pass up, but it's a fight that doesn't favor him stylistically at all. Camozzi has been taken down by six of his eight UFC opponents, and now he's set to face off against one of the world's best jiu-jitsu practitioners in Souza.
Souza is a deserving favorite in this matchup, but a bet on him isn't going to return much unless he's included in a parlay.
If you are considering laying down some cash on Camozzi in hopes of a surprise knockout, don't. Camozzi's only UFC knockout win came by way of doctor stoppage, and Souza hasn't been stopped in well over four years.
Betting Odds
Ronaldo Souza -525
Chris Camozzi +415
Prediction
Souza defeats Camozzi by submission in the first round.
Tom Szczerbowski-USA TODAY Sports

Vitor Belfort's only losses since returning to the Octagon for his current UFC stint have come against the organization's light heavyweight and middleweight champions. At UFC on FX 8, he'll be looking to beat Luke Rockhold decisively to earn another shot at the 185-pound title.
Undefeated under the Strikeforce banner, Rockhold has built up enough momentum to deserve title shot consideration himself should he defeat Belfort on Saturday.
Rockhold has used striking heavily over his recent run of success, having scored only one takedown in his three Strikeforce title fights. Having developed that confidence in his stand-up, it's likely Rockhold will come into this fight looking to strike with Belfort.
With only one knockout win in his career against a fading Keith Jardine, and having not displayed much offensive wrestling against top competition, it's tough to see why Rockhold is considered the favorite heading into his Octagon debut against a proven UFC veteran.
Belfort has the ability to end a fight with one punch, and Rockhold has been stopped with strikes before, so the former UFC champion seems like a steal as an underdog in this matchup.
Betting Odds
Vitor Belfort +105
Luke Rockhold -125
Prediction
Belfort defeats Rockhold by (T)KO in the first round.