WWE: 5 Reasons Why WWE Should Bring Back the War Games Match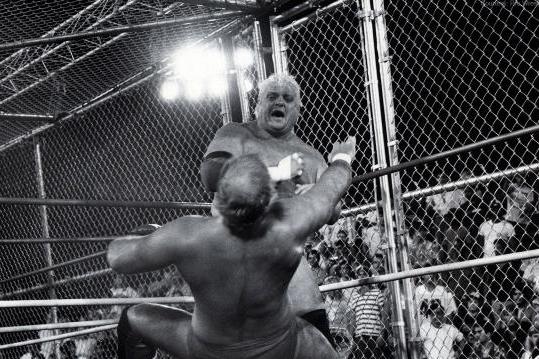 (photo courtesy of WWE.com)
When it comes to intriguing grudge matches in pro wrestling, few match-types can compare to the two-ring caged War Games match.
This match, made famous at the National Wrestling Alliance Great American Bash event in 1987, was the ultimate place for the top good guys to take on the top bad guys in pro wrestling. In WCW, the War Games match usually took place yearly at the Fall Brawl pay-per-view event.
Two teams of four men would enter the double cage at timed intervals one-by-one. Of course, there would be situations where someone would be in a two-on-one situation at the beginning of the match. This only served to add drama to an already emotionally charged situation.
The only way to win this match was by making a member of the other team quit, submit, or be knocked out unconscious. These rules provided for a brutal environment and a creative way to make sure there were real winners in the match without the same shenanigans seen in regular matches.
As time went by, the rules for War Games matches were tweaked with three teams in a match or five members on a team instead of four.
With the upcoming release this June of a War Games DVD and Blu-ray by WWE, the War Games match should return to WWE at the new Payback pay-per-view event.
Begin Slideshow

»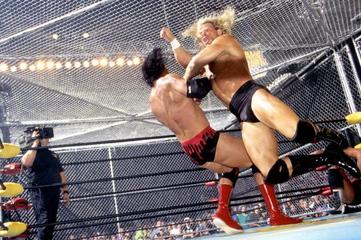 (photo courtesy of WWE.com)
WWE has tried gimmicked pay-per-views events during the past few years. Some of these, like Hell in a Cell, have worked while others, like the submission match oriented Breaking Point, have not stood the test of time.
Even though there are two other pay-per-view events that involve some sort of steel cage (Hell in a Cell and Elimination Chamber), a War Games match is the only one where two teams compete against each other.
Of course, the War Games match would be at a pay-per-view event that would be built around the War Games match itself. This would be the match where the top two groups of good guys and bad guys face to settle their differences.
Imagine a group consisting of The Shield (plus one more member perhaps) taking on a team of The Undertaker, John Cena, and Team Hell No. Of course, something of importance could be put on the line from each team to add some added weight to the match.
The War Games match is unique enough to have a home in WWE. The new June pay-per-view, Payback, would be an excellent place to have a War Games match at if only because of the title of the event.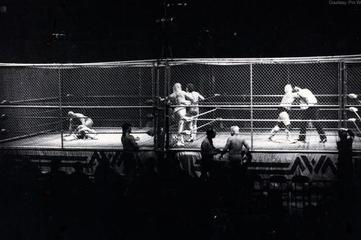 (photo courtesy of WWE.com)
Also, the advent of a second ring could be used in other matches to give a unique twist on the traditional WWE style match.
When Rey Mysterio took on Super Calo at Fall Brawl 96', he utilized the ring ropes of both rings to deliver a stunning hurricanrana to win the match.
Undercard matches could take advantage of the two-ring set-up to create some memorable WWE moments. Newer fans would surely pay to see this set-up if they have not seen it done before.
By having two rings, creativity in matches could be maximized. This type of set-up only needs to occur one time a year so it would not be overexposed.
Two rings would definitely make whatever event a War Games match is at instantly unique from all other WWE events.
(photo courtesy of WWE.com)
The stipulations involved in a traditional War Games match are quite brutal in nature. Only being able to win by forcing a member of the opposing team to quit, submit, or be knocked unconscious can lead to quite a violent showdown.
The War Games match should be used as a way to show who is really the toughest between the good guys and bad guys. Simply put, each team should try to win by any means necessary.
The closest thing to this type of set-up in a match is when Brock Lesnar and John Cena faced each other at last year's Extreme Rules event. Ultimately, it became a battle of who was the toughest.
In a current environment when blood is looked down upon in matches, the War Games match should be an exception.
There is no need for weapons in the match, but in having a match like this, the violence level should be increased. This would be to convey the sheer hatred between the two teams.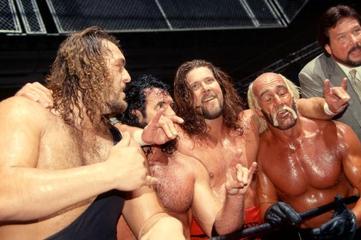 (photo courtesy of WWE.com)
Even though a War Games match could be sold as the final battle between two teams, it could lead to excellent tag-team or singles matches between the competitors later on.
The fallout from a potential War Games match at the Payback pay-per-view could help lead to major singles matches at SummerSlam. The under-card matches at a major pay-per-view like SummerSlam could have added momentum and history because of the War Games match.
Ultimately, if the bad guys get the upper hand in the match, it would lead to the good guys wanting to get revenge. This could help WWE have intriguing angles during the summer months.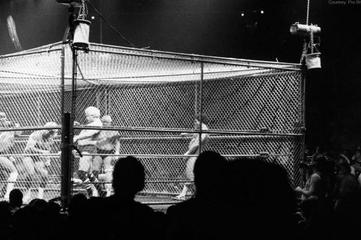 (photo courtesy of WWE.com)
Some may argue that Elimination Chamber or Hell in a Cell matches are similar to War Games, but this is not exactly true.
The War Games match is unique because of the presence of two rings, two cages joined together, and two teams facing each other.
WWE does not have many team concept matches on pay-per-view except for the traditional Survivor Series elimination match in November.
A War Games match is just what is needed during the early-summer between WrestleMania and SummerSlam. Providing a boost to the hottest feuds in WWE, it could serve to extend the length of them even more.
Imagine seeing The Shield with a fourth member taking on The Undertaker, John Cena and Team Hell No in a War Games match this coming June at the Payback pay-per-view. There are many different team combinations that could be thought of when looking at a War Games match as well.
With the upcoming War Games Blu-ray and DVD release next month, WWE should bring back this amazing match.