Grading Every OKC Thunder Player's 2nd-Round Performance So Far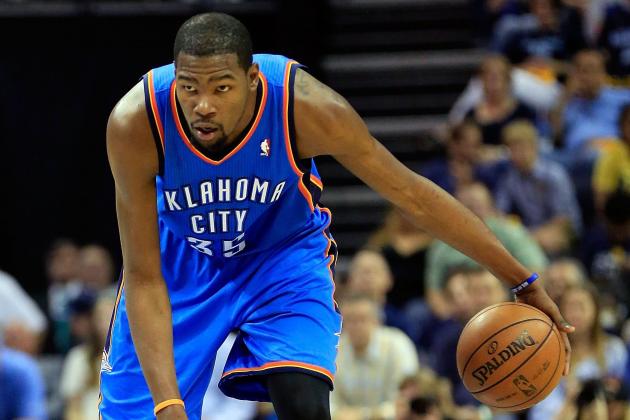 Jamie Squire/Getty Images

No one really expected the playoff path for the Oklahoma City Thunder to be easy without Russell Westbrook, and their current series against the Memphis Grizzlies is proving that point.
Coming into this series, the Thunder were still trying to get their footing on offense without their floor leader. Unfortunately for OKC, they also happened to be running into one of the best defensive teams in the league.
As a result, OKC's had trouble scoring, only eclipsing the 100-point mark once in the four games so far.
This series is certainly no breeze for the Thunder, and even if they do close out the Grizzlies, it will take all seven games to do so. For now, though, Oklahoma City has been looking like it's finally adjusted to life without Westbrook.
Some players are truly thriving in the adversity while some aren't playing quite like themselves. Let's take a closer look at just how well the whole Thunder roster is doing.
Begin Slideshow

»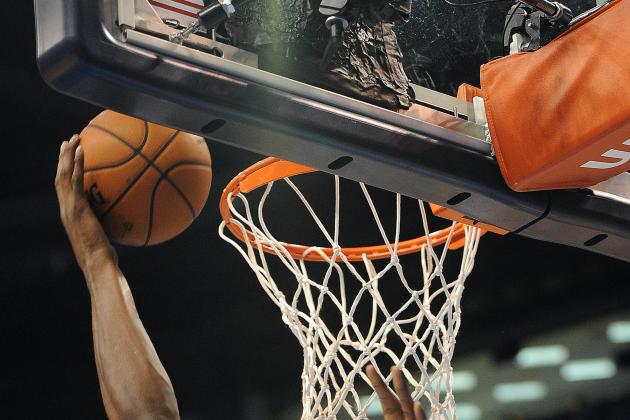 Mark D. Smith-USA TODAY Sports

At this point, Scott Brooks is definitely set on the players in his regular rotation, so these guys don't really ever see the light of day.
Even if you include Daniel Orton in this list, only Hasheem Thabeet has actually seen floor time, so we can actually grade him.
Thabeet has logged a total of 22 minutes in this series against the team that originally drafted him. He's been held scoreless in those minutes and has only four total rebounds, but he served his purpose as a 7'3" center by taking up space in the paint.
Going against strong, powerful big men like Zach Randolph and Marc Gasol means that there has to be something pretty big standing between them and the rim. That's where Thabeet comes in, and he's managed to at least not completely mess up in his limited role.
It hasn't been anything major in terms of contributions from these guys, but some of them are possibly the future of this team (Jeremy Lamb and Perry Jones III, specifically), so even being on the bench in a playoff environment can be beneficial for their careers.
Grade: Incomplete/Thabeet: C-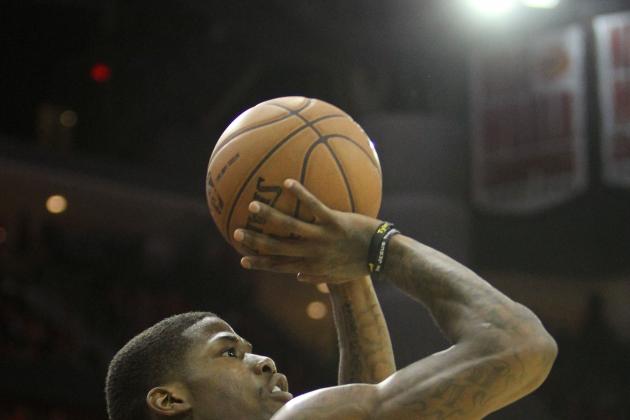 Brett Davis-USA TODAY Sports

The Thunder's secondary defensive specialist has been somewhat limited in this series. In four games, Liggins has only logged 12 minutes with no stats to show for it other than two rebounds and two fouls.
His limited time is simply a reflection of the lack of offensive threats that Memphis has on the wings or guard positions. Liggins wouldn't serve much purpose guarding guys like Tony Allen or Tayshaun Prince, two other players who are more defensive-oriented.
Also, having Liggins on the court would essentially mean being down one man on offense, since he's not much of a factor there.
Overall, Liggins can play his role well, but the challenge of containing a James Harden doesn't exist in this series for him.
Grade: C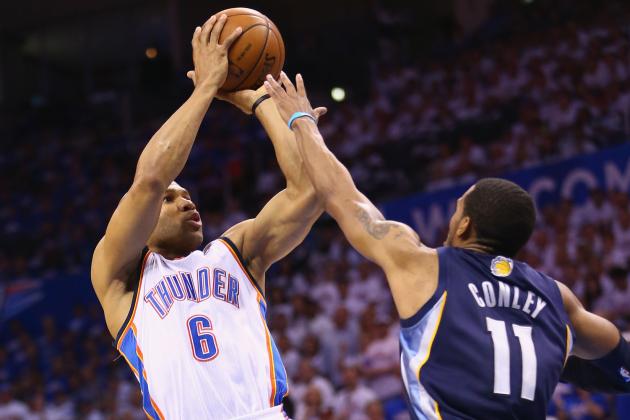 Ronald Martinez/Getty Images

Going from a third-string point guard to a second-string point guard meant some increased floor time for the 38-year-old Derek Fisher, but he has responded well to the challenge and has become a great offensive spark for the Thunder.
Fisher's perimeter shooting complements Reggie Jackson's slashing game nicely, especially when they play together on the floor. Fisher's also made some big shots for the Thunder by ending a scoring run by the opposition or jump-starting the offense.
His veteran presence has really shined through in those moments, and Fisher has turned out to be a very crucial piece of this year's playoff run for the Thunder.
Grade: A-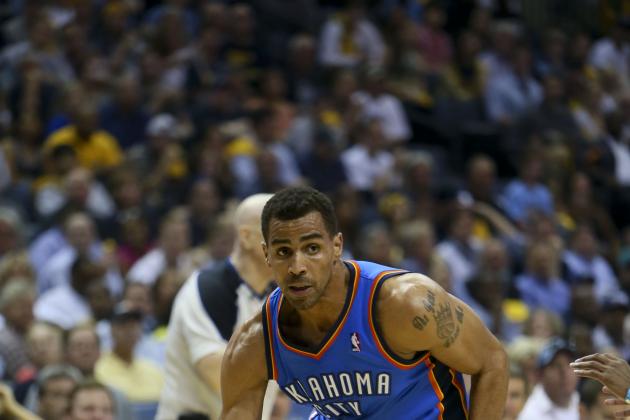 Spruce Derden-USA TODAY Sports

While he's not an offensive-minded player by any stretch of the imagination, Thabo Sefolosha seemed to really turned a corner offensively during this season.
During the regular season, Sefolosha took almost two times as many three pointers as the previous season and was knocking them down at a respectable 41 percent.
This series, Sefolosha has struggled to get any rhythm offensively and has shot just 19 percent from behind the arc.
While the Thunder are not very reliant on his offensive output, Sefolosha knocking down his open looks can be the difference in a game. Those shots can jumpstart the offense at key times. Against the Grizzlies, though, the shots just haven't been falling for him.
Defensively, Sefolosha has been solid, as usual, but has probably enjoyed not dealing with any explosive offensive threats at his positions.
Grade: C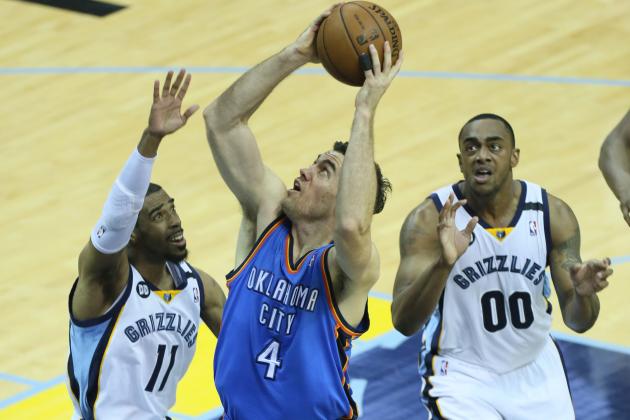 Nelson Chenault-USA TODAY Sports

After struggling to get involved on the stat sheet in this series, Nick Collison broke out a bit in Game 4 with his 10-point, three-rebound, and three-block effort.
On defense, Collison's done pretty well defending the monster front court of Memphis, but it has gotten him into foul trouble frequently. In Games 3 and 4, he fouled out late in close contests, meaning Kendrick Perkins had to step up.
The downside to this is that OKC is a bit short on big man help without Collison, with Hasheem Thabeet and the very inexperienced Daniel Orton being the sole reserves behind him off the bench.
His inclusion in the rotation has been more consistent this series, though, which probably contributed to his confidence and allowed him to play his usual role.
Overall, Collison has been good but not great, and he hasn't been able to impact games as much as he would have liked to.
Grade: B-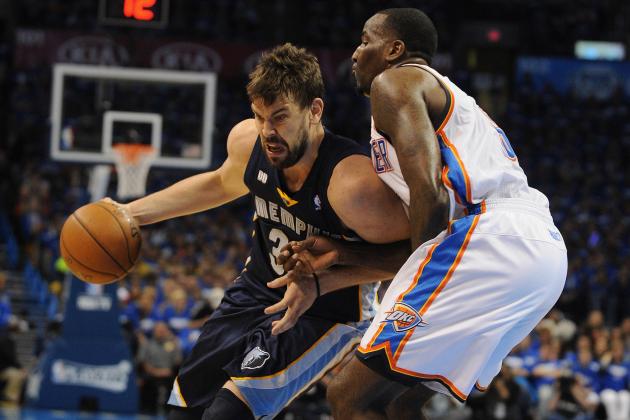 Mark D. Smith-USA TODAY Sports

Say what you want about Kendrick Perkins, but the man is not short on effort during this series.
Having to face off against Marc Gasol, who's a monster on both ends of the court, can be a troubling thought for just about any NBA center. Perkins hasn't backed down from the challenge and has put a lot of effort into defending Gasol.
This effort culminated in a great block by Perkins on a possible game winning shot by Gasol in Game 4, and he single-handedly sent the game to overtime.
Sure, you could point to the numbers of Gasol and Randolph, who tore up the paint by scoring and rebounding (combined 47 points and 23 rebounds in Game 4) and the lack of numbers from Perkins (10 total points and 18 total rebounds in the series). However, he's done just about as well as the Thunder expected him to do in a tough matchup like this.
He's been forcing Gasol to use his perimeter game more, and he's been preventing easy buckets with smart fouls. For example, in Game 4, only four of Gasol's eight made shots came from within six feet of the basket, and Gasol only converted one field goal in the second half.
There have been some boneheaded plays by him on offense, but they don't outweigh his positive contributions in this series.
Grade: B-
Spruce Derden-USA TODAY Sports

Though Russell Westbrook hasn't suited up for the Thunder since Game 2 against the Houston Rockets, it seems he has manifested himself in the form of Reggie Jackson.
Jackson came in as the starting guard without a lot of expectations to shoulder the second-option scoring load, but he has exceeded all expectations with his athleticism and explosive play. Sound familiar?
He's averaged 13.2 points per game this series, which is a pretty good contribution considering he isn't used to the big minutes he's receiving, like the 48 he played in Game 4.
I suppose Jackson has learned a lot from playing behind Westbrook, including being overly-aggressive on fast breaks—he was called for two crucial charges late in Games 3 and 4. These calls were the right ones, as Jackson was out of control on both occasions, but they may have tilted the game and the series in the Grizzlies favor.
The good still outweighs the bad for the young guard from Boston College, who's still adapting to his role more and more each game.
Grade: A-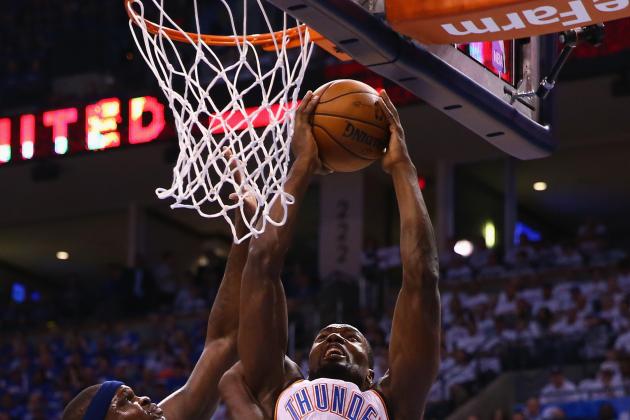 Ronald Martinez/Getty Images

After a rough shooting night (6-of-17) in Game 3, Serge Ibaka bounced back nicely in Game 4, scoring 17 points on 6-of-13 shooting.
Game 1 was even worse for Ibaka, though, where he made just one of his 10 shot attempts. This definitely hurt his confidence, which didn't seem to return until Game 4.
Much like Perkins, Ibaka had a lot of expectations on defense coming into this series, and he's had trouble containing Zach Randolph. Though he's still getting his blocks (3.2 per game during the series), Ibaka hasn't been able to effectively take Randolph out of the games.
Who can blame him? Randolph is a blue-collar player who fights for every bucket and every rebound. However, Ibaka prides himself on defense and will have to do a much better job in that department, in addition to improving his offensive rhythm.
Grade: B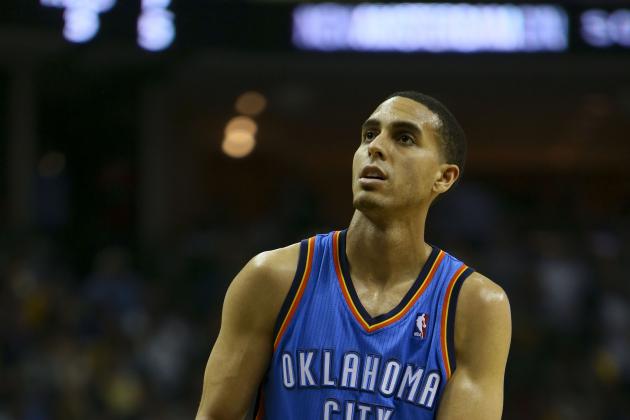 Spruce Derden-USA TODAY Sports

Kevin Martin closed out strong in Game 6 of the Thunder's first series against the Houston Rockets and started off strong in this series.
After scoring 25 points en route to a Game 1 victory, Martin laid an egg in a Game 2 loss, with only six points on 2-for-11 shooting.
His disappearance on offense is a very bad thing for Oklahoma City, since Kevin Durant can only shoulder so much of the offensive load. Martin has shown that he can produce points in a hurry, but when he struggles, KD is forced to create more offense.
Game 4 was a pretty good turnaround for Martin, scoring 18 points on 50 percent shooting. However, he wasn't able to make an impact in crucial junctures of the game, which is where Westbrook has been sorely missed.
Overall, he's struggled to live up to his role as the secondary scoring option but has done decent enough to keep the Thunder offense afloat.
Grade: B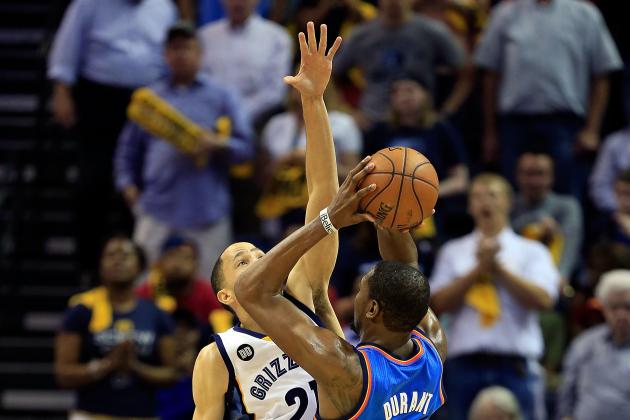 Jamie Squire/Getty Images

The burden of carrying this team was bound to start negatively affecting Kevin Durant at some point, and that point hit in Game 4.
Though he ended up with 27 points, Durant was just 10-of-27 from the field, including 2-of-13 in the fourth quarter and overtime. Those last 17 minutes were where the Thunder really needed Durant to close out the game and send it back to Oklahoma City tied at two games apiece.
Instead, KD was unable to find his shot and gave Memphis a big window to come back and steal the game after trailing by as much as 17.
It may be discouraging for Durant, but his teammates and the fans watching know that he's doing all he can to lead his team to victory without Westbrook to fall back on. This is a new experience for Durant, who's had Westbrook by his side for most of his career, and he's learning from it.
Aside from the Game 4 struggle, KD has been nothing short of amazing and deserves a high mark for his efforts.
Grade: A+