Ranking the Top 10 NHL Free Agent Centers Available This Offseason
Claus Andersen/Getty Images

NHL free agency is always a fun time during the summer for players and hockey fans, and this summer centers like Mike Ribeiro, Patrik Elias and Tyler Bozak are set to hit the open market.
There are numerous centers with different skills, and they will be attractive to numerous teams for a variety of reasons. Here are the top 10 centers who will hit the open market in July.
Begin Slideshow

»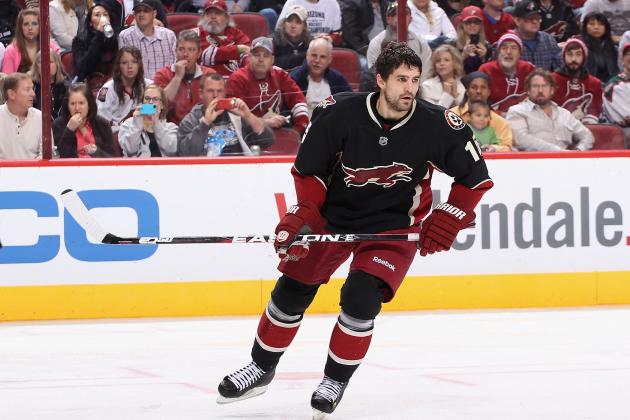 Christian Petersen/Getty Images
Gordon was eighth in the NHL in faceoffs percentage with 57.3.
Boyd Gordon should capitalize on the open market this summer because he is one of the NHL's top defensive centers. He is a hardworking forward who is one of the best in the league at winning faceoffs, and he is great on the penalty kill.
The Phoenix Coyotes will likely lose him because there are a number of playoff contenders who will add a depth player like Gordon to their roster.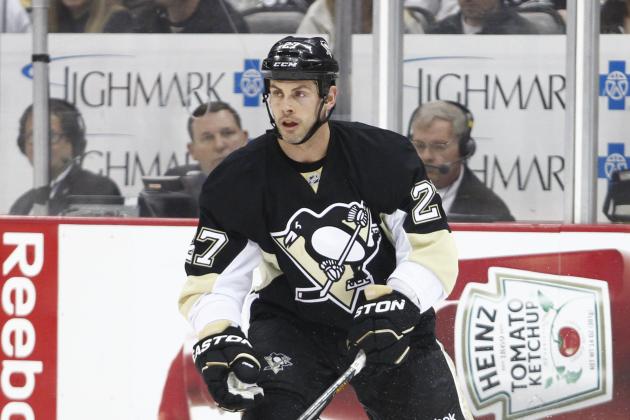 Justin K. Aller/Getty Images
Adams is 36 years old and has valuable experience.
Craig Adams is a two-time Stanley Cup champion and a player who is one of the NHL's top veterans. Adams has a bottom-six role with the Penguins, and he is an energy player who kills penalties and is used for his defensive prowess.
He can also play left and right wing, and he is a player who is a valuable commodity to have in the lineup.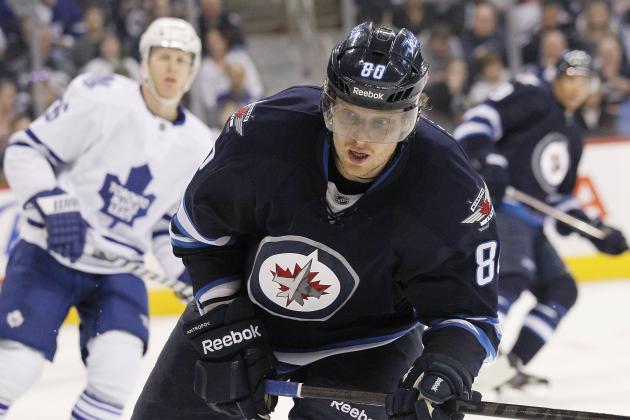 Marianne Helm/Getty Images
Antropov could use a fresh start.
Nik Antropov is a big-bodied center at 6'6" and 245 pounds, and he can also play the wing if you need him to.
Antropov had a down year with the Winnipeg Jets after tallying a lackluster 18 points, but the 33-year-old forward could use a fresh start. Antropov has solid vision and is a decent two-way forward, and he should be coveted because of his size and his overall play.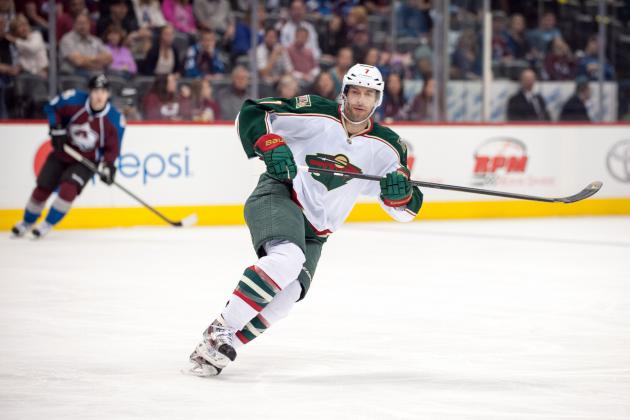 Dustin Bradford/Getty Images
Cullen had a nice season with the Wild.
Matt Cullen had a decent season with the Minnesota Wild, and the 36-year-old center had a 0.64 points-per-game average in 2012-13. Cullen is a savvy veteran who is smart with the puck, and he is a great forward to have for the bottom-six.
He can play on the power play and can step into the top six if necessary, and Cullen has a couple of good years left in him before he retires.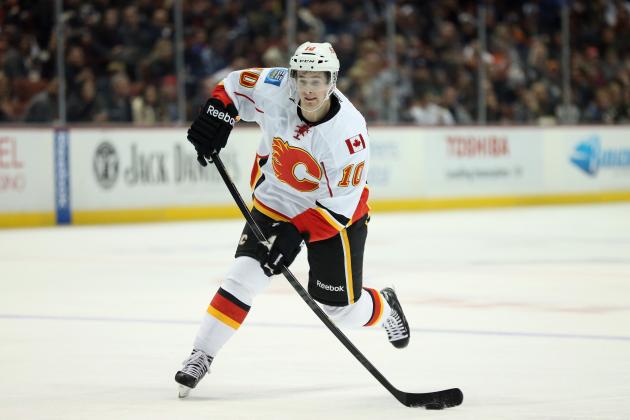 Jeff Gross/Getty Images
Cervenka had a tough year in 2012-13.
Roman Cervenka is a 27-year-old center who has a lot of potential, and he had a tough time adjusting to North American ice in 2012-13. Cervenka had 17 points in 39 games, but he is a talented playmaker who showcased his skills while playing with Jaromir Jagr overseas.
If Cervenka is put in an environment with some solid linemates, he can be an asset to a team looking for a top-nine center.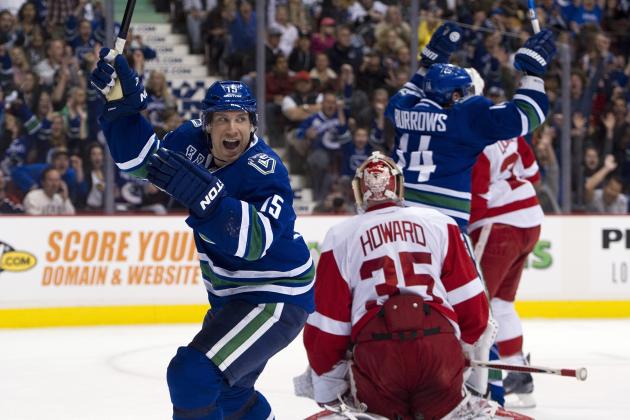 Rich Lam/Getty Images
Roy had a nice bounce-back season.
Derek Roy started the year with the Dallas Stars, and he was traded to the Vancouver Canucks at the deadline. His 2012-13 season was one of his best in recent memory, and he is a player who will be sought after this July.
Roy has not been the same player since recovering from left quadriceps tendon surgery, but potential buyers should be encouraged because of his production in 2012-13. He still has great vision and the ability to make a great pass, but durability will always be a concern with Roy.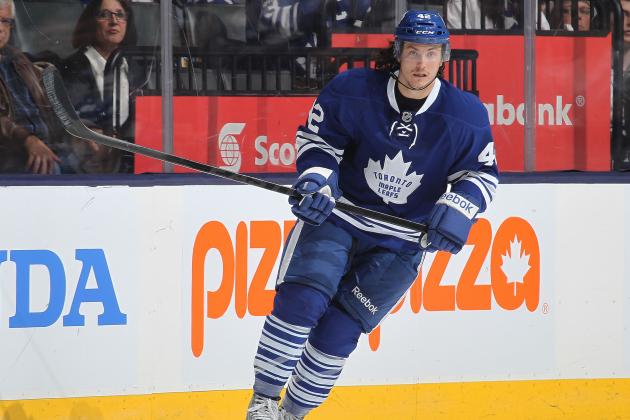 Claus Andersen/Getty Images
Bozak could be a top prize this July.
Tyler Bozak is a young center who has been constantly growing with the Toronto Maple Leafs, and he will be a top commodity on the free-agent market in July. Bozak is 27 years old, and he has a career points per game average of 0.56.
Bozak is a talented two-way center who plays well in many situations, and his best days are ahead of him. It is worth the risk taking a chance of Bozak, because he is young and he has only played a few years at the NHL level.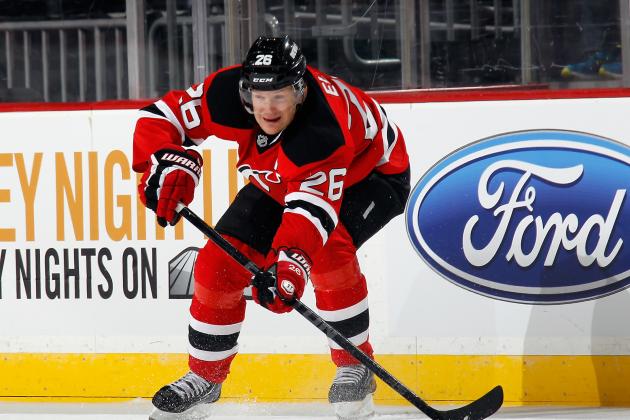 Bruce Bennett/Getty Images
Will Elias join a new team next season?
Patrik Elias is a 37-year-old veteran center who has had an amazing career to date. Elias averaged 0.75 points per game in 2012-13, and he still has a lot of game left in him.
Elias has great vision, hands, scoring ability and he is a skilled passer. He is also a solid two-way player who is great in all three zones, and he is a very smart player.
He has remained loyal to the New Jersey Devils his entire career, but he will be a free agent this summer and anything can happen on July 5.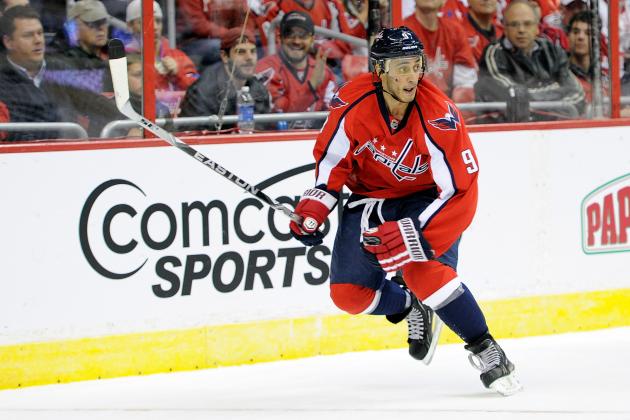 Greg Fiume/Getty Images
Ribeiro is a great playmaker.
Mike Ribeiro had an amazing season with the Washington Capitals in which he had a 1.02 points-per-game average, and he should be a top commodity this July. The only thing to keep in mind is that Ribeiro is 33 years old, and his best days are likely behind him.
This is not to say that Ribeiro still can't be a factor, but teams should be wary of signing him to a long-term contract. Ribeiro is an elite playmaker who has great offensive instincts and vision, but he could decline with age.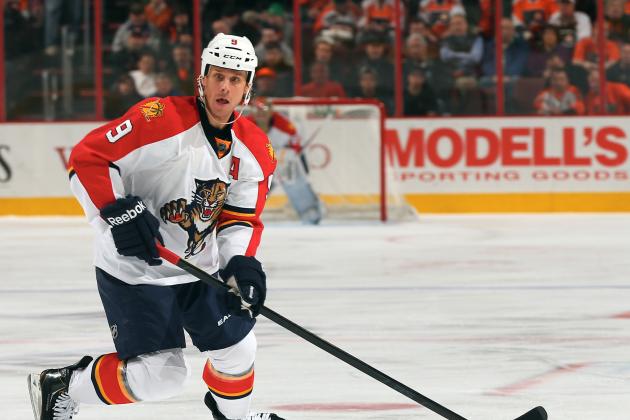 Elsa/Getty Images
Weiss has a ton of potential.
Stephen Weiss was limited to 17 games in 2012-13 because of an injury, but he will be ready for the start of the 2013-14 season. Weiss is a solid two-way center who has spent his entire career on a Florida Panthers' team that has not played very well.
He is a solid passer, a great faceoff man and he has the potential to be a really good No. 1 center. Weiss' age and potential make him more attractive than Mike Ribeiro, and the Panthers should be concerned about losing him to free agency.