Toronto Maple Leafs vs. Boston Bruins Game 7: Live Score, Updates, Analysis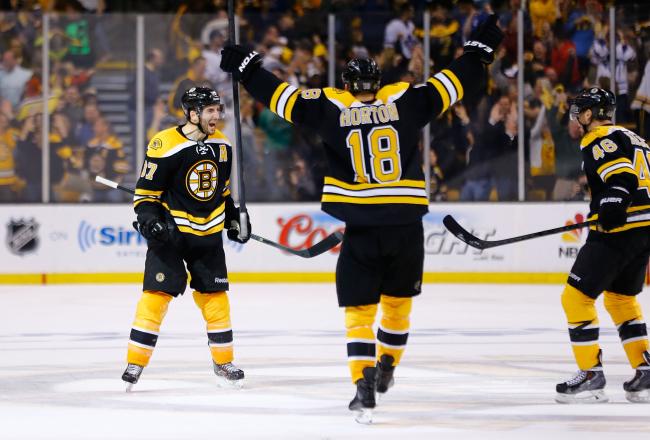 Jared Wickerham/Getty Images
The Bruins appeared destined for an embarrassing first-round elimination, trailing 4-1 against visiting Toronto with less than 11 minutes remaining in regulation of a Game 7 showdown. Instead, Boston stunned the Maple Leafs and brought a downtrodden crowd at TD Garden to elation with an unbelievable 5-4 comeback victory.
The Bruins tallied three straight goals in the third period, including two in the final 82 seconds, to send the contest into overtime.
Patrice Bergeron, who scored the game-tying goal with 51 seconds left in the third period, put a punctuation mark on an unforgettable victory when he connected on a game-winner 6:05 into overtime.
Toronto trailed 1-0 early in the opening period before tallying four consecutive goals, gaining a commanding three-score lead midway through the third frame. The Maple Leafs appeared primed to celebrate their first playoff series victory in nearly a decade until a furious Bruins rally forced Toronto fans to keep the champagne bottles corked.
Boston led the series 3-1 before dropping consecutive 2-1 defeats. Toronto came tantalizingly close to winning its third straight game in Beantown, which would've sent both franchises in drastically different directions than what we're seeing tonight.
The Bruins now await the winner of Washington versus New York. If the Rangers hold on to a sizable lead, the Eastern Conference semifinals would open in Boston and pair up two of the "Original Six" hockey clubs.
Final: Boston 5, Toronto 4 (overtime)
Bruins complete rally, win 5-4 in overtime!
Patrice Bergeron tied the game to send it to overtime and completes a Boston comeback with another score in the overtime session. He beats a stunned Toronto squad with a little more than six minutes in the extra session!
Boston 4, Toronto 4 (17:49 Overtime)
Tuukka Rask salvages the Bruins chances for a win with a brilliant save against Joffrey Lupol.
Nothing like watching the netminders go to work with everything on the line!
Boston 4, Toronto 4 (17:49 Overtime)
Tuukka Rask salvages the Bruins chances for a win with a brilliant save against Joffrey Lupol.
Nothing like watching the netminders go to work with everything on the line!
NBC Sports says this overtime session sets a new NHL record for games requiring an extra session in first round. Boston and Toronto are set to start the 17th overtime of the postseason.
Savor the flavor, hockey fans.
Toronto wasn't just on the brink of wrapping up a series comeback in definitive fashion. With the Rangers leading Washington 3-0 through two periods, the Maple Leafs may have squandered a chance to host an opening game in the next series.
If the Rangers, currently ahead 3-0 through two periods against the Capitals in Game 7, can actually protect a three-goal lead (something Toronto couldn't do), they travel to the winner of this matchup for Game 1 of the Eastern Conference semifinals. A Washington comeback would mean the Caps play host to either Boston or Toronto.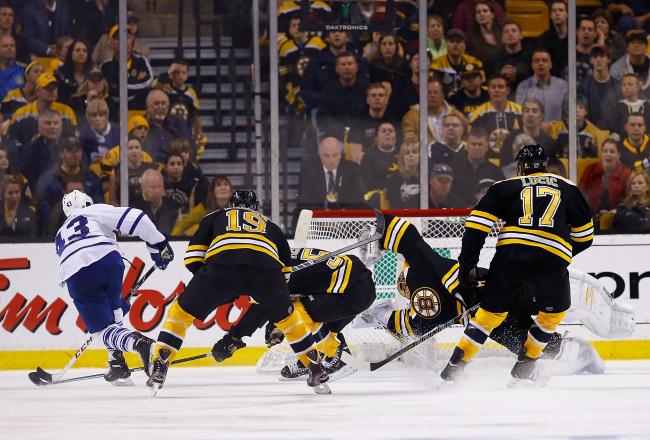 Boston battles back from the brink, sends Game 7 to overtime!
The Maple Leafs led 4-1 with just under 11 minutes remaining in intermission. Now the team is headed to the locker room in preparation for a series-deciding overtime.
The Bruins stormed back to score three consecutive goals, including two scores in the final 82 seconds to knot things up at 4-4 after 60 minutes of action. This epic Game 7 will be remembered for a long time in both Boston and Toronto.
Stay tuned for overtime action. Whichever team scores next is headed to the Eastern Conference semifinals!
Boston score consecutive goals in 30-second span to tie Toronto 4-4 with 50 seconds left!
Just as the world was about to declare the Bruins dead, the home team has charged back from a 4-1 deficit to tie things up. Boston blitzed James Reimer after pulling goalie Tuukka Rask to pick up an extra man.
Milan Lucic cut the score to 4-3 on a goal (assisted by Zdeno Chara and Patrice Bergeron). Then Bergeron scored the game-tying goal using a screen by Chara. He was assisted by David Krejci and Jaromir Jagr.
Never say never!
Toronto 4, Boston 2 (1:40 3rd Period)
The Bruins have pulled goalie Tuuka Rask in an effort to mount a major comeback in the final 100 seconds of Game 7.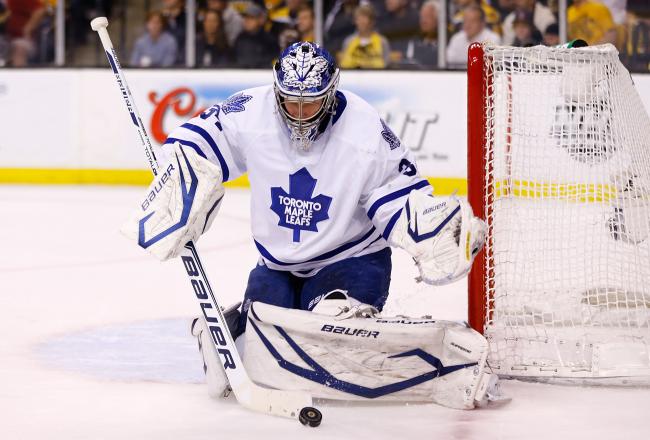 Toronto 4, Boston 2 (4:3043rd Period)
Boston has been able to put some pressure on Toronto goalie James Reimer. The Bruins are swarming, sensing this is the team's last chance to make a late push.
The 25-year-old from Manitoba has 10 saves in the third period. It's by far the busiest he's been tonight since the opening minutes of the first period, when Boston claimed an early 1-0 advantage.
Reimer, a second-year pro, would gain plenty of fans across the country of he and the Leafs can finish off Boston on the road.
Boston scores, trims Toronto advantage to 4-2 with 10:42 remaining!
The Bruins' first line finally makes some noise. Nathan Horton scored his fourth goal of the series on assists from Milan Lucic and David Krejci.
Krejci now leads the NHL in postseason points (12). Horton, who becomes a free agent after the season, is building himself quite an individual resume in these playoffs.
A stunning beat down is taking place in Boston tonight.
Since the first period ended with score tied 1-1, the Bruins have managed just 12 shots as Toronto tacked on a trio of goals. Boston began the series with a home victory but appears destined to lose three straight games on home ice.
Leafs continue onslaught, jump ahead 4-1 with 14:31 remaining in regulation!
Toronto hasn't come back from a 3-1 series deficit since 1942 but the team appears to be knocking on history's door following its fourth unanswered goal. The Maple Leafs have claimed a three-score advantage on a brilliant rebound goal by Nazem Kadri, his first of the playoffs,
Kadri cleaned up a long rebound that bounced off Rask when Phil Kessel fired a shot on goal.
Desperation has officially set in at TD Garden while the champagne is on ice in Toronto.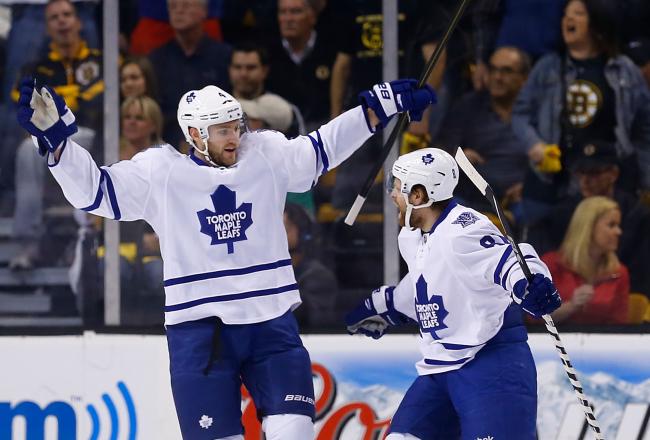 Toronto takes control of Game 7, claims 3-1 lead with 17:51 remaining in regulation.
A hush has fallen over the crowd at TD Garden, where Toronto just took a 3-1 lead a little more than two minutes into this Game 7 matchup. Since falling behind 1-0, the Maple Leafs have scored three unanswered goals.
Phil Kessel connected on his fourth goal of the series to give visiting Toronto a commanding advantage. Kessell scored just 3 goals in the regular season
He was assisted by Nazem Kadri and James van Riemsdyk.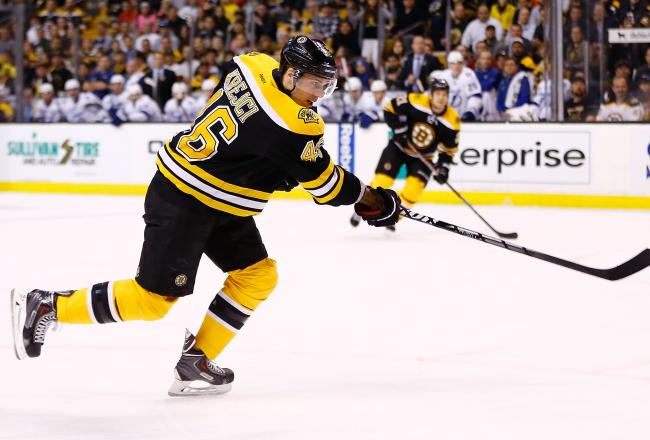 Boston's first line has underwhelmed in Game 7 after a scintillating start to the series. Milan Lucic, Nathan Horton and David Krejci aren't getting the job done when it matters most.
Krejci, who is tied for the NHL postseason lead with 11 points and punctuated Game 4 with an overtime goal, has just two shots on net tonight. Toronto has limited the Bruins to 13 total shots despite losing 29 of 36 face-offs.
The Bruins must maximize each possession to survive a major scare from upstart Toronto.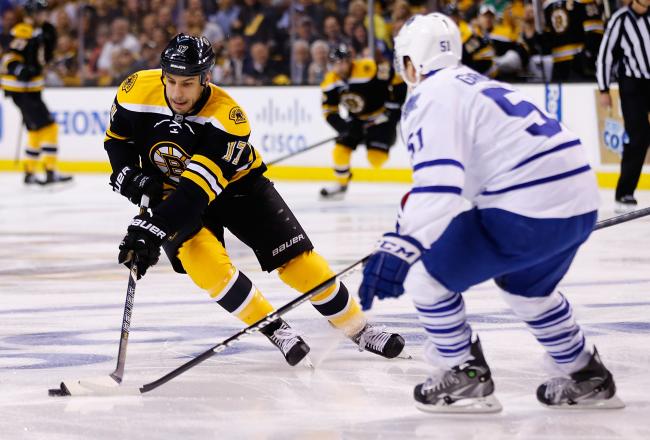 Toronto heads to third period of Game 7 ahead 2-1 in Boston!
The crowd at TD Garden is growing restless and some even extended some boos as the Bruins headed to the locker room trailing visiting Toronto 2-1 through two periods. Boston once held a 3-1 advantage in this first-round playoff clash but is suddenly 20 minutes of game time away from being eliminated.
Toronto took the lead 5:48 into the second period when Cody Franson scored his second goal of the evening and third of the series. The Maple Leafs look to advance beyond in the playoffs for the first time in nearly a decade.
Toronto goalie James Reimer has been the story so far again tonight. He's surrendered one goal on 13 shots, protected by a stifling Leafs defensive effort.
Stay tuned for updates and analysis from the exciting conclusion of this Game 7 showdown!
Toronto 2, Boston 1 (2:57, 2nd Period)
"Save by Reimer" 3 words I hate

— bostonsbunny (@bostonsbunny) May 14, 2013
Toronto goalie James Reimer has surrendered just two goals in the past 127 minutes of action. Think Bruins fans have had enough of the emerging standout netmider?
Boston kills the Leafs' power play this time around. Seconds after the two-minute penalty wraps up Boston defenseman Zdeno Chara delivers a blow to Toronto winger Joffer Lupel's face in front of the net.
No penalty was called. This is Game 7 playoff hockey and all bets are off after the whistle.
Toronto 2, Boston 1 (6:58 2nd Period)
Toronto is seeking its third straight win in Boston during this series and can take a significant stride toward doing that with a power play goal.
This is the Maple Leafs' first man advantage of the second period. Cody Franson netted the team's first goal of the contest on a first-period power play.
Toronto 2, Boston 1 (8:50 1st Period)
The Bruins have been unable to build any semblance of an offensive attack. After pounding Toronto netminder James Reimer with a barrage of shots on goal early, the Maple Leafs have clamped down.
Toronto led the NHL in hits, fights and blocked shots during the regular season and have carried that suffocating mentality into the playoffs. The Maple Leafs are using the poke check tremendously.
Boston has just one shot on goal in the second period as Toronto continues to take control on the road.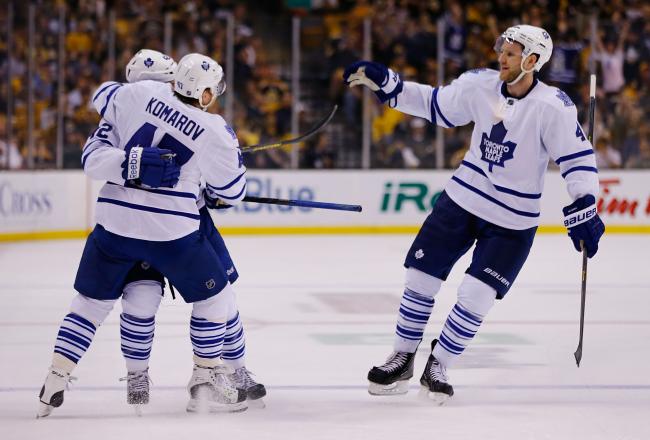 Franson strikes again to give Toronto 2-1 lead with 14:12 left in second period!
Tuukka Rask couldn't pick up the puck after a Boston misplay and Cody Franson cashed in to propel Toronto in front on the road. Cody Franson scored his second goal of the game and third of the series to seize a 2-1 lead.

Toronto teammates Clarke MacArthur and Mikhail Grabovski provided the assists. The game is now in the hands of Leafs goalie James Reimer, who has surrendered just two goals in the past seven-plus periods.
Boston 1, Toronto 1 (19:27 1st Period)
The Bruins land on their second power play of the evening. Tonight, the teams are a combined 1-for-4 on power play opportunities (Maple Leafs scored on third man advantage).
Toronto's Nazem Kadri was sent to the box for for Interference of Johnny Boychuk.
First intermission arrives with teams knotted up 1-1!
Toronto and Boston have brought a level intensity to the ice you'd expect to see in Game 7 of a Stanley Cup series tonight at TD Garden. There have been plenty of bodies tossed around and exhilarating individual efforts on each end of the ice.
The Bruins jumped out to an early lead when Matt Bartkowski scored his first career postseason goal less than six minutes into the first period. Cody Franson, who turned the puck over prior to Bartowski's unassisted score, tied the game four minutes later with his second goal of the series.
This is the third time in the series the first period ends in a tie. Toronto has come out on top in each of those occasions.
Stay tuned right here for full coverage of the action when Period No. 2 gets underway!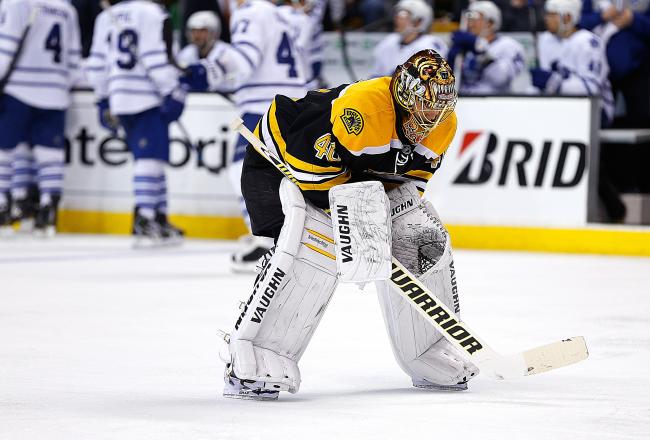 Boston 1, Toronto 1 (4:05 1st Period)
Bruins netmider Tuukka Rask appeared on the verge of stardom when his team surged ahead in the series to a 3-1 lead. He made 90 combined saves in Game 3 and 4 victories, proving to be more than just a capable replacement for 2011 Conn Smythe Trophy winner Tim Thomas.
Rask has continued to play well, suffering a pair of hard luck 2-1 defeats in the past two matchups. Tonight, he's surrendered a power play score but has been impressive yet again.
He has 11 saves so far, including a few snags that saved the Bruins from a first-period deficit. An outstanding performance tonight would go a long way toward solidify Rask as a franchise cornerstone and man worthy of a sizable contract extension.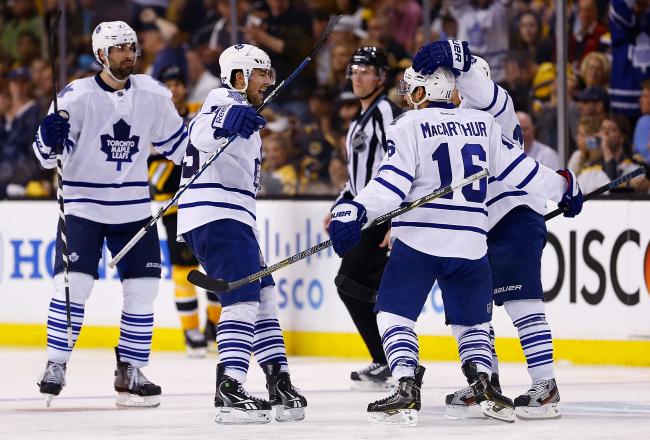 Toronto ties things up on Franson goal with 10:25 left in first period!
Cody Franson notched his second score of the series to quickly answer back after Boston claimed an early advantage. The last two games have featured just six total goals so each one takes an extreme significance.
The defenseman deposited the game-tying goal on assists from James van Riemsdyk and Dion Phaneuf. A TD Garden crowd on the verge of hysteria is suddenly sitting back down.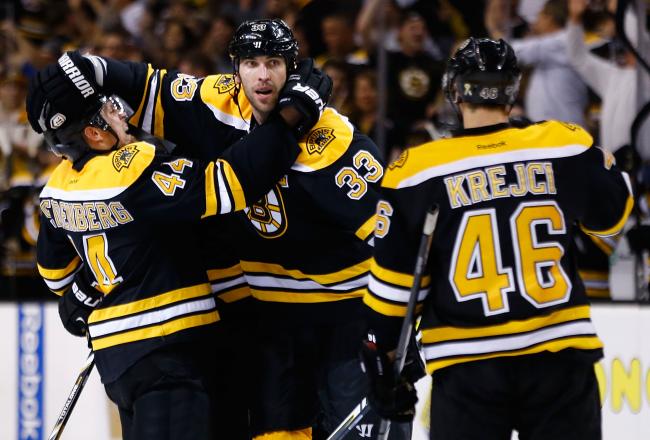 Bruins build early 1-0 advantage on Matt Bartkowski's goal with 14:21 remaining in first period!
Bartkowski hasn't been much of a factor in this series but he's lifted Boston ahead of Toronto here in Game 7. He fired a shot past Toronto goalie James Reimer, helped by traffic in front of the net.
It's Bartowski's first career playoff score in just his second appearance this series. It was unassisted.
Although Toronto entered tonight's matchup with all the momentum, the road team is quickly feeling the pressure.
This article is
What is the duplicate article?
Why is this article offensive?
Where is this article plagiarized from?
Why is this article poorly edited?