First Quarter Grades for Seattle Mariners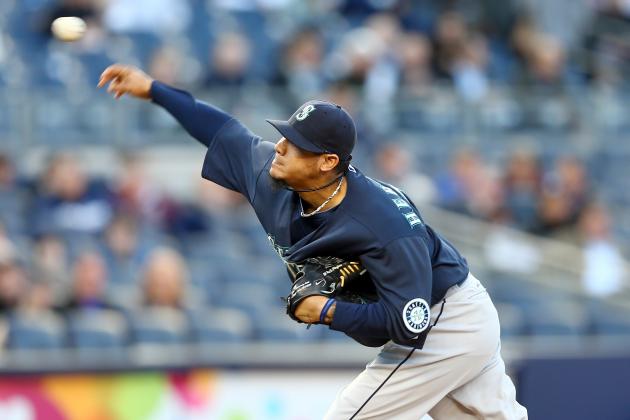 Elsa/Getty Images

The Seattle Mariners are doing adequately in school this year. The Mariners certainly are not making the honor roll, but they aren't standing in the corner either.
Let's just say that they have potential to do better.
Unfortunately for the Mariners, there are other teams that have better records and continue to get higher grades. Here is hoping that the M's can start to gain ground.
From a statistical standpoint, this team is just about average. There have been signs of growth compared to last season, but in other instances this squad has looked painfully like teams from past years.
Will the Mariners continue to improve and raise their grade throughout the season? Or, are they barely hanging on and it is only a matter of time before the team slides into familiar patterns?
The first quarter is in the books, and here are various grades for the Seattle Mariners.
*All statistics through May 14
Begin Slideshow

»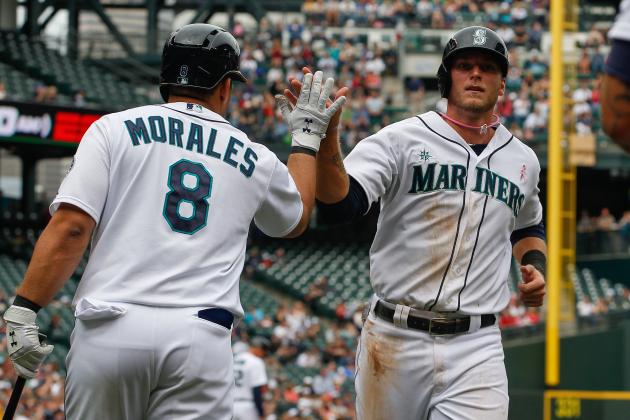 Otto Greule Jr/Getty Images

Grade: C
Is the offense better this year than it was in past years? Sort of.
When you watch the Mariners play, it appears that the team has more confidence at the plate. Of course, appearances can be deceiving. Kyle Seager (.280), Michael Saunders (.267) and Kendrys Morales (.261) have provided a boost for this team.
Granted, there have also been some struggles as Brendan Ryan (.129), Robert Andino (.169) and Jesus Montero (.200) are not exactly hitting the cover off the ball. This has culminated into a .236 team average, which is good for 26th in the league.
I guess that is better than 30th.
The test for this team will be whether they can hit in the later innings. Seven of the 21 losses have been by one run. If the Mariners pull out a few more victories from those types of games, this could suddenly be a .500 team.
In this case, the grade reflects a mixture of performances that have culminated into an average offense. If a few batters starts to pick up the slack, the grade may go up.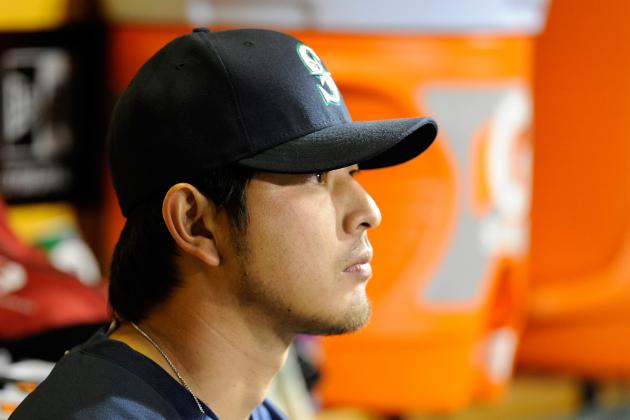 Joe Sargent/Getty Images

Grade: B
If the grade is based solely on Felix Hernandez and Hisashi Iwakuma, we are probably talking about an A+ for the season. Hernandez and Iwakuma are a combined 9-3, and each has a fantastic ERA for the year.
Hernandez: 1.53
Iwakuma: 1.74
The grade for the rotation is not an A+ because this is a group project, and other pitchers are not pulling their weight. Blake Beavan didn't work out so well. Brandon Maurer is still around, but has an ERA of 5.97 for the year.
Joe Saunders is great at Safeco Field, but has not been good on the road. Aaron Harang is, well, Aaron Harang.
Perhaps the Mariners will eventually promote one of their youngsters to solidify the back end of the rotation. For now, the team has to hope that King Felix and Iwakuma stay healthy and productive.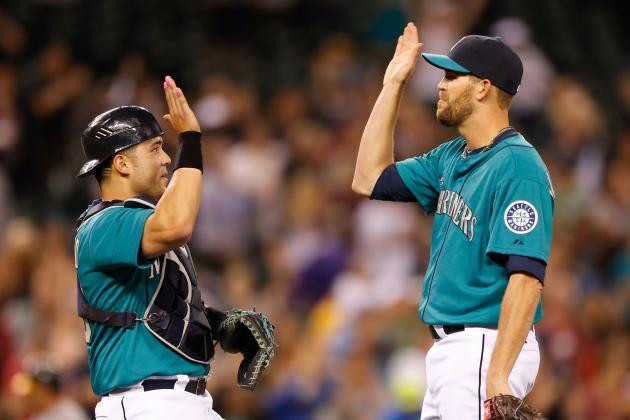 Otto Greule Jr/Getty Images

Grade: B
Much like the starting rotation, the bullpen has been a mixture of dominance and sporadic struggles. It would be inaccurate to suggest that the bullpen has been a weakness, but certain pitchers have given up runs at inopportune time.
Tom Wilhelmsen (0.50 ERA, 10 saves) has been absolutely dominant. In 16 innings of work, he has 11 strikeouts and 5 walks. He has only given up one earned run on five hits.
Before getting hurt, Stephen Pryor was almost unhittable as he gave up zero runs in 7.1 innings of work. The Mariners will be happy to have him back when he returns from the disabled list. Veteran Oliver Perez has also been impressive in relief, giving up only two runs in 14.1 innings of work.
Granted, there have been some challenges. Kameron Loe did not exactly pitch well in his short stint with Seattle. Guys like Charlie Furbush and Carter Capps have been a bit up and down depending on the game. Furbush was unable to hold the lead against the New York Yankees on May 14, which ended up costing Felix Hernandez a chance to get another victory.
The bullpen is a place where the Mariners may do some experimenting with young throwers. If some of the middle relievers can settle down, this could be a real strength for the Mariners.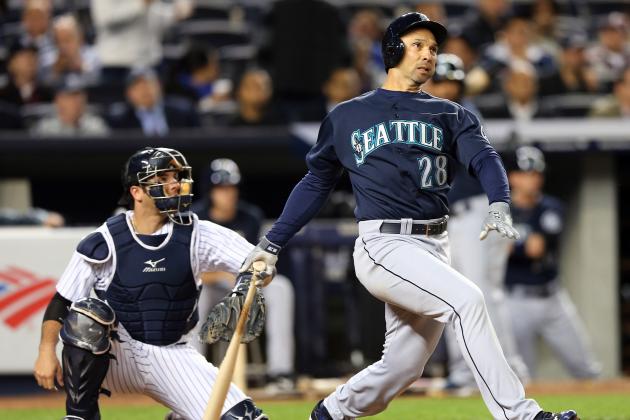 Elsa/Getty Images

Grade: C-
The tough part about grading the bench is that over the course of a season, roles can change depending on performance. Some players start on occasion, while others are in a sort of semi-permanent platoon.
When you talk about the strict hierarchy of the lineup, bench players include guys like Jason Bay, Raul Ibanez, Kelly Shoppach and Robert Andino. The performances are, as expected, a bit mixed.
Bay and Ibanez have provided some power (four home runs each), but not a lot of average (.241 and .211, respectively). Granted, a .241 average on this team is not necessarily terrible.
Shoppach actually has a higher average (.263) than Jesus Montero (.200), which has to be a bit troubling to management since Montero is supposed to be a key part of the future. Shortstop? Don't ask. Robert Andino and Brendan Ryan have split time, but neither is hitting particularly well.
The grade for the bench has more to do with the overall average, which is pulled down by Andino's .169 for the year. Maybe there will be a Nick Franklin sighting soon.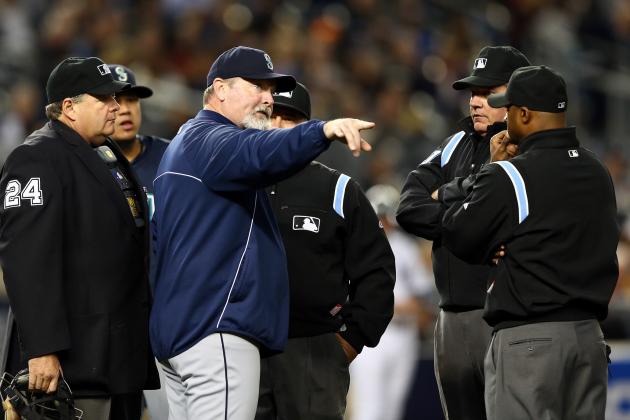 Elsa/Getty Images

Grade: B-
When you talk about coaching a Major League Baseball team, it is tough to know how much of a squad's performance is a result of inspiration from the manager. Will a pep talk lead to more base hits?
At face value, Eric Wedge appears to be doing an adequate job at leading this young team. Certainly you can scrutinize the selection of certain relievers at key times, or whether starters are left in too long.
In addition, there is the fact that lineups change over time. What is unclear is whether these are Wedge's decisions, or if they represent direction from management. For example, a recent article from Jon Heyman of CBS Sports suggested that there may be debate between Wedge and Jack Zduriencik about the role of Jesus Montero.
If that is the case, the grading becomes even more difficult. For the moment, this grade suggests that there are no glaring managerial errors, but there is certainly room for this team to play better.