Ranking the Best No. 2 Receivers in the NFL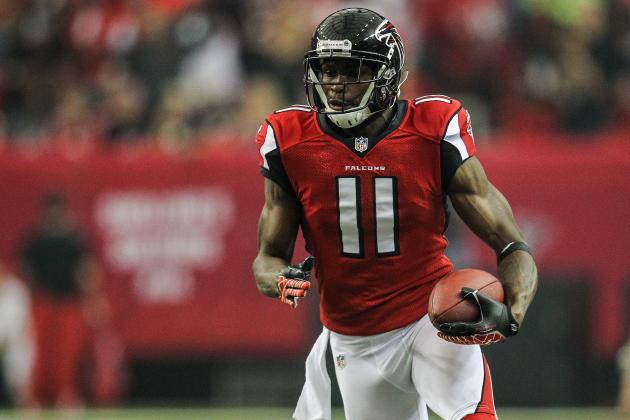 Daniel Shirey-USA TODAY Sports

In today's NFL, the line between No. 1 and No. 2 receivers is becoming increasingly blurred thanks to an increased prevalence of spread formations and collegiate influence.
So, before there is literally no discernible difference among wideout groupings, let's rank the best No. 2s in the game today.
(No specific formula was used, and obviously, there are already teams that don't have a distinct No.1 and No. 2 receiver.)
Begin Slideshow

»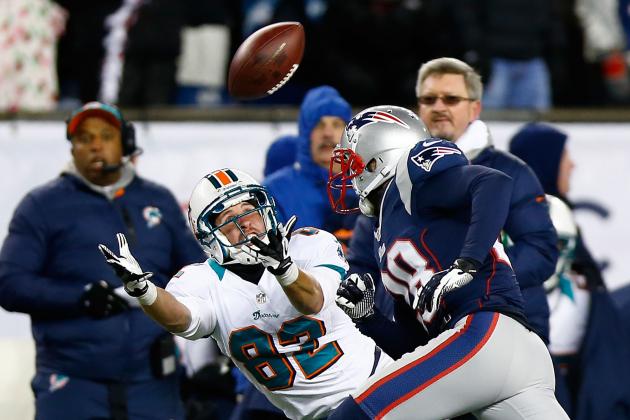 Jared Wickerham/Getty Images

With Mike Wallace in the fold in Miami, Brian Hartline will likely be relegated to the No. 2 receiver role for the Dolphins.
At season's end, there's a chance Hartline actually receives more targets than Wallace, but Hartline should become more of a chain-moving target for quarterback Ryan Tannehill.
He caught 74 passes for 1,083 yards in 2012, which followed three seasons with more than 500 receiving yards.
Hartline isn't the biggest, fastest or most athletic wideout in the league, but he should carve out a fine niche as the No. 2 for Joe Philbin's club.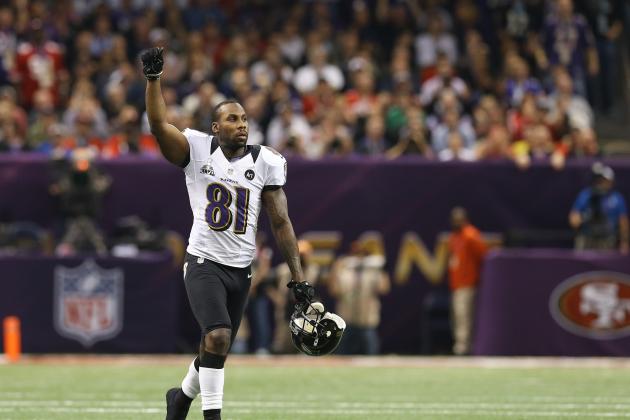 Mark J. Rebilas-USA TODAY Sports

It can be argued that Anquan Boldin was the No. 1 receiver in Baltimore with the Ravens last year—and he sure played like one during the Super Bowl run—but with Michael Crabtree emerging as a complete wideout in 2012, Boldin will likely assume No. 2 duties in San Francisco this season.
He caught 65 passes for 921 yards during the regular season and has averaged 77.2 receptions and over 1,000 yards per season for his career.
Boldin will be 33 in October, and he doesn't appear to be a 1,000-yard wideout anymore, but he'll be quite the No. 2 next to Crabtree for the 49ers.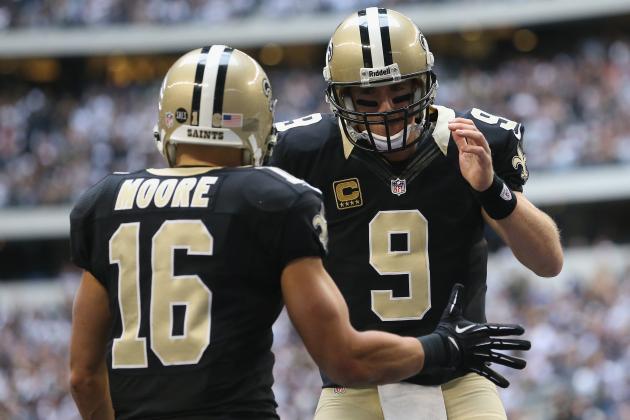 Ronald Martinez/Getty Images

Quietly, Lance Moore has established himself as one of the most dangerous and annually productive complementary wide receivers in the NFL.
Marques Colston and tight end Jimmy Graham are actually the top targets in New Orleans for Drew Brees, but calling Moore a reliable No. 2 isn't a stretch.
In 2008, the former Toledo standout finished the year with 79 receptions for 928 yards and 10 touchdowns.
After battling injury in 2009, Moore has re-emerged for the Saints—he has averaged 61 grabs, 810 yards and 7.3 touchdowns since the 2010 season.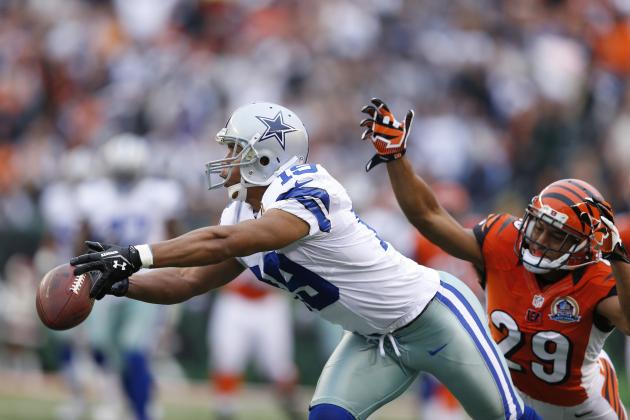 Joe Robbins/Getty Images

When healthy, Miles Austin is an exquisite No. 2 receiver opposite the physically imposing and ultra aggressive Dez Bryant in Dallas.
The former undrafted free agent burst onto the scene in 2009 with 81 grabs, 1,320 yards and 11 touchdowns; however, after a similarly production 2010, he has dealt with nagging leg injuries that have kept him on the sideline and limited his explosion.
At 6'2'' and 217 pounds, Austin is can line up anywhere on the field and put pressure on the opposing secondary.
In 2012, he caught 66 passes for 943 yards with six scores.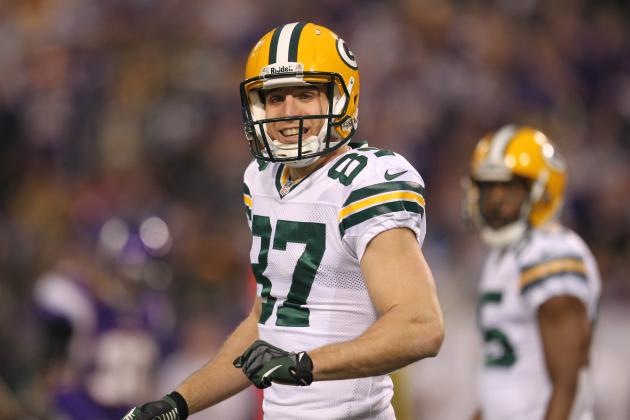 Brace Hemmelgarn-USA TODAY Sport

Jordy Nelson makes the list as the No. 2 receiver in Green Bay, but really, there hasn't been a distinct No. 1 for the Packers in a while.
Heading into the 2013 season, let's say James Jones will be Green Bay's No. 1 and Randall Cobb will be the high-volume, bubble-screen, underneath slot option.
While deciding if Nelson is the No. 1 or No. 2 option for Aaron Rodgers is extremely difficult, there's no doubting the fact that he's been underappreciated during his career.
He had a prolific 2011, catching 68 passes for 1,263 yards with 15 touchdowns and has averaged 54 receptions and 863 yards with eight touchdowns per season since 2010.
At 6'3'' and 215 pounds, Nelson is a formidable downfield threat who excels on back-shoulder throws and jump balls.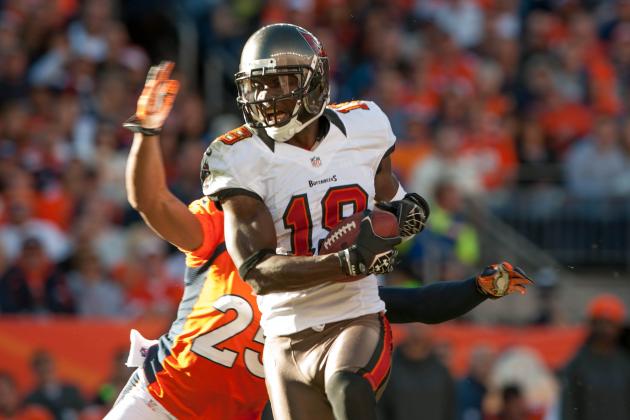 Dustin Bradford/Getty Images

Similar to Nelson, Mike Williams is a big downfield target who aggressively attacks the football at its highest point and has a well-rounded game.
He was emerging as the Tampa Bay Buccaneers' No. 1 receiver, but Vincent Jackson assumed that role when he was signed to a lucrative contract before the 2012 season.
While his production has been hindered due to the inconsistency of quarterback Josh Freeman, in his first three NFL campaigns, Williams has averaged 64 receptions, 910.3 yards and 7.6 touchdowns per year.
With a fine blend of size, speed and strength, Williams is certainly an upper-echelon No. 2 receiver.
Brace Hemmelgarn-USA TODAY Sports

Percy Harvin has been a gadget receiver during his time as a professional, and he may finish the 2013 season with the most targets and receptions on the Seattle Seahawks next season.
However, it's hard labeling him as a true No. 1 wideout, especially with the bigger outside receiver Sidney Rice on the roster.
Harvin's averages of 70 receptions, 825.5 yards and six total touchdowns per season in 54 career games are very respectable, and as one of the quickest wideouts in the game, he's a threat to score every time he touches the football.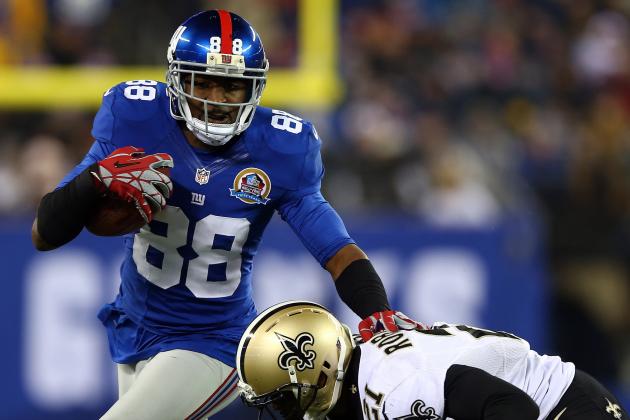 Elsa/Getty Images

Hakeem Nicks is a wildly productive receiver when he's healthy, the problem is, he dealt with nagging injuries in 2012.
Some would say he's the true No. 1 for the New York Giants, but Victor Cruz's consistency has elevated him to that distinction.
The former first-round pick had consecutive 1,000-yard receiving seasons in 2010 and 2011.
He is a refined route-runner with deceptive speed and elusiveness at 6'0'' and 210 pounds.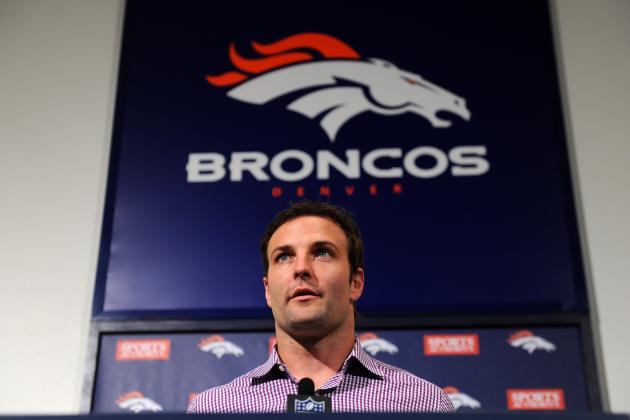 Ron Chenoy-USA TODAY Sports

It was in an unconventional way, but Wes Welker was the No. 1 receiver during his stint in New England with the Patriots.
In Denver, he'll be the No. 2 behind Demaryius Thomas, who's coming off an 94-catch, 1,434-yard, 10-touchdown season with the Broncos.
Welker and Peyton Manning should formulate quite the chain-moving connection.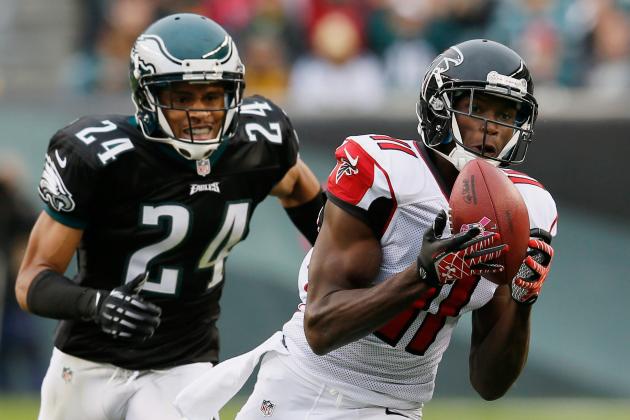 Rob Carr/Getty Images

Julio Jones could conceivably pass Roddy White as the Atlanta Falcons' No. 1 receiver in 2013.
However, White has accumulated more than 1,000 yards receiving every year since 2007.
At 6'3'' and 220 pounds, Jones has the ideal size to line up on the perimeter and beat bigger cornerbacks at all levels of the field.
He has surprising downfield speed and excels after the catch.
Right now, he's the best No. 2 wideout in football.