2013 Toronto Blue Jays: 5 Biggest Surprises so Far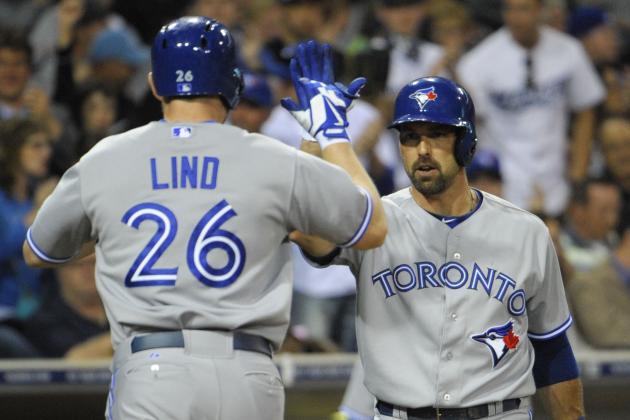 Denis Poroy/Getty Images

The 2013 Toronto Blue Jays season has not gone according to plan.
After a flurry of offseason maneuvers, the expectations placed upon the team were the highest in decades. While it was reasonable to look up and down the new roster and expect the team to contend in the American League East, nothing in baseball ever goes the way you think it will.
Two months into the season, the Jays bandwagon had become significantly lighter, with fair-weather fans jumping off as quickly as the losses piled up.
However, after injuries to key players, the regression of Ricky Romero and some shrewd roster moves from general manager Alex Anthopoulos, the Jays are back in the thick of things.
Beyond storylines like Munenori Kawasaki's emergence as a fan favorite and R.A. Dickey's struggles on the mound, there have been plenty of curveballs through just three months of baseball.
With the 2013 season already salvaged thanks to an 11-game win streak as of June 24, here's a look at the biggest surprises in an already unpredictable year for the Blue Jays.
Begin Slideshow

»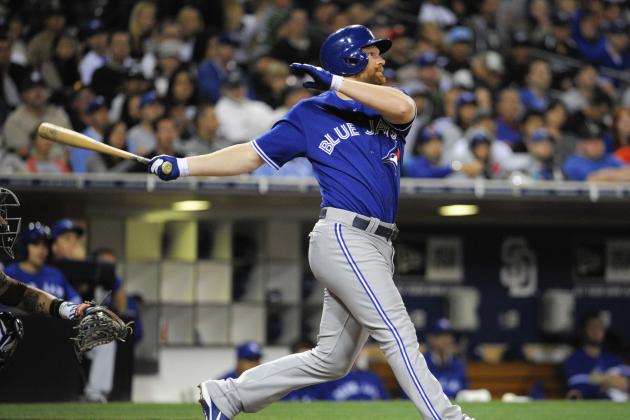 Denis Poroy/Getty Images

The resurgence of Adam Lind is one of the best stories in all of baseball this season.
It seemed as though the designated hitter/first baseman's career was all but over. After winning the 2009 AL Silver Slugger, hinting that maybe he was one of the game's rising stars, Lind's production dropped off significantly.
Despite hitting 49 total home runs in 2010 and 2011, Lind's on-base percentage dropped below .300. He struck out 144 times in 2010 while walking only 38 times. His plate discipline, which had helped him utilize his pretty stroke, had disappeared. He simply wasn't the player the Blue Jays had hoped they developed.
This regression culminated in May 2012 when the Jays placed Lind on outright waivers, where any team in the major leagues could have had the second-leading hitter in the American League for nothing.
Thank God they didn't.
Lind, being the professional he is, went down to Triple-A Las Vegas and did exactly what he needed to do: adjust his approach and hit like mad. In 125 at-bats with the 51s, Lind had 49 hits and posted a blistering 1.112 OPS.
Since Lind was absolutely dominating Triple-A, this made it much easier for the organization to call him up. He hit .301 in the last month of the 2012 season, striking out only 13 times. This level of plate discipline has allowed Lind to see better pitches, go deeper in counts and use his hugely effective swing.
The more Lind puts the ball in play, the more effective he is. His swing is a thing of beauty, but far too often he struck out swinging at pitches out of the zone.
In 2013, Lind has struck out 38 times in 197 at-bats. Those are not spectacular numbers, but it's his walk rate that balances this all out. Lind has taken a free pass 24 times already this season. That would place him at approximately 110 strikeouts and 70 walks across a full season.
In Lind's breakout 2009 campaign, he struck out 110 times and walked 58 times.
The bottom line for the Jays' reborn superstar is seeing quality pitches and avoiding giving opposing pitchers free strikes. In 2013, Lind is doing just that, and it shows.
He's easily the biggest surprise of the 2013 season so far.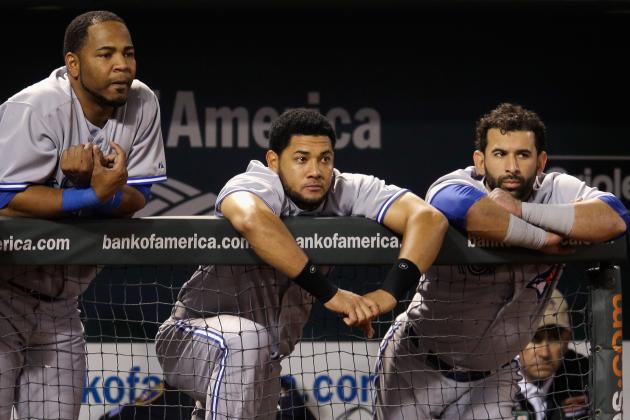 Rob Carr/Getty Images

This is more of a surprise for Jays fans rather than the team itself.
Heading into 2013, there was a stupid amount of hype placed on the Toronto Blue Jays.
I use the word "stupid" because it's very fitting in this context.
The expectations Jays fans had for the team were slightly exaggerated. Not ridiculous or delusional, because looking at the roster, it was actually reasonable to suggest the team had a chance at winning the World Series.
The thing most Jays fans forgot to remember when they were planning the parade route was that only one team wins the World Series each year, and it's incredibly hard to win.
It's even harder to win in the first year after assembling a team of new players. It's very rare to find an example of a team that loads up on talent in the offseason and has immediate success. There are certainly examples of teams loading up on talent and having success, but it usually takes some time for the players to jell.
None of the Blue Jays were playing well during their struggles in April and May. Sure, Edwin Encarnacion was hitting home runs and Casey Janssen was quietly becoming one of the best closers in baseball, but when the team loses, the team loses. The bottom line is, not one player can be spared blame.
What's now becoming clear with the team rattling off 11 straight wins in June is that the Jays were most definitely not as bad as they were in April and May, and winning the AL East is still as hard as it has always been.
Jays fans have had their surprise, but now they get to enjoy a five-team race in the AL East.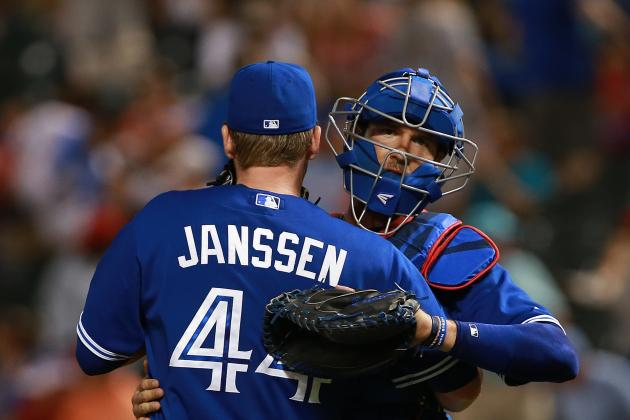 Rick Yeatts/Getty Images

It is not difficult to say that this grab bag ensemble of a bullpen is the best in Major League Baseball.
Starting with Casey Janssen, who was thrown in as a de facto closer during the 2012 season after Sergio Santos suffered a season-ending injury. Janssen has slowly and quietly emerged as one of the best closers in the game.
He has posted the second-lowest WHIP of any regular closer behind Edward Mujica of the St. Louis Cardinals. While there is a solid group of top-tier closers, Janssen and Mujica are the pinnacle at this point. He also has the second-lowest opponent's average and second-lowest number of total walks. Janssen has become virtually automatic and holds down the bullpen better than anyone since Duane Ward.
Then there's the rest of the gang.
Brett Cecil (who we'll get to in a moment) has been remarkable. Aaron Loup and Steve Delabar have been rock solid, picking up where they left off in 2012. Loup has allowed only five walks in 37 innings, and Delabar's 11.8 strikeout rate is exactly what the team needs from him.
The biggest surprises in the bullpen have come in the form of Neil Wagner and Juan Perez. Both have only thrown 11 innings so far but have allowed only one earned run between the two of them.
The Blue Jays' relievers have the fourth-lowest ERA in the majors, the second-lowest WHIP and have thrown the most innings at 273.0. The bullpen has been used the most and has performed well beyond expectation.
Without the strength of their bullpen, the Jays wouldn't even be close to contending.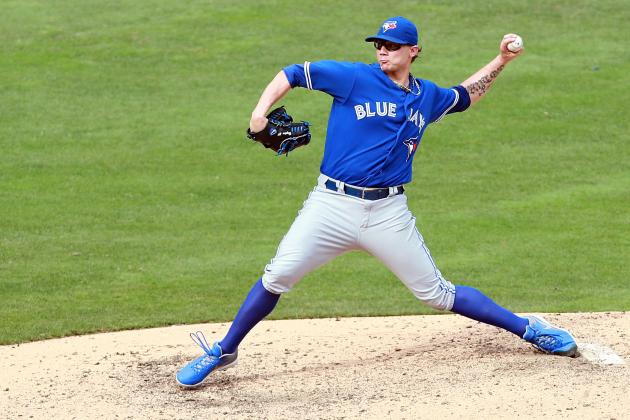 Rick Yeatts/Getty Images

Brett Cecil may be the best non-closer relief pitcher in the world right now.
Cecil's story is very similar to Adam Lind's in that he seemed to be on the outs with the organization until very recently. Cecil was a promising young starter after winning a team-high 15 games in 2010, but his ERA bloated and his velocity dropped, causing several demotions to Triple-A.
At the opening of spring training this year, Cecil did not look like he would crack the opening day roster, and at the end, it looked even less likely.
His spring was underwhelming to say the least, posting a 6.61 ERA and a .284 opponent's average.
Surprisingly, Cecil was the eighth man in the Jays bullpen to start the season.
He has done nothing but impress since then.
With a new-found velocity and pin-point control, Cecil should be placed on the American League All-Star team in July.
Ignoring his record-setting 44 batters faced without allowing a hit—a streak that still stands as of June 24th—let's compare Cecil's current statistics with AL All-Star relievers from 2012.
These numbers are each player's stats as of June 10, 2012.
Ryan Cook: 1.41 ERA, 0.88 WHIP
Jim Johnson: 1.21 ERA, 0.75 WHIP
Joe Nathan: 1.73 ERA, 0.94 WHIP
Chris Perez: 3.34 ERA, 1.12 WHIP
Fernando Rodney: 0.93 ERA, 0.75 WHIP
Brett Cecil (2013): 1.38 ERA, 0.69 WHIP
It's important to note that all of the 2012 All-Stars were closers other than Cook. The numbers speak for themselves: Brett Cecil is an All-Star pitcher and deserves to be recognized for it.
In the meantime, Jays fans are enjoying watching his record-setting streak.
Tom Szczerbowski/Getty Images

If someone had told Jays fans that by the time July rolled around two of their strongest starting pitchers would be Chien-Ming Wang and Esmil Rogers, you would have received some laughs.
Rogers is only slightly less surprising than Wang, considering he was at least expected to be on the team at the start of spring training.
Funny enough, Rogers struggled in the Jays' bullpen to start the year. He was never fully consistent despite throwing hard, and was certainly on the bottom end of Jays relievers.
Listening to interviews with the 27-year-old Dominican makes it clear that confidence is a huge part of his success. The day Rogers was given the start against the Atlanta Braves may have been the day the Jays found a whole new pitcher.
On several occasions, Rogers has said he has the confidence to throw any pitch in any situation. That type of confidence is what is driving his success. With the regression of Ricky Romero and the injuries to Brandon Morrow, J.A. Happ and Josh Johnson, the emergence of Rogers as not only a reliable but effective starting pitcher has been absolutely massive in salvaging the Jays season.
Which bring us to Chien-Ming Wang.
The former New York Yankees star is doing more than just eating innings for the Jays. After his first start, in which he went seven innings while allowing five runs, it seemed that Wang may be a nice solution until Morrow became fully healthy.
However, he's been spectacular since then, going 20.2 innings in three starts while posting a 2.18 ERA.
Wang is hitting his spots very effectively, which is allowing him to go deep into games, making it all the more easier on the Jays' phenomenal bullpen. At the end of the day, Wang has helped the Jays stay afloat, and if he continues to pitch the way he has, he may end up being a key piece moving into the summer of 2013.