Javier Hernandez: Why Manchester United Would Be Crazy to Sell Him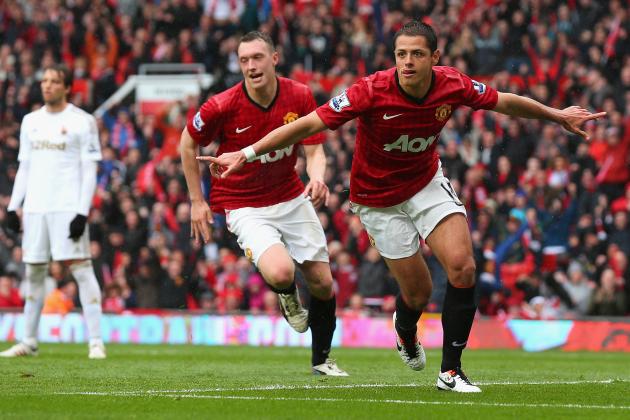 Alex Livesey/Getty Images

It was fitting that Javier Hernandez etched his name onto the scoresheet in Manchester United's 2-1 win over Swansea City on Sunday.
Wayne Rooney's absence from the matchday squad threatened to overshadow Sir Alex Ferguson's final game at Old Trafford, with the forward having handed in a transfer request (via ManUtd.com).
Unlike Rooney, Hernandez wants to play for Manchester United—he wants to stay and fight for his place in the team.
The English forward's contributions to the club are vast, but no player is bigger than the crest—no player is bigger than the club.
If he wants to leave Old Trafford, perhaps it would be in the best interest of everyone if he was granted that wish.
Javier Hernandez, on the other hand, must not be sold.
Here are some reasons why.
Begin Slideshow

»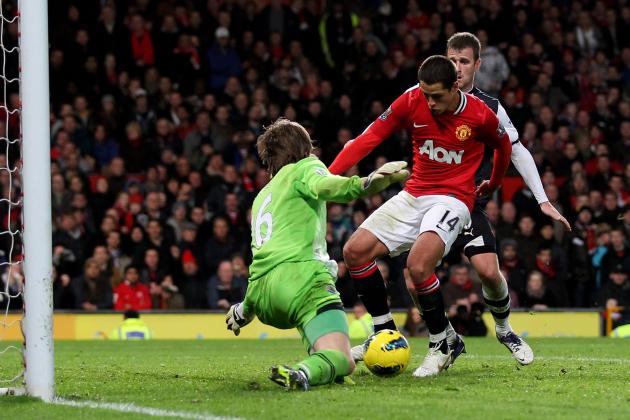 Alex Livesey/Getty Images

Javier Hernandez is a model professional and a dedicated player.
Last year, Robin van Persie said (via The Sun): "I love Chicharito's enthusiasm. I love how he plays and trains and does his work off the pitch after training."
"A couple of weeks ago he wasn't playing as much, but he was in the gym every day doing extra work and that sets a big example for everyone."
The Dutchman was speaking in December, but Hernandez remained a marginalised player through this year.
He has been played little, starting only eight games in the Premier League—the same number as Anderson and Paul Scholes.
In an interview with The Sun last month, Hernandez said (via Daily Mail): "It is frustrating. All the players in the world want to start every single game, every week. Of course any player wants that."
"I'm happy to be at this club but I'd love more games. My attitude is that even when the gaffer wants me to be on the bench I'm going to do my best."
After Sir Alex Ferguson announced his retirement at the end of the season, Hernandez said (via The Sun): "When I retire it will be satisfying to say that I was one of Alex Ferguson's boys."
In an increasingly money-driven game, the Mexican forward's words are refreshing. His loyalty to the club must be rewarded.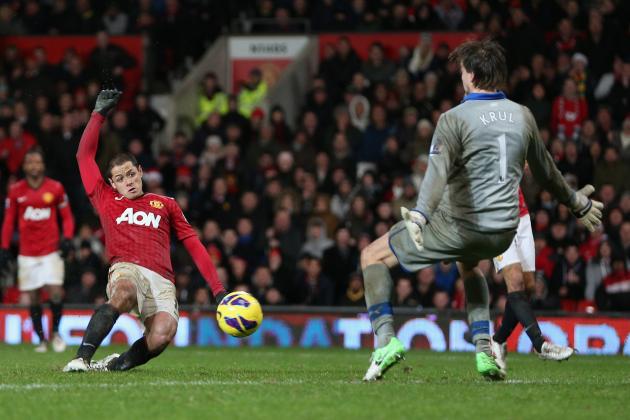 Clive Brunskill/Getty Images

Some in the footballing world have talked about Javier Hernandez having had a difficult season at Old Trafford, but is this the case?
He has scored 17 goals in all competitions, five more than last term and only three less than his standout debut campaign.
This is made all the more impressive with him having made more appearances off the bench in the Premier League than in the starting XI.
His strike rate in the 2010/11 season was 0.44. This season, it's 0.49. He has scored nine goals in the last three Champions League campaigns.
His goal against Swansea on Sunday was a fitting reminder of how deadly he can be in the penalty area.
Not only does he create space for himself in the box, his sharp movements do the same for his teammates.
He is equally adept in the air as he is with the ball at his feet.
He remains one of the most trustworthy forwards in the game.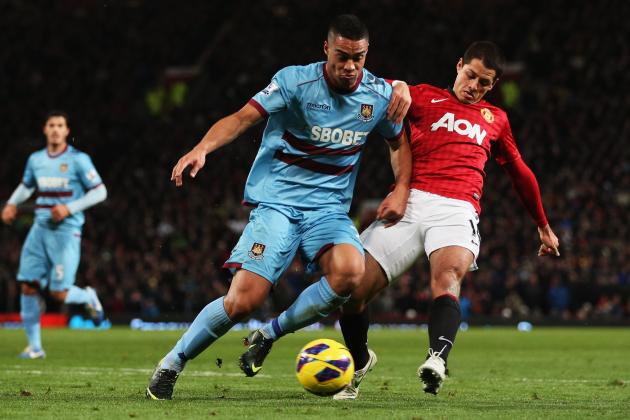 Clive Brunskill/Getty Images

Despite his lack of playing time, when he has featured, Javier Hernandez has made small, but significant strides forward in his game.
Most notable is the development in his physicality.
Unlike in his debut campaign, when defenders took every opportunity to barge him off the ball, he is now unafraid to mix it with the Robert Huths of the league.
His upper-body strength has improved, as has his ability to compete for 50-50 chances in the air. The Old Trafford training staff must be commended for this.
Hernandez's control and distribution has also developed. He was involved in several of the Red Devils' best passing sequences on Sunday, linking with Robin van Persie and Shinji Kagawa.
These types of performances only beg the question: How good can he be with a regular run of games in the first team?
He is 24 years of age, and approaching the peak of his playing abilities.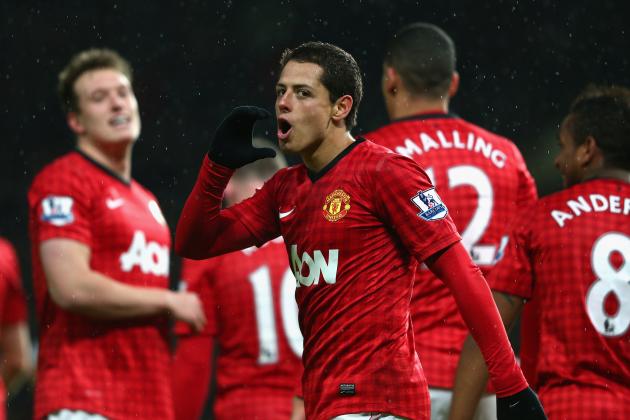 Clive Mason/Getty Images

Ole Gunnar Solskjaer is one of the greatest legends in Manchester United history.
The comparisons between Javier Hernandez and Solskjaer are remarkable—both are clinical forwards, both are dedicated professionals, and both have the reputation of being a super-sub.
This is a dangerous tag for a player to have—it might suggest that the player's manager would be better served leaving him on the bench.
Javier Hernandez is indeed a threat coming on late in games, but he is also an impact player for the full 90 minutes.
United fans will never forget his goal after 36 seconds in a crucial game against Chelsea in 2011.
His constant harrying pushes opposition defences back up the pitch, and often forces them into mistakes.
He is exactly the kind of hard-working player that David Moyes should embrace next season.
The Scottish manager has never been one to suffer fools gladly. Luckily for him, there are few of these at Old Trafford.
What do you think the future holds for Javier Hernandez?
Bleacher Report's Premier League coverage has been nominated in the 2012-13 EPLTalk awards. Cast your vote here.