How New York Knicks Can Get Their Swagger Back Against Pacers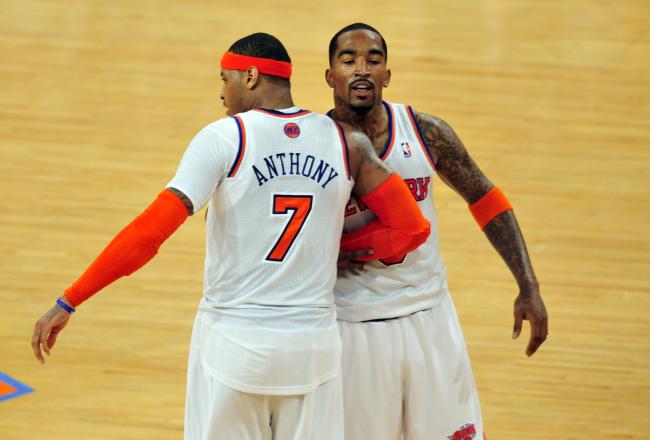 Joe Camporeale-USA TODAY Sports
Down 2-1 to the Indiana Pacers in the Eastern Conference Semifinals and fumbling around for answers, the New York Knicks aren't playing with the same bravado they showed during the most successful regular season in recent memory. And unless they can find a way to rediscover their free-wheeling, aggressive style, they're not going to last much longer in these playoffs.
That's right, everyone; the Knicks are "swagger deficient."
It's easy to see why, though, as confidence and success kind of have a way of building off one another. When things are going well, as they were during most of the regular season, the Knicks adopted a cockiness that helped them play even better. I guess that constitutes something like an upward cycle.
Occasionally, that self-assured style would venture into the realm of overconfidence, which led to some bad shots, a few too many isolation sets and a loss of focus on the defensive end.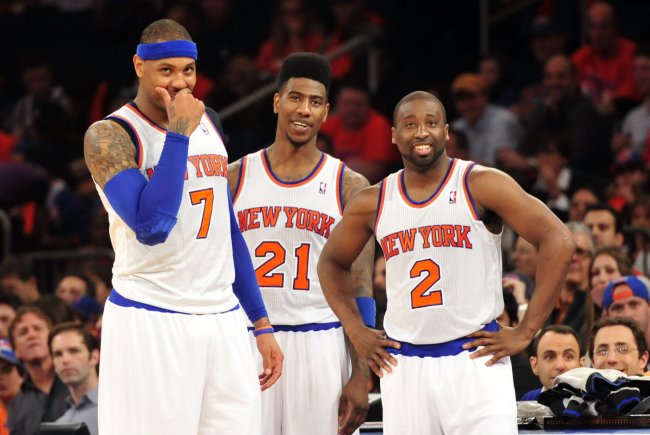 Sound familiar? It should, as that's precisely what happened to the Knicks in their first-round series against the Boston Celtics.
The Knicks certainly aren't suffering from overconfidence now. Instead, Indiana's clampdown defense has strangled the swagger out of the Knicks, taking them out of a team game and forcing individual players into ill-fated attempts to solve the league's nastiest defense alone.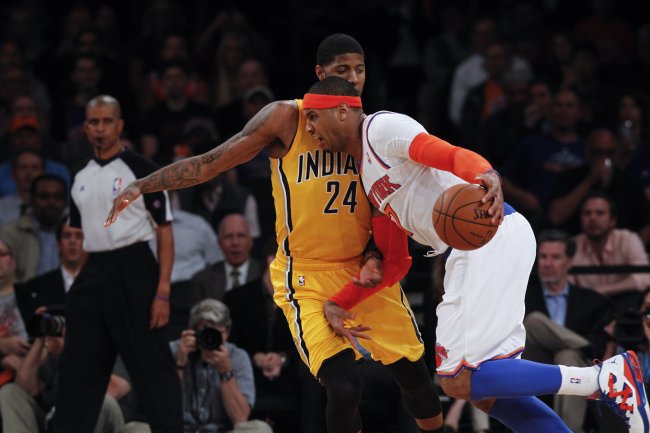 Jeff Zelevansky/Getty Images
New York could shoot its way out of almost any slump during the 2012-13 campaign—see its league-leading 10.9 made threes per game as evidence of the effectiveness of that tactic—but the Pacers have simply been too prepared and too committed to shutting down its long-range game to allow that to happen.
All hope's not lost, though. The Knicks can do a few things to buoy their floundering playoff lives, but it won't be easy.
Move the Ball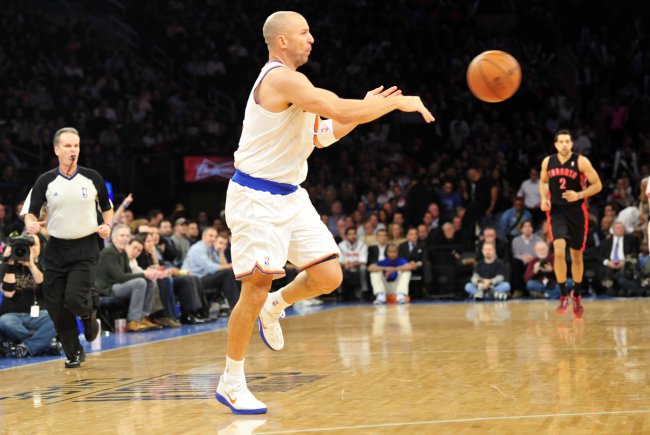 Joe Camporeale-USA TODAY Sports
The Knicks generated so many good three-point looks during the regular season because they whipped the ball around the perimeter faster than any team this side of Houston. It was like a choreographed dance: Jason Kidd would draw a defender, fake a shot and whip it to Iman Shumpert (or whoever). Then, that next guy would do the same thing, moving the rock along to the next man on the wing.
After a couple of quick rotations in that fashion, the defense would eventually lose track of somebody or fall so far behind the rapid action that an open shot was practically inevitable.
Indiana's hardly a typical defense, though, so getting them to scramble or slip out of position by moving the ball around is going to be tough. But anything would be better than the stagnant isolations and post-ups that New York has been unsuccessfully trying to utilize all series long.
Just finished Knicks-Pacers. Close to a perfect defensive game by the Pacers. I counted maybe 1-2 breakdowns all night.

— Mike Prada (@MikePradaSBN) May 13, 2013
We know ball movement makes the Knicks better because it was largely responsible for their Game 2 win in this very series. Twenty assists is by no means a high number, but the Knicks logged that many in their only win against the Pacers. In the other two games combined, they totaled just 29.
When the ball's hopping, everyone on offense feels involved and good shots result more often than not. New York has to cut down on the dribbling and start swinging that rock.
Run, Run, Run
The Knicks are a horrible fast-break team, so nobody's encouraging the slow-footed combo of Kidd or Pablo Prigioni to start forcing the ball up the court on a coast-to-coast binge. We know that's not happening because the Knicks ranked dead last in the NBA with just 8.8 fast-break points per game during the regular season.
But transition opportunities are still critical to the Knicks' hopes of resurrecting their offense for a couple of reasons.
First, New York thrives in scattered offensive situations. When the defense is trying to find the proper matchups on the jog, it's much easier for Anthony to float to an open spot on the wing. At the same time, it's easier for Tyson Chandler to get into the paint on a rim run.
Basically, chaos has been a great friend of the Knicks offense all season long, and they need to create more of it by pushing the ball up the floor with greater pace.
Against a team like the Pacers, who give up so little when they're allowed to set up their defense, attacking before they're in place is even more important.
The Knicks have amassed a total of 17 points on the break in the entire series. Credit Indiana for getting back and shutting down the running game by controlling the boards, but New York has to find a way to cause a little more trouble in transition.
Speaking of Trouble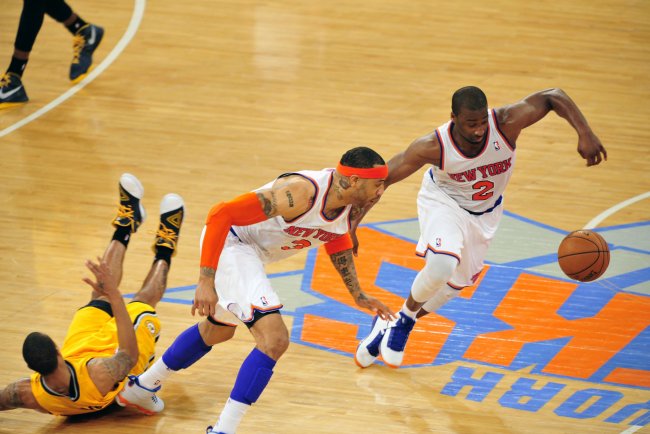 Joe Camporeale-USA TODAY Sports
Another way the Knicks can cause the Pacers some trouble is to ratchet up the defensive intensity. We know from the regular season that Indiana's ball security is an issue, as Frank Vogel's club posted a turnover ratio of 14.3, which was the third-worst figure in the NBA.
New York ranked seventh in the league in points off turnovers during the regular season, so the Knicks should be taking much more advantage of the Pacers' ball-handling hiccups. So far, though, the Knicks have only managed to exploit the turnover margin once, in Game 2.
In that contest, New York forced 21 Indiana giveaways, which led to a whopping 32 points off turnovers. That stat was the difference in the game.
Writing about last night's Knicks defense helped me learn many new synonyms for "scramble"

— Beckley Mason (@BeckleyMason) May 8, 2013
But in general, the Knicks haven't played with the sort of defensive intensity they need to force the Pacers into mistakes. Granted, that's hard to do when shots aren't falling and nothing seems to be going right, but if the Knicks want to find an easy way to score, the best place to start might actually be on the defensive end.
The Obvious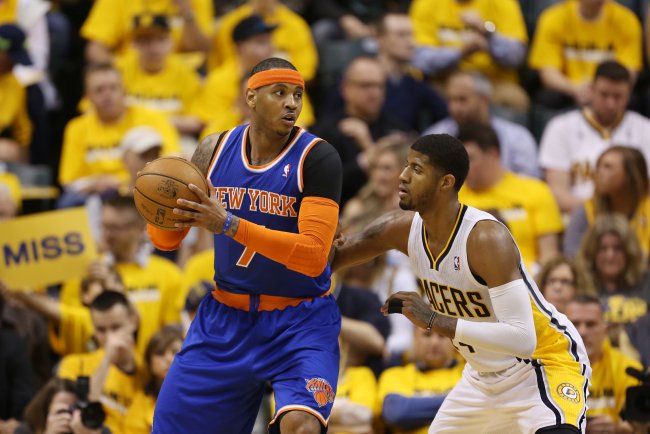 Brian Spurlock-USA TODAY Sports
Everyone's been saying it for weeks now: The Knicks have to get away from their isolation offense. But New York's other options are limited.
The Pacers play the pick-and-roll better than almost any team in the league, and they completely crushed Raymond Felton's attempts to run it in Game 3. It was a true defensive clinic.
And we've already established that Indiana doesn't permit much in transition, so it's no wonder that the Knicks have only been using isolation sets because that's pretty much the only thing the Pacers are allowing.
If scrapping isolation plays were so easy, the Knicks would have done it by now.
Still, New York knows it can't win with a predictable offense. So no matter how hard it might seem, Mike Woodson and the Knicks must find other ways to score that actually make Indiana's defense work.
The Death of Swagger
The Knicks played best during the regular season when they were loose, confident and unselfish. It won't be easy to rediscover those qualities while staring down possible elimination, but to have a chance, New York has to try.
But confidence only counts for so much. Alone, it can't cover up for the fact that the Pacers are more organized, more talented, healthier and seemingly better coached than the Knicks are.
New York can do a few things to get its swagger back, but the truth is that it still may not matter if it does.
*All stats via NBA.com and ESPN.com unless otherwise indicated.
This article is
What is the duplicate article?
Why is this article offensive?
Where is this article plagiarized from?
Why is this article poorly edited?

New York Knicks: Like this team?