The 7 Slickest-Fielding Infielders in Baseball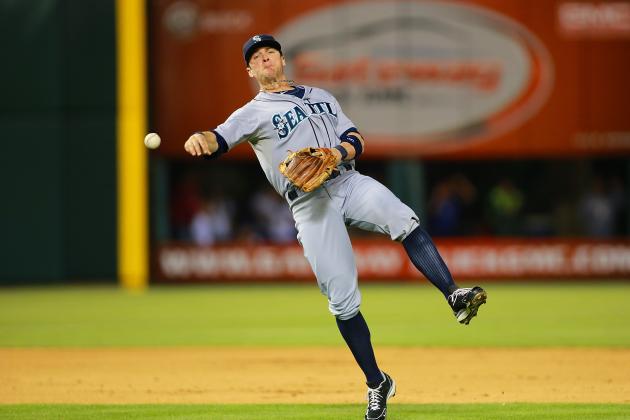 Rick Yeatts/Getty Images

Home run hitting goes a long way, but there's something to be said for defense.
Leaping up to bring down that line drive that seems destined for extra bases can win or lose games. Turning beautiful double plays can turn potential rallies into nothing more than a question of what could have been.
Infielders do all of that, and that is who we are going to talk about today.
In order to rank the best fielding infielders, I have to admit that my method is a little bit suspect. In terms of sabermetrics, I am going to rely on UZR numbers from FanGraphs. However, there is a lot more to playing defense than the numbers indicate. As a result, while the numbers will matter, there is some room for debate on this issue based on more subjective reasoning.
Also, I am sure that I left some people off this list. Please feel free to bring up some additional candidates in the comments below. If you can provide video as well, that would be great! That way, we have some primary source evidence.
Begin Slideshow

»
I had to get a first baseman on this list, and Brandon Belt can flash the leather at first base. He is absolutely dominating all first basemen in UZR this season in large part thanks to an excellent range factor.
Many first basemen are supposed to be run producers, but it is important to be able to pick those low throws out of the dirt and occasionally go diving into the bleachers.
Manny Machado was a shortstop coming through the minors, but it is pretty obvious that he has made a smooth transition to the hot corner. This season, he has the highest UZR among infielders so far, and there is really no reason why he will not become even better in the near future.
Everyone loves to talk about his amazing potential at the plate, and I don't deny that. However, he is already one of the better defenders in baseball.
Andrelton Simmons is a little bit tall for a shortstop at 6'2", but he uses that long frame to make great plays like the one in the embedded video. He seems to make every play elegant, and at only 23 years old, he should only get better.
Because he does not do a lot at the plate, he is often overlooked. However, he is somewhat of a throwback to another era of shortstops. He plays defense first.
Adrian Beltre has won four Gold gloves over his career, and he continues to make excellent plays all the time. In theory, players defensively slow down just like they do offensively. I do not see that happening with Beltre even though he is now 34.
Third base is a demanding position, and it is becoming more important for men manning the hot corner to dominate offensively. Beltre certainly does that, but he is no slouch on defense either.
Brandon Phillips has won three out of the last five Gold Glove awards at second base in the National League. He is more well-known for his 20-20 production from an offensively-starved position, but it is hard to find someone who can win a Silver Slugger and Gold Glove.
In the video I chose to embed here, he obviously made an excellent play, but this is one of many. He does a fine job at his position.
I had to put him on this list for all of you sabermetrics lovers. Last year, he pulled off an excellent 15.0 UZR. That was by far the highest among second basemen, and that led to him being named the 2012 National League Gold Glove winner at the position.
I know that the video I embedded is not high quality, but that was a ridiculous catch. There are plenty of other highlights you can find around the Internet, but I thought this one was particularly ridiculous.
This is definitely retro footage from his days on the St. Louis Cardinals, but there is no doubt that Brendan Ryan can play defense. While he did lead all shortstops in UZR last season, I was personally more impressed by his showmanship.
In most of the footage you can watch online, he is doing something great while fading away from first base. He has a strong arm and a great glove.
Whether you think I know everything or nothing about Major League Baseball, you should follow me on Twitter or become a fan on Facebook and keep in touch. I love hearing what you all have to say!