The 10 Greatest WrestleMania Undercard Matches of All-Time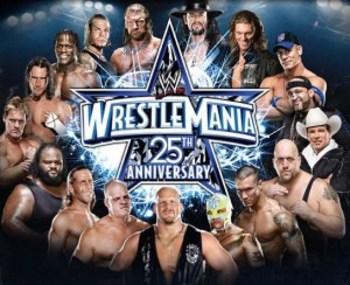 Since the 25th Anniversary of Wrestlemania has come and gone, I have listed what I think are the greatest Wrestlemania undercard matches of all-time.
This is a list of only the greatest undercard matches that have occurred throughout Wrestlemania's 25 year history and have made WrestleMania what it stands for today.
The Rock vs. "Hollywood" Hulk Hogan from Wrestlemania X8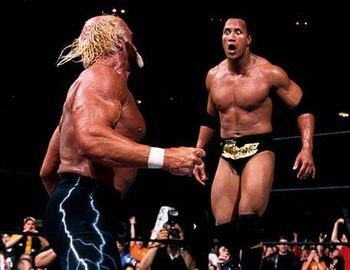 The Rock and Hulk Hogan match from Wrestlemania X8 nearly made every other match from that Wrestlemania seem invisible – Including its so called Undisputed Championship Main Event Match between Triple H and Chris Jericho.
For the second time in Wrestlemania history, Wrestlemania hosted from the SkyDome in Toronto, Canada and the crowd was all for Hulk Hogan (who was in heal mode during the time). But in the end, after withstanding the hatred from the fans, the Hulking Up and the Leg Drop by Hogan, The Rock became victorious after hitting two Rock Bottoms and a People's Elbow.
The Ultimate Warrior vs. Randy Savage in a Retirement Match from WrestleMania VII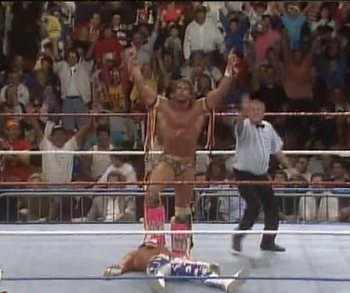 This retirement match between the Ultimate Warrior and Savage was indeed, the match that stole the show at WrestleMania VII.
After a grueling and exhausting match, the Ultimate Warrior got the pin over the Macho Man, which forced Savage to retire.
Later we saw the reunion between Randy Savage and Miss Elizabeth that left everybody in the arena in tears. Truly, it was one of the most emotional matches throughout WrestleMania's history.
Edge vs. Mick Foley in a Hardcore Match from Wrestlemania 22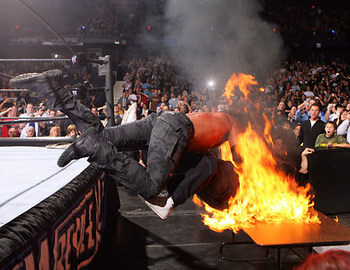 At Wrestlemania 22 from Chicago, IL, Edge and Mick Foley argubably had the greatest Hardcore Match in history. Foley and Edge brought everything they had to the match including chairs, barbed wire, tables, thumb tacks, cooking sheets, and also fire.
After a brutal and violent match, it would be Edge spearing Mick Foley out of the ring and through a flaming table for the win.
Chris Jericho vs. Shawn Michaels from Wrestlemania XIX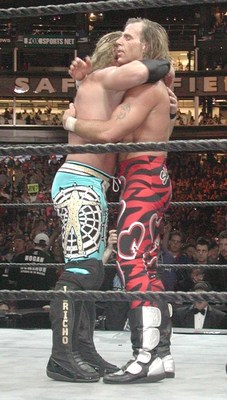 From Safeco Field in Seattle, WA, we saw the first ever one-on-one meeting between Shawn Michaels and Chris Jericho. During the match, Jericho pushed the Heartbreak Kid to the limit and back. Jerry Lawler evening saying on commentary. "It's like wrestling yourself for Shawn Michaels."
This match became an instant classic after the smoke cleared. After pulling out all the stops, Shawn Michaels rolled up Chris Jericho for the win.
Undertaker vs. Kane from WrestleMania XIV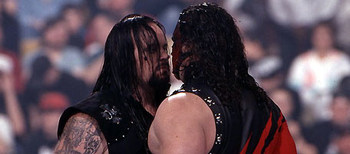 After being in denial to fight his brother for months, Undertaker finally met his own brother, Kane, in a one-on-one match in Boston at WrestleMania XIV.
After being dominated and going through an announcement table, it took three Tombstone Piledrivers from the Undertaker to lay his brother Kane away. With victory over Kane, the Undertaker went 7-0 at WrestleMania.
Shawn Michaels vs. Kurt Angle from Wrestlemania 21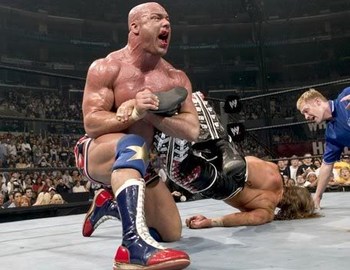 Kurt Angle and Shawn Michaels from Wrestlemania 21 in Hollywood, CA is arguably the single greatest one-on-one match in Wrestlemania's history; just a modern day classic match. Words do not serve this match justice at all.
Razor Ramon vs. Shawn Michaels in a Ladder Match for the Undisputed Intercontinental Championship from Wrestlemania X
Razor Ramon and Shawn Michaels from Wrestlemania X at Madison Square Garden made history here with their historic and epic Ladder Match for the Undisputed Intercontinental Championship. To quote the "Nature Boy" Ric Flair, "Shawn Michaels went out their and had a match with a ladder. There was just another man in the ring with them." No disrepect to Scott Hall but those words are very true of the Nature Boy's.
After making history, Razor Ramon capture the two belts hanging above the ring to become the official Undisputed Intercontinental Champion.
Ricky "The Dragon" Steamboat vs. "Macho-Man" Randy Savage for the Intercontinental Championship from Wrestlemania III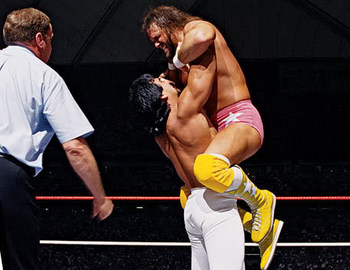 Even though Andre the Giant and Hulk Hogan drew the crowd to the Pontiac SilverDome in Detroit, it was Randy Savage's and Ricky Steamboat's Intercontinental Championshop match that blew everybody's minds away.
This was the very first classic match in Wrestlemania's history. This match will certainly never be forgotten.
Bret "Hit-Man" Hart vs. Stone Cold Steve Austin in a Submission Match from Wrestlemania 13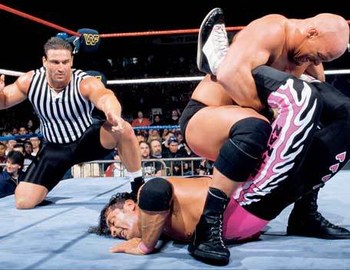 A match that behind the scenes wasn't originally suppose to occur but so glad that it did. On this night in Chicgao, IL a legend was born in Stone Cold Steve Austin while the "Hit-Man' gave us his last Wrestlemania performance.
While Bret Hart left the match victorious leaving Stone Cold a bloody mess, Stone Cold Steve Austin left the match becoming argubably the greatest and most popular superstar in WWE's history.
Undertaker vs. Shawn Michaels from Wrestlemania 25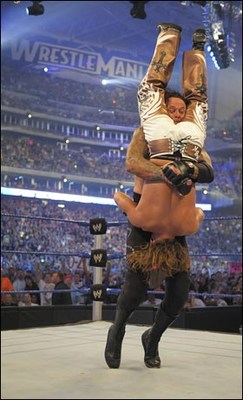 On this night in Houston, TX, the Undertaker and Shawn Michaels stole the show with their awesome and legendary Wrestlemania performance.
The Deadman and "Mr. Wrestlemania" gave everybody a performance to remember. After truly an unbelievable performance, the Undertaker became 17-0 after laying "Mr. Wrestlemania" to sleep with the Tombstone Piledriver.
Keep Reading