Atletico Madrid vs. Barcelona: 5 Things We Learned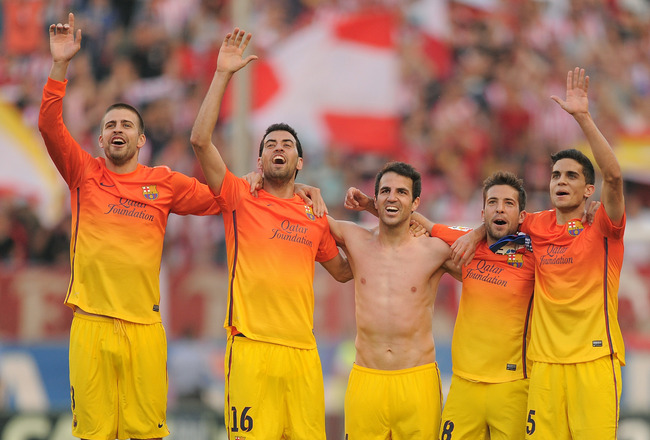 Denis Doyle/Getty Images
The title was won in Barcelona on Saturday night, but Barcelona, the champions, weren't playing until Sunday night.
And in Madrid.
Real Madrid's draw with Espanyol in Catalunya meant that Tito Vilanova's side won the title without the hassle of even needing to win at Atletico Madrid.
Although they won anyway, coming from behind to win 2-1, having been given a guard of honor from Los Rojiblancos prior to kick off.
Radamel Falcao had, once again, given Atleti hope by firing them into the lead, but an Alexis Sanchez poke and a Gabi own goal meant the three points went to the league winners.
Here are five things to come from the match...
Barca Are Worthy Champions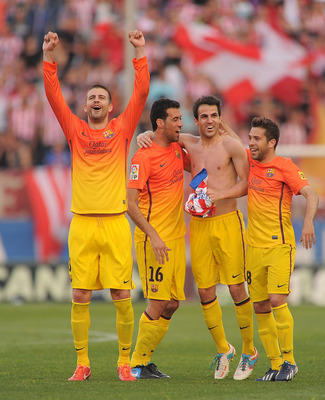 Denis Doyle/Getty Images
Following European humiliation and a Copa del Rey semifinal exit, Barcelona have been the subject of heightened scrutiny.
Amid it all, it's almost been forgotten that they were, the whole time, virtually assured of winning back their La Liga title.
This weekend, we all remembered, as Barcelona were crowned the champions of Spain for the 22nd time.
Following a turbulent spell post-Christmas, which saw them without their manager, Tito Vilanova, and their full-back, Eric Abidal, La Blaugrana emerged victorious in the league with four games to spare.
They can still hit 100 points, should they win all their remaining fixtures, and have lost just twice all season; away to Real Sociedad and Real Madrid.
Prior to Sunday's win over Atletico, they received a guard of honor from their opponents, done in Spain as a mark of respect.
They've earned it.
Falcao's Goals Not Enough for Atleti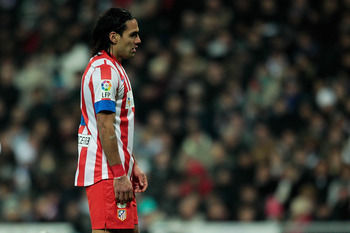 Gonzalo Arroyo Moreno/Getty Images
Twice this season Radamel Falcao has opened the scoring against Barcelona; twice this season Atletico Madrid have lost to Barcelona.
Sandwiched in between, they also lost at home to Real Madrid when, once again, the Colombian opened the scoring.
In seven league matches against either Madrid or Barca, the 27-year-old forward has scored five goals. Atleti have lost seven times.
On Friday night, he has another chance to be the hero when Atleti and Real meet in the Copa del Rey final.
Speculation suggests it could be his last chance. If the rumors prevail, Atleti won't even have Falcao's goals to count on against the big two next season.
Lionel Messi Should Sit the Season out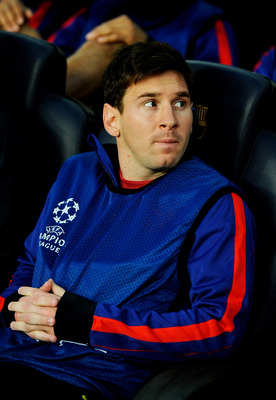 David Ramos/Getty Images
Barcelona had made all their changes against Atletico Madrid when Lionel Messi decided he would play no more.
Off down the tunnel he trotted, while, unaffected, Barca came back to win without him and with 10 men, easing fears of a bout of "Messidependencia."
It seems a precautionary measure, but it also seems that the Argentinian has still not fully recovered from the injury which has plagued him since PSG in the Champions League.
His record league scoring streak ended at the Vicente Calderon with his departure, and it would make sense if his season did too.
Is it really worth, bar perhaps a token appearance in the final home game, pushing his body unnecessarily?
Diego Godin Is Good and Oliver Torres Is a Talent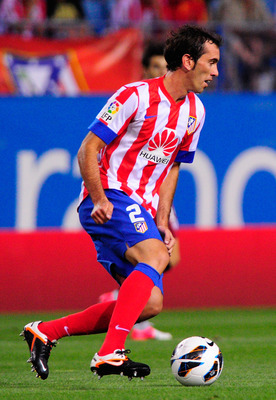 Gonzalo Arroyo Moreno/Getty Images
Atletico may have been dealt their customary hand in defeat to Barcelona on Sunday night, but they still have plenty of positives to reflect on.
They've sewn up third place in the league and look set to complete the season with the meanest defense too.
Thibaut Courtois, who's only just turned 21, has received a lot of the praise for that. Diego Godin, though, has been sensational at the heart of all that's good defensively for Los Rojiblancos.
The 27-year-old Uruguayan again displayed his ability to read danger against Barcelona, and Diego Simeone will be keen to build on that solid platform ahead of next season's Champions League participation.
There was also time for another cameo for young Oliver Torres, 18, who has now featured four times in just over a month.
A cultured midfielder, Torres is highly rated at the club, and in just a couple of passes against Barcelona, his potential was apparent.
Time for Tito to Shuffle His Pack
EuroFootball/Getty Images
Heading to the Spanish capital this weekend, Tito Vilanova did not know the league would be wrapped up prior to kick off against Atletico.
For that reason, the squad that Barcelona took was a strong one.
Now, with the league won, there are two outstanding reasons that Vilanova should shuffle his pack for his final three games.
Tiredness was cited as a possible factor when Barca were crushed by Bayern recently; it's time for the stars to recharge their batteries.
Their Spanish internationals have barely been allowed a break over the last five years; they've competed in everything, they've won everything.
Even this summer, Spain head off to the Confederations Cup.
Then there's the next crop emerging from La Masia to varying degrees; Marc Bartra, Thiago Alcantara, Martin Montoya, Sergi Roberto, Cristian Tello, Jonathan dos Santos and Gerard Deulofeu.
Three games to finish the season will act to give Tito a better chance to look at them, and offers them invaluable first-team experience.
Keep Reading