Washington Capitals vs. New York Rangers Game 6: Live Score, Updates, Analysis
Facing a do-or-die situation, the Rangers relied on another strong postseason performance from goalie Henrik Lundqvist. The Vezina Trophy finalist stopped all 27 shots sent his way in a 1-0 victory over Washington in Game 6 of this first-round Eastern Conference series.
Derick Brassard scored his second goal of the playoffs to provide New York with an edge in the second period. It's his seventh postseason point of 2013.
The series heads to Game 7 Monday evening in Washington D.C. Through six matchups in the series, home teams hold a 6-0 record.
Stay tuned to Bleacher Report for live updates, analysis and reaction throughout the NHL playoffs.
Final: New York 1, Washington 0
Rangers overcome Caps 1-0 in Game 6, series headed back to D.C.!
The New York Rangers maintained a 1-0 advantage throughout the third period and topped Washington to force a Game 7 showdown. Goalie Henrik Lundqvist came up with 27 saves to preserve the slimmest of margins in Manhattan.
Washington goalie Braden Holtby was excellent but the Caps' offensive attack sputtered and came up empty with an opportunity to eliminate New York.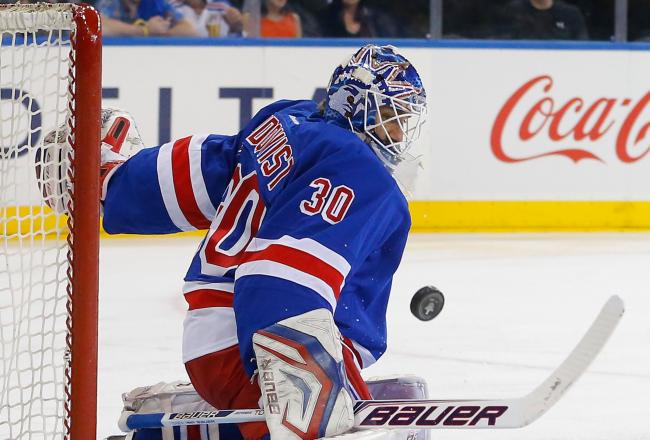 New York 1, Washington 0 (8:41 3rd Period)
The Capitals have outshot New York 7-5 in the final period of regulation, finally gaining some traction on the offensive end. However, Vezina Trophy finalist Henrik Lundvqist is taking care of business yet again.
He rejected a flurry of Washington scoring chances, protecting the Rangers' slim lead. Lundvqist emerged as a national star during New York's run to the 2012 Eastern Conference finals and could add to his growing reputation if he can finish off a strong effort in the final minutes of Game 6.
New York 1, Washington 0 (14:00 3rd Period)
Washington's Joel Ward picks up a penalty, setting the stage for a key Rangers power play. New York is 0-for-3 on man advantages but could put this game away with a goal here.
Ward was whistled for a cross check against Steve Eminger.
New York 1, Washington 0 (18:00 3rd Period)
With two minutes gone by in the third period of Game 6, the Rangers defense continues to stymie the Caps' attack. New York has been incredibly disciplined throughout this do-or-die game and clearly came into the contest with a concerted game plan that has given Washington fits.
The Capitals have just 17 shots on goal.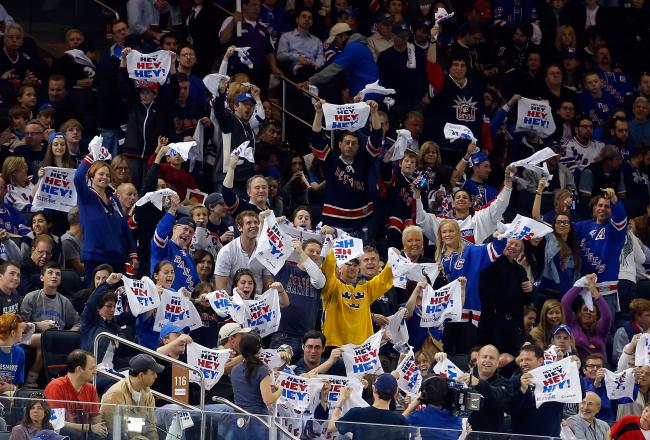 Rangers carry 1-0 advantage into third period, hoping to force Game 7!
New York scored the game's only goal on a deflection midway through the second period. The Rangers have taken care of business on defense, limiting Washington to 15 shots on goal through 40 minutes of action.
Capitals goalie Braden Holtby has kept his squad in the game with 21 saves, including some highlight-reed stops. He'll need to keep it up if Washington is able to wrap up this opening-round series in Manhattan.
Stay tuned for third-period updates and analysis!
The Rangers have claimed a 1-0 lead in Game 6 but angst about the team's power play ineffectiveness remains persistent. New York's struggles on a man advantage particularly hurt the squad in three games in Washington.
The team is 0-for-3 tonight. Veteran Sportscenter anchor Linda Cohn (an admitted Rangers fan) provided a voice for a frustrated fan base.
When Rangers are on the power play they pass as much as an NFL quarterback! #stopit#shootthepuck

— Linda Cohn (@lindacohn) May 12, 2013
New York seizes 1-0 advantage with 10:21 remaining in the second period!
The Rangers have outplayed visiting Washington throughout this matchup and finally have something to show for it. New York scored a deflection in front of net off a deflection.
Initially, the goal has been credited to Rick Nash but it appears the puck actually deflected after a Washington defender. It would've been Nash's first goal of the postseason.
Derick Brassard was credited with an assist, which gives him seven points in the series. John Moore also picked up an assist, his first playoff point.
New York 0, Washington 0 (13:00 2nd Period)
New York owns a 17-10 advantage in faceoffs in Game 6. The Rangers also own a four-shot advantage and have the game's only three power play opportunities.
The home squad has outplayed Washington in just about every facet except the scoreboard. The Capitals have dodged a few bullets and should be thrilled about this still being a tie.
Meanwhile, Madison Square Garden faithful should be feeling a little uneasy.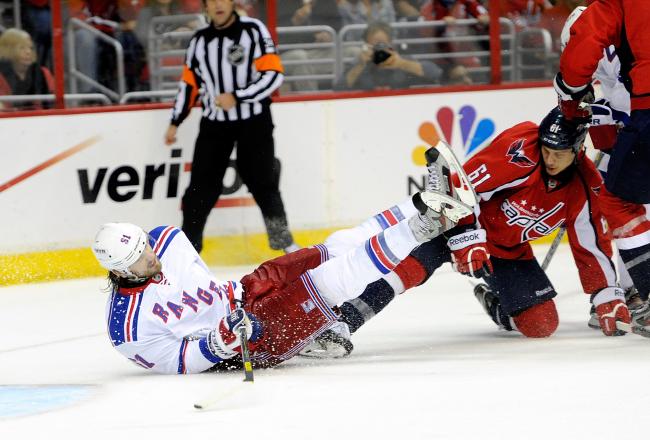 New York 0, Washington 0 (15:05 2nd Period)
Neither squad is relinquishing much real estate in the game as much of the action has taken place in between the blue lines. Holtby and Lundvquist have combine for 25 saves so far but neither has had to deal with a flurry of scoring chances.
The first goal of this game looms large, judging by the first 25 minutes of action.
Second-period action is underway in Manhattan. So far the Rangers have struggled twith giveaways, letting up four possessions against Washington.
The Capitals have been more careful, limiting mistakes to just one giveaway. The Rangers will need to bring a sharp effort into the final 40 minutes of this matchup in order to survive.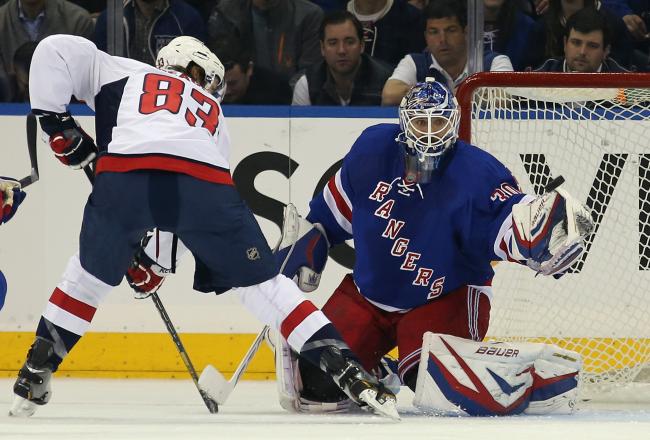 First period ends in scoreless stalemate after three failed Rangers power plays!
New York's power play efforts have been frustrating for the majority of the 2013 campaign and that inefficiency has reared its ugly head again today. The Rangers are 0-for-3 on the power play and came up empty in a 5-on-3 opportunity.
Washington goalie Braden Holtby has 13 saves, while New York netminder Henrik Lindqvist owns eight saves. The game remains locked up in a scoreless tie as the Rangers hope to force a return trip to D.C. for Game 7.
New York 0, Washington 0 (2:44 1st Period)
The Capitals are playing aggressively in an effort to close this series out but the officials aren't allowing much to slip by . The Rangers are on the power play for the second time time today and it's a 5-on-3 opportunity.
Washington's Karl Alzner was whistled for a delay of game moments before Eric Fehr picked up a two-minute penalty for elbowing. It's a huge opportunity for New York, which has held momentum for most of this matchup.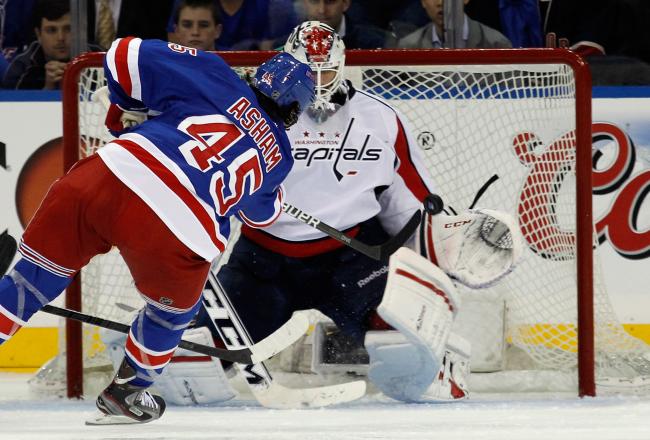 New York 0, Washington 0 (6:51 1st Period)
Goalies Braden Holtby (Washington) and Henrik Lundqvist (New York) have take turns in starring roles during this series. Holtby allowed just one goal in the Capitals' first two wins, while Lundqvist stood tall in a pair of wins at MSG.
Lundqvist, a Vezina Trophy finalist, is the more proven postseason netminder but this matchup presents Holtby with an opportunity to make a stride in his career.
Lundqvist has seven saves today, while Holtby has stopped six shots so far.
New York 0, Washington 0 (9:45 1st Period)
The Rangers begin the game's first power play of the contest. New York utilized the man advantage well in its two previous home contests this series.
New York 0, Washington 0 (15:00 1st Period)
The Rangers are 5-14 in playoff history when trailing 3-2 in a series. New York hopes to buck that trend with a victory today.
So far every game of this series has gone in favor of the home team.
This article is
What is the duplicate article?
Why is this article offensive?
Where is this article plagiarized from?
Why is this article poorly edited?