Neither club had much to play for, but Atletico Madrid and Barcelona displayed some tremendous football in the second half of their contest Sunday, playing to an exciting 2-1 Barcelona victory.
The opening minutes of play began as a battle at midfield, with neither side making much progress on the attack. Barcelona made every effort to get into the final third, but Atletico Madrid applied pressure early and often, limiting the effectiveness of Barca's offense.
Neither club found much momentum throughout the first half of play. Atletico Madrid displayed plenty of energy in the first 45 minutes, but it was just enough to keep a somewhat marginal Barca attack from getting much going. Lionel Messi's squad didn't look like a club with much to play for in the opening half.
And that was to be expected. With the draw between Espanyol and Real Madrid last night, Barcelona locked up the La Liga title and entered Sunday's contest with nothing to lose (via Barcelona's Twitter account):
La Liga champions! FC Barcelona wins their 22nd league title! bit.ly/13p5WEH

— FC Barcelona (@FCBarcelona) May 11, 2013
Barcelona did see a few quality scoring opportunities in the first half (like the one described here by Barca's Twitter account), but the Catalans only managed one shot on target through 45 minutes of play.
Min 46: Tello nearly fires Barça ahead but his shot goes just wide! #FCBLive

— FC Barcelona (@FCBarcelona) May 12, 2013
With a first-half draw in the books, both clubs would be looking to turn up the heat in the second half. Stagnant football is rarely expected of either side, especially one that boasts the best scorer on the planet.
As Barcastuff pointed out, that player has also seen plenty of action this term:
This is the 5th consecutive season in which Messi plays 50+ Barcelona matches: 51 - 53 - 55 - 60 - 50(ongoing) #fcblive [via @messistats]

— barcastuff (@barcastuff) May 12, 2013
In order for Atletico to go ahead in the second half, they would have to find some added offense to pair with their terrific defense (via Opta Sports):
105 - Barcelona are the top scorers in Europe's top 5 leagues this season while Atletico have the 4th best defensive record (28). Contrast

— OptaJose (@OptaJose) May 12, 2013
And that's exactly what happened.
In the 51st minute, Radamel Falcao found himself in a one-on-one courtesy of a Barca defensive breakdown, resulting in an easy scoring attempt and a 1-0 Atletico lead. That go-ahead goal highlighted how important the striker is to his club, just as Messi is to his (via barcastuff):
Messi and Atletico Madrid's Falcao have both scored 44% of their team's league goals this season #fcblive [via opta]

— barcastuff (@barcastuff) May 12, 2013
Things didn't get any better for Barca following that goal. After using their substitutions, Messi left the pitch with an apparent injury and the Catalans were forced to proceed with 10 players (via Mike Pellegrini):
Great Barca are playing the final 22 minutes with 10 men as Lionel Messi has walked off injuried

— Mike Pellegrini (@mike_thfc_coys) May 12, 2013
Barcelona did get a free-kick opportunity in the 70th minute following Messi's departure, but with the world's best scorer on the sidelines, Barca were unable to capitalize on the opportunity as David Villa's attempt missed the mark.
It wouldn't be long before Barcelona would make up for the setback, however. In the 72nd minute—and against all odds—Alexis Sanchez utilized some nifty footwork to get into the box and find the net to even the score at 1-1. He has now had a hand in 10 of Barca's league goals since April (via Opta Sports):
10 - Alexis Sanchez has participated in 10 of Barcelona's 16 league goals since April (five goals, five assists). Value

— OptaJose (@OptaJose) May 12, 2013
Though it didn't have much effect on the match, Sanchez was yellow-carded following the goal for taking off his jersey to reveal a shirt with a Mother's Day message on it (via FCBChick). Warranted or not, Sanchez certainly has a right to celebrate the goal that brought Barca back within striking distance of a celebratory win.
Alexis Sanchez equalizes! And gets a yellow card for taking his shirt of. What did it say anyway?

— FCBChick (@FCBChick) May 12, 2013
As dull as the first half was at times, the second half made up for the lack of action. Both clubs played with much more intensity and energy, as evidenced by the goals of Falcao and Sanchez. The final 10-plus minutes were well worth watching.
And it wouldn't take long for the match to get even more intriguing.
In the 80th minute, Gabi made a blatant mistake in sticking his foot out to deflect a Villa attempt that likely would have missed the mark. Instead, the ball caromed off Gabi and into the net for an own goal he's unlikely to forget.
Atletico played a tremendous match—nearly from start to finish—but that particular goal highlighted how quickly things can fall apart. Instead of three points to take away from the La Liga champions, Atletico stared down the barrel of a heart-breaking 2-1 defeat.
Despite a final opportunity with an extra-time free kick, Atletico failed to pull even with a 10-man Barca club. It was a difficult loss in a hard-fought battle, but Barcelona again proved why they were worthy of the La Liga title.
Barcelona Grades
| | |
| --- | --- |
| Player | Grade |
| Jose Pinto | B |
| Dani Alves (42') | C+ |
| Gerard Pique | B |
| Adriano Correia (60') | B |
| Jordi Alba | C |
| Alex Song (60') | C |
| Andres Iniesta | B+ |
| Cesc Fabregas | B |
| Alexis Sanchez | A |
| Lionel Messi | C+ |
| Cristian Tello | C |
| Substitutes | |
| David Villa | C |
| Marc Bartra | C+ |
| Sergio Busquets | B |
Atletico Madrid Grades
| | |
| --- | --- |
| Player | Grade |
| Thibaut Courtois | C- |
| Juanfran | D+ |
| Miranda | C- |
| Deigo Godin | C |
| Emiliano Insua | B+ |
| Tiago Mendes | B |
| Gabi | C- |
| Koke | B |
| Arda Turan (64') | C |
| Adrian Lopez Alvarez (76') | B |
| Radamel Falcao (68') | A |
| Substitutes | |
| Diego Costa | C- |
| Christian Rodriguez | B |
| Oliver | D+ |
Lionel Messi (C+)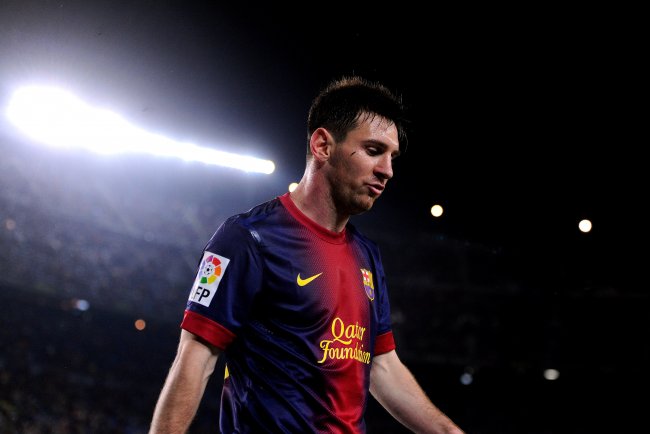 David Ramos/Getty Images
Messi wasn't much of a factor prior to leaving the match with an injury, but little should have been expected of the league's leading scorer. In a meaningless match, one would argue Messi shouldn't have seen as much action as he did.
Still, his apparent injury shortened his playing time and opened the door for Barca to prove they can win without their best player, even with 10 men on the pitch. All in all, it was a somewhat bland performance from Messi, but it could have been a lot worse.
Radamel Falcao (A)
Falcao deserves a lot of credit for putting Atletico in position to come away with the points against the La Liga Champs. It didn't happen as expected, but Falcao was certainly a major factor in the opening portion of the second half.
The striker has been a vital part of Atletico's season, and he probably deserved better than to see his effort come up short. As well as he played, his 51st-minute goal just wasn't enough to seal the deal.
Alexis Sanchez (A)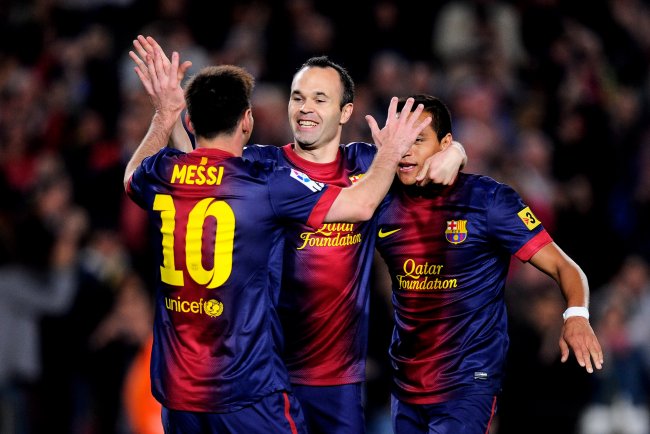 David Ramos/Getty Images
Sanchez's goal swayed the momentum of the entire match. Even with 10 men on the pitch and Messi on the sidelines, Barca were able to defy the odds in bringing the score to a 1-1 draw and eventually pull away with a 2-1 victory.
Good teams find a way to overcome adversity (even with nothing to play for), and that's exactly what Barcelona did. Sanchez was a big reason for that, and his efforts didn't go unnoticed.
What's Next?
Barcelona gained very little from the win, but it was a fitting celebration for securing the La Liga title. There's little bad to be said about the Catalans' performance, save for a lackluster first half of play.
For Atletico, the loss to Barca was particularly stinging. They played a tremendous match against a terrific team and just didn't have enough to close out after jumping out to a 1-0 advantage.
Barca's next match will take place on May 19 against Real Valladolid while Atletico will take on Real Madrid on May 17. Those contests begin at 3 p.m. ET and 3:30 p.m. ET, respectively.