Over the past two-and-a-half years, UFC welterweight Rory MacDonald has been his own toughest opponent, racking up multiple injuries. That fact will change on July 27 when he meets top-10 contender Jake Ellenberger at UFC on Fox 8.
MacDonald made his debut with the promotion in January 2010, defeating Mike Guymon. The win extended MacDonald's unbeaten streak to 10 consecutive fights and set up a bout against former WEC welterweight champion Carlos Condit.
MacDonald looked to be on his way to an 11th straight win when Condit pulled off an impressive come-from-behind stoppage, earning a TKO win with just seven seconds left in the fight.
Since that "Fight of the Night" performance, MacDonald has not been close to defeat, earning four wins (two TKOs, two unanimous decisions) en route to a spot in the top three of the UFC's welterweight rankings. Not too shabby for a 23-year-old fighter.
If you poll fans and pundits, you'll find that many consider MacDonald to be a future champion in the welterweight division. They'll say that the only thing that can stop MacDonald from realizing his dream of becoming welterweight champ is his friendship with and unwillingness to fight current UFC kingpin Georges St-Pierre.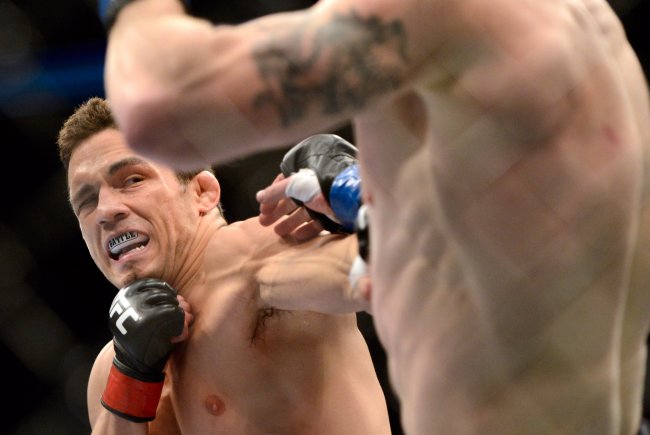 Eric Bolte-USA TODAY Sports
Ellenberger (29-6), ranked right behind MacDonald in the welterweight division, is not one of those believers. Speaking to The MMA Digest, Ellenberger offered the following when speaking of his upcoming opponent:
I'm not really sold on him. In my opinion the only top-10 guy in our division he's fought he's lost to, and that's Carlos Condit. I think he's definitely a young up-and-comer, but nothing special. ... It's still surprising to me, for some reason some people in this industry think he's a top-five guy, which I don't even think he's a top-10 guy.
Ellenberger does have a point: MacDonald's wins have come over fighters outside the top 10, but his wins have been so dominant that it's easy to see the huge potential in him. He rag-dolled Nate Diaz en route to a unanimous decision win. MacDonald then followed that up with TKO wins over Mike Pyle and Che Mills before going on to brutalize former UFC champion BJ Penn in a three-round unanimous decision.
Each victory has shown progression in MacDonald's fighting game.
The MMA world is a small one, so it's no surprise that Ellenberger's comments have reached MacDonald. MacDonald took things in stride when speaking to Alchemist Radio, even agreeing that his level of competition has not been on par with the fighters Ellenberger has met in the past.
Now that MacDonald is stepping up to top-10 competition, he plans on making the most of the opportunity and justifying his standing in the UFC's welterweight division:
Now I'm here fighting guys in the top 10, I've been climbing the ranks. Unfortunately for him, he's going to be the first guy in the top 10 that I'm going to have to take out. As far as what he said about my skills being average at best, I just think ignorance is bliss. He's going to have a big eye opener on that night.
On July 27 in Seattle, we'll find out which of these top-ranked welterweights can back up his words and take the next step toward a potential UFC title shot.