Toronto Blue Jays vs. Boston Red Sox: Live Score, Analysis of AL East Battle
SCORE UPDATE: Red Sox 4 - 12 Blue Jays, Final
W: Jenkins: 1-0
L: Dempster: 2-4
Home Runs:
BOS- Napoli (7), Ciriaco (1)
TOR- Bautista (8,9), Bonifacio (1), Encarnacion (11), Lawrie (4)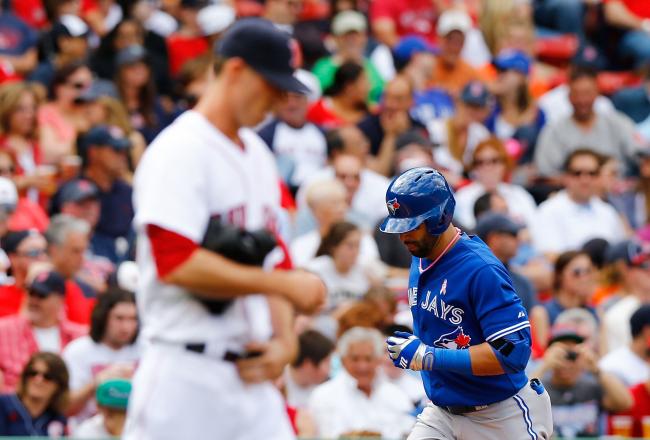 The Blue Jays hammered the Red Sox today, winning by a score of 12-4.
Toronto belted five home runs, including three off losing pitcher Ryan Dempster (which matched his career high).
The Blue Jays were aided by starter Chad Jenkins, who came from Double-A to make a solid five-inning start in the place of an injured Brandon Morrow, allowing seven hits and two runs. The effort equaled his longest major league outing.
Aside from solo home runs by Mike Napoli and Pedro Ciriaco, the Red Sox couldn't get much going on the offensive side. The team leaves the game having gone 20 consecutive at-bats with runners in scoring position without a collecting a hit.
The loss drops Boston to 22-16 on the year, while Toronto improves to 15-24.
Both teams will have Monday off.
On Tuesday, Toronto will host the San Francisco Giants, while the Red Sox will travel to Tampa Bay to play the Rays.
Drew leads off with a single to right-center.
Ellsbury goes down looking on strikes.
Ciriaco skies out to center.
Boston's disappointing afternoon comes to an end after Pedroia flies out to center to end the game.
Right-hander Steve Delabar enters the game to pitch the ninth inning for Toronto.
The 29-year-old has been stellar out of the pen, posting a 2.14 ERA in 17 appearances. He has also struck out 25 in 21 innings.
Encarnacion doubles in Cabrera, while pushing Bautista to third.
Lawrie hits into double play, which scores Bautista.
Ciriaco handles a tough hop off the bat of Lind to end the inning.
De La Torre walks Bautista on four pitches.
Not a great debut so far for the rookie.
You can see a brief scouting report on the rightie at SoxProspects.com.
Melky Cabrera greets De La Torre with a wall-ball double to left field.
Seems weird Jose De La Torre's entry music is Wilson Phillips' 'Hold on for one more day'

— Rob Bradford (@bradfo) May 12, 2013
Jose De La Torre in for 9th, making ML debut. #BlueJays 10, #RedSox 4. #redsoxtalk

— Maureen Mullen (@MaureenaMullen) May 12, 2013
De La Torre had a 1.56 ERA in 10 appearances at Triple-A Pawtucket.
The 27-year-old is in his seventh professional season.
And the streak reaches twenty. Twenty straight ABs with RISP and not a single hit to show for it.

— OverTheMonster (@OverTheMonster) May 12, 2013
Middlebrooks grounds to third base, with Lawrie forcing Salty at second to end the inning.
On to the ninth!
Cecil has a 2.79 ERA in 17 relief appearances this season.
He appears to have made a successful conversion to the bullpen. He had 15 wins for Toronto as recently as 2010.
He gets a fielders choice off the bat of Saltalamacchia, which scores a run for Boston.
well looks like esmil rogers doesnt have it again

— Greg Solluch (@audioproducer90) May 12, 2013
Gomes gets drilled in the arm with a 94 mph fastball. That loads the bases with one out.
Toronto manager John Gibbons has seen enough and has summoned Cecil to try and quell the mini-rally.
Nava draws a walk.
Toronto now has lefty Brett Cecil up in the pen.
Blue Jays' pitching coach Pete Walker out to the mound to try and buy Cecil some time. No need for this to turn into a ballgame if it can be avoided.
After a Pedroia fly-out, Napoli singles to shallow right-center field.
MOTHER'S DAY MIRACLE COMING WOO (alright, probably not...)

— OverTheMonster (@OverTheMonster) May 12, 2013
Right-hander Esmil Rogers enters the game for Toronto. He has a 5.50 ERA in 17 relief appearances this season.
Ciriaco greets him by homering on his first pitch into the Monster seats.
Showing the power, Ciriaco is obviously taking this first base thing seriously.
Right on cue, Breslow drops strike three in on Kawasaki to end the inning.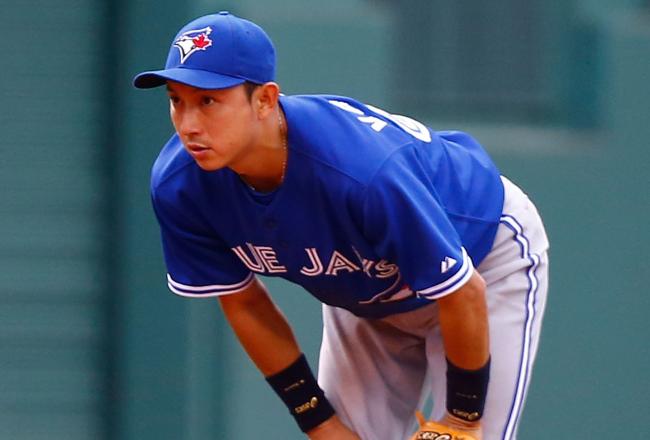 Toronto shortstop Munenori Kawasaki sure is a little fella...
Surprisingly, Ciriaco makes a nice play on a Rasmus chopper down the line and then leads Breslow perfectly at first for the out.
Left-hander Craig Breslow has come on in the eighth for Boston. He has a 4.50 ERA in three appearances so far this season.
Middlebrooks strikes out. He now has 42 in 135 at-bats this season.
Drew also strikes out.
Ellsbury breaks the monotony by grounding out to first base.
Loup has pitched two perfect innings.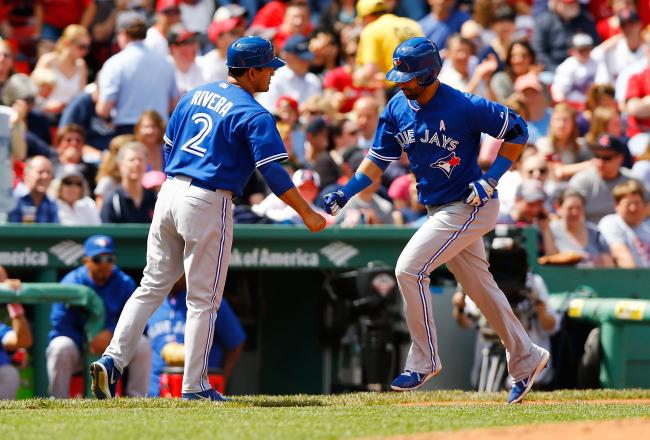 The Blue Jays have put on a hitting clinic today. This is the second time this season they have hit at least five home runs in a game against Boston.
Ciriaco is quickly tested. Adam Lind ground to Pedroia, and Ciriaco barely gets over to cover first in time.
Mortensen gets the Blue Jays 1-2-3 in the seventh.
This article is
What is the duplicate article?
Why is this article offensive?
Where is this article plagiarized from?
Why is this article poorly edited?

Boston Red Sox: Like this team?