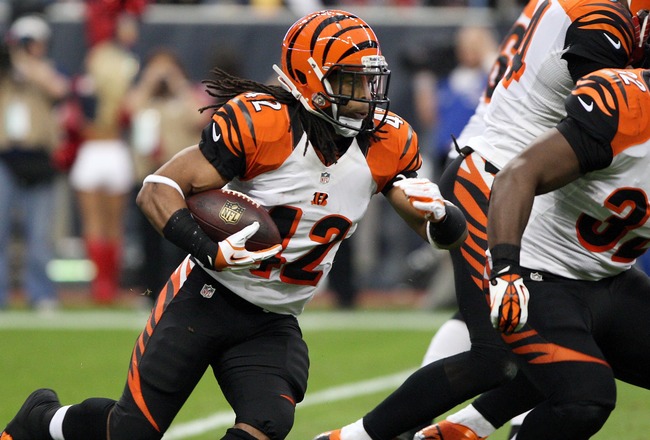 BenJarvus Green-Ellis faces a stiff test from Giovani Bernard.
USA TODAY Sports
Out of the 32 projected starting running backs for the 2013 season, there are a handful that potentially will lose their starting job between now and opening day.
The 2013 NFL draft illustrated that the overall value of running backs is slipping, as not a single back was drafted until the No. 37 overall pick.
Another example of the declining value of running backs is the case of free agent Ahmad Bradshaw. He received medical clearance to resume football activities. He averaged 4.6 yards per carry and gained over 1,000 yards in 2012. He still is looking for a new team.
Who will wind up being the Michael Turner of 2013? Turner wound up averaging just 3.6 yards per carry in 2012, so Atlanta replaced him with Steven Jackson. Turner is also out of work, but his phone figures to be ringing less than Bradshaw's.
While the value of running backs overall is a good topic for debate, we should note that the two teams that reached Super Bowl XLVII, San Francisco and Baltimore, both feature balanced offenses thanks to the skills of Frank Gore and Ray Rice, respectively.
In this presentation, we will look at a handful of starting running backs that need to come up with a strong 2013 season to fight off the competition.
Our presentation will look at the current depth charts for all 32 teams posted by OurLads.com, and name the handful of starting running backs that appear to be most likely to be on the hot-seat during training camp or the regular season.
Green Bay Packers: Eddie Lacy vs. Johnathan Franklin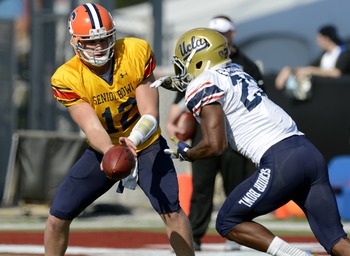 Johnathan Franklin could take starting job from Eddie Lacy
USA TODAY Sports
One position battle that will be interesting to watch for Green Bay Packers fans is the one between rookie running backs Eddie Lacy and Johnathan Franklin.
Lacy was selected with the No. 61 pick in the 2013 draft, while Franklin lasted until No. 125 overall. Don't let the order of when they were drafted dictate who will be the starter. The starter in Green Bay is up for grabs, and the two rookies will be battling it out to see who wins the position.
Tyler Dunne of the Milwaukee-Wisconsin Journal Sentinel wrote that Lacy had surgery on his big toe prior to the 2012 season at Alabama. The surgery was sufficient for some teams to downgrade Lacy on their big boards, which helps to account for why he was still there for Green Bay with the No. 61 overall pick.
It is interesting to look at the production of both backs in college, while keeping in mind that the Alabama offensive line that Lacy ran behind was clearly superior to what Franklin had to work with at UCLA.
Lacy wound up with a total of 390 touches (rushes and receptions) for 2,740 yards. He averaged 7.0 yards per touch and scored a total of 32 touchdowns. Franklin had 846 touches for 4,920 yards. Franklin averaged 5.8 yards per touch and scored 34 touchdowns. To be fair, we should note that Franklin played one more year in college than Lacy did.
Both backs are looking to make their mark in the NFL. Clearly, Lacy is the stronger or more powerful back of the two. But Franklin is clearly no slouch, and if Lacy stumbles out of the gate, or goes down with injury, then he could open the door for Franklin to take the ball and run with it.
Denver Broncos: Willis McGahee vs. Montee Ball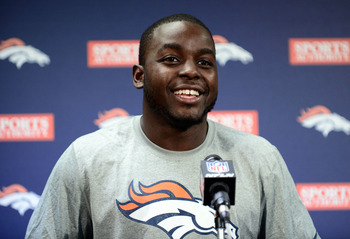 Montee Ball will be challenging for the starting job in Denver.
Ron Chenoy-USA TODAY Sports
Montee Ball wound up being the third running back drafted in 2013, as he followed Giovani Bernard and Le'Veon Bell off the big board.
Being drafted by Denver, Ball is automatically going to be in the mix for the starting job this year. His production at Wisconsin demonstrated that Ball is a strong overall back that can make a run at starter Willis McGahee.
McGahee is now 31 years old. In 2012, he averaged a strong 4.4 yards per carry average, but he managed to play in just 10 games for the year. That is the fewest number of games that McGahee has played in a season since 2004.
Honestly, it is a wonder that McGahee is still in the league, when you consider his horrific knee injury at Miami and the amount of pounding that NFL running backs take.
We can't dismiss Ronnie Hillman (3.9 yards per carry) or Knowshon Moreno (3.8 yards per carry), but it seems that the starting job will come down to either Ball or McGahee.
Mike Klis of the Denver Post wrote that he believes the Broncos want Ball and Hillman to wind up as the two backs that wind up with the most carries, and that the team will release either McGahee or Moreno.
With four backs competing for snaps, it is clear that somebody will be on the hot seat. There is probably room for just three of them on the roster at the most, so it will be interesting to see who is eliminated.
Cincinnati Bengals: BenJarvus Green-Ellis vs. Giovani Bernard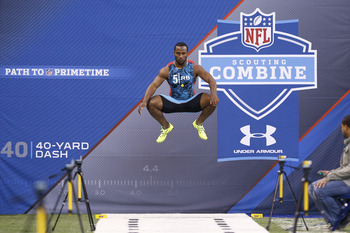 Can Giovani Bernard leap over the competition to start for Bengals?
Joe Robbins/Getty Images
BenJarvus Green-Ellis ran for over 1,000 yards in his first year in Cincinnati last year. He wound up with a total of 1,094 yards on 278 rushes, for an average of just 3.9 yards per attempt, scoring six rushing touchdowns.
Clearly he got the ball more in Cincinnati, as he managed just 181 rushes for 667 yards during his final season in New England. He again fell below the preferred 4.0 yards per rush attempt threshold, as he averaged 3.7 yards for the Patriots, but he did manage to score 11 rushing touchdowns.
Enter the first running back drafted from the 2013 NFL draft class, Giovani Bernard from North Carolina. As you can see from the photo of Bernard at the NFL Scouting Combines, Bernard has some serious physical skills that will make him an intriguing option at running back.
Bernard is just 21 years old and is 5'10" and weighs 205 pounds. Green-Ellis is stockier, at 5'11", but he weighs 220 pounds. Green-Ellis is now 27 years old.
The Bengals added more weapons for Andy Dalton this year thanks to also picking up tight end Tyler Eifert in the draft. For the offense to be as effective and efficient as possible, they will need more production from the running game.
For Green-Ellis to retain his job, he will need to boost his average yards per carry. If he can't do that, don't be surprised if Bernard supplants him as the starter sometime this year.
Philadelphia Eagles: LeSean McCoy vs. Bryce Brown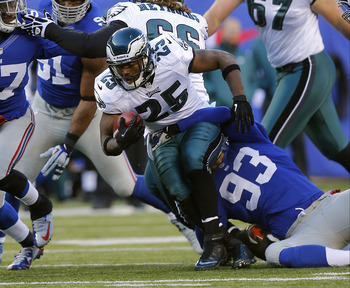 LeSean McCoy's will have to fight off Bryce Brown.
Jim O'Connor-USA TODAY Sports
When new head coach Chip Kelly arrived in Philadelphia, every player was starting fresh with the new regime. Kelly will see which players adapt to the new hurry-up offense he wants to run, and which ones aren't able to keep up the pace.
At least the Eagles two top backs are quite young, as LeSean McCoy (24) and Bryce Brown (22) are in the very early stages of their careers.
An article by Jeff McLane of the Philadelphia Inquirer and Daily News pointed out that at Oregon in 2012, the Ducks ran the ball 60 percent of the time. Kelly's running backs averaged 39.2 rushes per game last year.
From a production standpoint, LeSean McCoy had a fairly productive 2012 season, as he rushed for 840 yards, averaging 4.2 yards per carry, but he only scored two rushing touchdowns. Those are respectable numbers, not great, but respectable.
McCoy's backup, Bryce Brown, was even better as he averaged 4.9 yards per carry and gained 564 yards. Of course, McCoy had 85 more carries, which helps to explain the difference in production. But Brown scored four rushing touchdowns, doubling McCoy's total.
You have to figure that both of them will get ample touches this year in Kelly's offense. With all of the extra plays that Kelly wants to squeeze into the game, there is no way that one back could handle every snap, so there will have to be some kind of a time share at the position.
Who handles the ball better, or rather, who fumbles it less might very well determine who Kelly has the most faith in going forward. Both McCoy and Brown were guilty of coughing up the football four times in 2012. Giving up the football will be a sure way to get in Kelly's doghouse.
Arizona Cardinals: Rashard Mendenhall vs. Rookies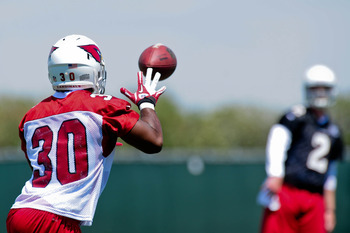 Stepfan Taylor is displaying his good hands already.
Matt Kartozian-USA TODAY Sports
If you visit the Arizona Cardinals depth chart at OurLads.com, you will note that the team has a rather crowded group at running back. Obviously, all six backs won't stick on the final roster, but our interest is in trying to identify who will be the starter in 2013.
While Rashard Mendenhall and Ryan Williams are listed as the top two backs right now, they both will have stiff competition from rookies Stepfan Taylor (Stanford) and Andre Ellington (Clemson).
Many people probably didn't think too much of it when the Washington Redskins decided to draft Alfred Morris with the No. 173 pick in the 2012 draft. The reaction might have been the same when Arizona drafted Taylor at No. 140 or Ellington at No. 187.
But these were both highly productive backs in college. When Taylor departed from Stanford, he had amassed 940 touches, accounting for 5,078 yards, 45 touchdowns and an average of 5.4 yards per touch.
For Ellington, his totals at Clemson read 680 touches for 3,941 yards and 35 touchdowns. He averaged 5.8 yards per touch. Taylor had three straight 1,000-plus yard rushing seasons, while Ellington had two.
As for Mendenhall, he is coming off a 2012 season to forget. Ravaged by injury, Mendenhall only managed to carry the ball 51 times in Pittsburgh for a total of 182 yards and no touchdowns. The average of 3.6 yards per rush was his lowest total in the last four years.
Obviously, head coach Bruce Arians is remembering Mendenhall's better years in Pittsburgh. Mendenhall will have to return to his earlier form if he has any hopes of holding off Taylor and Ellington for the starting job.
Dallas Cowboys: DeMarco Murray vs. Himself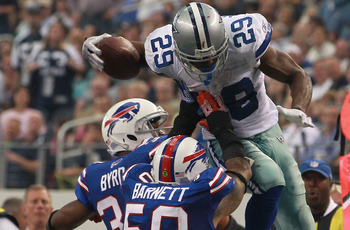 Can DeMarco Murray stay healthy for an entire season?
Ronald Martinez/Getty Images
They say that the third time is a charm, but the reality is that the jury is still out on Dallas Cowboys running back DeMarco Murray.
After two seasons in his pro career, Murray has already missed nine games due to injury. He came into the NFL with a reputation of getting hurt at Oklahoma, and he hasn't been able to shake the injury bug in Dallas, either.
It surprised me to note that Murray is already 25 years old, making him older than LeSean McCoy, for example (thought it would be the other way around).
So, what will the 2013 season hold in store for Murray? The starting job is his again as Felix Jones has moved on to join Chip Kelly in Philadelphia. Murray will have some competition from rookie Joseph Randle of Oklahoma State, but Randle himself is dealing with thumb surgery that will keep him out for a while.
Murray saw his production drop last year, as his average rush faded from 5.5 yards as a rookie to 4.1 yards per attempt last year. If Murray can't stay healthy this year, or if his average takes another significant drop, it would not be a major surprise to see the Cowboys spend an early draft pick on a running back in 2014.
New York Jets: Chris Ivory vs. Mike Goodson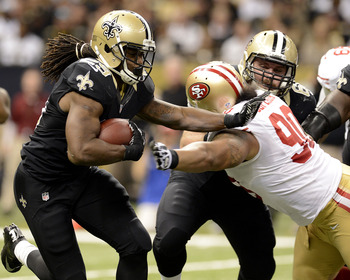 Chris Ivory may finally be a starter in 2013.
John David Mercer-USA TODAY Sports
The New York Jets have moved on from Shonn Greene, along with a number of other starters from 2012, and are opting to start a running back that is big on potential but small on results.
The top two contenders for the Jets starting running back job are Chris Ivory and Mike Goodson. Both backs are considered to be potentially very good, but neither one has ever been afforded the chance to have a starting job before in their careers. Both backs are 25 years old. One of them will emerge with the role in 2013.
Ivory has languished on the bench in New Orleans for the last three years. He has watched his carries per year continue to dwindle, as they have gone from 137 as a rookie, to 79 rushes in 2011 and then down to just 40 attempts last year.
His average gain per rush is outstanding, as he has averaged 5.2, 4.7 and then 5.4 last year. He has eight rushing touchdowns in his career.
Goodson has followed a similar path. His carries have been along the small-sample-size variety for his career. He played for Carolina the first two years before moving on to Oakland last year. His rushes have gone up and down; 22, 103 and then 35 last year.
His average per rush continues to climb every year, going from 2.2, to 4.4 and then 6.3 last year. He has only three rushing touchdowns in his career.
We don't yet know who will emerge with the starting job or how well they will hold up if either back is awarded 250 carries or more this year. But for one of them, they will be sure to relish being the featured back.
Oakland Raiders: Darren McFadden vs. Salary Cap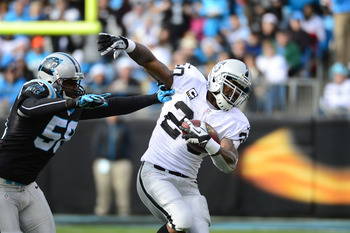 Darren McFadden will be a free agent in 2014.
USA TODAY Sports
Darren McFadden could very well be playing his final year with the Oakland Raiders in 2013. McFadden is scheduled to become a free agent in 2014, and who knows what the Raiders will have available in their salary cap next year to entertain keeping him around.
It is well known that the Raiders franchise has endured some tough times in the last two years as GM Reggie McKenzie does whatever he can to work his way out of "salary cap hell." Oakland has $46 million in dead money in 2013 counting against their payroll, which makes it almost impossible to field a highly competitive team.
McFadden has the largest salary cap hit on the team this year at more than $9.6 million. His salary is $5.85 million in 2013, which is very expensive for a team that has as many issues as the Raiders do.
For McFadden to be able to return in 2014, he will need to turn in a solid, healthy and productive year. McFadden has been a huge injury risk for Oakland, as he has missed a total of 23 games since he joined the team due to various injuries.
The other concern was his rather significant drop in production last year. His average rush plummeted from 5.4 yards per carry in 2011 to 3.3 yards last year. That is the lowest average for his career.
So when you combine his drop in production, the injury risk factor, his expensive annual contract, and the Raiders financial woes, it all adds up to form a "perfect storm" of reasons for why McFadden is on the hot seat this year in Oakland.
Thanks for checking out the presentation. Follow me on Twitter: @DanVanWie
Keep Reading
Load More Stories