Between September 2010 and January 2013, WEC/UFC lightweight Donald Cerrone posted a record of eight wins against two losses. During that run, the man who is more often than not referred to by his nickname "Cowboy," pocketed seven "Fight Night" bonuses.
The unfortunate thing about all of this is that Cerrone's two losses came just when he seemed to be on the brink of earning a UFC title shot.
Cerrone had put together a six-fight winning streak when he met Nate Diaz in the co-main event of UFC 141. The lead up to the fight, as expected from these two outspoken fighters, was full of taunts, threats and trash talk.
When the dust cleared and the middle fingers were lowered, Diaz had his hand raised in victory and moved one step closer to facing lightweight champion Benson Henderson.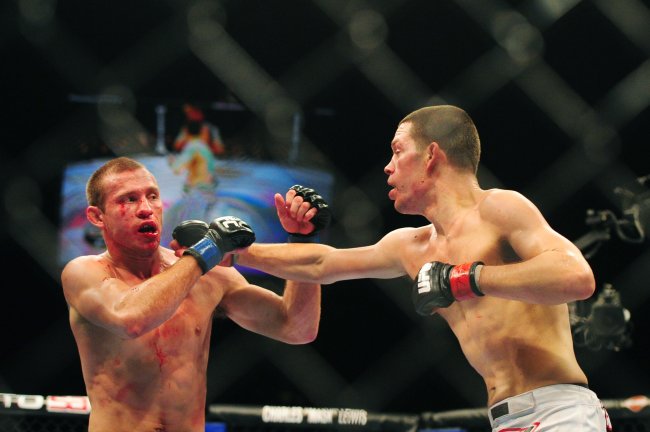 Mark J. Rebilas-USA TODAY Sports
Cerrone then got back to work, defeating Jeremy Stephens and Melvin Guillard before setting his sights and trash-talking skills on Anthony Pettis. The results of that fight were not favorable for Cerrone. He was dropped by a brutal liver kick from Pettis, who will challenge for the UFC featherweight title in his next bout.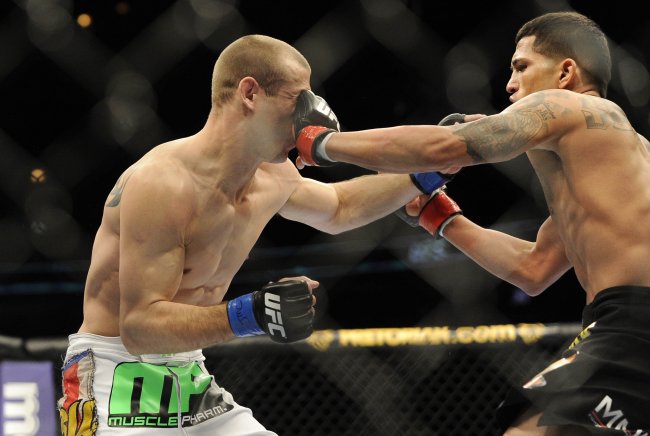 David Banks-USA TODAY Sports
Cerrone, currently ranked fifth in the lightweight division, recently spoke to Shaun Al-Shatti of MMAFighting.com about his defeats, saying:
It's like, I don't know if it's the camera or the pressure, but I've got to figure that out. Whatever makes me fight hard to get there, and then I seem to, like, fold under pressure. I don't know. I'm tryin' to [figure it out]. I got a new sports psychologist tryin' to work those kinks out.
The first fighter that Cerrone will compete against since enlisting his sports psychologist will be Strikeforce transfer K.J. Noons. The two will meet at UFC 160, which will take place on May 25 in Las Vegas, Nev.
Cerrone's admission that he is using a sports psychologist is interesting in a few ways. First, it's refreshing to hear a fighter acknowledge that there is an issue and try to work through it.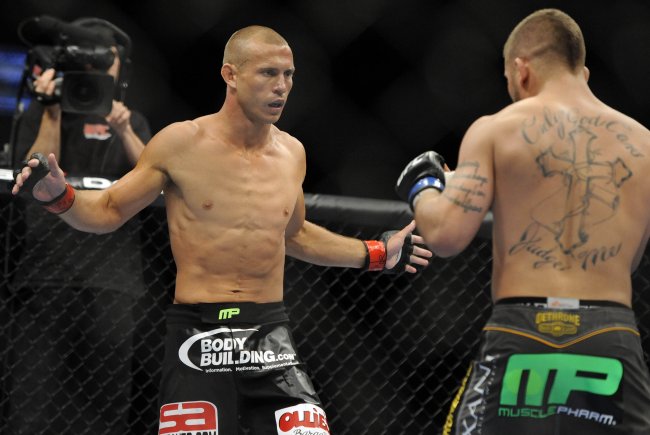 Rafael Suanes-USA TODAY Sports
There are no excuses being offered by Cerrone for his two defeats.
Cerrone sees there is a problem, is struggling to overcome it on his own and is looking for outside help. He's not blaming his two most recent defeats on some phantom injury that we so often see revealed after a loss, he knows the problem lies within him.
In the same vein, while there's no doubt that athletes use sports psychologists, it's rare to hear someone come out and so readily admit to it. A lot of people seem to get hung up on the psychologist thing, associating weakness with someone that sees a psychologist of any sort. That's an antiquated way of thinking and a mindset that hurts much more than it helps.
Think about it, how many times have MMA fans heard the same tired excuses rolled out after a loss: I had a bad weight cut, I had an injury during training camp, the time difference messed me up? Those reasons have been trotted out a lot more than the honest assessment that Cerrone is putting forth.
Cerrone should be applauded for his honesty and his willingness to try to better himself and his standing in the sport.
There's no doubt that some of the more thick-headed "old school" types will snicker at the thought of a professional fighter seeing a sports psychologist, and that's pretty pathetic. Sooner or later that "just battle through it" knuckle-dragging type of thinking will be left on the scrap heap, along with the careers of the fighters that posit that type of stupidity.