Players Championship 2013 Leaderboard: Day 4 Scores, Results and Analysis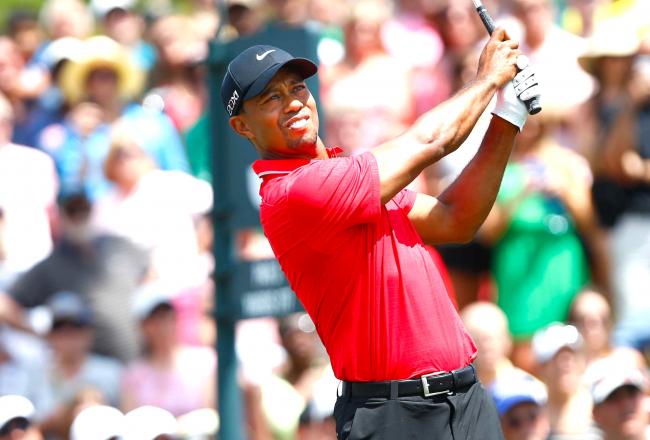 In one of the great finishes in Players Championship history, Tiger Woods overcame a double bogey on the 14th hole by making a birdie on the 16th to win the Players for the first time in a dozen years.
Woods' double brought a group of players back into the tournament, creating a four-way tie for the lead, but nobody was able to get past him.
Sergio Garcia imploded on the way home, after he, too, made a birdie on the 16th to get back into the lead.
But he dunked two balls on the 17th tee and finished with a quadruple seven and then eliminated himself officially by snapping his tee shot on 18 into the lake.
The win is Tiger Woods' 78th in his career, second at the Players Championship.
That will wrap up today's blog from the 2013 Players Championship.
Hope you enjoyed it as much as I did.
Thanks for hanging in with us all day.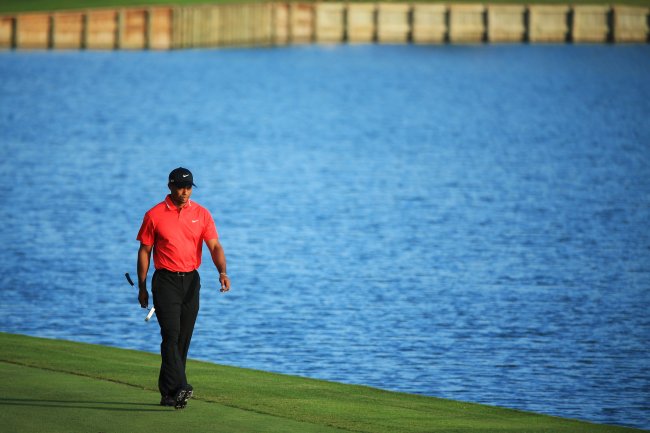 Richard Heathcote/Getty Images
Love him or hate him, that was a pretty spectacular performance by Tiger Woods.
He could have wobbled after making that horrible tee shot on the 14th hole, but he hung in there, made the birdie at 16 he needed to and parred in.
For Sergio Garcia, his whiny feud with Woods yesterday and early today, he couldn't handle the pressure and blew up in the last two holes.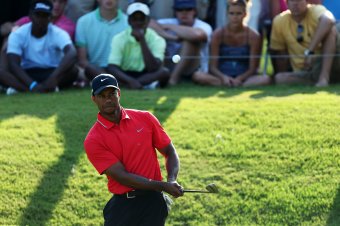 Andy Lyons/Getty Images
What a perfect 9-iron approach shot by Tiger Woods into the 18th green.
If he makes par, he'll force David Lingmerth to birdie the last hole.
If Tiger makes the birdie putt, game over.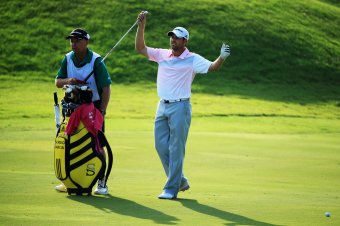 Richard Heathcote/Getty Images
It will be amazing to hear the excuses from Sergio "Tin Cup" Garcia for the meltdown on 17.
You can be sure it won't be anything that he did.
Maybe Tiger got the better weather? The wind stopped blowing.
Tiger must have been making a lot of noise in Sergio Garcia's swing on the tee at 17.
Doesn't look like he'll have to worry about getting one of those "not very good idea" matchup with Woods in a playoff.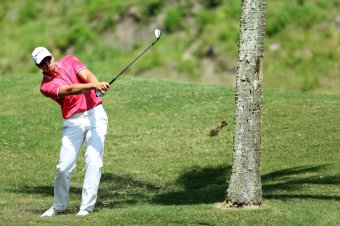 Andy Lyons/Getty Images
Henrik Stenson's chances of winning or getting into a playoff probably went sailing when his tee shot on the 18th hole sailed well right into a not-so-pretty place.
Hard to beat these final 3 holes at Sawgrass when tournament is on the line. Just a great theater among them

— Bob Harig (@BobHarig) May 12, 2013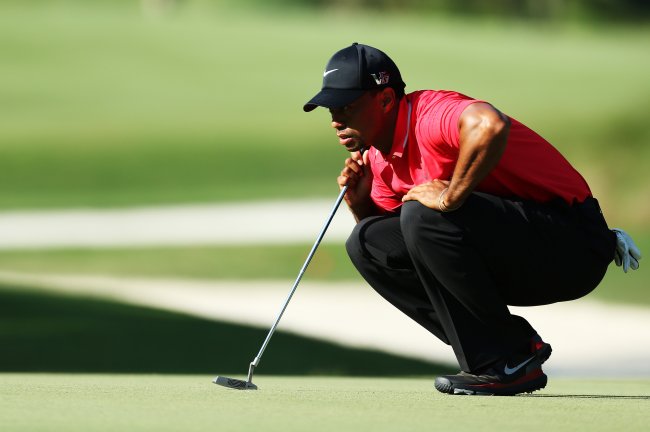 Andy Lyons/Getty Images
There isn't a golfer alive who doesn't love a tap-in birdie.
Tiger Woods' on the 16th made him 12-under par on the par fives this week.
This isn't over quite yet, though.
A Sergio-Tiger playoff would be God's way of saying sorry for all these damn weather delays this season.

— Shane Bacon (@shanebacon) May 12, 2013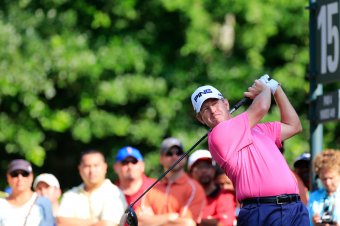 Sam Greenwood/Getty Images
Tough to see Jeff Maggert double the 17th.
He would have been one of the great feel-good stories of our time had he hung on to win.
It's weird but Tiger is currently borrowing Sergio's body language and Sergio looks confident. Is it Mother's Day or April Fools?

— Shane Bacon (@shanebacon) May 12, 2013
Starting with No.14, players face 4 of the 5 most difficult holes on the closing stretch. Only #16 is playing under par (-.394). #THEPLAYERS

— PGA TOUR (@PGATOUR) May 12, 2013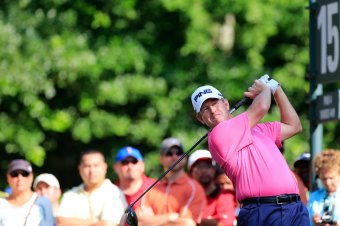 Sam Greenwood/Getty Images
Believe it or not, at 6 p.m. Sunday, eight players are within two shots of the lead.
Two of those have already finished their rounds and Jeff Maggert just dunked his tee shot on the 17th.
The stampede is getting toward the head of the stretch and are about to come thundering home.
Tiger Woods makes double bogey on 14 after that dunked tee shot.
As a result, there's a four-way tie with Woods, Jeff Maggert, David Lingmerth and Sergio Garcia.
Are we having fun yet?
Johnny Miller on Tiger's drop on 14: "That was really, really borderline. I couldn't live with myself without saying that."

— Ryan Lavner (@RyanLavnerGC) May 12, 2013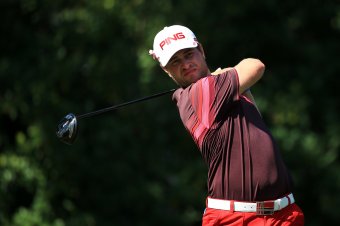 Richard Heathcote/Getty Images
David Lingmerth rolls in a bomb on 13 gets him 12-under.
Sergio Garcia makes on top of that and is at the same number.
Tiger's troubles are going to open this thing back up again.
Hmmmmmmm.
A very poor tee shot on 14 by Tiger.
He's going to have a very interesting drop because his ball didn't cross the margin of the hazard very far from the tee.
Per ESPN stats guru @jrayespngollf only other time in Woods' career he had 4 wins before June 1, he then won the next 4 majors held.

— Bob Harig (@BobHarig) May 12, 2013




Something to think about.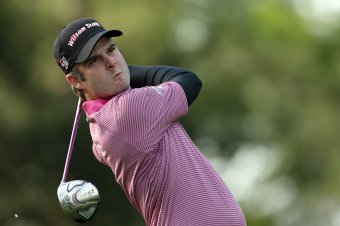 Streeter Lecka/Getty Images
How about Kevin Streelman?
He was 6-under par at the start of the round and has made six birdies and one bogey, including a curling bomb on 17 to 11-under par and a tie for third with one hole to play.
Tiger is performing a lobotomy on TPC with zero stress on a Sunday. He's not normal.

— Gary Williams (@garywilliamsGC) May 12, 2013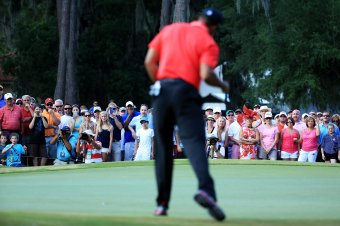 Richard Heathcote/Getty Images
Another birdie for Tiger, this one at the 14th, moving him to 14-under par.
He know has a two-shot lead over Jeff Maggert, who has a chance for birdie at the 15th.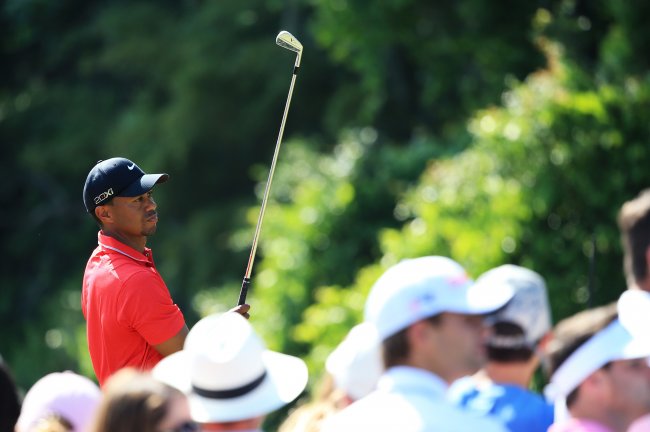 Richard Heathcote/Getty Images
Six players are within three shots of Tiger Woods.
As they get into the meat of the back nine, Woods won't be able to afford many mistakes.
Dan Hicks described the first and second-place players this way on NBC: The No. 1 player in the world on top and the 429th player a shot behind.
This article is
What is the duplicate article?
Why is this article offensive?
Where is this article plagiarized from?
Why is this article poorly edited?