The Doctor's WWE Main Event/SmackDown Recap: Things We Learned, Loved and Hated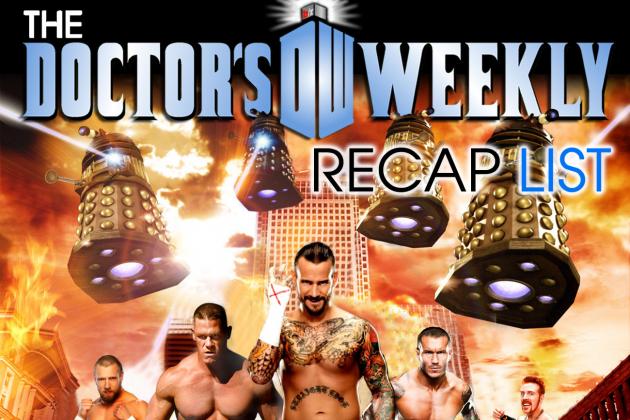 Photo illustration by Natasha Farley (Images property of WWE, BBC and Bleacher Report)
Welcome, ladies and gentlemen, to my weekly Main Event and SmackDown recap list. I always appreciate my loyal readers, but for those of you who are new, each week I recap Main Event and SmackDown with a long list.

The entries are made up of equal parts observations, humor, recap, play-by-play, revelations, speculations, questions, answers and anything else I notice during the show. I sometimes comment on commercials, too, just because I get bored during them.
I must have been feeling nostalgic this week, because this list ended up being unintentionally '90s-themed. So, I hope you like Trapper Keepers, GoldenEye and Nintendo 64 wrestling games.

I try to interject some fun into these lists, so I hope you have fun reading this week's list of the things we learned, loved and hated from the show. I am only using the slideshow format this week. Next week will return to the standard format.
Begin Slideshow

»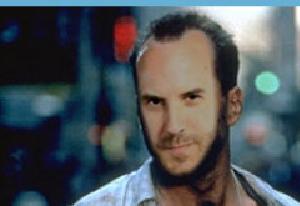 Antonio Cesaro is John Mclane in Die Hard 5: Dying Hardest (Image made at faceinahole.com)
1. Randy Orton comes out to kick off the show in a match against Antonio Cesaro.
2. Cesaro's beret and glasses are cool. They make him look like a military dictator.
3. They lock up after the bell and struggle around the ring for control.
4. They break clean in the corner and lock up again, with Cesaro taking Orton down with a side-headlock takeover.
5. Cesaro and Orton do some ground wrestling with each man countering the other perfectly.
6. Orton hits a back elbow to the jaw before he starts stomping away at various body parts of Cesaro.
7. Orton is a very clean technical wrestler, but he is not very subtle with his calls sometimes.
8. For instance, if you watch this match you will see Orton give Cesaro a little tap on his side before executing a suplex to let him know it is coming.
9. It is something a lot of people can be seen doing, but for some reason it always stands out to me when Orton does it.
10. Cesaro sets Orton up on the top turnbuckle and he ends up sending Orton crashing to the floor with a hard right as we head to a break.
11. This is a good match so far. Cesaro seems to be getting placed in matches where he is given some time to really be creative lately.
12. A promo airs for Fandango and Chris Jericho's dance-off on Raw.
13. We return to see Cesaro in control.
14. Does anyone else think Cesaro would make the perfect villain for a Die Hard movie?
15. Think about it. He has the foreign accent, the physique of someone who could put Bruce Willis in his place and the look of someone who could be intimidating.
16. And I didn't even mention that he used to have a beautiful, yet dangerous companion, which is a trademark of all great movie villains.
17. Aksana is like a real-life Xenia Onatopp, whose name is second on the list of best James Bond character names only to Pussy Galore, and who was always so damn difficult to beat in the video game with her RC-P90 and grenade launcher combo.
18. Seriously. She was harder to beat than Trevelyan on the final platform, but once you found the trick, it was easy. I spent an obscene amount of time playing that game. It stopped life for an entire summer.
19. Oh yeah, wrestling is happening.
20. Cesaro picks up Orton for the delayed gutwrench as if he was picking up a cruiserweight.
21. Cesaro nails a running uppercut in the corner to get a near fall.
22. Orton nearly gets counted out after Cesaro drops him across a barricade.
23. Cesaro locks in a sleeper while Orton is holding the ropes, and he pulls Orton away to the center of the ring so he doesn't have to break the hold.
24. Orton ends up building a head of steam, running through some of his signatures.
25. Cesaro counters the rope-hung DDT, and Orton ends up on the apron.
26. Cesaro tries to give Orton a German suplex off the apron, but Orton holds onto the top rope.
27. Orton is able to fight him off with elbows, but when he leaps off the apron, Cesaro moves and Orton hits the barricade hard as we head to another break.
28. Back to Goldeneye. I feel really lucky to have been born so I could grow up during the era when arcades were still big, but console games were also starting to get really good. I remember thinking to myself while playing Goldeneye multi-player with my friends that arcades were doomed if they couldn't replicate the multi-player experience.
29. This was also around the time that really awesome wrestling games like WCW vs. NWO Revenge came out. To this day, I will play one of those N64 wrestling games if given the opportunity. Revenge had the best roster of any wrestling video game.
30. Remember how you could throw a person through the curtain and then end up backstage to keep fighting into a locker room? The new WWE games need something like that for a special falls count anywhere match.
31. There it is. If WWE 2K14 includes a falls count anywhere match where you can go from the ring to different parts of the arena and into the backstage area, I am taking full credit for it. Although I would hope it would be a much bigger backstage area than what was available in previous games.
32. After the break, we see Cesaro leap off the top rope right into a dropkick to the face from Orton.
33. That rung Cesaro's bell a little bit.
34. Cesaro ends up getting back to his feet first, and he tries to focus on the injured arm, but Orton hits a backbreaker for a near fall.
35. Orton gets planted with what almost ended up being a Michinoku Driver for a two count.
36. Cesaro goes to the top again. Orton ends up hitting a kick to the side of Cesaro's head before he climbs up and hits a superplex from the top rope.
37. I am glad this move gets the crowd going, because it is a risky move and deserves a cheer.
38. Cesaro hits Orton in the back of the head with a European uppercut for a near fall.
39. He goes back to work on Orton's right arm.
40. Orton ends up hitting the rope-hung DDT to set up for the RKO.
41. Cesaro counters and ends up hitting a massive uppcercut to Orton for a close two-count.
42. Orton ends up hitting the RKO out of nowhere for the pin and the win.
43. That was a really great match. Main Event has been doing really well lately, and it is all thanks to Antonio Cesaro.
44. And for anyone who complains about Cesaro losing to another babyface star, I want to remind you that Cesaro hasn't gotten to that point yet.
45. He may have earned that spot in my eyes and in the eyes of those who know his indy career, but that is the minority among wrestling fans. The majority just tune in and maybe buy tickets if WWE comes to town.
46. The majority of fans want to see the babyfaces get the wins, like Randy Orton.
47. Not to insult the hardcore fans, because I am one too, but sometimes we forget the basic structure of how wrestling works. Less than 1 percent of the WWE viewing audience will read this article, and the people who do probably qualify as hardcore fans, otherwise you wouldn't be searching through these kinds of sites.
48. Midcard heels are supposed to put over upper-card babyfaces like Randy Orton when they are in between matches with their main rival at the time.
49. Cesaro is being tested right now, as well. He is being put in these longer matches, and he is delivering every single time. They will take notice of this backstage, and he will be appropriately pushed when the right time comes along.
50. That right time is not right now. Right now, he needs to cultivate his heel persona with the people who only know of his time in WWE, and he needs to show he can keep up with the guys at the top.
51. Lately, he has proven that without any doubt. Cesaro is powerful enough to lift Khali for his finisher, quick enough to keep step with anyone in WWE and he is a seasoned veteran who is more technically sound than most.
52. Trust me, Cesaro will be one of the top heels in WWE eventually.
53. In the eyes of Vince McMahon, Cesaro must be like a Daniel Bryan with muscles.
54. After some recap videos, we see a six-man tag match between 3MB and the team of Justin Gabriel and The Usos.
55. I really like the beard Drew McIntyre is growing out. It makes him look like a tough guy instead of a shampoo commercial hair model.
56. I have literally heard women gasp and say they would kill to have the hair of D-Mac.
57. Jinder Mahal and one of the Usos start things off.
58. I like that The Usos have continued the tradition of Samoans having really hard heads. Mahal hits Uso's head into the turnbuckle and Uso just dances it off.
59. Nice. JBL brings up a match with Savio Vega. I will include the video. Take note of Uncle Zeb accompanying JBL to the ring. For those who are too young to remember, JBL was managed by Zeb Colter early in his career.
60. That is why JBL is always defending Zeb on commentary.
61. After the Usos hit a double-team to Mahal, we see Slater low-bridge the legal Uso over the top rope.
62. After a break, we see 3MB still in control, with Mahal beating on one of the Usos.
63. Slater comes in and tees off on Uso with hard rights.
64. JBL says Slater won Golden Gloves at some point. I do not know if that is true, but I do know Slater was on an episode of Blue Collar TV. Check out the video to see a young Heath Slater get destroyed by TNA's Abyss. Even back then he was jobbing.
65. Cole mentions how JBL used to be called Justin "Hawk" Bradshaw, and JBL says he once branded The Usos' daddy, Rikishi. Good times.
66. I am loving the references to the old days from JBL and Cole tonight.
67. The fresh Uso gets the tag and he comes in hot, taking out D-Mac for a near fall.
68. Gabriel gets the tag, and he comes in off a springboard splash to D-Mac.
69. He hits the springboard moonsault for a close two count.
70. 3MB try to bail, and Gabriel dives onto them. They catch him, and one of the Usos dives out onto all of them to take the whole group down.
71. Gabriel rolls D-Mac back in for a near fall.
72. Everyone comes in and starts hitting finishers on each other.
73. Gabriel hits a nice tornado DDT to D-Mac before hitting the 450 to get the pin and the win.
74. That was another fun match. Main Event has been great the past few weeks.
75. I was very critical of this show for awhile, but some solid wrestling has brought the quality back up.
76. Gabriel seems to be picking up more and more wins lately, which is something that will make some people hopeful of him getting some kind of push.
77. Until he wins a midcard title, I will not hold my breath. He is a fun novelty at the moment, and pitting him against 3MB for a win is nothing more than filler.
78. I hope I am wrong and he gets into the hunt for the US or IC title, but I have been hopeful and disappointed too many times to think a few wins means a push.
79. The opening video highlights a match I am looking forward to. Jack Swagger vs. Big E Langston.
80. I really want to see how Langston looks against someone who is pretty powerful as well.
81. Chris Jericho is in the ring for the Highlight Reel at the top of the show.
82. The Jeri-tron 5000 is back!
83. He brings out Ryback as his guest.
84. Is it me or has there not been a really good segment involving a WWE talk show in a long time?
85. They always used to lead to something pretty cool, or at least funny, but lately it just seems like they are used for filler.
86. I am going to spare you the details of what ended up being a painful segment to watch. Teddy Long comes out and makes a match between Jericho and Ryback for tonight.
87. They don't even need Teddy anymore. They can just play the first five seconds of his music to declare that whoever is in the ring must fight in a match.
88. We get a promo for a segment involving Mark Henry breaking another World record.
89. If he is actually breaking a record, then this is a great idea. Most non-wrestling contests are boring, but if he is really breaking a record, then I am on board.
90. After the break, we get Kofi Kingston vs. Cody Reynolds.
91. You see what I did there. Cody Reynolds. Like Burt Reynolds. Because of the mustache.
92. That's a Josh Mathews-level joke right there, if only JBL was here to berate me for how bad it was.
93. Kofi hits a unique armdrag early on, but Rhodes manages to keep up the offense.
94. Is Rhodes wearing tape or is that a single glove on his right hand?
95. Rhodes always has something that makes him stand out. First it was not wearing knee pads, then he was a pretty boy, followed by the mask and then the mustache. The single glove could be a new thing, or he might have just run out of athletic tape before getting to his left hand.
96. Kofi ends up catching Rhodes mid-Disaster Kick with Trouble in Paradise for the pin and the win.
97. That match was shorter than I would have liked, but both guys looked solid.
98. We get to see the entire segment involving Brock Lesnar destroying Triple H's office at WWE HQ.
99. We also get a backstage interview with Jack Swagger and Zeb Colter.
100. Colter calls her Reba. I hope it becomes a habit of his to start calling her different names other than her real name. It would be a funny little side joke.
101. I think he called her Ronda last week. Her real name is Renee Young.
102. Langston makes his way out for his match with Swagger.
103. I am very curious as to how Langston would have done in that bench press challenge Henry and Ryback had. I bet he would have broken the record, too.
104. It is not an exaggeration to say that Langston's arms are as big as most people's legs, and his legs are like most people's torsos.
105. Alberto Del Rio is on commentary while AJ and Ziggler are at ringside.
106. I wonder why Colter ditched the tech vest for this blue number?
107. Before the match even starts, we see Del Rio throw a ladder in the ring for them.
108. Ziggler goes for it, but Swagger kicks him in the face.
109. Langston and Swagger get in a fight over the ladder, and Swagger gets the better of him thanks to Colter.
110. Ziggler hits Swagger with an elbow after Langston is sent over the top rope.
111. Ziggler grabs the ladder and tosses it to Swagger so he can dropkick it into him.
112. Ziggler hits the ladder with a baseball slide to send it into Colter before Del Rio comes in and hits Ziggler with a nasty side kick.
113. Del Rio grabs the ladder and hits Ziggler with it before he brings it out of the ring and throws it at Jack Swagger.
114. The crowd chants "Si, Si, Si" as he brings the ladder back in the ring and climbs it holding Ziggler's World title.
115. The match never got started, and Del Rio is the man standing tall at the end of it all.
116. After the break, we get Daniel Bryan vs. Dean Ambrose.
117. Yes! Yes! Yes!
118. I included a video in another article of these two facing off years before being in WWE. I will include it here as well since it is a great match.
119. Bryan has a little flurry of offense in the beginning.
120. Ambrose gets control and runs Bryan's head into the turnbuckle.
121. Kane keeps watch while Roman Reigns and Seth Rollins walk around outside the ring.
122. Bryan hits a running elbow before lining up and nailing Ambrose with several kicks to the chest.
123. Ambrose avoids the big kick to the head by rolling out of the ring, but Bryan follows with a suicide dive to send Ambrose into the barricade before we head to a beak.
124. These guys are keeping up a quick pace. If they continue that until the end, then this will be a pretty good match.
125. We return to see Ambrose in control of the match.
126. Bryan tries to build some offense, but Ambrose keeps up the intensity and gets a near fall off a dropkick.
127. Ambrose runs his own shoulder into the ring post after Bryan moves out of the way.
128. That hit looked really hard.
129. Bryan hits a running dropkick to the face and then a few kicks to the chest.
130. Bryan puts Ambrose in the Tree of Woe for more kicks.
131. Bryan gets a running start and hits a dropkick while Ambrose is still hung up for a two count.
132. Kane stops Rollins and Reigns from getting in Bryan's way while he went to the top rope.
133. Bryan jumps off and hits a dropkick to Ambrose for another near fall.
134. Ambrose ends up planting Bryan's face into the mat for a two count.
135. Ambrose has a cut under his left eye that you can see really clearly at one point.
136. Bryan wrestles Ambrose down into the No Lock.
137. Kane stops Rollins and the ref helps, which allows Reigns to get Bryan off of Ambrose.
138. Kane starts fighting outside the ring while Kofi comes out of nowhere and starts fighting alongside Bryan.
139. I do not know who technically won, but for some reasons the segment ended with Kofi's music playing, when he was not even in the match.
140. JBL says Ambrose gets the victory since the ref never saw Reigns attack Bryan.
141. Whatever. That was entertaining, even if it was a mess toward the end.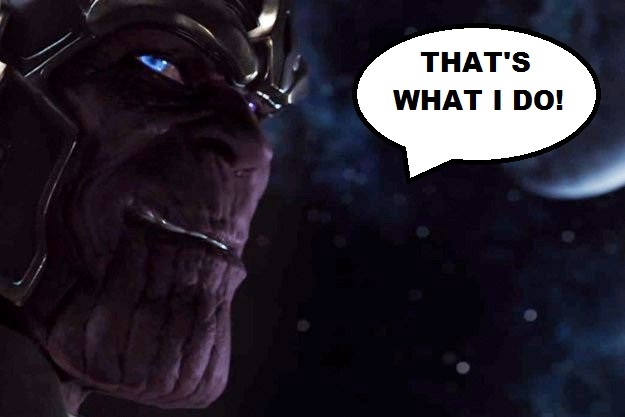 Marvel.com
142. We go to a video of Mark Henry preparing to set a new world record by for pulling 55,000 pounds on a tractor trailer in neutral.
143. I love how Damien Sandow and Prime Time Players are there cheering him on as he does it. None of them are affiliated in any way other than being heels, but they are still there showing support.
144. He will try to double that weight later tonight.
145. Isn't it nuts that there is a human being out there like Mark Henry? He can literally lift some of the smaller cars in production by himself. That's superhero stuff right there.
146. I could actually see Henry as a Marvel or DC villain. He is like a real-life version of Thanos.
147. Holy crap! They should cast him as Thanos in Avengers 2. Batista is playing Drax, so why not have Henry play Thanos? His catchphrases could be "I'ma beat you like you stole somethin'" and "That's what I do!"
148. We see some stills of the brutal welts Sheamus had after the belt attack from Henry.
149. Sheamus is a beast for taking a beating like that for the sake of the storyline. Credit where credit is due.
150. We go outside to see Henry being strapped in to try to break a world record.
151. PTP and Sandow are there again. Matt Striker comes up and asks Henry about pulling over 100,000 pounds. Henry says nobody has ever done what he is about to do.
152. Henry has some trouble and Striker asks him if he can do this.
153. Henry yells at him and keeps trying.
154. Oh my God! He actually gets them moving! He pulls and pulls and he makes the 20-foot goal, setting a world record.
155. Henry is exhausted and struggling to breathe, but he makes it back up to his feet and yells "That's what I do!"
156. The crowd cheers for Henry as we go back inside. That was pretty amazing. I wonder if this is Guinness-approved for a world record?
157. If they get Henry to pull a plane like the guy in this video, then he will truly be a legend.
158. After more recap videos, we get a backstage interview with Randy Orton.
159. He does his usual thing where he says he will win. He is getting to be so boring as a babyface.
160. Big Show faces Sweet T next.
161. Tensai gets in some good offense early on, keeping Big Show off his game.
162. Big Show hits the KO punch out of nowhere for the pin and the win.
163. Poor Giant Bernard.
164. Brodus Clay tries to come in and help, but he gets a spear from Big Show.
165. Orton comes out of nowhere and hits the RKO on Big Show and his music hits to end the segment.
166. That's twice tonight that the music of someone who wasn't even in the match ends a segment.
167. Man arms! Whoa!
168. AJ runs into Kaitlyn backstage and makes fun of her and her secret admirer.
169. Kaitlyn says AJ has soulless eyes and the body of a 10-year-old boy.
170. Hahaha! Natalya walks up and AJ says "Later, gentlemen" before leaving. I do not know why that segment was so funny to me, but it was.
171. Khali walks up in a Rey Mysterio mask and does his best impression of Rey's entrance music.
172. He walks away and comes back wearing a fake mustache.
173. What is going on right now?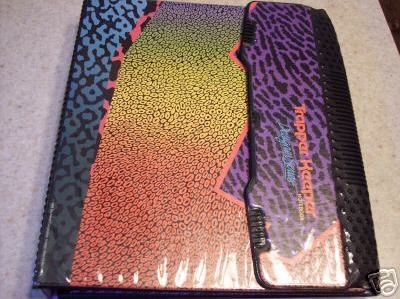 174. We go back to the ring for some normalcy as Chris Jericho makes his way out for the main event of the night.
175. Ryback is out after the break.
176. He kinds of reminds me of Big Poppa Pump when he wears the hat and shirt.
177. Ryback takes control early by sending Jericho over the top rope to the outside.
178. Jericho's trunks remind me of everything that was marketed toward little girls in the '90s. There are a lot of different shades of purple with sparkles outlining every letter. There were a lot of girls' Trapper Keepers that looked like those trunks when I was a kid.
179. Do they still make Trapper Keepers? Those things were like the Swiss Army knife of school supplies. I actually owned the same trapper keeper pictured to the left. Don't think less of me, it was the early '90s and everything looked like that. Ziggler wears a lot of things that remind of the early '90s designs.
180. Ryback pushes Jericho around like a rookie for the next few minutes of the match, but Jericho eventually uses his quickness to take an advantage.
181. Jericho doesn't even comes close to hitting a triangle dropkick to Ryback while Ryback was on the apron, but the editing made it look pretty convincing.
182. After a break, we see Ryback still running things in the ring.
183. Jericho gets planted with a spinebuster for a near fall.
184. Jericho begins to build some offense and he hits a few signatures, but when he tries for the Codebreaker he gets dropped on the back of his head.
185. Ryback lifts him straight off the ground and then powerbombs him back to the mat.
186. Jericho tries for a Walls of Jericho, but he gets pushed off.
187. Ryback hits a fallaway slam followed by a Meat Hook clothesline.
188. He calls for Shell Shocked, but Jericho counters and puts on the Walls of Jericho.
189. Ryback makes it to the rope to force the break. Jericho follows up with a Codebreaker, but Ryback rolls out of the ring.
190. Jericho follows him, but he gets whipped into the barricade by Ryback.
191. The ref DQs Ryback after he intentionally hits Jericho's crotch into the ring post by literally just lifting him up and running Jericho into it with Jericho's legs open.
192. It is one of the more uncomfortable things I have ever seen happen in a match.
193. Ryback goes to leave but instead he comes back and attacks Jericho, sending him over the announce table.
194. That was a decent SmackDown.
195. We had some really good matches this week, with some actual storyline development.
196. Henry pulling those two trucks was one of the more impressive things to happen all year, and hopefully he actually gets credit for breaking a world record.
197. This week's "Blast from the Past" is not just one match, but it is an entire show. In keeping with the accidental '90s theme of this list, I decided to include the first episode of WWF Saturday Night's Main Event of the '90s.
198. This episode aired on Jan. 3, 1990, and featured WWF champion Hulk Hogan teaming up with IC champion The Ultimate Warrior in the main event.
199. It was a different time in WWE when this show happened. Jesse Ventura was still a heel announcer, Vince McMahon was always on a mic and you had to have a nickname to be cool in wrestling.
200. This amazing card featured Jake "The Snake" Roberts vs. Greg "The Hammer" Valentine, "The Canadian Strongman" Dino Bravo vs. "Rugged" Ronnie Garvin, "The American Dream" Dusty Rhodes vs. "Ravishing" Rick Rude and "Macho King" Randy Savage defending his crown vs. "Hacksaw" Jim Duggan.
201. The main event of the evening featured The Ultimate Warrior and Hulk Hogan vs. The Genius and "Mr. Perfect" Curt Hennig. This show was packed full of legends, some of whom we have since lost, so I hope you take the time to watch this great episode of SNME. Thanks for reading, and feel free to share your thoughts on the shows below.