Play Suspended at 4:09 P.m.
Use your ← → (arrow) keys to browse more stories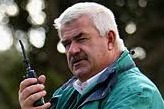 Sam Greenwood/Getty Images

PONTE VEDRA BEACH, Fla. -- A band of approaching thunderstorms and lightning in the area has prompted PGA TOUR officials to suspend play during Saturday's third round of THE PLAYERS Championship. The horn sounded at 4:09 p.m. ET with the final group of Sergio Garcia and Tiger Woods playing the seventh hole. Players are being taken back to the clubhouse, which means it could be a significant delay.