Wigan vs. Manchester City: 6 Things We Learned from Latics' FA Cup Win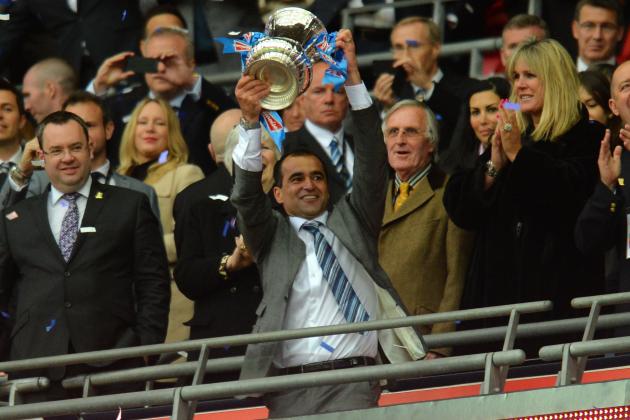 Shaun Botterill/Getty Images

Wigan defeated Manchester City in stunning fashion, winning the FA Cup in one of the biggest upsets in the history of the competition.
The Latics played just as well as their mighty opponents for the entire match, and no one can begrudge them their victory.
The turning point came in the 86th minute, when Pablo Zabaleta was sent off for sending Callum McMananman, who was the best player on the pitch, spinning through the air. It was Zabaleta's second yellow card, and it breathed new life into Wigan.
Ben Watson then won it in the 91st minute. Moving into space at the near post, his flicked header flew past Joe Hart and sent half of Wembley into utter euphoria.
As we attempt to recover from a breathtaking game, let's examine six things we learned from this year's FA Cup final.
Begin Slideshow

»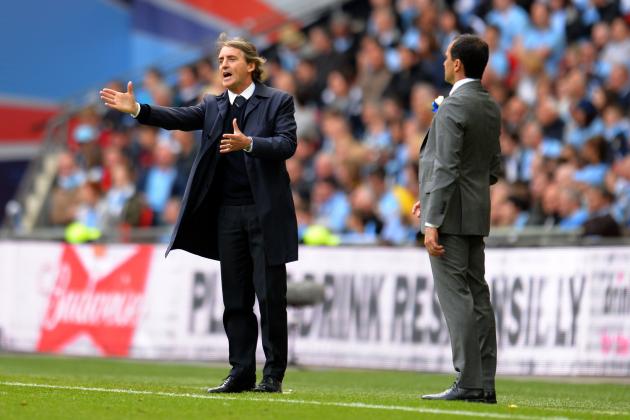 Shaun Botterill/Getty Images

After Manchester City's unexpectedly tepid performance, there will undoubtedly be speculation about whether the persistent rumors about Roberto Mancini's departure robbed City of motivation in some way.
The stories linking the citizens with Malaga and ex-Real Madrid boss Manuel Pellegrini have been numerous recently, and, as John Cross mentioned on Twitter after the game, any pressure from City's higher-ups was entirely unnecessary.
Perhaps staving off a trophy-less season by winning the FA Cup could have preserved his job for one more year, but any chance of that has surely gone now.
Pellegrini—or anyone else, really—patrolling the touchline at the Etihad Stadium next year seems as likely as Jose Mourinho taking over at Chelsea.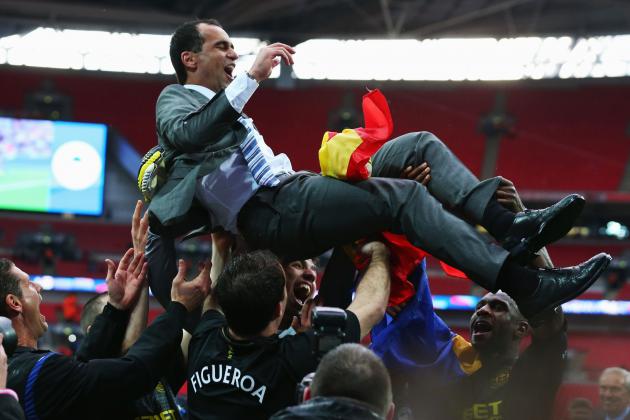 Alex Livesey/Getty Images

Regardless of whether or not Wigan manage to stay in the Premier League (and the math means that such a high-wire act is exceedingly unlikely), Roberto Martinez has likely earned himself some job offers ahead of next season.
Everton, in particular, will be very interested in the Spaniard's services.
It just makes too much sense. With David Moyes stepping up to Manchester United, the Toffees will be looking for a manager who has a track record of success with a small budget and encourages quality football.
Martinez fits that bill perfectly. His profile has never been higher than it is right now, and Everton would not have to pay over the odds to get him. It certainly looks to be on the cards.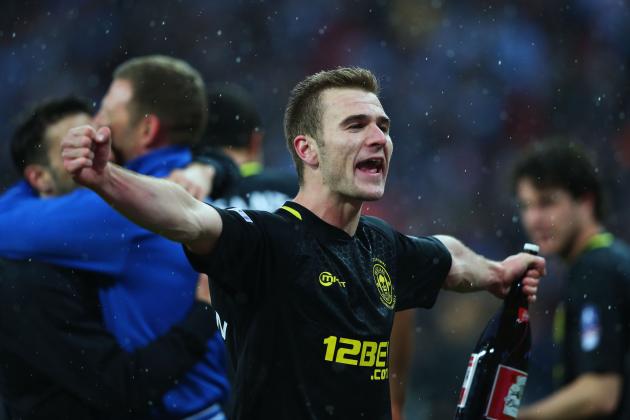 Alex Livesey/Getty Images

Though Ben Watson scored the winner, most of the plaudits for Wigan's shock win have to go to Callum McManaman.
He was simply sublime on the day, and the whole performance had an air of a coming-out party. No single player worried Manchester City's defense as much as the precocious Englishman.
Bleacher Report's world football Lead Writer Will Tidey made a good point during the match:
Do England really have that many better players than McManaman on this form?
— Will Tidey (@willtidey) May 11, 2013
Based on his mazy runs, shimmies and fakes that flummoxed Vincent Kompany and multiple threatening shots, the answer to Will's question is simply "No."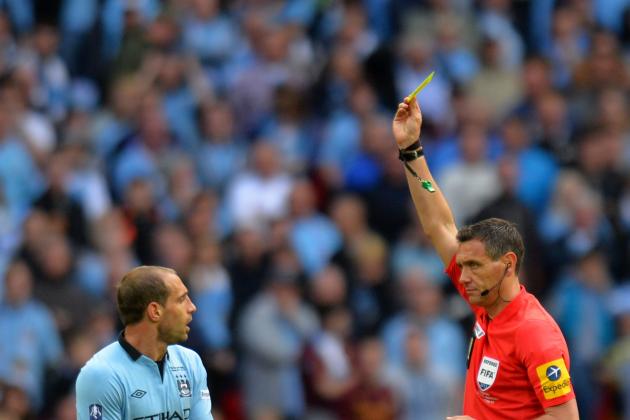 Shaun Botterill/Getty Images

It is extremely ironic that Pablo Zabaleta is the man whose sending off allowed Wigan to get their winner in stoppage time.
The Argentine has been one of City's best and most consistent players all season. The sight of Zabaleta racing down the right flank and hurrying to get back again to make a tackle has been a common one for City fans.
How quickly his impetuousness got the best of him.
His rash tackle on McManaman was not even necessary; Vincent Kompany was tracking back and appeared to have the threat covered. However, Zabaleta impulsively decided to lunge in from behind.
His track record of excellence will absolve him of some of the inevitable flak that will come his way. But his massive error is a reminder of how easy it is for great players to cost their team games.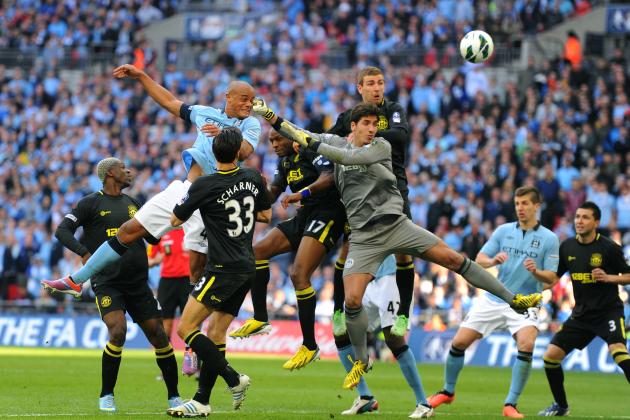 Mike Hewitt/Getty Images

After he was signed on loan from Atletico Madrid in January, Joel Robles was quickly made Wigan's starting goalkeeper.
It was easy to see why.
Though he made many crucial interventions throughout the course of the game, Joel's excellent performance will be remembered by one single save, which might be the best of the season.
With Carlos Tevez one-on-one and Joel struggling to recover from his position on the wrong side of the goal, the goalkeeper got not a foot, but a toe to the ball and somehow kicked it just over the crossbar.
How Joel extended himself and got enough toe power on the ball to divert it away from goal is beyond me, but it likely saved Wigan from defeat.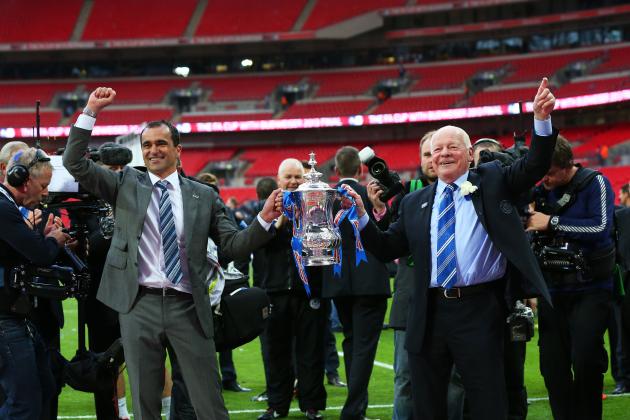 Alex Livesey/Getty Images

Wigan and their fans will rightly revel in their first FA Cup victory, but winning the trophy matters not when compared to the significance of staying in the Premier League.
The reality is that they will have to make up ground on their rivals to do so. Sunderland, Newcastle, and Norwich are all on 38 points, and Wigan have 35. There are two games remaining. The target is still in sight, but it is likely that the Community Shield will feature a Championship side.
This possibility is exacerbated by the fact that the Latics face a quick turnaround, traveling to London to play a well-rested and equally motivated Arsenal side this Tuesday.
Wigan were very stretched and tired during the final 10 minutes, and keeping up with Manchester City for the whole game will have taken a lot out of them.
The venerable performance that won the FA Cup indicates that they have the quality to pull off a surprising couple results. We'll have to see how far this momentum carries them.