Star Athletes Who Got Owned by Scrubs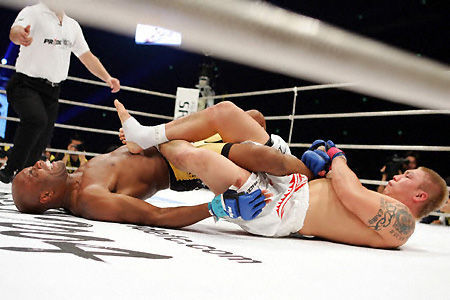 Source: mmamania.com
Athletes become sports stars when they dominate their sport. They win points. They win games. And they win titles. Does showmanship and personality play a factor in their popularity? It does. But no true sports star lacks gobs of talent.
These stars—like all of us—have bad days. They miss shots. They throw interceptions. They get dunked on. But that's understandable; it's even expected when the rival is a peer. Egos remain intact. It's all good at the end of the day.
Every now and again though, a scrub, a boochie, a third-stringer, a D-lister arises from the abysmal depths of the bench and gives a sports star a potent and inexpugnable humbling.
Click on to see the humiliation.
Begin Slideshow

»
Thomas Scholl, a 17-year-old goaltender with the Fresno Monsters of the NAHL, whipped up a batch of humiliation cupcakes and tossed one out to Pittsburgh Penguin phenom Sidney Crosby, and another to L.A. King star Scott Parse, during a 2012 training camp drill.
Webb who? Yeah, exactly. Simpson had not won a single major title. In fact, this was only his fifth crack at one. But he edged out PGA champions Graeme McDowell, Michael Thompson, Jason Dufner, Jim Furyk, Pádraig Harrington, David Toms, Ernie Els, and others to win the 2012 U.S. Open.
Ronaldo's got mad juggling skills. It's just that the kid has got far more.
Rivers, a multiple-time Pro Bowl quarterback for the San Diego Chargers, scored a big fat ostrich egg in the accuracy portion of a competition at one of his training camps.
The targets? Stationary tires. As in not moving.
High School quarterback Will Nunn of Huntsville, Alabama fared much better and won the overall competition.
Cut by two other teams. Unproven. Unwanted. Jeremy Lin was looking at a long career of bench riding.
Then Linsanity happened.
The Nets and the Jazz went down, but most people thought Linsanity would end on February 12, 2012 when Jeremy met Kobe.
Nope. Lin was on fire and scored 38 points to Kobe's 34.
Bob Hope was an avid golfer who played with every U.S. president from Eisenhower to George W. Bush. He has been inducted into the World Golf Hall of Fame.
But in October 1978, a boy—not yet three years old—showed the old pro a thing or two about putting.
In Hope's defense, the humbling little tot was none other than Tiger Woods.
In August 2011, LeBron James visited Barcelona as part of a merchandising tour. One of his stops was at this gym where he played a game of knockout with some local teens. The King got schooled by a 16-year-old. Afterwards, James reclaimed the teacher role and ran the kids through some drills.
Click here to see an HD video of the full knockout game.
Sports Illustrated has called Ricardo the busboy a "Rain Man of Pop-A-Shot." And he must be. Watch in the video as he doesn't just edge out an uncomfortable Kobe, he destroys him. Also on Ricardo's list of the defeated are:
Carmelo Anthony
Lamar Odom
Charles Barkley
And yes, even King James
Anderson Silva was not always the MMA monarch that he is today, but this—one of two submissions in his fabled career—was a true stunner.
Ryo Chonan was not then, and is not now, anywhere close to being of the MMA elite. He is a mediocre fighter with a mediocre record. How amazing is it that he has just two submissions to his name and one of those is from The Spider?
Not all over-a-car dunks are created equal. Blake Griffin oohed and aahed thousand with his automobile posterizing in the 2011 NBA dunk contest.
But a month later at a dunk contest in Poland, a nobody who deserves to be somebody named Guy Dupuy decided to show High Griffinition how it's really done.
Click here to see the two dunks on the same page.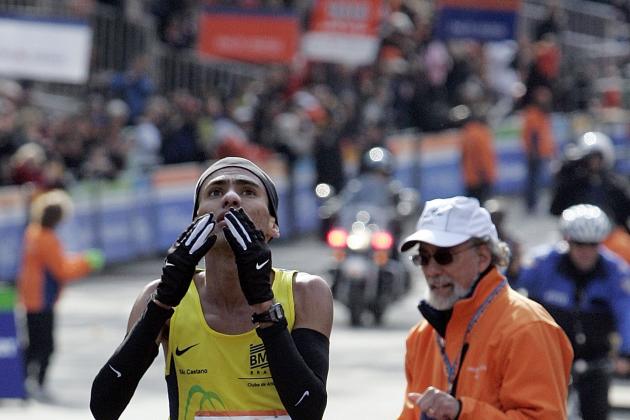 Stephen Chernin/Getty Images

Paul Tergat of Kenya was the 2005 New York City Marathon champion and the world-record holder. Most eyes were on him to win the 2006 NYC Marathon.
Not Marilson Gomes dos Santos, a Brazilian who had never won a marathon before—who no one had even heard of.
Not only did Gomes win, but "his lead grew so large that spectators walked their dogs through intersections between [Gomes] and the chase pack."
In July of 2008 LeBron James played in a pickup game with college kids at the LeBron James Skills Academy. A pickup game he would never be allowed to forget.
See, according to legend—and some grainy video footage—a college sophomore posterized the King. Not wanting the yamming to go viral, LeBron allegedly ordered the footage to be tossed in the nearest volcano (OK, just confiscated).
Uh-oh, LJ. Didn't consider all those folks out there with handy-dandy cell phone cams, did you?
Source: Indiana University
In his three-year college run, Jordan had yet to be knighted "His Airness." But he was still a supernova for the Tar Heels whose "athleticism [had] already set him apart on both ends of the floor."

Dakich, known by some as "the Last Mortal to Stop Michael Jordan," was a sometime-starter for the 1984 Hoosiers. He was given the Herculean task of guarding Jordan in the 1984 NCAA tournament regional semifinal.
Dakich held Jordan to 13 points before the soon-to-be-NBA royal fouled out. "And I beat him like a dog," Dakich allegedly said of the incident.
You know the tale. You (probably) love it. A squad of college kids fired a pebble from their slingshot and took down the allegedly indomitable 1980 Soviet Olympic hockey team, which was composed of the greatest living players to skate the terra gelida.