Toronto Maple Leafs vs. Boston Bruins Game 5: Live Score, Updates, Analysis
Led by the sharp play of goaltender James Reimer, Toronto silenced a raucous Boston crowd by beating its host 2-1 in Game 5 of this first-round NHL postseason series. Reimer stopped 43 shots to preserve the Leafs' late lead and force a Game 6 Sunday in Canada.
Tyler Bozak scored the first goal of the night on a shorthanded effort and teammate Clarke MacArthur cashed in on a Bruins turnover to give Toronto a 2-0 lead less than two minutes into the third period. Boston stalwart Zdeno Chara cut the Leafs' lead in half by scoring with 8:48 remaining in regulation but Reimer stood tall the rest of the way.
Toronto overcame a heartbreaking Game 4 overtime defeat to breathe new life into its Stanley Cup chances. Boston failed to knock out the Leafs on home ice and must now head north of the border for another elimination game.
Final: Toronto 2, Boston 1
Toronto prevails 2-1, forces Game 6 on home ice!
The Maple Leafs made the most of their final opportunity to extend the 2013 season. Toronto refused to relinquish a late lead and is headed back home for Game 6,
Boston fell behind 2-0 and couldn't solve Leafs goalie James Reimer, who finished with 43 saves. The Bruins squander a chance to take care of business and end the series on home ice.
Toronto 2, Boston 1 (1:20 1st Period)
The Maple Leafs killed a pivotal power play opportunity, standing tall against a series of Bruins scoring chances. Toronto is closing in on a Game 5 road win.
Boston 2, Toronto 1 (3:48 3rd Period)
The Bruins begin a power play with less than four minutes remaining in regulation. The squad has scored three goals with a man advantage in this series.
Big moment right here as Boston seeks to avoid a return trip to Toronto.
Bruins cut lead in half as Zdeno Chara makes it 2-1 with 8:48 remaining in regulation!
Fresh off a Game 4 in which he tallied a franchise-record four assists, Chara has stepped up to slice Toronto's lead to 2-1. Boston bombarded goalie James Reimer with shots through three consecutive line changes before finally breaking through.
Boston has outshot Toronto 14-3 in the period. The Bruins have intentions of closing out this first-round series with a win tonight.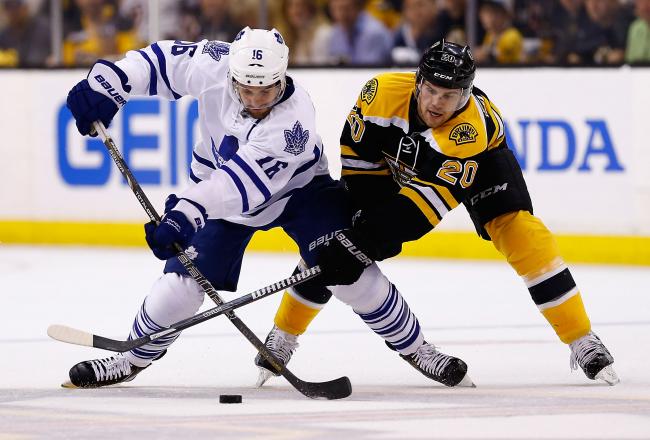 Toronto 2, Boston 0 (11:30 1st Period)
The Bruins have threatened to erase a two-goal deficit but James Reimer and company refuse to surrender anything. Jaromir Jagr is suddenly extremely active, tied with teammate Johnny Boychuk for the team-lead with five shots.
Boychuk just sent a slapshot off the crossbar, inches away from his third goal of the series.
Reimer has 32 saves tonight but Toronto needs to resume its early tenacity if it hopes to survive a furious Boston rally.
Toronto takes 2-0 lead on goal created off turnover with 18:02 remaining in regulation!
Clarke MacArthur took advantage of sloppy play by Boston to score his second goal of the series. Boston turned over the puck and MacArthur came up with it, producing an unassisted score.
He put on a pair of nifty moves and got Rask to bite early. Once the Bruins goalie was sprawled it wasn't hard for MacArthur to beat him and vault Toronto ahead 2-0.
Toronto takes 1-0 lead into third period as James Reimer protects slim advantage!
Leafs goaltender James Reimer was largely untested in the opening period, facing eight shots. He stood tall against 17 shot attempts in the second period and stopped each one.
Toronto took the lead in the period when Tyler Bozak scored a shorthanded goal. Boston has been unable to beat Reimer despite a drastically improved offensive effort after first intermission.
The Leafs are 20 minutes away from forcing a return trip to Toronto for Game 6. Remember, Game 4 went to overtime on Wednesday night.
Stay tuned for coverage of the third period.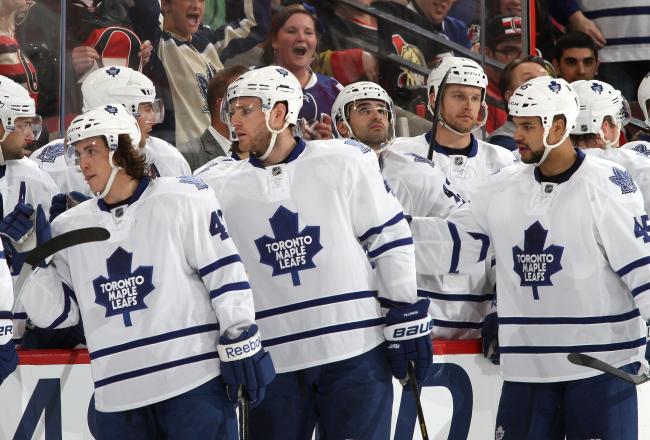 Toronto finally takes advantage, claims 1-0 lead over Boston with 8:33 left in second period!
The Leafs were denied on the first 26 shots of the game, but managed to cash in under unlikely circumstances. Toronto's Tyler Bozak scored his first goal of the postseason during a Boston power play.
Bozak's goal puts Toronto in front 1-0 in a do-or-die situation for the team. The Leafs managed just one shorthanded goal in 48 regular-season games so this is quite the rarity.
The Bruins need an anemic offense to get going.
Boston 0, Toronto 0 (14:10 1st Period)
Tension continues to climb in Game 5 as a the stakes soar in a scoreless game. The Leafs have outshot their hosts 25-12 through nearly 26 minutes of game action.
Toronto winger James van Riemsdyk has been particularly active. The offseason acquisition from Philadelphia has three shots on goal and seems to be in the mix on many scoring chances.
Boston survives Maple Leafs onslaught, game locked in scoreless stalemate at first intermission!
Toronto isn't wasting its last opportunity to extend the 2013 season. The Leafs fired 20 shots at Boston goalie Tuukka Rask but those efforts aren't reflected on the scoreboard, which still shows a pair of zeros.
The Bruins managed just eight shots in the opening 20 minutes of action and looked bombarded by a tenacious Toronto attack at times. Still, the squad remains in good shape to wrap up this series on home ice.
Stay tuned for second period action....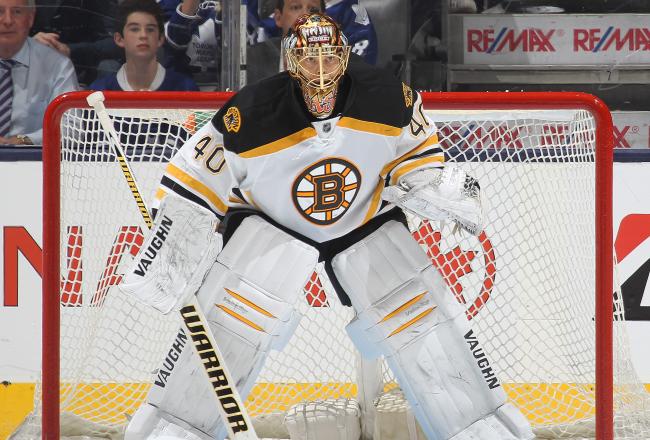 Boston 0, Toronto 0 (3:30 1st Period)
Just two years after Boston goalie Tim Thomas claimed the Conn Smythe trophy by leading his team to a Stanley Cup title, the city is embracing another standout netminder. Tuukka Rask already has 19 saves, bailing out a sluggish Bruins squad.
Perhaps more impressive than the volume of shots Rask has turned away is the low percentage of attempts that have resulted in rebound opportunities for Toronto. Boston fans are serenading Rask who howls of "Tuuuuuuk" after nearly every save.
Boston 0, Toronto 0 (7:10 1st Period)
A back-and-forth affair hasn't left much room for either team to establish momentum in the opening period. Toronto is clearly expending more energy early and that's to be expected considering the squad's dire straits.
Bruins goalie Tuukka Rask continues to be tested. He's already turned away 13 shots and seems to be in store for another busy night.
The 26-year-old netmider made 90 total saves between Games 3 and 4.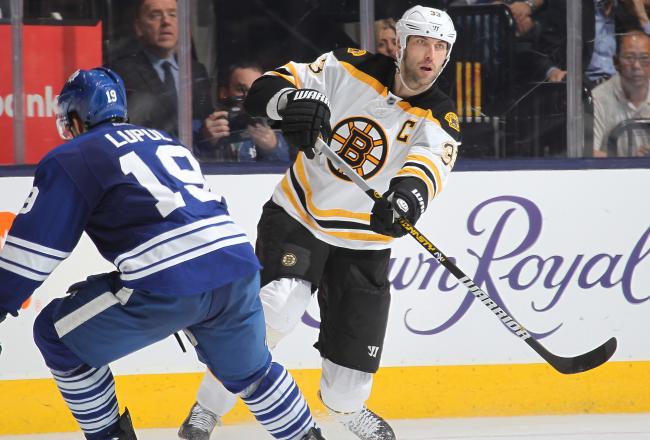 Boston 0, Toronto 0 (14:55)
Toronto failed to cash in on the early man advantage. The Leafs' offense can't afford to stall tonight considering the way Boston has ramped up its offensive attack in recent games.
The trio of Lucic, Krejci and Horton have accounted for 22 points (eight goals) through four games in this series. Meanwhile, Zdeno Chara established a new franchise record with four assists against Toronto in a Game 4 overtime victory.
Boston 0, Toronto 0 (18:14 1st Period)
The Maple Leafs have an early opportunity in Boston. Chris Kelly picked up a two-minute penaltyh for tripping Toronto's Jake Gardiner.
Any advantage is crucial for the Leafs with their backs against the wall in this series.
This article is
What is the duplicate article?
Why is this article offensive?
Where is this article plagiarized from?
Why is this article poorly edited?