9 Acts Who Went from Super Cool to Super Fool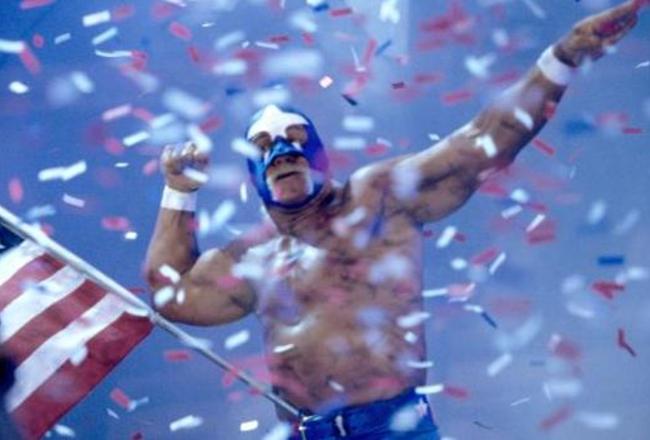 photo via wrestling-match.com

To most of the outside world, professional wrestling isn't cool.
Actually, to most, it's very un-cool.
Overall, it's probably somewhere between NASCAR and Star Trek reruns in terms of social acceptance.
But that doesn't mean that there haven't been a lot of great acts who made it cool to watch the sport over the years. Especially during the Rock 'n' Wrestling and Attitude Eras, wrestling transcended its devoted fanbase, and became a part of mainstream entertainment. In the late '90s, you couldn't go anywhere without seeing a few Austin 3:16 and NWO T-shirts.
As almost every entertainer knows, though, you can't be cool forever. Even huge stars like Elvis, Tom Cruise and Michael Jackson all fell from great heights in their time.
Wrestling has also had its share of acts that went from hot to embarrassing in a matter of years. This list leaves off talent who had personal troubles which made them embarrassing to watch (Jake Roberts, Scott Hall), and focuses on those who could seemingly do no wrong... until they did.
Here is a list of wrestlers that set the world on fire, and then just made us embarrassed to watch.
D-Generation X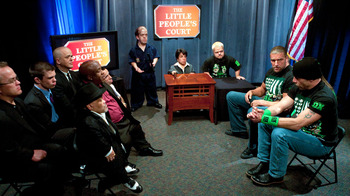 photo via hbksource.net
Are you ready?
Many wished that Shawn Michaels and Triple H weren't ready to reform DX in 2006.
In the late 90s, DX was awesome. They personified cool in the WWF. They defied authority, played by their own set of rules, made fun of WCW and were genuinely a blast to watch.
Triple H, HBK, Road Dogg, Billy Gunn, X-Pac, Chyna, Rick Rude and Tori were the eight members who composed the group during the course of the original run.
They slowly began to dissolve when it was clear that Triple H was being groomed as a top star.
For years, DX remained a fond memory to fans who would pine for the "better days" of WWE. Unfortunately, the group should have remained a memory.
Instead, Michaels and Triple H dug up the grave of DX and crotch chopped all over it.
From the get go, the group just didn't feel right.
Gone was every other member except for Triple H and Michaels. No one new was brought in either. This was a big problem, as there was no one cool in the group anymore. It was just two dudes in their 40s dancing around like idiots, acting like teenagers and making cornball jokes.
The group just no longer worked because they weren't really defying authority, they were the authority. Sure, Michaels and Triple H fought Vince and Shane McMahon in the storyline, but most fans were aware that Triple H was married to Vince's daughter in real life, and that he had more power than just about anyone in the company.
They traded in edginess for mugging for the camera, hung out with Hornswoggle, constantly plugged their own merchandise, battled male cheerleaders and made way too many gay panic jokes that were well past the point of expiration and political correctness.
Any time that Triple H brings up DX these days, and how rebellious they were, he loses a bit of credibility by how astoundingly awful their reformation was.
The NWO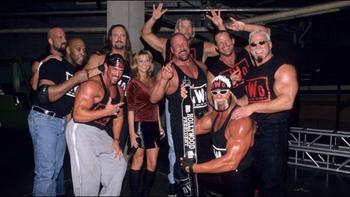 photo via the-coli.com
Scott Hall and Kevin Nash just reeked of cool when they joined WCW in 1996.
They were Outsiders who appeared to come from the WWF to take over. Then, Hulk Hogan joined, which brought them to a whole new level of popularity.
Other additions like The Giant, and Syxx kept up their outlaw vibe. The music, the spray paint and the cutting edge videos they introduced ushered in a new era of wrestling.
Somewhere along the way, things got messy.
While the first few members were cool, Vincent, Horace Hogan, Stevie Ray, Brian Adams, David Flair, The Disciple, Michael Wallstreet and Big Bubba were very much not cool. Still, the New World Order remained popular for some time.
Once the WWF started to beat WCW in the ratings, the NWO was far too complicated, with too many members (the red and black NWO Wolfpac was also added during that time). The entire show just felt like a rerun while the WWF was on fire.
By the very end in WCW, it was down to Jeff Jarrett and The Harris Brothers as the sole members of the group.
To go from Hall, Nash and Hogan to Jarrett and Ron and Don Harris is one of the most depressing stable declines of all time.
Maybe it's not a bad thing that the group really wasn't "4-life."
Steve Austin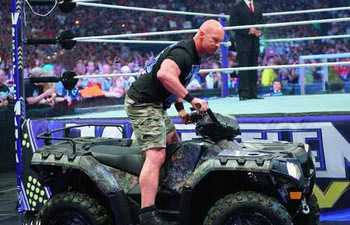 photo via wrestlingsuperstore.com
Perhaps no one in wrestling history had a hotter run than Steve Austin did in the late '90s.
But by 2003, Austin quietly retired. His neck was far too damaged for him to compete at an elite level. WWE wanted to keep his star power around, so he stayed on Raw as the Co-General Manager along with Eric Bischoff.
The two had a fun relationship at first, then Austin was "fired" from WWE when his team failed to defeat Bischoff's at Survivor Series.
Then, things got lame.
WWE has never been known to stay true to their stipulations, and ended up bringing Austin back a mere six weeks later to become the "Sheriff" of Raw. He was there to enforce law-and-order, and ride around on an ATV… and wear a badge.
He looked ridiculous, as even Triple H was keen to let everyone know. A segment between the two on Raw pretty much destroyed Austin's gimmick, and pointed out how ridiculous it was. Even those backstage started to second-guess the decision to cast Austin in this role.
Every week we saw the same old shtick. Bischoff would announce a match giving the heels the advantage, then Austin would reverse it. Bischoff would look frustrated, and Austin would then Stun him or someone else.
Since Austin could no longer take bumps, whenever he got into a physical confrontation with any talent, he was the one who would win the fight. This however, didn't really help elevate anyone.
Austin and WWE had another falling out, and he left the company. In the end, it probably wasn't a bad thing for him to take some time off when he did, as continuing as The Sheriff would have damaged his legacy.
Hulk Hogan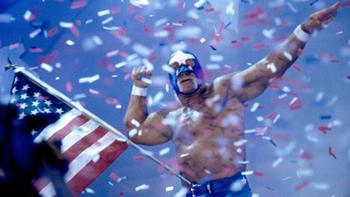 photo via wrestling-match.com
Now to some, Hulk Hogan was never cool. But there was a long time where he dominated the wrestling world and brought the WWF to new heights.
Hogan's feuds with Andre The Giant, Randy Savage and The Ultimate Warrior were legendary.
His feuds with Sgt. Slaughter, Yokozuna and his Mega Maniac tag team with Brutus "The Barber Beefcake" were legendarily awful.
It seems that it was sometime in between WrestleMania VI and VII when Hogan began to wear out his welcome in the WWF. After seven straight years as the top guy in the company, fans were justified in feeling a little restless for something new.
Besides, a whole young crop of new talent like Bret Hart, Shawn Michaels and Razor Ramon were right around the corner waiting to break through.
Once Hogan joined WCW, he took his lameness with him along with Jimmy Hart in tow. But the New World Order made Hogan cool again by surrounding him with the hottest acts in wrestling.
As the NWO dragged on, Hogan drifted back into un-cool territory, and fell fully into it when he turned babyface again. His feuds with Sid Vicious and Sting just felt ancient compared to what was happening on Raw.
Hogan once more became cool, due to nostalgia, when he returned to the WWE in 2002. However, Vince McMahon misread this, and gave Hogan the title, which got old fast. Then, Hogan sunk to new lows as the masked Mr. America, which was downright embarrassing.
Hogan as a cultural icon? Absolutely. Hogan as cool? Not really.
L.A.X.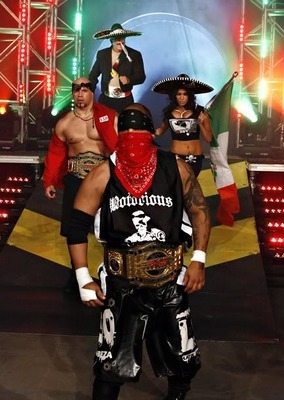 photo via wweespanol.forumcommunity.net
It took the Latin American eXchange awhile to get going, but once they did, it was possibly the coolest thing TNA had ever done.
Homicide, Hernandez and Konnan gave Impact an edge that was desperately needed. The company was struggling to find an identity, and too heavily relied on former WWE wrestlers to carry the show.
Konnan's promos were biting and delivered with passion. The group's entrance was unique, and their theme song was the best in the company. But just as quickly as they attained popularity, they instantly fell into lameness territory when Konnan left.
Konnan quit the company because of pay reasons, and because the company wouldn't pay for his hip surgery.
TNA should have paid up. To replace him in the group, Salinas was brought in (formerly Ariel from WWE) and Hector Guerrero.
Yes, Hector Guerrero.
The group then had to change their theme song (since it was Konnan rapping over it), and they turned babyface. It didn't work. Why would the two revolutionaries suddenly start hanging out with Eddie Guerrero's lookalike 50-year-old brother?
In the end, TNA has still yet to create a group that was as compelling or as interesting as LAX in the six years since the group's demise.
ECW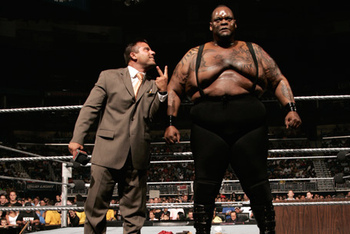 photo via croobal.com
Not many companies get to die four times over, but Extreme Championship Wrestling has had that honor… so far.
The incredibly influential wrestling company was the place that hardcore fans flocked to in the mid-to-late 90s. It blew everything away that the WWF and WCW were producing, with innovative wrestling, cool music and mature storylines.
Sure, you could watch Doink and The Repo Man in the WWF, or you could check out Sandman and Raven in ECW.
The company was unable to compete with the finances of the big leagues, and soon lost nearly every star they had (seriously, Raven, Tazz, Mike Awesome, Shane Douglas, The Dudley Boyz, Eddie Guerrero, Public Enemy, Chris Jericho, Chris Benoit, Rey Mysterio, Sandman, Psicosis, Mick Foley, Bam Bam Bigelow, Steve Austin, Lance Storm, The Blue Meanie and Stevie Richards were all signed away).
The company folded in 2001, but not without first changing the wrestling landscape forever.
So when did ECW become lame? Well, the company took its first big hit when the WWF bought them out and began the Invasion angle. The problem was that ECW talent wasn't treated as equals, and in a hugely idiotic moment, Stephanie McMahon became the storyline owner.
After the storyline concluded, the company went away again.
A few years later in 2005, fans were craving more extreme wrestling, and the WWE gave it to them with ECW: One Night Stand. It was a fantastic show that lived up to the high expectations that were set for it.
Due to the success of that pay-per-view, and the following year's sequel show, the company was brought back full time. Now, the resurrection took place on The SyFy network.
From 2006 to 2010, we saw the legacy of ECW tarnished. While WWE initially showed interest in the company, it eventually gave up. Wrestlers that were the exact opposite of extreme like The Big Show, Kane, The Boogeyman, Bobby Lashley and Chavo Guerrero became featured acts.
Mercifully, the company died, but another company wanted a piece of the pie (or corpse): TNA.
Tommy Dreamer joined TNA, and along with him were several other ex-ECW wrestlers. This ended up culminating in a pay-per-view at Hardcore Justice, which saw the stars of yesteryear once again gather to say goodbye.
The original ECW is and always will be cool, but ECW after 2001 was more extremely embarrassing than anything else.
Dusty Rhodes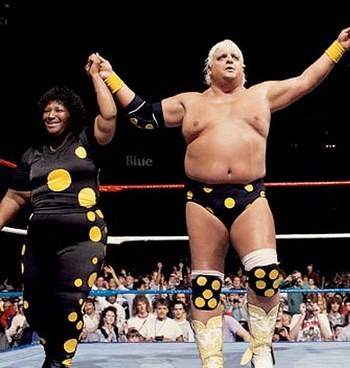 photo via thehistoryofwwe.com
Dusty Rhodes was the epitome of the American Dream.
The man was the son of a plumber, a true blue-collared worker. He didn't look pretty, and he didn't care. He represented the common man, and what could be accomplished by never giving up, no matter how badly the odds were stacked against you.
It didn't matter if he was outnumbered by The Four Horsemen, or out-powered by The Road Warriors. The man didn't have an ounce of quit in him.
Then, he joined the WWF and became a fat man who dressed in polka dots and danced.
Yeah, not very cool.
The Ultimate Warrior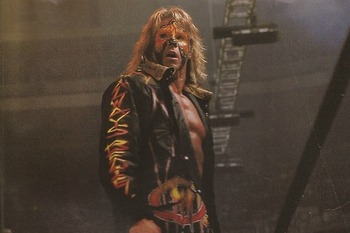 photo via wrestlingdelorean.tumblr.com
For wrestling fans who grew up in the 1980s, The Ultimate Warrior was awesome.
The look, the music, the jacked physique and the facepaint all created one cool dude. Older fans could probably tell he stunk as soon as the bell rang, but for the kids, he was a larger-than-life personality that they rallied behind.
The Warrior has always had a mystique to him. His promos were downright bizarre, but strangely intriguing. That is, until his WCW return.
His initial fanbase was older and wiser, and The Warrior (no longer Ultimate, just The Warrior) now just seemed silly. His nonsensical promos became frustrating in that they seemed to never end. Fans just wanted to see him kick some ass. But instead, he just went on spouting pseudo-philosophical mumbo jumbo.
Oh, and he also turned into a ghost and hid in mirrors.
What made this all even lamer was that the WWF was smack in the middle of the electrifying Attitude Era. Meanwhile, WCW was revolving around a feud from a match that took place seven years earlier in a different company.
The Warrior only lasted a few months though before he was gone. It's too bad that it wasn't the last we saw of him.
The man (now legally known as The Warrior) began to champion his conservative causes and self-improvement lifestyle. But by doing this, he mainly exposed that he's homophobic, and a huge jerk. Suddenly, it became a lot less cool to support the guy.
If only he had always kept his mouth shut.
John Cena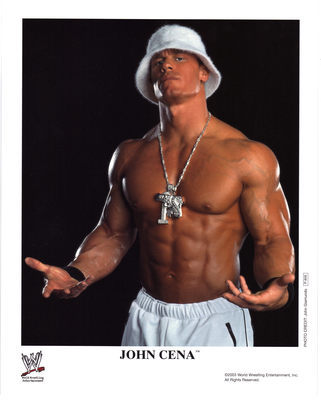 photo via imageevent.com
Don't laugh. Don't throw something at your computer. It's true, at one point, John Cena was cool.
In 2002, Cena debuted as a pretty bland babyface. His only defining trait was wearing the color of the hometown's football team on his trunks.
Eventually, he turned on Billy Kidman, and a new character was born.
After dressing up as a rapper for a Halloween edition of SmackDown, the look became his trademark. Every week, he came to the ring and laid out funny and edgy freestyle raps on his opponents. Sure, he looked silly, but it just made you hate the character more.
Then, within a year, Cena turned from a cool heel to an insufferable babyface. The raps were gone, the toilet humor was in. His most hardcore fans still liked him, but over the years his fanbase switched from adult males to women and children 12 and under.
Every now and then, Cena still shows some edge on his promos, but at least half of every audience these days can't stand his constant smiling, his superhuman abilities and his horrendous jokes.
Will Cena ever become cool again? Maybe he still has it in him deep down somewhere, but the question is whether he actually wants to try and reclaim it, or just rely on poopy jokes from here until the end of time.
Keep Reading