Image via neogaf.com
Steve Dykes/Getty Images
A wise man once said "The boys in the hood are always hard. You come talking that trash, we'll pull your card."
I like to think of this as a metaphor about the karmic nature of life—the importance of knowing when to keep your mouth shut and when to just let the Alpine play, if you will.
Some people just can't stop jabber-jawing, however. They get gassed and start talking a big game. Fittingly enough, these are the same people who often don't walk the walk as well as they talk it. Running your mouth doesn't always pay dividends, and sometimes you pay for it—especially in sports.
The following are some of the instances when trash-talking backfired big time in athletes and fans' faces. They might get away with jaw-jacking for a spell, but eventually Mother Karma stepped in and started pulling cards.
"We Want the Ball and We're Gonna FAIL"
At the end of the 2004 NFC Wild Card Game, the Seattle Seahawks and the Green Bay Packers were tied 27-27 and going into overtime.
At the overtime coin toss, the Seahawks correctly called heads and were asked whether they wanted to kick off or receive. Juju, karma or whatever you liked to call it was on their side—that is, until Seahawks quarterback Matt Hasselbeck squealed "We want the ball and we're gonna score!"
As it unfolded, Hasselbeck threw a pick-six in the following possession and lost the Seahawks the game.
Welp.
Karma Comes Around
Fan taunts Steve Sullivan and his bloody nose. Sullivan turns around, scores twice and the fan gets hit by a wild puck.
I don't care if you believe in karma or not, cosmic justice was served on this day.
LeGarrette Said Knock You Out
After defeating Oregon 19-8 in 2009, Boise State linebacker Byron Hout decided he wanted to dance with the devil and taunted Oregon's LeGarrette Blount as the teams were leaving the field.
As it happens, Blount doesn't play that game, and he cold-cocked Hout in front of God, countrymen and the viewing public. Blount was suspended for the rest of his senior season for this stunt, illustrating the point that while trash-talking can land you in hot water, physical cheap shots will get you in even bigger trouble.
Flyers Loudmouth Gets Spooked
Big man! Talking smack during warm-ups!
This Philadelphia Flyers fan thought a sheet of glass would keep him safe while he taunted the entire Buffalo Sabres team. He was wrong. So very wrong.
After attracting a few puck-flips from the squad, one blessed shot hits the panel and shatters it everywhere, sending the codger and his lady friend ducking for cover.
Advantage—Sabres.
Frank Mir Pisses off the Wrong Guy
Cardinal rule: Don't instigate Brock Lesnar.
Frank Mir dashed this rule with reckless abandon when he said "If we fight 100 times, would I win 99 percent of them? Yeah."
All Mir got out of his fight was a free blood-letting courtesy of Lesnar's fists.
Spike Lee Chokes Away the Game
Eighteen years have passed since the famous "choke" scenario between Spike Lee and Reggie Miller, and still it remains one of the foremost examples of taunting gone wrong.
Lee's attempts to trash talk Miller off his game during the 1995 playoffs between the Knicks and Pacers only served to piss the Pacers shooting guard off, and resulted in one of the most ridiculous comebacks in the NBA postseason history.
Tony Gwynn Jr. Destroys Heckler with Glove
Talk to the glove, bro—because Tony Gwynn Jr. doesn't have time to respond to your junk.
This heckler attempted to make everyone laugh by going after Gwynn, but the tides turned when the outfielder began flapping his glove along to the rambling.
Kaboom—idiot terminated.
Chael Sonnen Tells Anderson Silva He Sucks
Chael Sonnen, the king of UFC trash-talkers—very possibly the undisputed trash talking in all of sports—issued this insult/challenge to Anderson Silva after defeating Brian Stann at UFC 136.
So how did that work out for Sonnen? He was obliterated by Silva with a sonic knee to the chest and quickly dispatched with a flurry of punches to the head shortly thereafter.
By the way, was that a Charles Barkley sighting at the end Sonnen's trash talk back there?
Ref Throws Darcy Tucker off the Ice
Tampa Bay's Darcy Tucker raised his voice to the wrong ref after getting in a fight against the Pittsburgh Penguins in 1998.
The Lightning center was being hauled off the ice by referee Mick McGeough when he said something that miffed McGeough, and the giant official threw him bodily from the rink.
Lesson? Keep your mouth shut, lest an official of the game hammer-tosses you into the stands.
Richard Sherman Gets Mushed
Muuuuushhhhhhh.
Trolling is half of what Richard Sherman does, the other half is picking off passes and taking them to the house.
While Sherman's mouth (and the Seahawks) won the war, Trent Williams won a small battle with this slow-mo mush-tacular replay that aired on televisions across the country.
Enter the Domi Dome
Does Tie Domi have to choke a snitch?
Yes, yes he does, apparently. The former Toronto Maple Leafs winger ended up in a ridiculous tussle with a fan after squirting a pair of hecklers behind the penalty box with his water bottle. One fan took exception, leapt at the glass and ended up falling into the Domi Den. What followed was a brief and unceremonious walloping, favoring Domi.
As Domi said (h/t SportsIllustrated.com), "Hey, that's old-time hockey...he comes into my territory, that's what happens."
Tom Brady Gets Overconfident
Tom Brady laughed when he heard Plaxico Burress had predicted the New England Patriots would only score 17 points in Super Bowl XLII.
His laugh was trash talk in response to trash talk, only Brady turned out to be flat wrong. The Giants beat New England 17-14, Burress was vindicated and Brady was forced to eat a big slice of humble pie.
Heckler Gets Tased
Head to the 7:50 mark to ride the lightning.
Some jabroni at a Daytona Cubs game had about 12 too many over the course of this game, and after the man refused to shut up, he was (presumably) asked to leave the ballpark.
Unfortunately for him (and fortunately for the Internet), the man belligerently stood his ground and ended up getting tased while resisting arrest.
Sherman Owns Skip Bayless
Say it with me—"All-Pro Stanford graduate."
That's how Richard Sherman rolls, and the Seahawks cornerback let ESPN's Skip Bayless know just who he is when he joined First Take to defend his reputation.
Bayless had called out Sherman as being a disrespectful player who has "talked his way onto the map." Pretty bold for a guy who...also...talked his way...onto the map.
Sherman came back at Bayless with ice-cold remarks, completely throwing Bayless under the bus on his own show. Frankly, it was as awkward as first-cousin love, but the line of the day and the winner of the exchange was Sherman for "I'm better at life than you."
Actually, the winner of this "exchange" might be Stephen A. Smith's bemused face.
Taunting in MMA Rarely Pays off
Think you're tough? Maybe you should try MMA—but don't do what this guy did.
Letting the opponent punch you repeatedly in the face is a low percentage tactic, guys.
Chris Culliver's Comments
San Francisco 49ers cornerback Chris Culliver made headlines before Super Bowl XLVII after making comments during a radio interview that many considered to be homophobic.
When he was asked if there were any gay players on the team, Culliver responded (via Eyder Peralta of NPR.org), "We ain't got no gay people on the team. They gotta get up outta here if they do."
It wasn't trash talk, per se, but the distraction the comments made certainly didn't help him focus on Super Bowl Sunday, where Culliver played abominably in a losing effort for the 49ers—getting picked on by the Baltimore offense and giving up two huge plays to Ravens receivers.
Notre Dame Shirt Backfires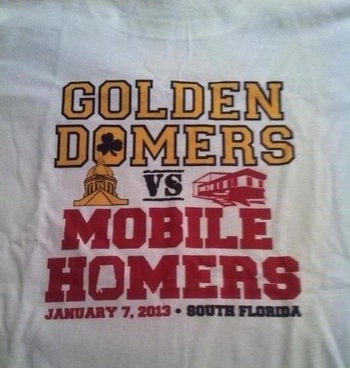 Image via LarryBrownSports
Notre Dame—great shirts, not as great football team.
The Fighting Irish had some clever apparel made before the 2013 BCS title game, but it didn't stop them from getting demolished and humiliated by Alabama, 42-14.
Anthony Smith Guarantees a Win
Guarantees win. Loses 37-13.
Former Steelers safety Anthony Smith didn't care about no spotlight, and the Patriots didn't care about his 2007 prediction that Pittsburgh would undoubtedly defeat them.
It's one thing for a Pro Bowler to guarantee a win, it's another thing when a guy no one knows about starts earmarking W's against the Patriots.
Alain Bernard Puts a Wet Foot in His Mouth
Before kicking off the men's 4x100 freestyle relay, France's Alain Bernard had some trash-talking for the American swimming team.
"The Americans? We're going to smash them. That's what we came here for," Bernard told reporters (h/t Charles Robinson, Yahoo! Sports).
When the swimmers finally hit the water for the event, it looked like the Frenchman was correct. Bernard was leading the race by half a body length going into the final 50 meters but was chased down and beaten at the line by America's Jason Lezak.
Comment dit-on, 'Want to get away?' en francais?
Mo Williams, Mo Problems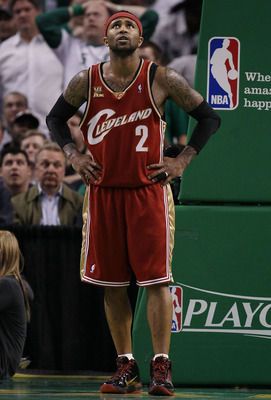 Elsa/Getty Images
Cavaliers guard Mo Williams might've been "goaded" into guaranteeing Cleveland would win its 2009 playoff series against the Orlando Magic, but he still said it.
"Guarantee we're going to win the series? Yeah, yeah," Williams said to reporters before Game 4 of the conference finals (h/t Oly Sandor, HoopsVibe.com).
Yea, that didn't exactly pan out.
Keep Reading
Load More Stories