First Quarter Grades for the Baltimore Orioles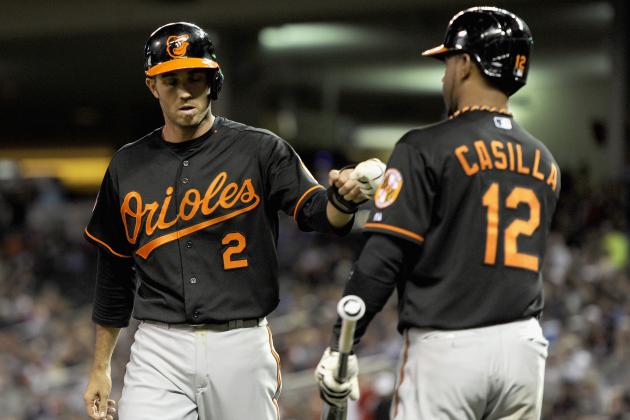 Hannah Foslien/Getty Images

Despite their mediocre 9-8 home record, including losing their last two to the San Diego Padres, it's hard to complain about the Baltimore Orioles' success throughout the first 40 games of the season.
Their 23-17 record is good for third in the AL, only behind the New York Yankees and Texas Rangers.
While they're off to a good start, the O's still have plenty of work to do to reach the success that they garnered last year. But, if they continue to play as they have, they could reach all their expectations.
So, without further ado, here are the first quarter grades on each aspect of the Orioles' game.
Begin Slideshow

»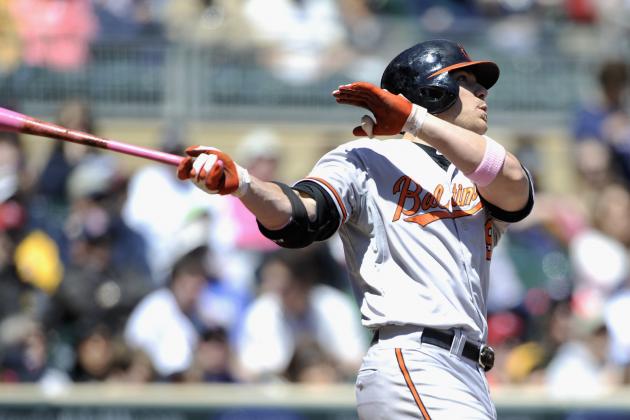 Hannah Foslien/Getty Images

Positives
The top of the Orioles' lineup has carried them through the season so far.
While predictably cooling off and only hitting .156 in May, Nate McLouth remains a solid leadoff man, capable of setting up a vast number of RBI opportunities for the heart of the lineup.
Speaking of the heart of the lineup, Nick Markakis has been his consistent self, Adam Jones is blossoming into a superstar and Chris Davis leads the team, and nearly the entire AL, in ever power category.
But the most resounding success story thus far has been the 20-year-old Manny Machado. Batting in the two-spot, Machado is averaging a team high .343 and is on pace for 20 homers, 97 RBI and 69 doubles. His 59 hits lead all of baseball.
Negatives
While improving some as of late, especially J.J. Hardy who is currently on an 11-game hitting streak, the bottom of the O's lineup has been the weak point of the team.
While batting sixth on most occasions, Matt Wieters leads the six-through-nine hitters with a .237 average, which is much lower than each of the top five hitters.
Neither Nolan Reimold nor Ryan Flaherty are above the Mendoza line, and their platoon mates, Steve Pearce and Alexi Casilla, haven't been much better.
Overall
The Orioles are third in the MLB in runs, second in runs per game, and, while still seventh in the league, are not depending on the home run as much as they did previously in 2012.
Despite the bottom of the order, the Orioles have been one of the most explosive offenses in the majors.
Grade: A-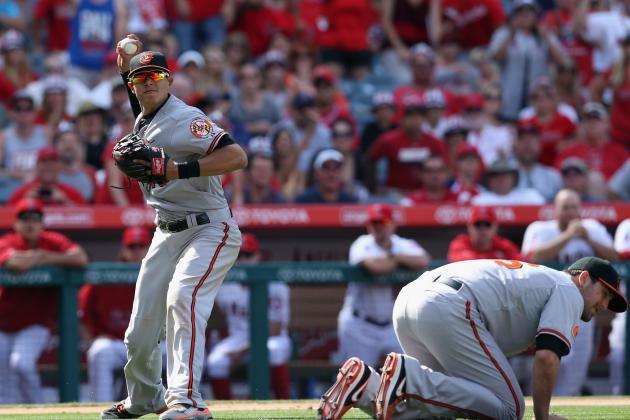 Jeff Gross/Getty Images

Positives
Just like from the hitting prospective, the youngest player on the Orioles has been the most impressive defensively. Machado has only committed three errors, has made numerous outstanding plays and leads MLB third basemen in defensive WAR.
Gold Glove recipients J.J. Hardy, Nick Markakis and Matt Wieters have all lived up to their defensive pedigree.
And both second basemen, Flaherty and Casilla, have yet to commit an error.
Negatives
Despite only officially having one error, Gold Glove outfielder Adam Jones has made a couple of misplays on fly balls that should of been caught.
Lately, it seems that the sun hasn't been friendly to the Birds, as a few pop-ups have been lost in the sun. This, however, is largely uncontrollable.
Overall
The Orioles are tied for tops in the majors in both errors committed (12) and fielding percentage (.992). While they have gotten away with a few gaffes that were given as base hits, defensively, the Orioles remain solid.
Grade: B+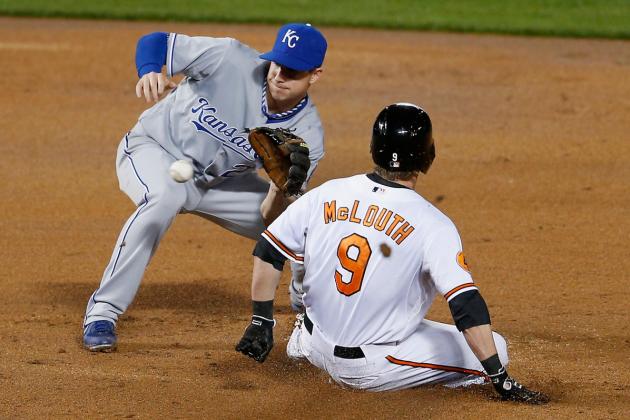 Rob Carr/Getty Images

Positives
With Nate McLouth leading the way with 11, the Orioles, who in the past have not been known for it, have successfully implemented stealing bases into their offense.
In general, the lineup is slightly faster on the basepaths than last year. Only Wieters and Hardy are dubiously slow, but both aren't terrible baserunners.
Negatives
Other than Machado running himself into a triple-play and Chris Davis' lack of awareness after a slide at second, the Orioles have kept away from baserunning gaffes.
However, the Orioles have been thrown out at the plate a few times too often, whether it be due to coaching error or a strong defensive play.
Overall
While they've only allowed nine stolen bases in 12 attempts, the O's are tied for second in the majors in steals at 29 and have only been caught seven times. Their 81 percent success rate is also good for seventh in the majors.
Last year, the Orioles were last in the league in steals at 58. This year, they are on pace to double that.
Grade: A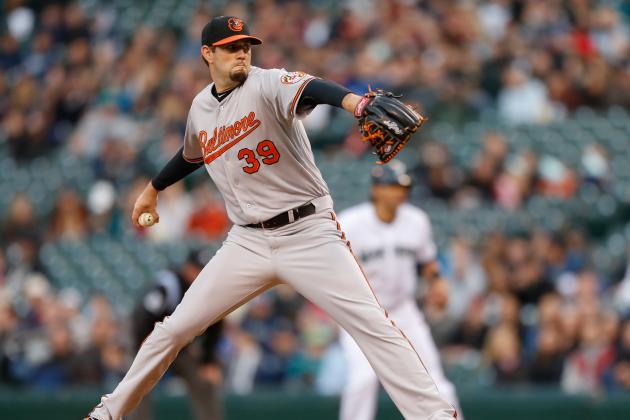 Otto Greule Jr/Getty Images

Positives
Even with a couple of rough outings, both Chris Tillman and Wei-Yin Chen have been good, as both carry sub-3.50 ERAs.
And although rarely being pretty, Jason Hammel has racked up a 5-1 record, with all of those wins coming away from Camden Yards.
Negatives
The Orioles have already used nine different starters, and with Miguel Gonzalez currently on the disabled list, they will use a 10th, as Jair Jurrjens is the most likely candidate to pitch on Saturday.
The back-end of the rotation has been blown up as Jake Arrieta, along with whoever has replaced him, have been disappointing. Freddy Garcia currently has the last spot, but struggled mightily in his last outing against the Padres.
Lastly, the Orioles' starters have had some difficulty going deeper in games. Though they have improved lately, O's starters rank 19th in the majors in innings pitched.
Overall
For the most part, the starting staff has been able to keep the Orioles in each and every game. However, they have been far from spectacular.
With a 4.68 ERA, they rank 23rd in the majors.
Despite compiling a positive 14-12 record, improvement is needed as the Orioles' offense has bailed them out on many occasions.
Grade: C-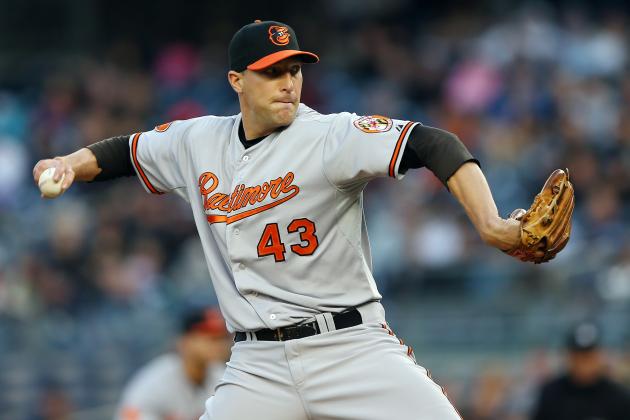 Elsa/Getty Images

Positives
Converting 14 of 15 save chances, Jim Johnson remains an elite closer, despite his blown save against the Padres on Tuesday.
Tommy Hunter has recovered from a rough start to the season and has lowered his ERA to 1.74, largely due to 10 straight scoreless outings streak that was ended by the Padres.
Darren O'Day, along with all three lefties in the bullpen have been good as usual, even though both Brian Matusz and Troy Patton have struggled slightly recently.
Negatives
Pedro Strop started off the season poorly, but has recovered nicely after a scoreless inning streak. His ERA still remains at 4.80, however.
Overall
The bullpen remains a strength of the Orioles.
Despite allowing 14 homers already, the O's bullpen remains third in the majors with their 2.84 ERA and continues to be one of the best bullpens in the majors.
Grade: A-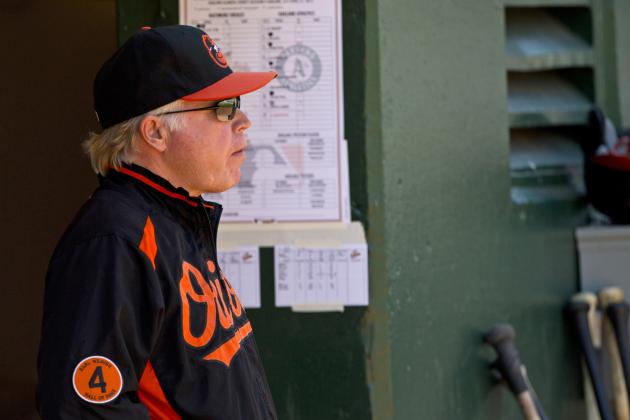 Jason O. Watson/Getty Images

Positives
With a 23-17 record, it's hard to argue with the managing skills of Buck Showalter.
He's done a solid job of getting everyone some playing time, as well as managing the bullpens' innings.
Negatives
Bobby Dickerson has done a good job coaching third, but on a few occasions, the Orioles have been thrown out at home on what appears to be questionable sends.
A couple of lineup decisions have also been questionable. Nate McLouth was given days off against lefties during his hot streak. Whether this factored into his current slump is unknown and irrelevant.
Overall
Since Showalter's arrival, the Orioles' attitude has become a winning one. The players expect to win every game, regardless of the scenario at hand.
While all managers make questionable moves that end up turning foul, for Showalter, it's been few and far between.
Grade: B+