SEC Football: 10 Best Coaching Hires in SEC History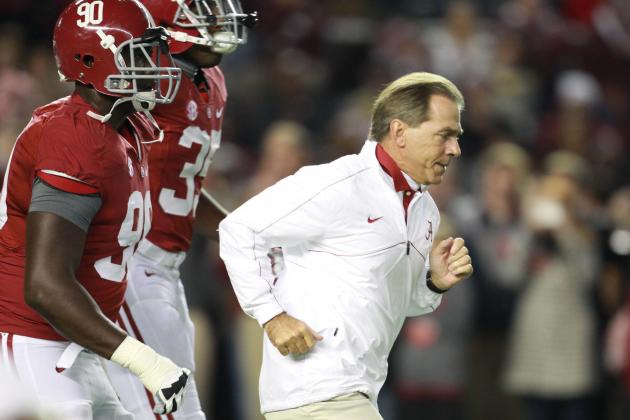 Marvin Gentry-USA TODAY Sports

The SEC is considered the best conference in college football for a number of reasons. Coaching talent is one of them.
Since its inception in 1932, the conference has brought in some of the best coaches in history. This is a look at the 10 best to have walked the sidelines.
Coaches like Paul "Bear" Bryant and Robert Neyland paved the way for Nick Saban and Steve Spurrier. National titles are falling out of the conference trophy case, and these men are to thank for it.
Begin Slideshow

»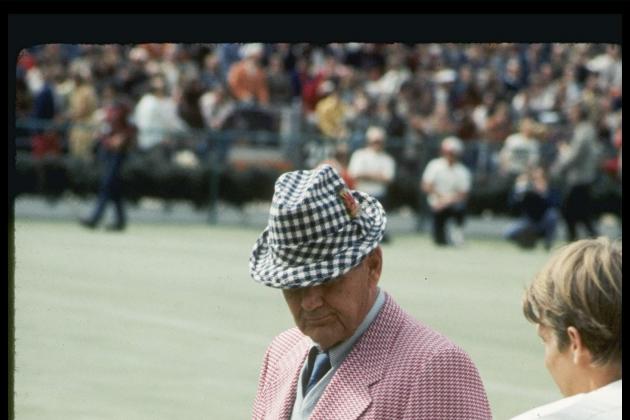 Getty Images/Getty Images

Paul "Bear" Bryant took over the Alabama program in 1958. He stepped into a losing situation, as the program was coming off four consecutive losing seasons when he took over.
His impact was felt from the get-go, with the Tide going 5-4-1 in Year 1, a finish that would be the worst of his 25-season tenure at Alabama.
Bryant finished with a 232-46-9 record in Tuscaloosa, winning six national titles (1961, 1964, 1965, 1973, 1978, 1979). In his final 12 seasons, he won nine SEC titles (1971-1975, 1977-1979, 1981) and three national championships.
He is arguably the best coach in college football history.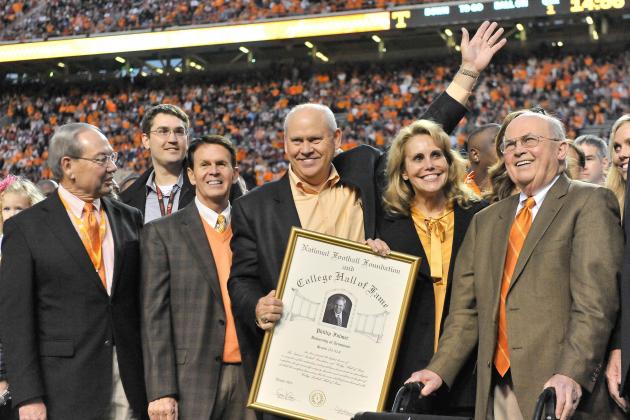 Jim Brown-USA TODAY Sports

The Tennessee Volunteers were looking for a change in 1992 when they promoted Phillip Fulmer from offensive coordinator. He took over a program that had begun to falter under Johnny Majors and turned the Vols into a national title winner.
Fulmer helped the Volunteers win two SEC titles (1997, 1998) and one national title (1998). He finished with a 152-52 record and had only two losing seasons in 17 years.
He was able to turn Tennessee back into a national brand, but unfortunately, he left the program in 2008 after a 5-7 record. It was eerily similar to Majors' departure years prior.
Fulmer now serves as the special assistant to East Tennessee State athletic director Richard Sander, helping to relaunch the football program, which was shut down in 2003 for financial reasons. The East Tennessee State Buccaneers will begin play in 2015.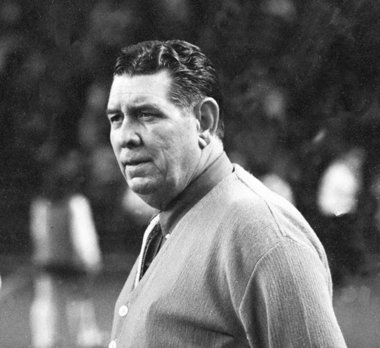 Birmingham News | Ed Jones
Ralph "Shug" Jordan was the coach who returned Auburn to the national spotlight. He took over the team in 1951 and turned a program that struggled through the 1940s into a national title winner by 1957.
He is one of the many legendary coaches who coached at his alma mater. Jordan was a 1932 graduate.
The Tigers only had three losing seasons under Jordan in 25 years. He finished his career 175-83-7.
The Tigers took another dive after Jordan's departure, but the stage was set for the team to become one of the best teams in the modern era of football.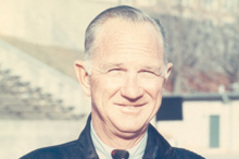 Photo via georgiacivitan.org
In 1945, the Georgia Tech Yellow Jackets program changed dramatically. Bobby Dodd was hired and immediately found success.
Dodd's first year was the only losing season of his tenure. He spent 19 years in the SEC and 22 as the Tech head coach. He put together a 165-64-8 record while there and won two SEC titles (1951, 1952) and the 1952 national title.
Dodd took the Yellow Jackets to the top of the country and the SEC, but he also fueled the team's departure from the country's strongest conference.
Tech was a founding member of the SEC. But when Dodd's proposal to limit scholarship offers, which was designed to discourage signing players and then releasing them when they did not produce (h/t Oversigning.com), was denied by the conference, the Yellow Jackets stepped away from the SEC.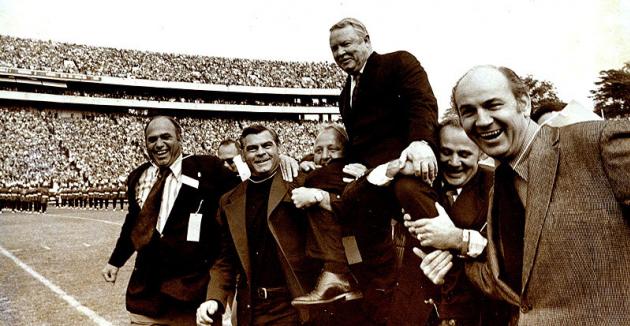 Photo via Athens Banner-Herald
The Georgia program was a strong one before Wally Butts arrived, but after his 22 years as the head coach, the brand was one of the best in college football.
Butts posted a 140-86-9 mark with the Bulldogs and took the program to two national titles (1942, 1946). He also brought four SEC titles (1942, 1946, 1948, 1959) to Athens.
When the Georgia program was handed off to assistant coach Johnny Griffith, it was among the nation's best. Butts was inducted into the College Football Hall of Fame in 1997.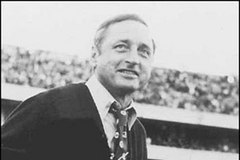 Photo via nola.com
The Georgia program took a dip from 1961-1963 when Wally Butts handed the program to Johnny Griffith. After a 10-16-2 record, Griffith stepped away and Vince Dooley stepped in.
The best era in Georgia football had arrived.
Dooley took over the program in 1964 and started winning in Year 1, going 7-3-1. In 25 years with the team, he only posted one losing season.
The Bulldogs won one national title (1980) and six SEC titles (1966, 1968, 1976, 1980, 1981, 1982) under Dooley's guidance. He finished 201-77-10.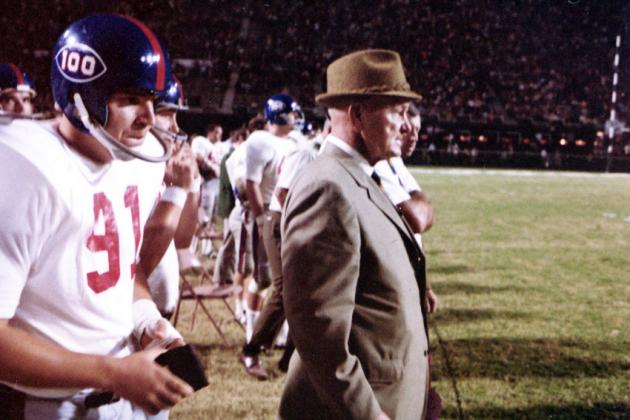 Photo via ESPN
The Ole Miss Rebels are considered a middle-of-the-pack SEC program, but that wasn't always the case.
In the days that Johnny Vaught roamed the sideline, the Rebels were one of the conference's best programs. He took over in 1947 and led the Rebels to a 9-2 record and an SEC title.
He produced six conference titles (1947, 1954, 1955, 1960, 1962, 1963) and won three national championships (1959, 1960, 1962) while in Oxford.
Vaught finished his career with a 190-61-12 record and is still considered to be the best coach in Ole Miss history.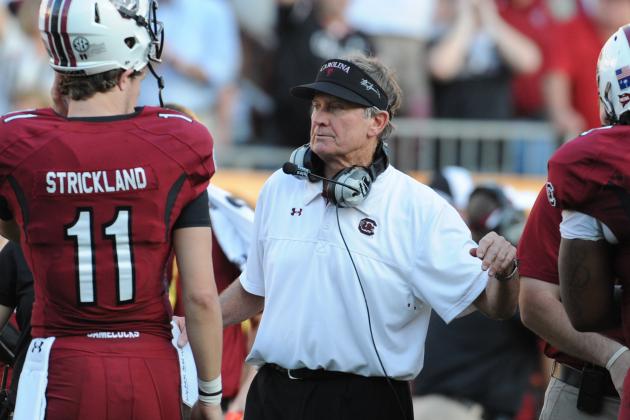 Al Messerschmidt/Getty Images

The Ol' Ball Coach began his SEC head coaching career at his alma mater in 1990. Florida hired Spurrier from Duke, and the height of the Gators' program was reached in a few short seasons.
Spurrier had nine 10-win seasons, won a national championship (1996) and won six SEC titles (1991, 1993, 1994, 1995,1996, 2000) in his time with the Gators.
He departed in 2002 for the NFL, but returned to college in 2005 when South Carolina hired him. He has never posted a losing record with the Gamecocks and has produced two consecutive 11-win seasons.
Spurrier also has a division title to his credit (2010). It was the first for the Gamecocks in the SEC.
It is a tough place to win titles, but Spurrier may pluck one for South Carolina before he's done.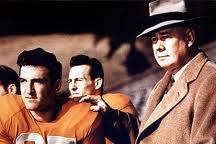 Photo via smokeys-trail.com
Robert Neyland is regarded as one of the best coaches to walk a college sideline. He had three separate tenures as the Tennessee head coach (1926-1934, 1936-1940, 1946-1952) and won four national titles (1938, 1940, 1950, 1951).
He also led the team to five SEC titles (1938, 1939, 1940, 1946, 1951). And, at one point, he led Tennessee on a 33-game undefeated streak.
By the time he stepped away, Neyland had put together a record of 173-31-12, the best in Tennessee history.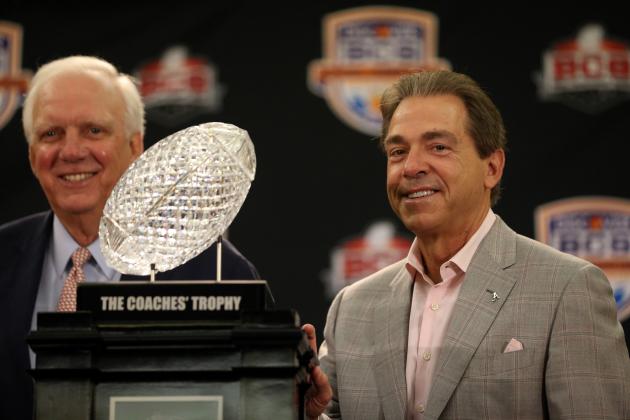 Streeter Lecka/Getty Images

Nick Saban came to the SEC from Michigan State in 2000 and immediately started winning. His first LSU Team went 8-4, and he turned the program into the SEC champion the next season (2001).
He finished his LSU tenure with one national title (2003) and two SEC championships (2001, 2003).
After a short dance with the NFL, Saban returned to Alabama and started his dynasty. His first year was a struggle at 7-6, but his team has achieved 10 or more wins every year since.
Saban has led the Crimson Tide to three national titles (2009, 2011, 2012) and two SEC titles (2009, 2012).
His run at Alabama is second to Paul "Bear" Bryant, but a few more years of winning titles could change that.