Best 2013 Free Agents Available for Boston Celtics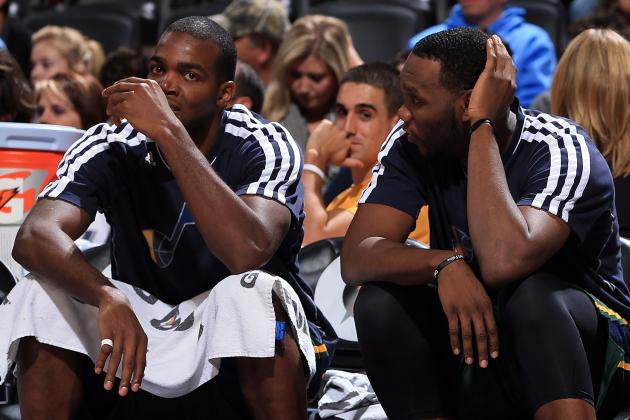 Doug Pensinger/Getty Images
Both Millsap and Jefferson could be targets for the Celtics this summer.
The Boston Celtics are entering their most important offseason since they landed Kevin Garnett and Ray Allen back in 2007. Not only is it important, but it is also very ambiguous at the moment.
Will Garnett retire? Will the Celtics bring Paul Pierce back? Will there be any cap room to sign free agents?
All of these questions will probably be answered around the draft, so at the current point in time, all we can do is speculate on what Boston will actually do.
Regardless, you can bet that Danny Ainge certainly has a list of free agents that he will be looking at to either make one more run or to try to facilitate the rebuilding process.
Of course, they will have to be affordable, so if you have aspirations of the C's landing Dwight Howard or Chris Paul, you are probably going to be disappointed.
All things considered, it's going to be a wild summer in Beantown.
Begin Slideshow

»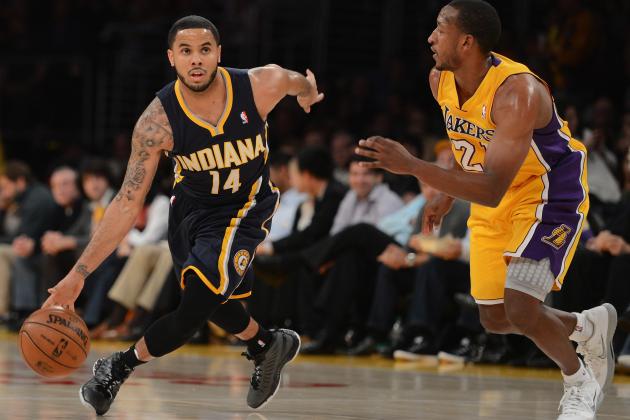 Harry How/Getty Images

If the Celtics' brief appearance in the 2013 playoffs taught us anything, it's that they really need a backup point guard.
With Rajon Rondo recovering from ACL surgery, it would definitely be wise for Boston to have a Plan B in place, as none of us really know how well Rondo is going to be able to play upon his return.
D.J. Augustin would seem to be a prime candidate to fill that reserve floor general role. He is young, cheap and coming off a season where he was rather effective.
While his 4.7 points, 2.2 assists, and 35 percent clip (yuck) are not all that appealing, a deeper look into Augustin's stats demonstrate that he had a decent 2012-13 campaign, as the Texas product averaged .112 win shares per 48 minutes. Not bad.
Plus, his career percentages aren't as awful as the ones he spit out this year. Augustin is a lifetime 40.1 percent shooter and hits on a solid 37 percent of his three-point tries.
This is a player who posted 14.4 points and 6.4 assists a night just two years ago, so if you can get Augustin on the cheap (and you probably will be able to do that), you do it.
Joe Robbins/Getty Images

If the C's want to—and have the capacity to—open up their wallets a little more, Devin Harris is also available for that backup point guard slot.
While Harris is not nearly the player he once was (seriously; what happened?), he is still a nice role player and someone who can provide Rondo with ample support off the pine.
Harris recorded 14.6 points and five assists per 36 minutes while shooting 43.8 percent from the floor in 2012-13, numbers that would have looked awfully good on the Celtics.
While the 30-year-old is not necessarily someone who can stretch the floor (he is a career 31.8 percent shooter from deep), Harris is blindingly quick and possesses the ability to get into the lane at will. Give him some good perimeter shooters to work with, and you've got a nice weapon.
Harris will likely be a bit more expensive than Augustin, but he should still be affordable.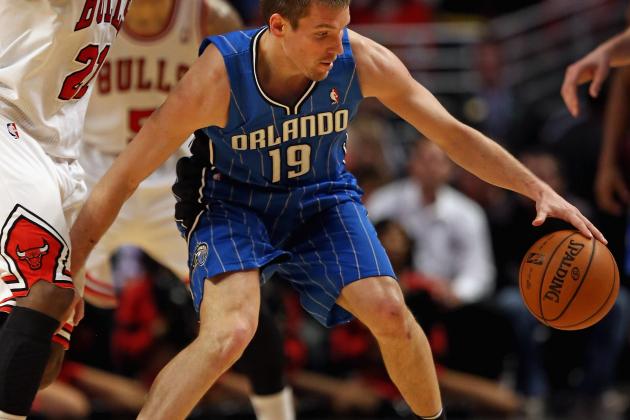 Jonathan Daniel/Getty Images

Beno Udrih has always been a fairly underrated player.
This past season, Udrih averaged 13.3 points and 7.5 assists per 36 minutes and hit on 44.1 percent of his field-goal attempts. He is a career 46.2 percent shooter, and he shot 50 percent from the floor as recently as 2010-11.
Despite those nice-looking numbers, Udrih will be an inexpensive option this summer, and he's an option that the Celtics should absolutely consider.
There doesn't seem to be a possibility that another team will overpay for him, so the 30-year-old Slovenian should be right within Boston's price range.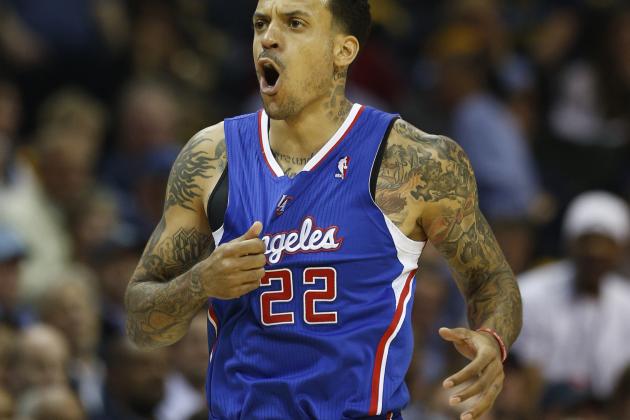 Joe Robbins/Getty Images

The C's will likely need another small forward regardless of what happens with Pierce. If Pierce is gone, then there is obviously a need for someone behind Jeff Green. If Pierce sticks, then you have to think that Green will probably spend some time starting at the 4 in 2013-14.
So, no matter how you look at it, the Celtics may be in the market for a player like Matt Barnes this offseason.
Barnes would fit Boston perfectly, as he brings a brand of toughness that we haven't really seen since the days of Kendrick Perkins. Barnes is also a good rebounder, as evidenced by his career average of 7.4 boards per 36 minutes.
The 6'7" forward posted .146 win shares per 48 minutes in 2012-13, shooting 46.2 percent from the field and tallying true shooting and effective field-goal percentages of 56.6 and 54.4 percent, respectively. Impressive.
The question is, how much money with Barnes command? The Los Angeles Clippers signed him for the veteran's minimum last summer, but you have to think that he will get a bit more than that this time around. Then again, his frequent off-the-court issues may drive his price down.
Something tells me Barnes and KG would get along very well on the same ballclub. Well, if KG returns, that is.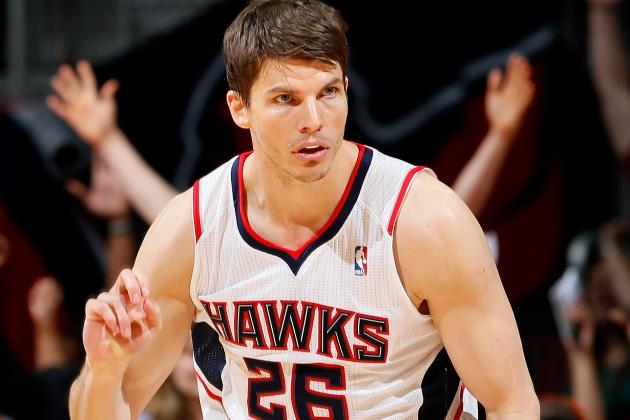 Kevin C. Cox/Getty Images

Let's say the Celtics move one of Courtney Lee or Jason Terry this summer (and there is a chance that that happens). That would open up a spot on the bench for a 2-guard, and Kyle Korver would fit that bill very nicely.
Boston ranked 15th in the NBA in three-point percentage this season. While that is not terrible, it can still stand to improve, and Korver would go a long way to solving that problem.
With a guy like Rondo who is adept at getting dribble penetration, you need players such as Korver to spread the floor and provide Rondo with outlets to kick the ball out. Korver is a career 41.9 percent shooter from long range, and in 2012-13, he shot 45.7 percent from beyond the arc. He also recorded phenomenal true shooting and effective field-goal numbers, tallying percentages of 63.7 and 61.8, respectively.
Of course, someone may come along and make Korver an offer that the C's simply cannot afford to top, but with so many good players on the open market, perhaps he will come at a bargain price.
He would certainly be a nice addition. That's for sure.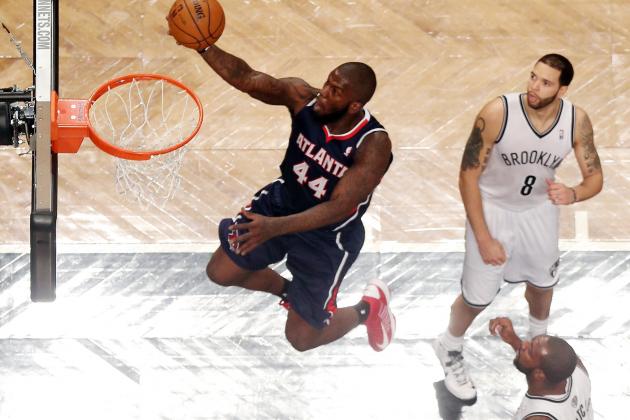 Bruce Bennett/Getty Images

Ivan Johnson is a restricted free agent, meaning the Atlanta Hawks can match any offer that another ballclub makes to him. However, at a reasonable price, he would be an extremely nice pickup for the Celtics.
You want to talk about a tough, hard-nosed player? Johnson is it. He can score, too. The 29-year-old averaged 15.7 points and 9.3 rebounds per 36 minutes during the 2012-13 campaign, shooting 52 percent from the floor in the process.
Johnson reminds one a bit of Metta World Peace, having a similar build and bringing that same kind of physicality and tenacity to the game. He isn't afraid to do some of the dirty work.
While Ivan isn't the kind of guy who will put your team over the top, he is still a nice player to have. He and KG would definitely comprise a nasty frontcourt.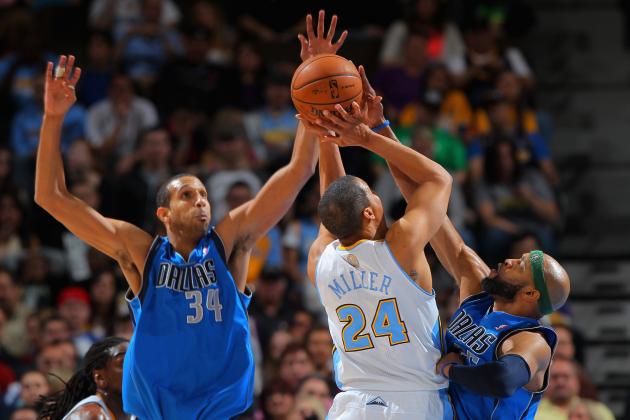 Doug Pensinger/Getty Images

Brandan Wright would truly be an awesome signing.
Not only would he be cheap, but he is only 25 years old and comes with some upside.
Wright averaged 8.5 points, 4.1 rebounds and 1.2 blocks per game this year, and over 36 minutes, those numbers would balloon to 17, 8.1 and 2.4. Plus, he shot 59.7 percent from the floor.
There is an awful lot to like about Wright, his athleticism being his primary attribute. Imagine him running the floor with Rondo and throwing down some alley-oops in transition. Chris Wilcox already does that well, so picture how effective Wright would be in that regard.
Wright tallied .172 win shares per 48 minutes in 2012-13, a year after putting up .215 win shares per 48.
Ainge would be remiss not to see if he can ink the young forward to a deal.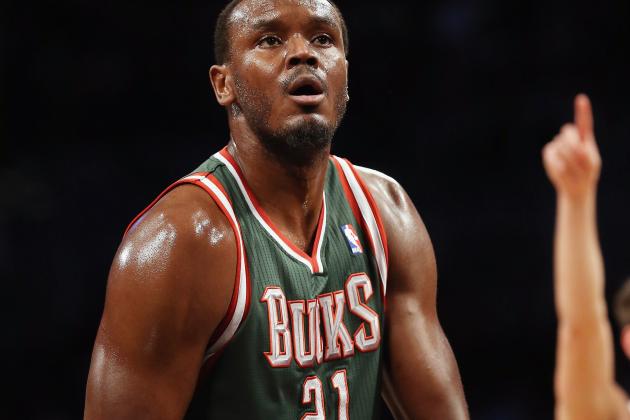 Bruce Bennett/Getty Images

Why Samuel Dalembert got the shaft in Milwaukee is beyond me.
The man is a rebounding machine, averaging 11.5 boards per 36 minutes over the course of his career and never fewer than double digits in that category. He also has a lifetime total rebound percentage of 18.7 percent. As a matter of fact, he was posting 14.7 points and 13 rebounds per 36 with the Bucks this season, making his relatively scarce playing time even more of a mystery.
Anyway, Dalembert would be an awesome fit on the Celtics if they decide to go for another run rather than rebuild.
He rebounds, blocks shots and he is efficient.
With big men like Howard, Andrew Bynum, Al Jefferson, etc. on the free-agent market this summer, it's hard to imagine that Dalembert will command too much money. If it takes making a small trade in order to clear some cap space to sign him, Boston should do it.
He certainly would have helped them this past season.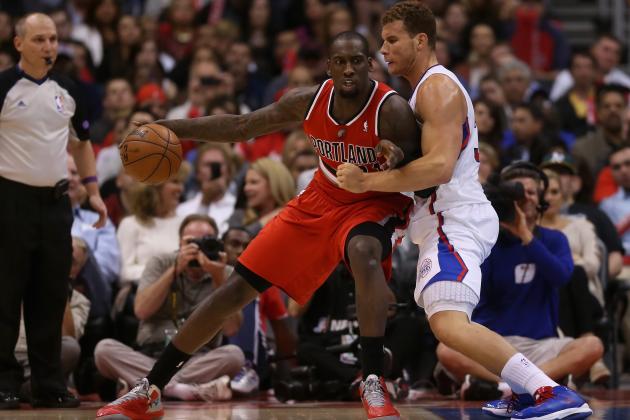 Jeff Gross/Getty Images

Here is where we start getting into the hotter—and more expensive—commodities.
Teams should be a bit wary of giving J.J. Hickson a big-time deal. After all, he basically waited until his contract year to erupt, making one wonder if he is Mark Blount Part 2.
Not just that, but Hickson is a pretty poor interior defender.
Nevertheless, it's difficult to look at Hickson's 2012-13 numbers and not be impressed. The 24-year-old averaged 12.7 points and 10.4 rebounds per game while shooting 56.2 percent from the floor. He also recorded a very gaudy total rebound percentage of 20.7 percent. The Celtics have a glaring need on the glass, and Hickson would fill that hole.
Still, whether or not Hickson will be worth the contract he asks for is another question entirely. You would think there is a good chance that J.J. will be somewhat affordable due to the amount of good bigs on the open market, but guys who average double-doubles are very rare nowadays.
Regardless, it would definitely take a lot of maneuvering on Ainge's part to reel in Hickson without losing at least one of Garnett or Pierce, and if KG and Pierce are not Celtics next year, then Boston should probably stay away from Hickson anyway. He is not exactly the kind of guy you want to build around.
All of that said, Hickson is intriguing. There is no doubt about that.
Kevin C. Cox/Getty Images

Like Hickson, Paul Millsap is a bit tricky.
He will get a nice-sized deal, but will the deal be so lucrative that it prevents the Celtics from signing him without having to rid themselves of both Garnett and Pierce?
You have to think that at least one of the two would have to go, as Millsap isn't signing for peanuts. The 28-year-old can play, and he is coming off a solid 2012-13 campaign where he averaged 14.6 points and 7.1 rebounds.
Millsap, a career 51.6 percent shooter, would patch up a couple of needs for Boston, namely low-post scoring and rebounding. While Millsap is not exactly Reggie Evans on the boards, he is still better than most of what the C's have, and he would be a welcome addition to the frontcourt.
What the Celtics should hope for is that other ballclubs become too preoccupied with the Howards, Bynums and Jeffersons of the world, leaving Millsap out in the cold. That could allow them to bring in the 6'8" forward without having to sacrifice too much.
Akin to Hickson, however, Millsap is not really the player you want to invest too much money into if Garnett and Pierce are both gone in 2013-14.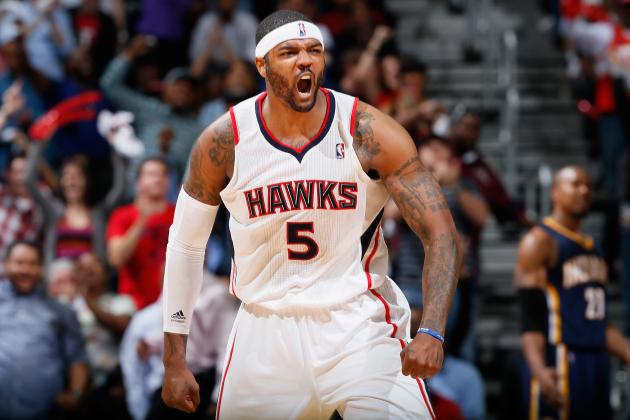 Kevin C. Cox/Getty Images

For starters, there is absolutely no way that the Celtics can haul in Josh Smith with Garnett and Pierce around, so bringing in Smith means that No. 5 and No. 34 will not be in Boston next season.
Smith is easily one of the most polarizing players in the league. While some feel that he is a game-changer who is worth a max deal, others think he is an overrated headcase who tries to do too much.
The truth is, J-Smoove is somewhere in the middle. He is not a superstar by any means, but he can undoubtedly help a team. He is one of the best stat-stuffers out there, having the ability to contribute on both ends of the floor and in all aspects of the game.
That said, advanced stats are not too kind to Smith. He posted only .075 win shares per 48 minutes this season and averages only .099 for his career, and believe it or not, that is actually below the approximate league average of .100. Prior to 2012-13, Smith was considerably above that number for three consecutive seasons, but the drop-off this year is somewhat alarming.
An upside to signing Smith is the fact that he would be playing with Rondo. A downside to signing Smith is the fact that, well, he would be playing with Rondo.
Having those two together would be a double-edged sword.
On one hand, you'd have one of the most exciting tandems in terms of getting out in transition, as not many are better on the break than Smith and Rondo. On the other side of the coin, however, both of them are miserable free-throw shooters, and opposing teams could (and probably would) take advantage of that.
The biggest problem with Smith is his tendency to try to be someone he's not. The entire world knows that he is not a sound jump shooter, and yet, he attempted 201 triples this past season, hitting on only 30.3 percent of them. It's no surprise that Smith's best season came the year he only took seven threes, and that was in 2009-10 when he averaged .155 win shares per 48 minutes.
Why in the world he then decided to take 154 the following season is beyond me, but if he did come to Boston, perhaps Doc Rivers could get him under control.
My personal opinion? Stay away from Smith unless you can somehow bring him in to play with Garnett, Pierce and Rondo, and you'd probably have a better chance of finding a million dollars on your doorstep than that happening.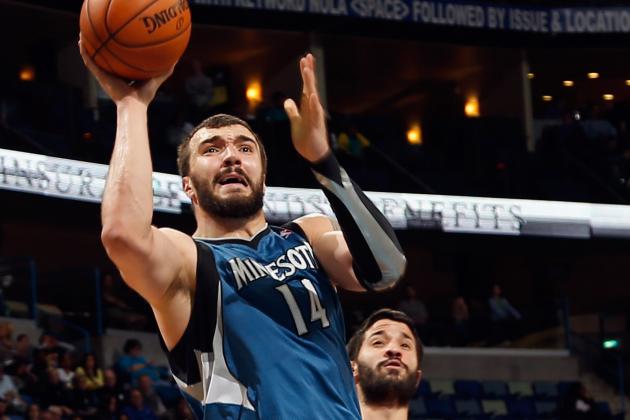 Chris Graythen/Getty Images

Nikola Pekovic is another one of those restricted free agents, so the Minnesota Timberwolves can match any offers that come his way. Whether they can afford to do so is debatable.
Pekovic is a big, physical center who also brings along a fairly refined low-post game. Thanks to his massive frame, he also draws a lot of fouls. He got to the line 5.2 times a night in 2012-13, shooting a respectable 74.4 percent from the stripe in doing so.
Pek is not exactly a great defender, but his sheer size allows him to be a disruptive force in the paint. He is also very solid on the boards, posting 10 rebounds per 36 minutes this past season.
There really isn't much not to like about Pekovic. Well, other than his potential price tag, that is. Big men of his skill level are golden in this day and age, and you would have to think that he will be compensated accordingly.
More than likely, the only way the Celtics can go out and get Pekovic is if Garnett retires.
Hey, it's nice to dream about a front line duo of Pek and KG, though.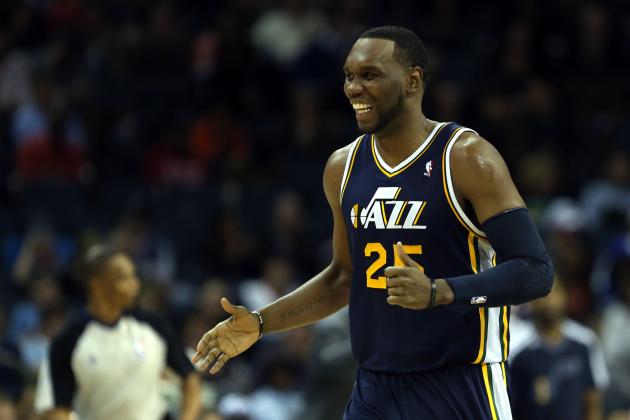 Streeter Lecka/Getty Images

Should the Celtics decide to start rebuilding, Jefferson is the main free agent they should look to.
It would be pretty ironic if this were to happen, too, as Jefferson was of course the main piece in the 2007 deal that landed Garnett and, consequently, a 17th NBA championship.
While Jefferson isn't exactly a stalwart defensively, he does other things exceptionally well. An argument can be made that he is the best post player in the game. Plus, he is very good on the glass (he owns a career total rebound percentage of 17.1 percent) and is remarkably consistent overall.
Big Al is not that young at 28 years old and he did tear his ACL in 2009, but he has remained healthy ever since, showing little to no ill effects after the injury.
Jefferson is not a superstar, but he would certainly be a nice guy to place alongside of Rondo and Green if Boston chooses to enter a rebuilding stage.
Let's say Garnett, Pierce and the C's do part ways. In such a scenario, you would have to think that Jefferson would be the top target for Ainge and Co.