UFC 160 Preview: Power Ranking the Fights of Heavyweight Champion Cain Velasquez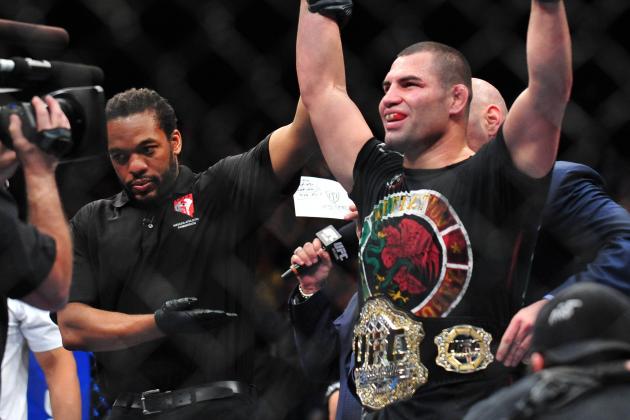 Gary A. Vasquez-USA TODAY Sports

UFC 160 will be headlined by a heavyweight title bout. In that scrap, two-time champion Cain Velasquez will look to defend his title against a man he has already met and defeated, Antonio Silva.
The win over Silva came a few months after Velasquez himself tasted defeat for the first time, losing the belt to Junior dos Santos in his first attempted defense.
That blood-soaked victory over Silva set up a rematch with dos Santos. In that five-round bout Velasquez dominated, making the kind of statement many fighters only dream about.
It makes one wonder if Silva, a heavy underdog going into the May 25 fight card, will be able to pull off a Velasquez moment of his own and avenge his previous defeat. I guess we'll find out soon enough.
To get prepped for the upcoming bout, here's a rundown of the 12 professional (11-1) fights from the career of Mr. Velasquez.
All stats via FightMetric
Begin Slideshow

»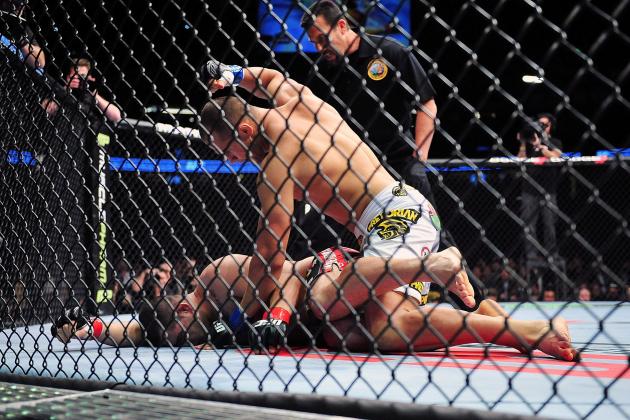 Gary A. Vasquez-USA TODAY Sports

The UFC put all its eggs in the heavyweight title fight basket for its debut on Fox, and depending on how you look at things, it was either a rousing success or a terrible failure.
The UFC had an hour time slot to fill on that night in November 2011, and the violence inside the Octagon only accounted for 64 seconds of that hour as Junior dos Santos put a hurting on a tentative (and injured) Cain Velasquez.
It was a nightmare scenario for the Velasquez, costing him his title in his first attempted defense.
Key stats: Dos Santos 12 of 19 in strikes, Velasquez 0-for-1 in takedown attempts.
This October 2006 bout against Jesse Fujarczyk was Velasquez's professional MMA debut, and Fujarczyk was clearly overmatched.
Velasquez gained a quick takedown and moved directly to side control, and just teed off with left hands. Fujarczyk eventually worked to his knees where he then tasted the right hand of Velasquez. When Fujarczyk got to his feet, he was thrown to his back and finished.
The most memorable moment of the fight may have come from the commentator who said, "He looks like he has big things in front of him in mixed martial arts," a prescient remark if there ever was one.
Key stats: Fujarczyk one strike landed to Velasquez's 52 of 59.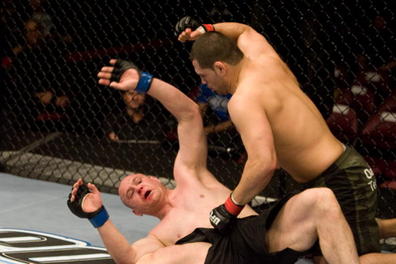 Josh Hedges/Zuffa LLC UFC via Getty Images
This one is memorable due to the varied pronunciations we were able to hear of both Velasquez's first and last names during the broadcast. Well, that and the fact that these two fighters were clearly on different levels.
Velasquez was operating on a plane way above Morris in this one. Velasquez showed a great deal of patience once he had Morris on the ground, a trait that would later earn him the UFC heavyweight title when he defeated Brock Lesnar.
Key stats: One strike landed from Morris, while Velasquez landed 62 of 83.
Constant attempted a takedown, which failed. According to the FightMetric stats he would fail on his next eight takedown attempts as well. Velasquez would not have that problem, going 4-for-4 on his takedowns.
While wrestling was and still remains the bread and butter of Velasquez's game, you could clearly see a developing striker coming into view during this bout.
The other takeaway was that Constant was having problems with the pace that Velasquez was keeping. By the 3:30 mark Constant was all but spent. Velasquez swarmed the exhausted fighter and finished the fight at the 4:00 mark of the first.
Key stats: Velasquez 50 of 65 in total strikes.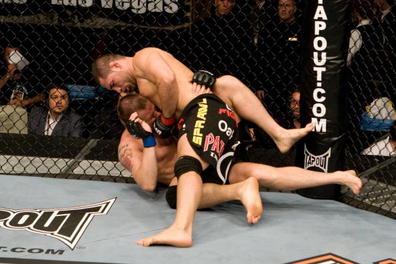 Josh Hedges/Zuffa LLC via Getty Images
Not much to say about this one other than it was another step in the right direction for the young, up-and-coming Velasquez.
Velasquez quickly put O'Brien on his back and went to side control where he repeatedly landed right hands to the face and head of O'Brien before the referee came in to mercifully end the fight.
Key stats: Velasquez landed 79 of 83 strikes, while O'Brien was 1-for-1 in the striking department.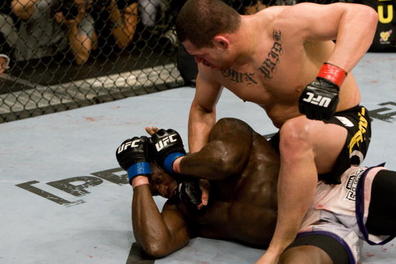 Josh Hedges/Zuffa LLC via Getty Images
Velasquez stepped up in level of competition and card placement at UFC 99, facing Cheick Kongo in the co-main event of the fight card.
Kongo had a clear advantage in experience in this one, but it mattered little in the end, as he was pretty much dominated by Velasquez throughout the three-round matchup.
Kongo had opportunities in the fight, but whenever he had Velasquez in danger he failed to capitalize. It also didn't hurt that Velasquez showed that he could take a heavy shot, get rocked and recover with little trouble.
This was the first time Velasquez went into the third round of a fight, and he looked like he could have easily gone deeper had it been a five-rounder. I should note that Kongo's corner attempted to tell one of the most transparent lies I have ever witnessed, when between Rounds 2 and 3 they told their slouched-over fighter who was gasping for air, that Velasquez was "getting tired."
This was said as Velasquez paced in his corner just waiting to get back into the action.
The one thing we saw in this fight and the fights before that, was that while Velasquez's ground-and-pound was very active, it wasn't particularly heavy or damaging.
Key stats: Velasquez landed 261 of 320 strikes. However, only 29 of those landed were deemed significant strikes. Velasquez also had seven takedowns on 10 attempts.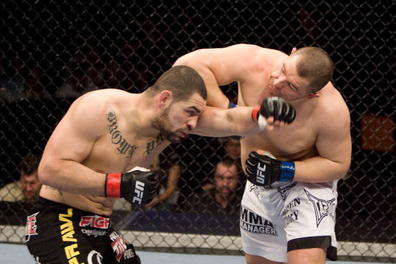 Josh Hedges/Zuffa LLC via Getty Images
Stojnic opened this one by swinging for the fences. Velasquez didn't shy away from exchanging with his opponent and continued to show a developing striking game, mixing it up with punches, knees and kicks.
The second round was more of the same early on. The fight eventually went to the ground, and Velasquez used his ground-and-pound to bring about the stoppage.
Key stats: Velasquez landed 124 of 183 strikes.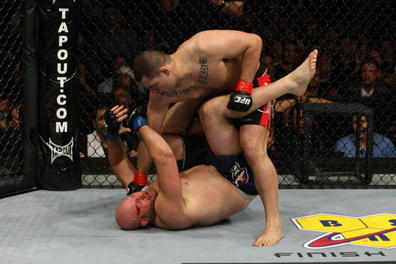 Josh Hedges/Zuffa LLC via Getty Images
Another co-main event bout for Velasquez, and this one, like the fight against Kongo, was against a more experienced (and heavier) opponent in Ben Rothwell.
Velasquez used constant movement, varied striking and patience to dominate Rothwell in the first round.
As Rothwell sat on his stool his corner told him that he had "weathered the storm" of the first round. That may have been true, but Velasquez didn't slow his pace in the second, and he finished the fight within the first minute of Round 2.
Key stats: Velasquez was 3-for-3 in takedowns and landed 84 of 119 strikes. Rothwell landed 3 of 21 strikes.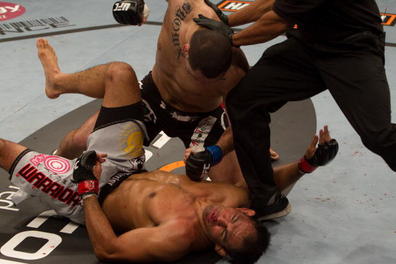 Josh Hedges/Zuffa LLC via Getty Images
Main event time for Velasquez in this one, as he met Antonio Rodrigo Nogueira at UFC 110.
Velasquez mixed things up early with kicks and punches. He also moved in and out of Nogueira's range very well.
When the end came it was swift. A right dropped Nogueira, and Velasquez showed good finishing instincts in following the fight to the ground and wrapping it up with ground-and-pound.
Key stats: Velasquez 23 of 45 in striking while Nogueira landed three strikes.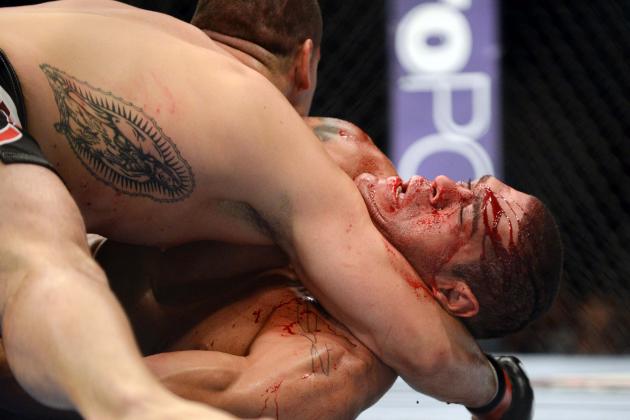 Ron Chenoy-USA TODAY Sports

If you need an example of a solid comeback/statement fight, look no further than UFC 146 where Velasquez just took it to Antonio Silva from the start.
This was Velasquez's first fight back after losing for the first time in his career, and he needed to erase any doubts that had crept into the minds of fight fans.
He succeeded.
Velasquez wasted no time putting Silva to the mat and then worked from Silva's half-guard. He found openings for elbows and cut Silva badly, and then went to work with more ground-and-pound.
A brief stoppage brought the doctor in to take a look at the wound, but he let the fight continue. The fighters were then placed back in the same ground position, where Cain went back to work with his ground-and-pound, bringing about the stoppage.
Key stats: Velasquez landed 53 of 84 strikes, while Silva landed three.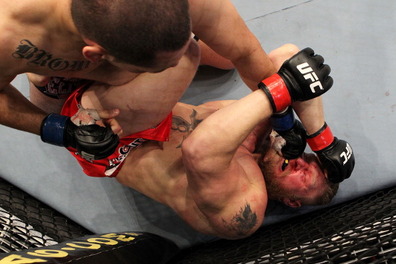 Josh Hedges/Zuffa LLC/Zuffa LLC via Getty Images
Brock Lesnar was doing a nice job of staking a claim as the biggest and baddest dude in the UFC's heavyweight division up until he met Cain Velasquez.
Velasquez's key to success in this fight was: once he had Lesnar down, he didn't punch himself out—he waited for openings and made each strike count, landing more than he missed.
Velasquez bloodied Lesnar badly en route to capturing the heavyweight title.
One loss later, Lesnar had retired from the UFC.
Key stats: Velasquez landed 62 of 107 strikes.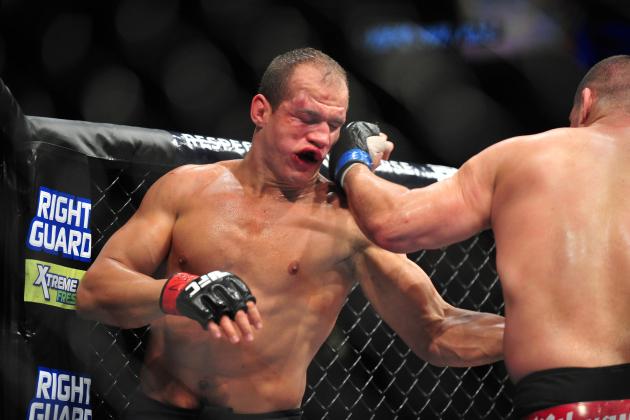 Gary A. Vasquez-USA TODAY Sports

Velasquez's win over Junior dos Santos at UFC 155 was the type of win that is usually seen only in Hollywood comeback tales.
Velasquez was beaten in 64 seconds the first time these two met, but the story couldn't have been any different in the second meeting. Velasquez dominated from start to finish, taking the 25 minutes that the fight lasted to leave dos Santos an unrecognizable mess.
It was a brutal beating; one that at times was almost hard to watch. Yes, it was that one-sided.
The win over dos Santos will be hard for Velasquez to top, but if he does, my heart goes out to the fighter who is on the receiving end of that beating.
Key stats: Velasquez landed 210 of 339 strikes and 11 of 33 takedowns.