5 Suggestions for the Boston Celtics' Offseason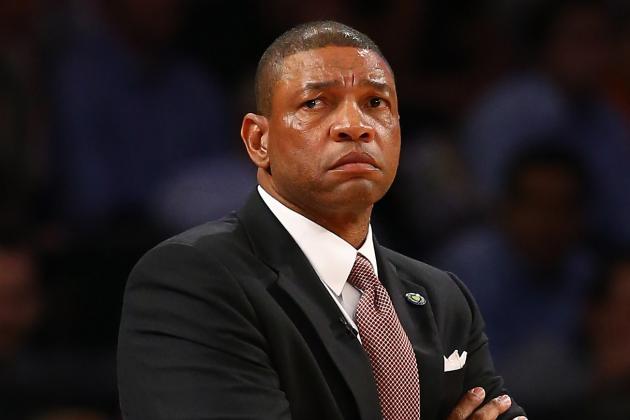 Al Bello/Getty Images
If Doc Rivers returns to the Celtics, he could be coaching a very different team.
What if...
It begins the reflective line of questions Boston Celtics president of basketball operations Danny Ainge asked himself about last season.
What if Rajon Rondo didn't go down with an ACL tear, causing him to miss the rest of the season and the playoffs—when the Celtics needed Rondo most?
What if Jared Sullinger's back didn't act up, leading to surgery that ended his season as well?
What if the loss of Leandro Barbosa didn't force Ainge's hand to trade Barbosa and Jason Collins for Jordan Crawford?
What if he didn't sign Darko Milicic and spent the money on another veteran big man that wouldn't pack his bags and leave the moment he didn't get his way?
Ainge is already over dwelling about what could had been. He must reconstruct this team and lead it in the right direction. But which way will that be? Here are five suggestions:
Begin Slideshow

»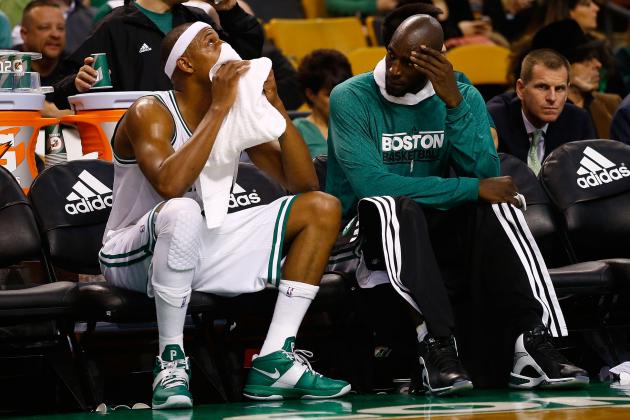 Jared Wickerham/Getty Images

They can start the season with Boston, but there's no guarantee that they finish the season with the Celtics.
Kevin Garnett and Paul Pierce are more valuable to Boston as trade chips instead of salary cap relief. According to Basketball-Reference.com, Boston was over the salary cap by more than $34 million. Even if Garnett retires and Pierce is amnestied, the Celtics might still be over the cap in 2013-14 and only able to sign free agents to veteran minimum contracts.
Like the acquisitions of Garnett and Ray Allen, the Celtics will likely have to trade for a marquee player because Boston remains an unattractive destination for many free agents. Unless the Celtics are willing to overpay, Boston will be a tough sell to free agents. But overpaying for a player will cripple Boston's ability to build a competitive team.
Gauging what Garnett will do is the biggest hang-up. Does he want to return for another year if he has surgery on both ankles? Is another season worth it to him?
Based on Garnett's comments following the series loss to the Knicks, he wants to see changes to the team. Will Garnett wait to see the direction the team is heading before making a decision?
If the two veterans are back, circumstances will determine whether they finish the season as Celtics. If Boston is in the playoff mix, Ainge may try to get help for Garnett and Pierce at the trade deadline. If the Celtics are in the Eastern Conference cellar, Ainge should attempt to trade them for young prospects and draft picks.
Jason Terry was almost grouped with Garnett and Pierce. But Terry goes in the next category.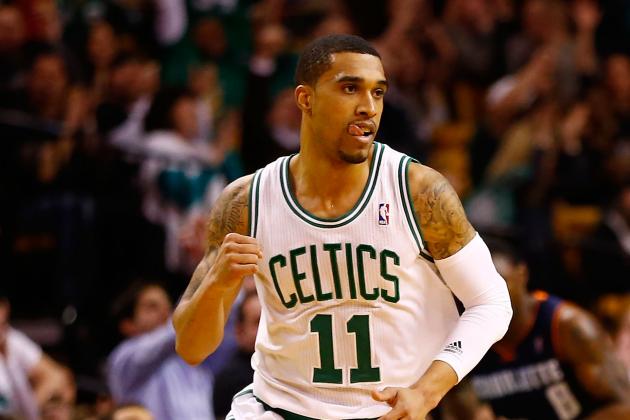 Jared Wickerham/Getty Images

Terry, Courtney Lee, Jordan Crawford. Jettison two of the three. It shouldn't be that hard.
Lee and Terry have $5.2 million salaries next year while Crawford is still under his rookie contract at $2.1 million in '13-14. These are very affordable contracts that shouldn't be hard to move. Figuring out who to keep is simple.
Terry was the only one of the three that coach Doc Rivers trusted during the playoffs. Lee and Crawford were glued to the bench in Game 5, passed over by Terrence Williams in the rotation. Overall, Lee was a disappointment in Boston after being acquired in a sign-and-trade with Houston. Crawford's wild, mindless play makes him too much of a liability. Trash-talking after the Game 5 win in which he didn't even play in should cement Crawford's exit.
Consistency isn't the only reason to say sayonara to Lee and Crawford. They have difficult times trying to guard taller players. Williams at 6'6", is better equipped to defend the likes of Brooklyn's Joe Johnson, Indiana's Paul George and New York's Carmelo Anthony.
One player to keep an eye on is Miami's James Jones. He has a player option to remain with the Heat for the 2013-14 season, but Jones' minutes dropped from 13.1 in 2012-13 to 5.8 this season and he might seek more playing time elsewhere.
Jones is a proven shooter (.399 career three-point shooting percentage) with length (6'8"), still has time on his side (32 years old) and comes from Miami's defense-first philosophy. If he becomes available, he's worth a call from Boston. He would fit into a shooter-off-the-bench role very well.
Terry might survive the initial bloodletting, but he shouldn't feel completely safe either. If he regains his scoring touch and the Celtics are a bad team, Terry would be attractive to a team that wants additional shooting for the playoffs. For the right package, Terry should be available at the deadline.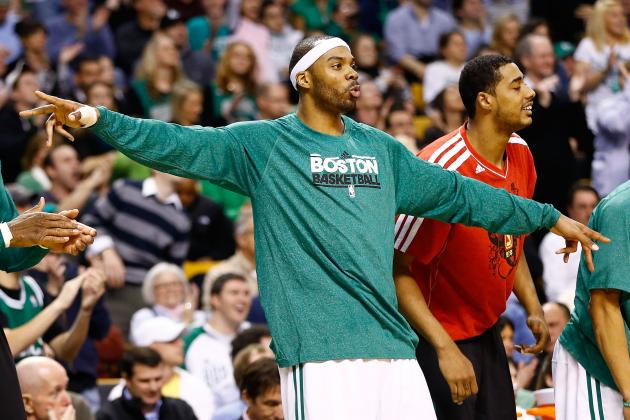 Jared Wickerham/Getty Images

Wilcox wasn't the same player that could be counted on to consistently play with energy off the bench. On a team that lacked size, he had a great opportunity for regular minutes.
Wilcox was so lackluster that he was passed over by Jason Collins and later by Shavlik Randolph, who was imported from China. Wilcox will be a free agent, so letting him go is easy. Randolph has the first shot at replacing him.
The Celtics will need more depth than Randolph, though. D.J. White will get a look during training camp and the preseason. But Boston must find veteran help either through free agency or trade.
Though he's hated by fans, Boston should monitor Brooklyn's situation with Kris Humphries. He still has a year remaining on his contract for $12 million, but is a prime candidate to be amnestied by the Nets for not playing up to the contract's value.
Andray Blatche is the more appealing free agent, but he played well for Brooklyn. Whether Brooklyn makes re-signing Blatche a priority or he draws interest from other teams, Blatche will be priced out of Boston's range.
Humphries needs to prove himself. Before last season he averaged a double-double for two straight seasons. He will be hungry to rehabilitate his career if the league has doubts about him. Boston could use a player in his prime to help clean the glass and be a garbage man off the bench.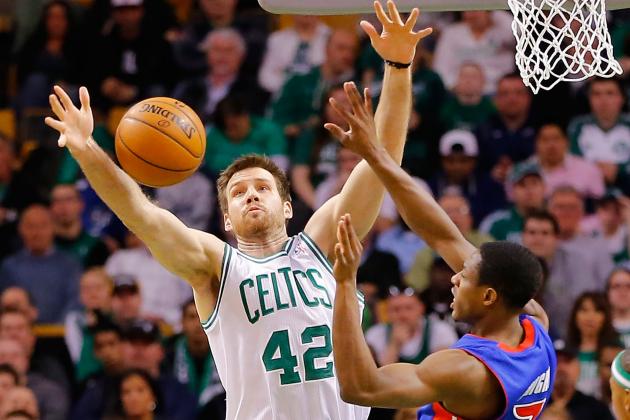 Jared Wickerham/Getty Images

Rivers tells his players to get back on defense over offensive rebounding. This strategy reduces fast break/transition points and contributes more to winning than offensive rebounds. Rivers says he has the data to support this line of thinking.
But why discourage your team from rebounding when it is a player's strength? Jared Sullinger is a beast on the boards. Randolph also has a nose for missed shots. If they can consistently get Boston additional shots or convert O-boards for easy buckets, it would only help the Celtics because Boston doesn't shoot the ball as well as they used to.
Putting an emphasis on offensive rebounding shouldn't take away from defensive rebounding. It could actually make Boston a better rebounding team overall as the mentality to crash the glass becomes more infectious.
This doesn't mean preventing transition points is less of a priority. Three to four players on the floor should immediately fall back once the shot is missed. Let a big man or two crash the offensive boards. If Boston doesn't get the rebound, the big man or men simply hustle to get back on defense as quickly as possible.
Statistically there wasn't a correlation between offensive rebounding and winning last year. The top three teams in the league ranked near the bottom in offensive rebounding (San Antonio 30th, Miami 28th, Oklahoma City 25th). But those three teams also shot better than Boston, particularly on three-pointers by almost two full percentage points at least (1.8 percent to be exact).
To put it in perspective, the Thunder made 1.2 more three-pointers per game than the Celtics, and the difference grows when compared to the Spurs and the Heat. Think about how much of a difference an additional three to eight points per game would had made for the Celtics.
Until Boston shoots as well as the Heat, Thunder and Spurs, it can use as many second-chance points as it can get.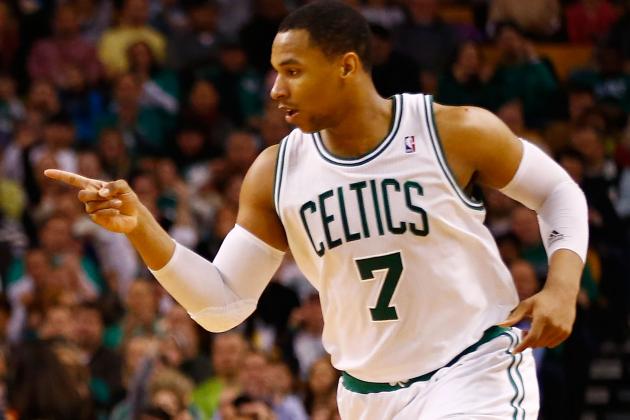 Jared Wickerham/Getty Images

A go-to guy. An assassin. A cold-blooded killer. Someone with ice water flowing through his veins. Someone with the cojones to take the game-tying or winning shot. Boston needs one.
For 15 years that person was Pierce. But if Pierce only plays one more year, who is the man in the future?
Rajon Rondo is fearless, but he should be one of the last options until he develops a consistent jumper. Ditto for Avery Bradley. Jeff Green made strides in 2012-13, but he still doesn't exhibit the aggressiveness to demand the ball and tell everyone to get out of his way.
Boston currently holds the 16th selection in June's NBA draft with a dire need for a center. Based on projections, there should be several serviceable centers available when Boston's turn comes around. But if there's a better player at shooting guard, small forward or power forward available, Ainge shouldn't hesitate to take him.
There's a strong possibility an offensive talent won't be NBA-ready from day one and may need some seasoning before he's ready. Fine. If it takes a year or two of development before he blossoms into a top-10 scorer/player, he will be worth it in the long run.
Keep in mind that drafting big men hasn't worked well for Boston the last two years with JaJuan Johnson already out of the league and Fab Melo looking like he's years away from being NBA-ready, if ever.
Boston could have its choice between Kansas' Jeff Withey, Louisville's Gorgui Dieng or Duke's Mason Plumlee. But if international prospects Dario Saric and Giannis Adetokunbo or North Texas' Tony Mitchell project to become stars in the long run, it would be a mistake for the Celtics to pass on one of them and draft for need.
If the Celtics want to draft a center, acquire a second selection. Maybe it takes a trade or Boston can outright buy the selection from another team. Either way, it's a bonus pick that affords the Celtics to gamble on a center. Without it, Boston absolutely has to hit with only one selection in this year's draft.