New York Islanders vs. Pittsburgh Penguins: Live Score, Updates and Analysis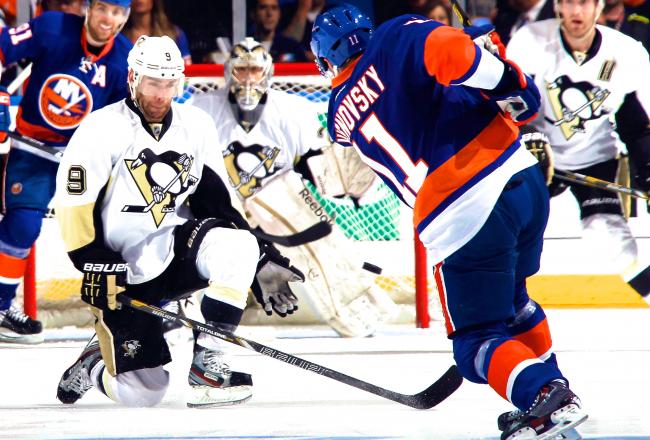 Game 5 between the Pittsburgh Penguins and New York Islanders is in the books—Tomas Vokoun pitched a shutout after starting in place of Marc-Andre Fleury, and after the Pens scored three goals in just over six minutes in the second period there really wasn't any doubt about this one.
Evgeni Nabokov was chased in the third, and the Penguins gained control of this series, 3-2.
Tyler Kennedy and Douglas Murray scored 13 seconds apart to break open a two-goal lead early in the second, and Sidney Crosby made an outstanding play to give the hometown Pens a three-goal lead toward the halfway mark.
Kris Letang rang up a power-play marker early in the third to put this one out of reach for the Islanders.
There was some action in the first, but New York played an outstanding road period by out-shooting the Pens 14-7 and limiting chances against. Needless to say, the wheels fell off in the second. The Penguins registered 18 shots on goal and shelled Nabokov.
The move to Tomas Vokoun worked perfectly for Pittsburgh. He was the calming influence the team needed after a shaky Game 4, and he changed the makeup of the game with his solid puck-handling.
Pittsburgh has a chance to eliminate the Islanders in New York on May 11.
Final Pittsburgh Penguins - 4 New York Islanders - 0
This game had two very distinct looks.
In the first the Islanders really looked like they came to play. A simple shift in lines brought the Penguins to life in the second period, as Kunitz was shifted to the second line with Malkin, and Iginla was brought onto the top line with Crosby.
Sid finished with two assists after starting the first period shotless, so the move worked wonders to say the least.
Pittsburgh shut down Tavares and Okposo, and neither guy was noticeable enough to help New York win this hockey game. Not even close. Nabokov was not nearly as good as he needed to be either.
For the first time in this series, Pittsburgh's experience was a deciding factor. This was a new situation for many players on the Islanders roster and they couldn't match urgency with the Pens in the second and third periods.
Final Score Pittsburgh Penguins - 4 New York Islanders - 0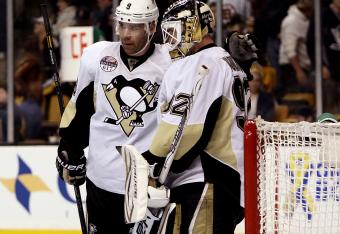 4-0 is your final.
Vokoun with a 31-save shutout.
Penguins going back on the power play. Have a couple of interesting guys out there. Not the firepower you'd expect.
Bylsma wisely resting his guys when he can, and getting them away from the aggrieve Islanders.
The energy guys that were on the power play for the Pens went right after Hamonic when the whistle blew there and they are ejecting people.
3rd Period 1:21 Pittsburgh Penguins - 4 New York Islanders - 0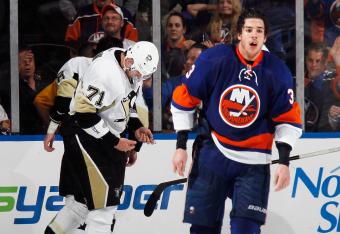 Stuff is starting to get a little chippy. Islanders trying to get under the skin of the Penguins, and it's working with Geno. He's getting involved after nearly every play, and the Isles will take him to the box whenever they can.
Looks like the refs may have to earn their paychecks here with two minutes left.
3rd Period 2:00 Pittsburgh Penguins - 4 New York Islanders - 0
Penguins playing a game of fetch and dump here. They are taking the red and then sending the Isles all the way back to behind their own net.
They are having to come 200 feet for any kind of chance to breakthrough to Vokoun.
3rd Period 3:20 Pittsburgh Penguins - 4 New York Islanders - 0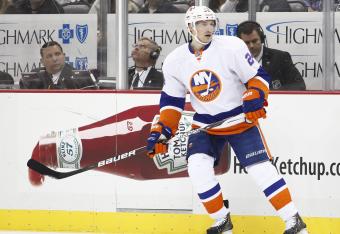 Boyes poked Malkin in the back with his stick from the bench. Geno turns around and gives him a shove. They both get called for unsportsmanlike conduct.
This game is just about out-of-hand enough that it could get ugly, and the refs are going to call it tight the rest of the way.
3rd Period 6:51 Pittsburgh Penguins - 4 New York Islanders - 0
Deadly Penguins power play coming back out on the ice. Dumb penalty by Hamonic on a facewash.
3rd Period 8:32 Pittsburgh Penguins - 4 New York Islanders - 0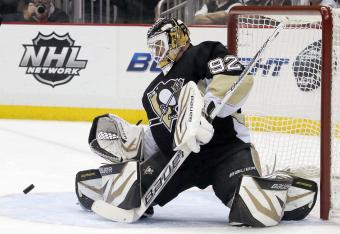 Vokoun has quietly made 31 saves tonight.
I have an inkling he will be back for Game 6.
Bigger question: if the Penguins do move on, do they ever go back for Fleury if they keep winning with him on the bench?
3rd Period 9:54 Pittsburgh Penguins - 4 New York Islanders - 0
Islanders power play was incredibly uneventful there. Penguins PK hasn't had much work tonight, but they've been good when called upon.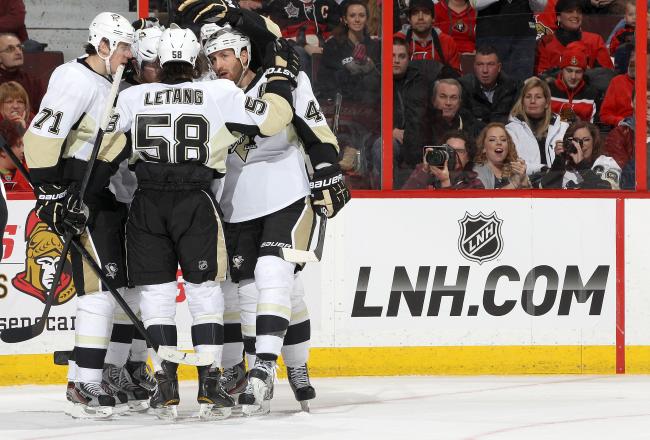 For those of you playing some kind of "who'll score next for the Pens" bingo at home, it was Letang with the power play marker.
Haven't heard from Tavares yet in this period. Penguins turning the trick in shutting him down now it would appear.
3rd Period 12:34 Pittsburgh Penguins - 4 New York Islanders - 0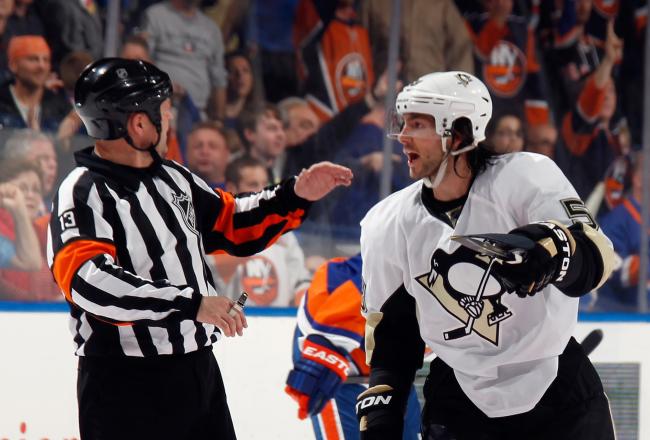 Islanders have picked up the physical play, sending Martin out on the ice on a mission to hit some people. He took runs at three different Pens before Morrow found his way out on the ice.
Martin takes a roughing penalty out of all this. And the Pens take about four seconds to score on the power play.
Goals don't come much easier than that.
3rd Period 14:19 Pittsburgh Penguins - 4 New York Islanders - 0
Third time Crosby has tried the backhander off the right wall.
He's honed in on something.
The announcers just mentioned that the Penguins had their energy guys out there. My brain went to players like Cooke and Kennedy.
Then they mention Brendan Morrow.
Crazy depth for the Pens. Just crazy. He's a top-six staple on at least a third of the teams in the NHL.
3rd Period 16:49 Pittsburgh Penguins - 3 New York Islanders - 0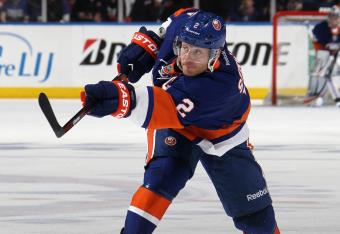 Early goal, or at least early pressure is massive here for the Islanders if they don't want to go down 3-2 in this series. Okposo, Tavares and Streit have all been good, but they need more traffic in front of Vokoun.
His life has not been nearly tough enough tonight, especially considering his game-rust.
3rd Period 17:34 Pittsburgh Penguins - 3 New York Islanders - 0
Shots tied at 25 apiece at this point. Pens dominated the second period though.
3rd Period 19:00 Pittsburgh Penguins - 3 New York Islanders - 0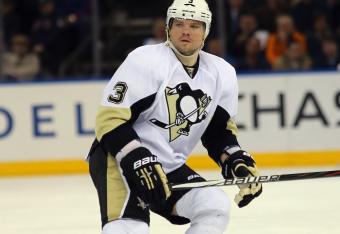 With his goal, Murray ties four other defenders for the lead in goals scored here in the playoffs.
The other four?
Mark Streit, Mike Green, Slava Voynov and Johnny Boychuk.
Murray has more goals than Erik Karlsson, Kris Letang and P.K. Subban. (This sentence is on the endangered list already, likely never to be seen from again.)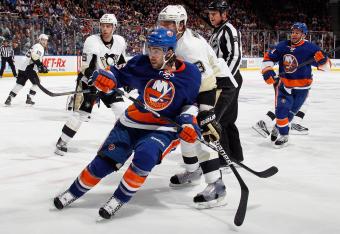 If the Penguins could have drawn up the exact period they were looking for in the second, that probably would have been it.
Crosby shook the dust after a so-so first period and scored on a brilliant play between himself and Iginla, and two different role guys stepped up early to secure a two-goal lead.
Malkin, Neal and Kunitz haven't been as noticeable as usual, but that isn't an issue when Douglas Murray is scoring goals.
For New York, the 1-3-3 has been put away for the night and they'll need to come up with a special offensive effort in the third to make this an interesting hockey game. Pittsburgh isn't a team that typically yields three-goal leads, but anything can happen as we saw in Game 4.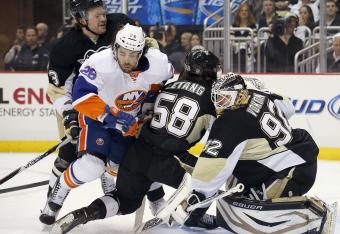 Physicality picking up here towards the end of the period. Both teams landed big checks with less than 30 seconds remaining.
End of the 2nd period
One minute to play in the period.
Tale of two periods to say the least.
Crosby just blocked a shot and he's feeling it.
Nabokov had to have a big game tonight, and he just hasn't. He's being outplayed badly by Vokoun right now.
Pens have overtaken the Isles in shots. They now stand at 25 for the Pens, and 23 for New York.
A whopping 18 shots for Pittsburgh in this period. Still just under three minutes left.
The Islanders are capable of counter-punching, and the Pens know that by now. They aren't going to take the foot off the pedal here. More goals could be on the way as New York breaks into a more offensive system to try and get some things going.
The ice is tilted badly right now. Three goals in six minutes can do that.
2nd Period 4:22 Pittsburgh Penguins - 3 New York Islanders - 0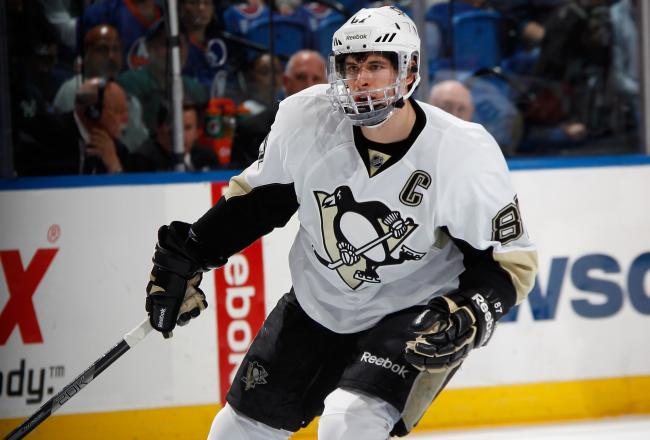 Can't keep Sid down for long.
He busted through two defenders, pinballed into the offensive zone and just rips one by Nabokov. That's a superstar play by a superstar players.
Pittsburgh's killer smells blood and delivers a possible dagger, putting the Pens up 3.
2nd Period 5:05 Pittsburgh Penguins - 3 New York Islanders - 0
This article is
What is the duplicate article?
Why is this article offensive?
Where is this article plagiarized from?
Why is this article poorly edited?

Pittsburgh Penguins: Like this team?