Predicting NFL Rookie Stat Leaders in Every Defensive Category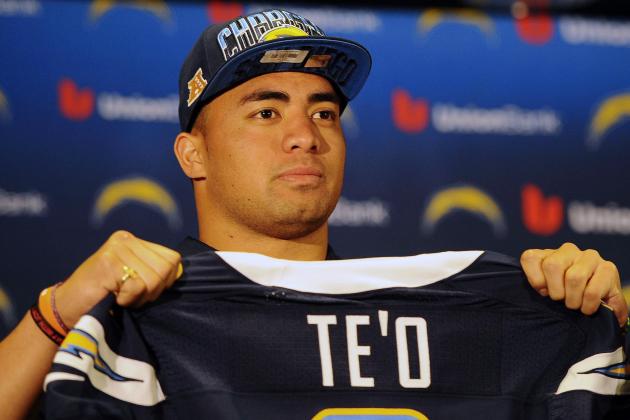 Christopher Hanewinckel-USA TODA

Now that it's May and rookie minicamps are rolling nationwide, we're getting an even better feel for the roles that some of the league's most highly touted rookies will be playing in 2013.
Let's use what we've learned thus far and combine that with what we already know in order to make some projections regarding which rookie defenders will stand out statistically this year.
Begin Slideshow

»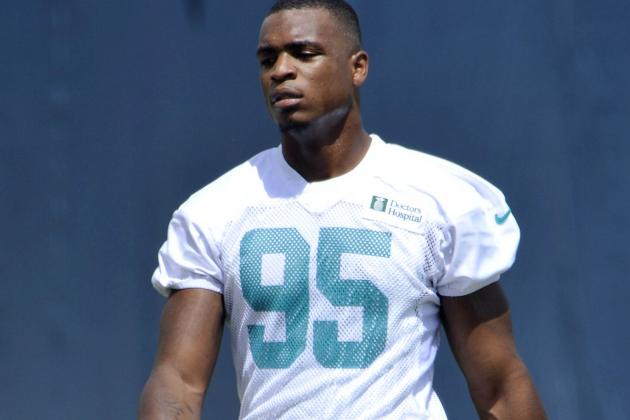 Steve Mitchell-USA TODAY Sports

I don't know if there's an Aldon Smith or a Von Miller in this rookie class. Ziggy Ansah and Barkevious Mingo are boom-or-bust pass-rushers, while it could take some time for Bjoern Werner to adjust in Indianapolis.
That's why we're going to keep things simple here and go with Dion Jordan, who only had 14.5 sacks in four years at Oregon but could be in an ideal spot if he starts opposite Cameron Wake in Miami.
If Dolphins defensive coordinator Kevin Coyle turns Jordan loose from the get-go, teams won't be able to do much to slow him down while also having to worry about Wake. Miami's star defensive lineman had a league-high 86 pressures last year, according to Pro Football Focus.
Jordan is a 23-year-old rookie with four years' worth of experience at Oregon, which could be enough to move him ahead of Jared Odrick on the depth chart. Opposite Wake last year, Odrick had five sacks in 12 starts. Jordan might only need a few more starts than that to lead all rooks in 2013.
Projection: 9 sacks
Other candidates: Jarvis Jones (Steelers), Ziggy Ansah (Lions), Barkevious Mingo (Browns), Alex Okafor (Cardinals)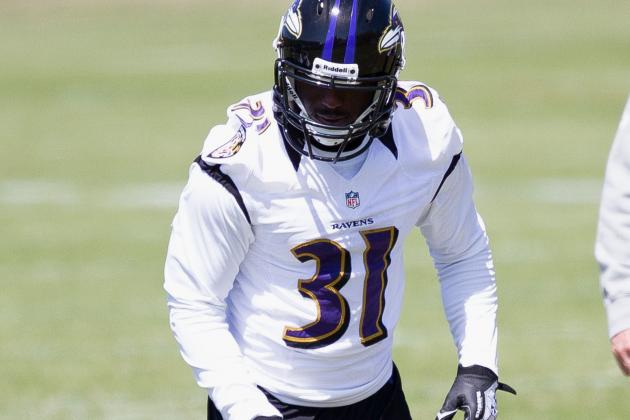 Paul Frederiksen-USA TODAY Sports

A cornerback has led all rookies in interceptions for three years running now, but I don't know if any of the top corners in this year's class are going to pick off a ton of passes in 2013.
Dee Milliner and D.J. Hayden will both start from Week 1, but Milliner had just six interceptions in three years at Alabama, while Hayden might not have the support in Oakland that is required to make a high quantity of big plays. Desmond Trufant, the Atlanta Falcons' first-round pick this year, had just six picks in four years at Washington.
Matt Elam might be a safety, but he'll likely start from Day 1 in Baltimore, and he might be in the perfect spot to show off his tremendous playmaking ability as a rookie. The Florida product had four picks during his final season at Florida, and support from front-seven defenders like Haloti Ngata, Terrell Suggs and Elvis Dumervil should give him a chance to intercept even more balls in 2013.
Projection: 6 interceptions
Other candidates: Darius Slay (Lions), Leon McFadden (Browns), Johnathan Cyprien (Jaguars), Phillip Thomas (Redskins), Dee Milliner (Jets), D.J. Hayden (Raiders), Desmond Trufant (Falcons)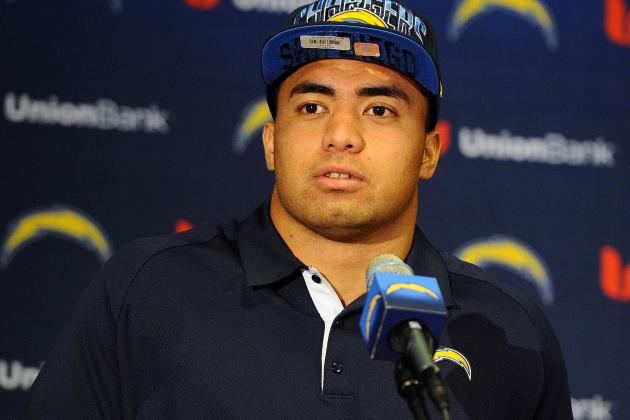 Christopher Hanewinckel-USA TODA

There are concerns about Manti Te'o's speed and overall range as a linebacker, but so long as he stays healthy as a rookie in San Diego, he should lead all first-year defenders in this category.
Te'o had no fewer than 113 tackles in each of last three seasons at Notre Dame, and the Chargers don't have any tackle machines on the roster one year after safety Eric Weddle led the team in that category.
Rams first-round pick Alec Ogletree might have a stronger set of skills than Te'o, and he'll also start right away in St. Louis. But Ogletree will have a tough time keeping up in terms of total tackles because James Laurinaitis—the Rams' other standout linebacker—has recorded at least 98 of them in each of his four NFL seasons.
Projection: 112 tackles
Other candidates: Alec Ogletree (Rams), Arthur Brown (Ravens)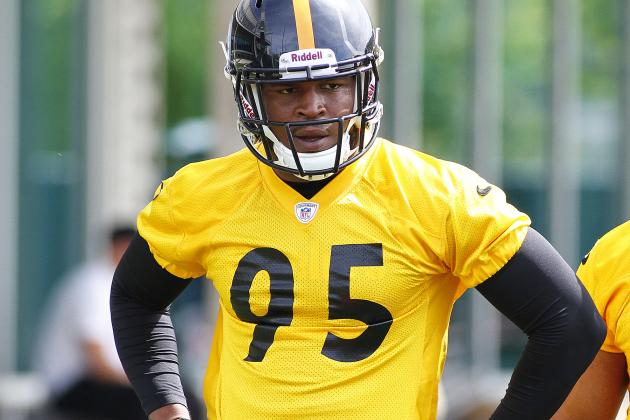 Justin K. Aller/Getty Images

This is an easy one. Jarvis Jones forced a ridiculous seven fumbles in 12 games during his junior year at Georgia—that led the nation. And the Steelers wouldn't have used the No. 17 overall pick on Jones if they didn't feel that he could beat out Jason Worilds for a starting job in training camp.
If that's the case, Jones has to be the overwhelming favorite to lead all rookies in forced fumbles in 2013. He'll have plenty of support with LaMarr Woodley and Lawrence Timmons supporting him in that front seven, so watch for Jones to make some big plays in James Harrison's former spot.
In that role between 2007 and 2012, Harrison forced 29 fumbles.
Projection: 4 forced fumbles
Other candidates: Alex Okafor (Cardinals), Dion Jordan (Dolphins)
Troy Taormina-USA TODAY Sports

If Dee Milliner, D.J. Hayden, Desmond Trufant, Xavier Rhodes and Darius Slay all start from the get-go in 2013, then this could come down to whomever holds up the longest and stays healthiest. But by virtue of being the No. 1 guy in Oakland, Hayden has the edge, as it's reasonable to presume offenses will target a rookie when he's guarding their top receiving target.
Milliner is the most NFL-ready cornerback, though, and he led the entire nation with 22 passes defensed during his final season at Alabama. So look for him to be very active in coverage all season long.
It should be noted that having a lot of passes defensed isn't always a good thing. Guys like Dominique Rodgers-Cromartie and Patrick Robinson had high totals in this category last year, only because they stayed healthy and in the lineup while getting picked on a lot.
Looking on the bright side, we're saying Hayden should survive the year as a starter.
Projection: 14 passes defensed
Other candidates: Dee Milliner (Jets), Desmond Trufant (Falcons), Xavier Rhodes (Vikings), Darius Slay (Lions)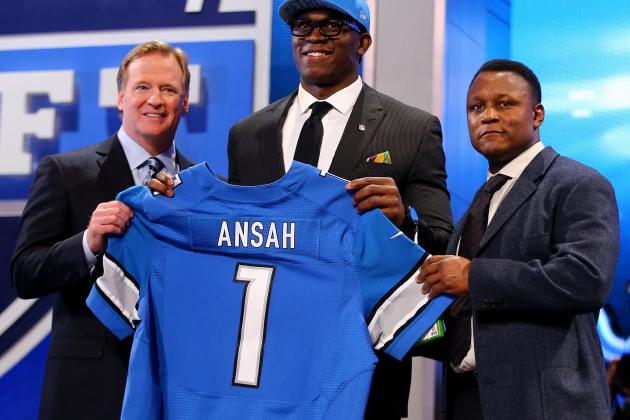 Al Bello/Getty Images

You wonder if teams will begin to emphasize this statistic now that it's been popularized by J.J. Watt, who batted away 16 passes at the line of scrimmage during his amazing 2012 campaign in Houston.
There might not be a Watt in this draft class (or any draft class to come), but Margus Hunt might have the best chance to become a premier pass-batter. Hunt is a 6'8" kick-blocking machine with an 82-inch wingspan, so look for him to swat away quite a few passes in his career.
But we're going with Ziggy Ansah instead, because Hunt might be a backup for much of the 2013 season, while Ansah will probably start right away at defensive end in Detroit. He's not as big as Hunt, but the 6'5" freak of an athlete had nine batted balls in 13 games and nine starts during his final year at BYU.
Projection: 6 batted passes
Other candidates: Margus Hunt (Bengals), Bjoern Werner (Colts)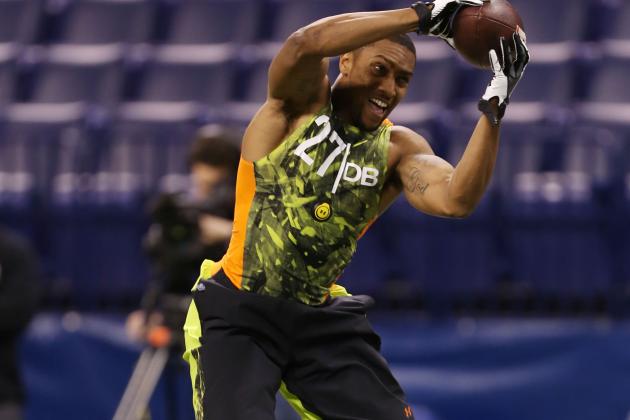 Brian Spurlock-USA TODAY Sports

Rams rookie cornerback Janoris Jenkins returned three interceptions for touchdowns in 2012, falling one pick-six short of tying the all-time single-season record. Which rookie defender will find paydirt more than anyone else in 2013?
D.J. Hayden and Leon McFadden are both expected to start from Week 1, and both had two pick-sixes in college in 2012. They're your front-runners, but McFadden gets the edge because he'll be able to take more chances in a more well-rounded Cleveland defense.
Projection: 2 touchdowns
Other candidates: D.J. Hayden (Raiders), Phillip Thomas (Redskins)