Power Ranking the Most Insane Highlights of NBA's Second Round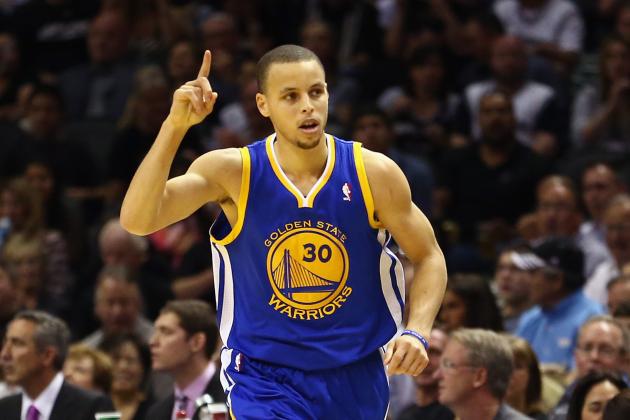 Ronald Martinez/Getty Images
Stephen Curry has dazzled NBA fans throughout the NBA playoffs.
The initial games of the NBA's second round have featured much grit and physicality, and there has also been no shortage of insane highlights.
The expected superstars, namely LeBron James and Kevin Durant, have dazzled us, and so have some emerging players that are currently making a name for themselves.
Stephen Curry, in particular, has quickly become one of the league's most fun players to watch.
This slideshow ranks the best highlights in the four second-round matchups taking place.
These top plays amplify the high-caliber talent on display.
Begin Slideshow

»
Kevin Durant has established himself as the game's best closer.
If you weren't already convinced, Game 1 exclaimed this. With the game on the line, Durant's pull-up jumper propelled the Oklahoma City Thunder past the Memphis Grizzlies.
The poise and confidence Durant exhibits late in games is unmatched. He has a killer instinct and never shows a hint of fear. You can sense this through the look in his eye and the posture he carries.
This is why, despite Russell Westbrook's injury, the Thunder shouldn't be counted out yet. Durant is capable of the spectacular, particularly some late-game heroics.
If a point guard made this play, it would be a stellar attack to the rim but nothing extraordinary.
What makes this special is the uniqueness of Joakim Noah. He's a 6'11'' center who can lead the break.
Noah epitomizes an unorthodox player, and this coast-to-coast lay-in is ample evidence. Is there another center in the world who could complete a drive such as this?
Quite frankly, is there another center in NBA history who can display such adept point guard skills?
This silly jumper defines Stephen Curry in the postseason. He has been downright filthy.
This one-legged runner takes basketball fans back to the mid-1900s, and it magnifies where Curry's confidence is right now.
He's in such a rhythm that he's comfortable cashing treys off one leg with 14 seconds left on the shot clock.
It's no wonder that fans across the NBA spectrum are quickly falling in love with this stud's game.
This type of athleticism is rarely witnessed from Manu Ginobili anymore. Watching this feels like a flashback to 2005.
This reveals that, when healthy, Ginobili still has plenty left in the tank. His versatility in penetrating the lane is still in his repertoire and so is climbing the ladder for a eye-popping throw down.
What's more, later in this game, Ginobili nailed the game-winning three.
It should come as no surprise that Ginobili is leaving his fingerprints on the 2013 playoffs. He has thrived in these moments for years.
Raymond Felton and Kenyon Martin start by asserting their suffocating defense, and finish it with authority on the alley-oop.
K-Mart may be getting up in years, but he can still defend and finish.
Further, note the unselfishness of Felton to get his big man an easy, crowd-pleasing bucket.
This left the Madison Square Garden faithful in a frenzy.
This is your typical LeBron James superhuman highlight. He makes this appear so easy. This steal and transition slam proclaim the depths to his game.
First, look at the ground he covers in intercepting the pass.
Second, examine how quickly he jets towards the other end of the floor with the ball.
Lastly, notice his finish with the left hand.
Expect more of the same from LeBron throughout the playoffs.
We already witnessed Durant's closing abilities at the end of games.
Here it is on display at the end of the third quarter.
What's more, his graceful athleticism is evident as well. His ball-handling abilities coupled with his wiry frame make him a nightmare defensive matchup.
Because of this, he's going to generate his fair share of explosive highlights. This Game 2 finish is a prime example.
Carmelo Anthony can score in so many ways, which is why he earned the league's scoring title.
Here, he looks like a center with bullish strength and leaping ability.
This is what makes him so dynamic. He can dunk on you like this and then, the next time down the floor, cash a three in your face.
It leaves opponents clueless in their efforts to contain him.
Stephen Curry has been so ridiculous that he gets two highlights in this slideshow.
Actually, this one is a barrage of jump shots because Curry has been that nasty with the basketball.
His jumper is clearly on another planet, but also watch his savvy dribbling maneuvers. He possesses an uncanny ability to create space and pull his quick-trigger long ball.
He's quickly vaulted himself into not only one of the NBA's most exciting players, but also one of the NBA's best overall guards.
Iman Shumpert tore his ACL in the playoffs last season (actually on the same day Derrick Rose tore his).
This putback slam verifies that his knee has healed properly.
Shumpert defines what a slasher is on the basketball floor. His quickness and jumping ability wreak havoc on both ends of the floor, and they frequently help him showcase emphatic plays.
This putback slam is a featured instance.