Early Projections for the Jacksonville Jaguars' Final 53-Man Roster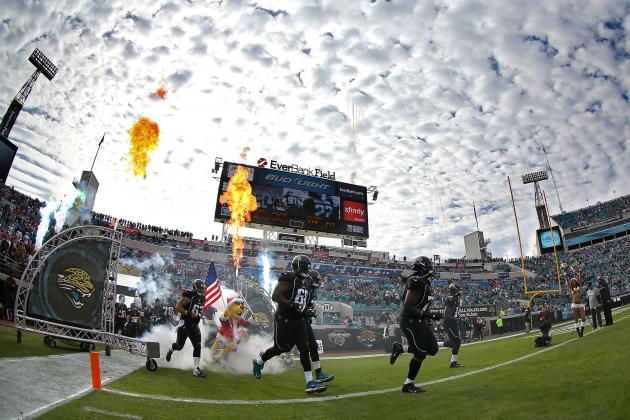 Mike Ehrmann/Getty Images

The Jacksonville Jaguars will be a completely different team in 2013.
Distancing themselves from the franchise-worst 2-14 record last year, the Jaguars are entering a new era with a new general manager in David Caldwell, new head coach in Gus Bradley and even new uniforms.
Most importantly, Jacksonville will have an almost completely revamped roster.
Coach Bradley has been preaching competition (per Alfie Crow of Big Cat Country) all offseason, and that is evident by the way the roster has been assembled.
The Jaguars added players at each of the positions they were weakest at. They've created competition at key positions, which will ensure the best and hungriest players make the team.
This summer is going to be an exciting one as Jaguar fans watch intense training camp battles play out.
With all the new faces and turnover, it's tough to predict who will earn their way onto the team, but here is an early glimpse into what the final 53-man roster could look like.
Begin Slideshow

»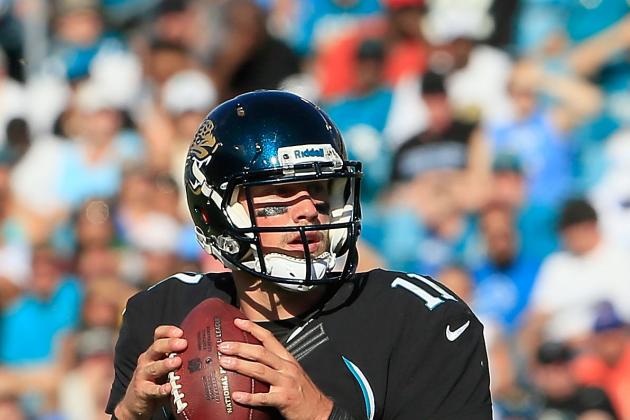 Sam Greenwood/Getty Images

Blaine Gabbert
Chad Henne
Matt Scott
GM Caldwell said he would add quarterbacks (via Alex Marvez of FoxSports) this offseason to for a "wide open" (per NFL.com's Gregg Rosenthal) competition.
The reason the competition is needed is due to the poor play of Blaine Gabbert and Chad Henne.
Gabbert has mostly struggled during his first two years in the league. He completed just over 58 percent of his passes in 10 games last season for 1,662 with nine touchdowns and six interceptions. He finished the season on IR after suffering a torn labrum.
His replacement, Henne, got off to a hot start in relief of Gabbert against the Houston Texans, when he threw for 354 yards and four touchdowns. He was never able to replicate that success and finished the final six games with six touchdowns and 10 interceptions.
GM Caldwell bypassed adding quarterbacks in free agency and the draft but signed Matt Scott and Jordan Rodgers in undrafted free agency.
With good showings in training camp, one of the two are likely to make the roster. Scott is the better of the two quarterbacks and fits with what the Jaguars are doing offensively. He also has a history with Jaguars quarterback coach Frank Scelfo, who coached the quarterback while he was at Arizona. Scott has a ton of potential, and Scelfo could help him achieve it.
Gabbert will enter the season as Jacksonville's Week 1 starter. He has the most upside and could succeed in the new offense. Henne had his chance to secure the starting role last season and failed to do so, so it would be smart to go with the younger player.
Henne could stick around as a backup to provide veteran depth. He would act as a security blanket in case Gabbert is unable to play and Scott isn't deemed ready yet.
The Jaguars could pass over Henne in favor of Scott if they feel like Henne doesn't offer much more than the rookie.
Jacksonville is without a true starting quarterback and could be a possible landing spot for Louisville's Teddy Bridgewater in next year's draft.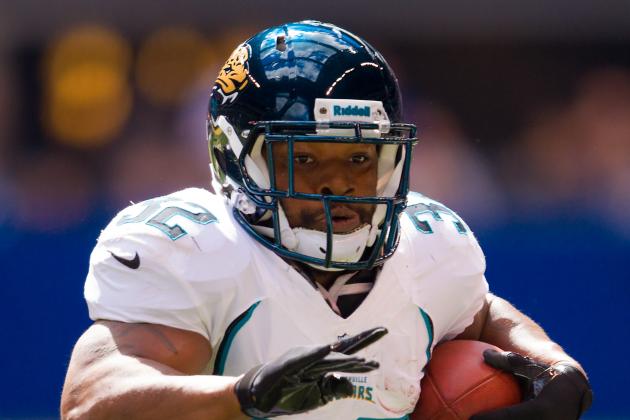 Michael Hickey/Getty Images

Maurice Jones-Drew
Justin Forsett
Denard Robinson
Maurice Jones-Drew is showing a renewed focus after a disastrous 2012. After failing to get a new contract and ending the season on IR, he has said (per Brian Murphy of FFToolbox.com) he will not hold out this year.
Jones-Drew is the team's best offensive weapon and one of the most talented running backs in the league. He will easily reclaim Jacksonville's starting running back role.
Sixth-year player Justin Forsett, whom the Jaguars signed in free agency, will be Jones-Drew's primary backup. Forsett averaged a career-high 5.9 yards per carry last season, and he will be a nice change-of-pace back from Jones-Drew.
Jacksonville added some much-needed speed to its offense in fifth-round pick Denard Robinson. The Jaguars will take advantage of his speed at a variety of positions (per Alex Marvez of FoxSports) and plan to get him 10-15 touches (per Marvez) a game.
The Jaguars backfield has a chance to be among the most explosive in the league.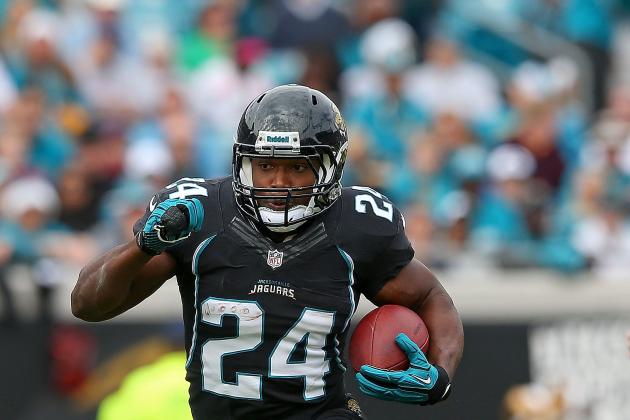 Mike Ehrmann/Getty Images

Lonnie Pryor
Montell Owens
The Jaguars had to find a replacement for Greg Jones, who signed with the Texans in free agency.
The team may have found his replacement from his alma mater by signing Lonnie Pryor in undrafted free agency.
Pryor got off to a good start in rookie minicamp (per Ryan O'Halloran of The Florida Times-Union) and showed off versatility out of the backfield. He's able to rush the ball and be a receiving threat coming our of the backfield.
Pryor should assume the starting fullback role, while Montell Owens should continue being the team's backup and special teams ace.
Owens is a capable runner, which he showed off last year when he ran for a career-high 209 yards on 42 carries. He is a two-time Pro Bowler for his play on special teams, which makes him a valuable part of the roster.
Pryor and Owens could both contribute in multiple ways this season.
Sam Greenwood/Getty Images

Cecil Shorts III
Justin Blackmon
Ace Sanders
Jordan Shipley
Mohamed Massaquoi
Tobais Palmer
Jacksonville's receiving corps was one of the few bright spots of 2012.
Cecil Shorts III developed into a playmaker, while Justin Blackmons emerged in the second half of the season to have one of the best seasons among rookie wide receivers.
They were poised to have another great season together, but Blackmon's four-game suspension for violating the league's substance abuse policy put a wrench in those plans.
His absence will force other receivers to step up and give them opportunities they wouldn't normally get.
Jordan Shipley and Mohamed Massaquoi are the two most experienced of the remaining wide receivers and will likely compete to take over Blackmon's role through the first four games.
Sanders, Jacksonville's fourth-round pick, adds speed to the corps and can eventually take over the slot-receiving role. He was a dynamic punt returner in college and will compete for the same job in the NFL.
Tobais Palmer is another fast return man and wide receiver who was signed as an undrafted free agent. Blackmon's suspension could give him the roster space to make the team, especially after being a standout (per Ryan O'Halloran of The Florida Times-Union) at Jacksonville's rookie minicamp.
The Jaguars receiving corps is young and full of potential, even with Blackmon suspended for the first four games.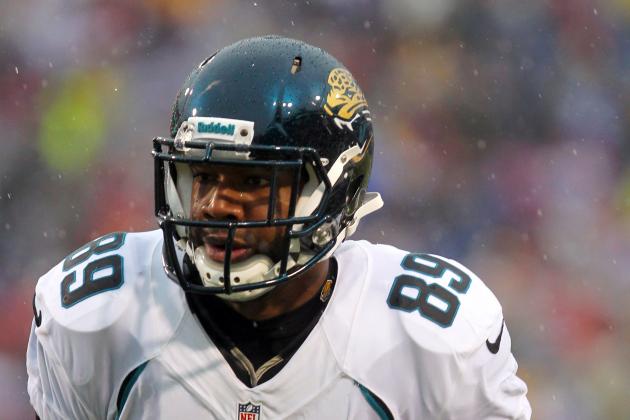 Timothy T. Ludwig-USA TODAY Sports

Marcedes Lewis
Ryan Otten
Kyler Reed
Marcedes Lewis is firmly cemented as the Jaguars' starting tight end.
He has developed into one of the best blocking tight ends in the league and has often been used as a third tackle due to Jacksonville's poor offensive line play. With the drafting of Luke Joeckel in the first round, Lewis should be able to once again be utilized more in the receiving game and could return to his 2010 success.
The Jaguars are lacking experienced depth behind Lewis on the roster, The three tight ends currently under contract behind him—Allen Reisner, Brett Brackett and Matt Veldman—have a combined two receptions for 18 yards in their careers.
To add competition, Jacksonville signed two undrafted free-agent tight ends in Ryan Otten and Kyler Reed, both of whom have a great chance at making the final roster.
Otten is a reliable receiver who has strong hands to haul in passes. Although he doesn't have great speed, he does have the ability to turn upfield and put his head down to gain extra yards.
Reed, on the other hand, is a hybrid between a tight end and fullback and has the skill set to play both. He could line up at either position and create mismatches for the defense. He was underutilized in college, but he has the potential to be much more.
With the Jaguars severely lacking depth at the position, it wouldn't be a shock to see two undrafted free agents make the squad as Lewis' backup.
Kevin Hoffman-USA TODAY Sports

Tackle: Eugene Monroe, Luke Joeckel, Jeff Nady
Guard: Will Rackley, Uche Nwaneri, Stephane Milhim

Center: Brad Meester, Mike Brewster
Jacksonville shored up its offensive line woes by making Luke Joeckel the second overall pick in the draft. He is already getting comfortable (via ESPN.com) at right tackle and will bookend the offensive line alongside left tackle Eugene Monroe.
While the outside of the offensive line was fixed in the draft, the interior of the line should improve, too.
Veterans at right guard in Uche Nwaneri and center in Brad Meester return for another season. They were both solid last year and will look to provide the same quality play.
The left guard is the wild-card position of the offensive line. Will Rackley started 14 games at the position as a rookie in 2011 but missed all of last season with an ankle injury. Jacksonville featured a number of different players in his absence, among them was Mike Brewster. It will be a battle between the two of them for the starting spot this year.
If Brewster doesn't win the start job, he's still a valuable part of the offensive line. His versatility to play both guard and center would allow him to provide depth at several positions.
The unit is rounded out by undrafted free agents Jeff Nady and Stephane Milhim. They both fit in Jacksonville's zone-blocking scheme and could beat out the veterans for roster spots.
What was one of the team's weakest units last season could become one of the team's strongest this year.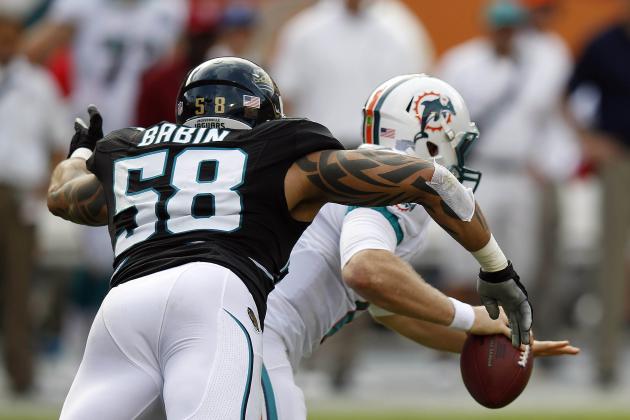 USA TODAY Sports

LEO: Jason Babin, Andre Branch, J.D. Griggs
Defensive Tackle: Tyson Alualu, Roy Miller, Sen'Derrick Marks, T.J. Barnes
Defensive End: Austen Lane, Jeremy Mincey
The Jaguars defensive line was horrible last year. The team had a league-low 20 sacks, while the defensive line was at least partly responsible for allowing the third-most rushing yards per game (141).
GM Caldwell didn't do much to address the poor pass rush, but it could still be an improved unit due to Coach Bradley's defensive scheme.
Jason Babin and Andre Branch fit into the LEO role, which is designed for a fast pass-rusher who uses his speed to pressure the opposing quarterback. Babin played well after being picked up off waivers last season, and he should thrive in the new role. Branch was non-existent as a rookie, but the new scheme should allow him to contribute.
In addition to Babin and Branch, J.D. Griggs could be a rotational pass-rusher at the position. He was one of the most impressive players (per Ryan O'Halloran of The Florida Times-Union) at rookie minicamp and was signed to a contract for his play. He has a long way to go to make the roster, but he could find a way onto it if he continues to turn heads.
Jeremy Mincey and Austen Lane will work on the other side and will be asked to hold the edge against the run as well as rush the passer.
The major improvements came at defensive tackle.
Tyson Alualu and Sen'Derrick Marks will be asked to be penetrating players who can pressure the quarterback. This should benefit Alualu, who has never been able to live up to the expectations of being the No.10 pick in the 2010 draft.
Roy Miller and T.J. Barnes won't show up much on the stat sheet, but they'll play a crucial role in eating space and taking up blockers. Miller played a key role in the Tampa Bay Buccaneers top-ranked run defense.
Barnes, an undrafted free agent out of Georgia Tech, won't have any issues taking up space. He's a mountain of a man (6'6", 369 lbs) and will clog the middle of the line and allow the others the run free.
GM Caldwell didn't make any flashy moves to improve the defensive line, but the group should be better as a whole.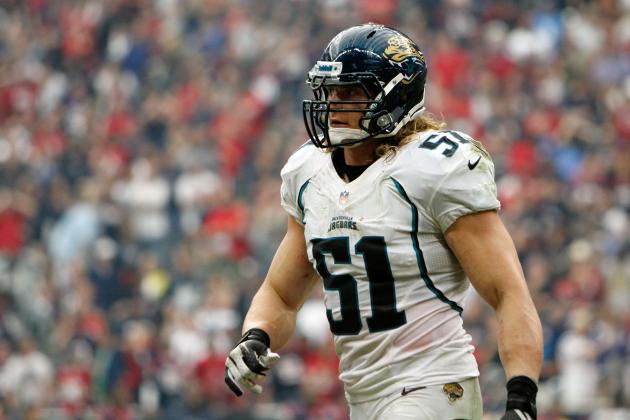 Brett Davis-USA TODAY Sports

Middle Linebacker: Paul Posluszny, Michael Zimmer
Outside Linebacker: Russell Allen, Geno Hayes, Julian Stanford, LaRoy Reynolds
Paul Posluszny and Russell Allen will return to Jacksonville's starting lineup once again in 2013.
Posluszny provides veteran leadership and led the Jaguars with 139 total tackles last season. Allen has quietly developed into a solid player since signing as an undrafted free agent in 2009.
The other starting linebacker will be a new face in Geno Hayes, who was signed as a free agent this offseason. He has ties to both head coach Bradley and defensive coordinator Bob Babich.
Bradley was Hayes' position coach during his rookie year in the league as a member of the Buccaneers. After four years with the Bucs, he signed with the Chicago Bears, where he was coached by Babich.
Hayes brings a knowledge of the system and is talented enough to be the team's starter.
The Jaguars lack depth at linebacker and will likely keep young, unproven players.
Julian Stanford would be the most experienced of the reserve linebackers; he started three games and recorded 23 tackles last season after making the roster as an undrafted free agent. He is a solid player and will add good depth on the outside.
LaRoy Reynolds and Michael Zimmer are two undrafted free agents who could challenge for roster spots. Reynolds is a disciplined player who could contribute on special teams, while Zimmer is a sure tackler who excelled against lower-level competition.
While the starting linebackers may be a solid group, the backups leave a lot to be desired. There is some potential in the undrafted free agents, but their inexperience could burn the Jaguars if they are forced into action.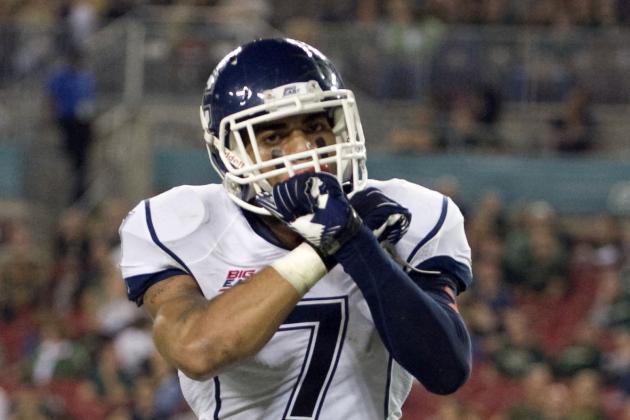 Jeff Griffith-USA TODAY Sports

Dwayne Gratz
Alan Ball
Marcus Trufant
Mike Harris
Trey Wilson
Jeremy Harris
Other than quarterback, cornerback may feature the fiercest training camp battles this offseason.
The Jaguars are loaded with young talent who are fighting to make a name for themselves in the NFL.
Not among them is Marcus Trufant, who was signed May 7. Although he is 32 and on the downward slope of his career, he reunites with Coach Bradley and provides a much-needed veteran presence in the young secondary. He makes the team based on his experience alone.
Third-round pick Dwayne Gratz is one of those young players trying to find a place on the roster. While the other cornerbacks are clawing for a roster spot, Gratz is battling for the starting position (per Alfie Crow of Big Cat Country). He could immediately contribute to the team by winning the starting job.
Alan Ball and Mike Harris could be battling for the other starting cornerback job. Ball was signed as a free agent and has three career interceptions and 17 pass defenses. Harris is entering his second season and played well after being forced into a starting role last season.
Figuring out the rest of the roster spots is basically a crapshoot, as there are five players competing for the last couple of spots.
Trey Wilson turned heads during rookie minicamp, while Jeremy Harris played for secondary coach DeWayne Walker (per Alfie Crow of Big Cat Country) during his collegiate career.
The Jaguars will be a new-look team in 2013, and the cornerback unit may have gone through the most change.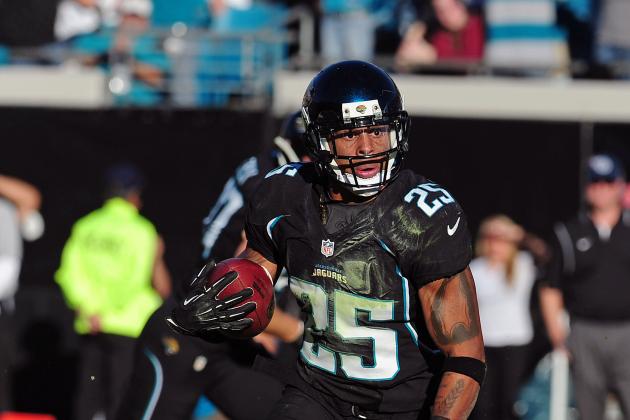 Scott Cunningham/Getty Images

Free Safety: Dwight Lowery, Josh Evans
Strong Safety: Johnathan Cyprien, Antwon Blake
Johnathan Cyprien was expected to make an immediate impact for the Jaguars after the team drafted him the the second round. He appears to be doing just that, as he looked like a "man among boys" (via AP's Mark Long) at Jacksonville's rookie minicamp.
Cyprien replaces Dawan Landry, who was released as a cost-cutting measure earlier in the offseason. He will start alongside Dwight Lowery in the defensive backfield. When healthy, Lowery is a very good player. Staying healthy was an issue for him last year, as he missed seven games with injuries.
Cyprien and Landry should be a good starting safety group, while sixth-round pick Josh Evans could also see some playing time. Coach Bradley's scheme calls for some three-safety looks, which could allow Evans to gain experience early in his career as his game develops.
After causing headaches for several years, the safeties could surprise people by making big plays throughout the year.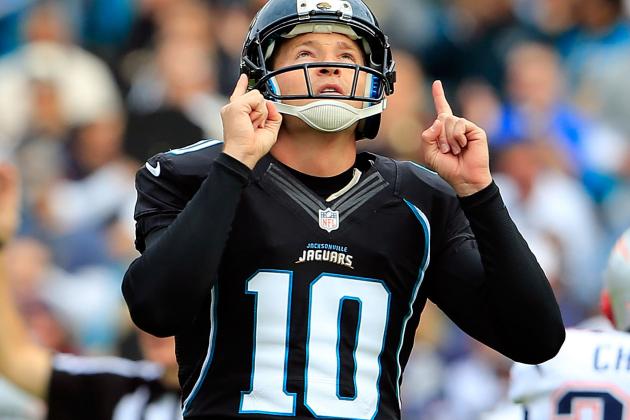 Sam Greenwood/Getty Images

Kicker: Josh Scobee
Punter: Bryan Anger
Long Snapper: Carson Tinker
Josh Scobee and Bryan Anger are easy choices to be the team's kicker and punter, respectively.
Scobee was as solid as always last year, as he made 89.3 percent of his field goals, and all three of his missed field goals were over-40-yard attempts.
Anger was spectacular during his rookie season, which he had to be to justify Jacksonville using a third-round pick on him. He set rookie punting records for gross average yards per punt (47.8) and net average yards per punt (40.8). His career is already off to a great start, and he's only going to get better.
Tinker may come as a surprise, but he was outstanding during his career as a member of the Alabama Crimson Tide. He was successful on 133 of 135 snapping attempts and is accurate with his snaps.
The Jaguars current long snapper, Jeremy Cain, will have the sixth-highest cap hit of players at his position this year, per Spotrac.com.
The Jaguars would most likely go with the cheaper option in Tinker if he is close to as good as Cain.